Week In Review
More Doping Updates: Powell Loses Sponsor
International News: Vote For Haile
Asafa Powell And Jamaicans Test Positive
Other International News
Previous Jamaican Doping News
Men's Preview: LRC What An Incredible Lineup - Rupp And Lagat Go For The AR In The 5,000; Symmonds, Centro And Manzano Vs. Kiprop And Farah (Yes, Farah) In The 1,500; World #1 Duane Solomon In The 800 The men's mid-d and distance action is unreal from an American perspective. Take the day off from work for this one.
Women's Preview: LRC Jenny Simpson Returns To 1,500 And Will Face Martinez, Moser, Obiri And Rowbury Plus Shalaya Kipp tries to qualify one last time in the steeple after failing to do so last week.
*Brianna Rollins Withdraws From Monaco DL Meet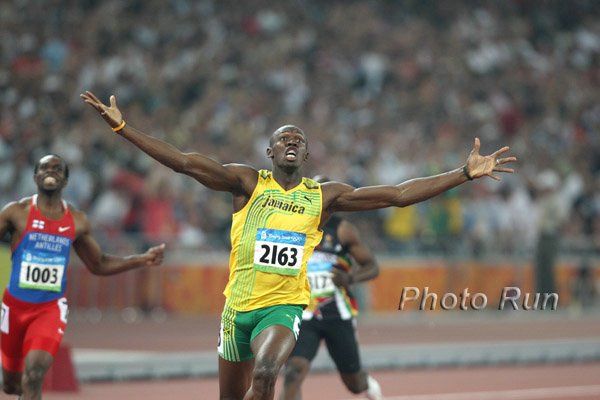 LRC How Can Usain Bolt Be Clean (When Everyone Else Is Dirty)? He's The Lebron James And Babe Ruth Of Track And Field LetsRun.com co-founder, Robert Johnson, saw today's quote of the day and was spurred to write. He tells you how and why it's not crazy to believe Usain Bolt might be clean even though it seems as if everyone else he is racing might be dirty.
MB: Rojo and Usain Bolt
Recommended Read: Ken Goe: Track And Field A Sport Of Haves And Have-Nots Goe takes a look at the state of the sport, saying, "For every Allyson Felix or Galen Rupp, who make a comfortable living from track and field, there are dozens of athletes living on the margins, near poverty or in debt, or bankrolled by relatives. Olympic dream? This is more like a nightmare."
Sad RIP News: Steve Prefontaine's Mom Passes Away
US News
David Epstein For SI: Tyson Gay Linked To Atlanta Anti-Aging Specialist Clayton Gibson Gibson admits to working with Gay, but was not specific with what treatments he received. Asked if he uses anything that could lead to a positive drug test, Gibson said, "what I have is all food-based products and herbals as well as homeopathic products ... [nothing] synthetic," but didn't seem to deny that some products could contain testosterone, DHEA or other banned substances.
Good Read: U-T San Diego: Tyson Gay Tests Positive, And Our Faith Some interesting stats such as now 8 of the 10 men who have gone sub-9.80 have been linked to doping. Also, Victor Conte (the man behind BALCO) once said he didn't think any man could run faster than 9.92 seconds without doping.
Mike Rodgers Says He Can Sympathize With Tyson Gay As Two Years Ago Rodgers Was Kicked Of The World Champs Team For Testing Positive For A Stimulant Which He Said Came From An Energy Drink Ironically, with Gay out of Moscow, Rodgers will go, as he was 4th at the Trials.
Who Will Actually Be In Moscow?: David Rudisha And Yohan Blake Both Withdraw
UK Names Its Team For Moscow 2013
Previous Tyson Gay Drug News
adidas Moves Swiftly And Dumps Tyson Gay - Gay Continues To Accept Responsibility: "I know exactly what went on, but I can't discuss it right now ... I hope I am able to run again, but I will take whatever punishment I get like a man."

The Independent: "The Life-And-Death Fight Against Drugs Has Always Been Sport's Phoney War" UK writer "looks at athletics' history with drug scandals in the wake of a dark week that yet again tarnishes the sport."

Ato Boldon Says Supplements And Stimulants Should Be Legalized "Everyone is already on it. It's a question of who's getting away with it and who isn't."
Previous Tyson Gay / Asafa Powell News
Tyson Gay And Now Asafa Powell And Five Jamaicans Test Positive Even if this ends up just being a positive for a stimulant that warrants a 3-month suspension, Gay's positive (and also now Powell's) is a huge blow to the sport. Gay: "I don't have a sabotage story. I don't have any lies. I don't have anything to say to make this seem like it was a mistake or it was on USADA's hands, someone playing games ... I basically put my trust in someone and I was let down."
LRC: Do You Know Who Let Gay Down? We Want To Know
MB: Makes you wonder, Who is the person that Gay trusted?

More Coverage: *AP On Gay *NY Times On Gay *Powell/Simpson Article *Powell's Statement Saying He's Not A Cheater
Columnists/Analysis:
*New Yorker: TYSON GAY AND HOW TO CLEAN UP TRACK This is a Recommended Read as it contrasts how Gay and Powell have handled it - Gay has admitted it, Powell has claimed ignorance (plus it gives props to LRC).
*Science Of Sport: A House Of Cards? Sprinting Tumbles Down As Gay, Then Powell, Then Simpson, Carter Named As Failing Drug Controls
*Alan Abrahmson: Track's Dirty Day
*Hersh: Doping Issues Killing Track And Field Again
*USA Today: Track Experts Say Fight Against Doping Can't Be Won

More: Powell's Trainer Arrested In Italy
*Reuters: Positives Deliver Body Blow To Troubled Sport From widespread doping in Turkey to widespread doping in sprinting, it's been quite a week on the anti-doping front.
*A Look Back At The Sprinting Dopers Over The Last 25 Years A better to ask would be who hasn't doped, as it's basically like the Tour de France.
*Jamaica's Women's Discus Champ "Shocked" By Positive Test As Well
*Powell Says He's Not A Cheat
*Drug Crisis After Gay And Powell Test Positive
*Full Statements From Jamacians Powell & Simpson

MB: LRC Thread Predicted Positive at 6pm Saturday night that a major US sprinter would test positive Clearly our Thread of the Month. And people wonder why we allow anonymous posting.
MB: TYSON GAY FAILS TEST
MB: Confirmed: Tyson Gay admits positive test, out of worlds. "I put my trust in someone."
*Powell busted for OXILOFRINE a stimulant
*Makes you wonder, Who is the person that Gay trusted?
*Powell busted for OXILOFRINE a stimulant
*Asafa's Statement
*Describe Your Reaction to the Tyson Gay Tests Postive News in One Word
*Admit it, we are all now waiting to see if Bolt is positve....
Chris Solinsky To Focus On Roads For Rest Of Summer Rather than blow money running times well of his PR in Europe, he's going to stay here and work on improving his fitness/strength and run some big road races like Falmouth. *MB: Discuss
Weekly Recap - The Week That Was
LRC Mary Cain Is A Nerd, US 1,500 Runners Run Fast But Somehow We Get Depressed, Don't Believe Everything You See On Facebook This week we remind you not to believe everything you see on Facebook, talk about the crazy-fast US 1,500 times from last week but somehow get a little depressed by it before getting out of our funk to realize Mary Cain is a nerd, discuss some crazy Russian doping news, and praise Bridget Franek for taking a sabbatical at age 25. Plus talk of Alan Webb, Evan Jager, Chris Lear and Lolo Jones.
*LRC Correction On Centro Showing A "Visible Limp" Through The Mixed Zone This is a correction on what we said initially in our Paris recap.
LRC Women's 800: Alysia Montaño Nearly Wins, Kate Grace Joins The Sub-2:00 Club Alysia Montano battled for the win and left with a season's best and Kate Grace joined the sub 2 club.
*Stanford's Justine Fedronic Breaks Stanford 800 Record With 2:00.97 She got the World Champs "B" standard and is fastest in France right now so has a shot at going to Moscow.
*LRC Interview With Fredonic

LRC Women's 5,000: Tirunesh Dibaba Runs World-Leading 14:23.68 5,000 As Relative Unknown Almaz Ayana Becomes 6th-Fastest Woman Ever Not a good day for Molly Huddle or Amy Hastings but Jackie Areson did PR.
*Reuters: Dibaba Says This Was Her Last Race Before Moscow, Where She Will Double 5k/10k

MB Talk: Montano 1:57.75!, Kate Grace Breaks 2:00, Dibaba 14:23
2 Reviews & 1 Book Excerpt From John McDonnell: The Most Successful NCAA Coach In History
Book Excerpt The Legendary Story Of The 1989 Penn Relays DMR, Where 4 Kids From Arkansas, Texas And Missouri Beat 4 African Olympians And The Olympic 1,500m Champ The 1989 Mount St. Mary's Penn Relays DMR team featured 4 African Olympians, including 1988 Olympic 1,500m champ Peter Rono. John McDonnell's Arkansas squad featured 4 kids from Texas, Missouri and Arkansas. A legendary motivational speech by McDonnell and Joe Falcon on the anchor made for one of the great upsets in Penn Relays history. Read all about it in this excerpt from the new John McDonnell biography.

LRC Reviews: #1: Two Thumbs Up
*Review #2 by D2 Coach Torrey Olson "It's got a lot to offer anyone interested in an incredibly sustained passion for the both the sport and the profession."
Mid-Week Results: Americans Distance Action In Europe; Caster Semenya's 2013 Debut, Badwater