LRC Two-Time Olympic 200 Champion Veronica Campbell-Brown Reportedly Has Tested Positive For A Diuretic All day, there was buzz as it was reported early Friday that a female Jamaican medallist had tested positive. Was it going to be a big fish or small fish? A very big one indeed.
MB: Two-time Olympic 200 champ Veronica Campbell-Brown has reportedly tested positive for a diuretic
MB: Female Jamaican Olympic medallist tests positive
Upcoming
Olympian Guor Marial Makes Emotional Return to South Sudan After Being Away From His Family For 20 Years Guor ran in London under the Olympic flag, but now is a US citizen.
Solid European Distance Performances In Huelva: Spain's Alemayehu Bezabeh Runs 13:14 In The 5k; 6 Go Under World Champs "A" In Men's Steeplechase
Extensive Gary Cohen Q&A With 1972 Boston Marathon And 1972/73 NYC Champion Nina Kuscsik Kuscsik's Boston win in 1972 was the the first year with official women entrants.
Video Memorial To HOF Coach Berny Wagner
*Results *LRC Recap *IAAF Recap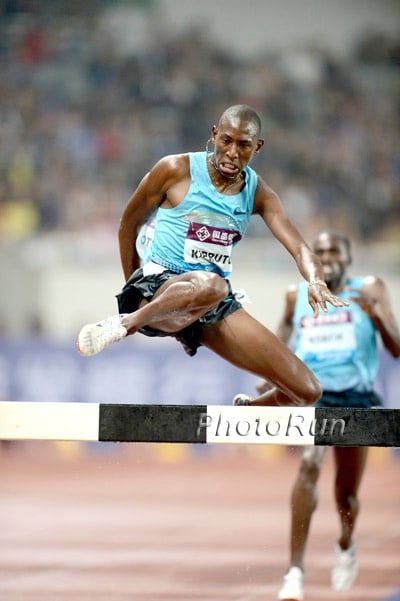 LRC Men's Steeple: Conseslus Kipruto Beats Ezekiel Kemboi Again There was no shoving or DQs this time and as a result, we've officially got a new king (for now) in the event. Good news, Jager fans - Kipruto is getting slower each time he races.


LRC Women's 5,000: Meseret Defar Emphatically Wins Her Rematch With Genzebe Dibaba (link fixed) Those of us who thought Genzebe Dibaba was the 5,000 world champion were given a rude awakening tonight as Defar crushed her over the final 300. And that spells bad news for US 1,500 hopes. Coverage of 5,000 only. More coverage coming later.



LRC Men's 200: Usain Bolt Returns To His Winning Ways - Wins 2013 Bislett Games 200 In World-Leading 19.79 Coverage of 200 only. More coverage coming later.
*The Telegraph: "Usain Bolt Silences Critics By Claiming Summer's Fastest 200"

LRC Rest Of The Meet (All Other Events): Ayanleh Souleiman Wins Dream Mile, Yekaterina Poistogova Wins Women's 800 The pace was way too hot in the women's 800 and also too hot in our minds in the men's mile.
More: Tiffany Porter (100H) And Shara Proctor (LJ) Lead UK Performances With Wins In Oslo
*Daily Relay: Five Things We Learned At The Bislett Games
*EARecap European Performances From Oslo: Czech Republic's Olympic Bronze Medalist Zuzana Hejnova Won Her 4th DL 400H Race Of The Season In 53.60
News From The Caribbean
Assorted International News
Oslo Pre-Meet News
LRC Oslo Meet Preview: Dream Steeple: Kipruto Vs. Kemboi Round II Plus Dibaba Vs. Defar Round II Oslo should be fantastic as there is a mouth-watering men's steeple where double Olympic champ Ezekiel Kemboi gets his re-match with the 18-year-old sensation he threw off the track in Eugene. In the women's 5,000, Genzebe Dibaba tries to prove her win 5,000 over Defar wasn't a fluke. Plus the Dream Mile.
*IAAF Preview: Bolt Out For Redemption
*AP Preview: Bolt Says He Wants Sub-20 In Rome


Usain Bolt Returns To Action Thursday In 200m In Oslo And Laughs Off Suggestion His Time Has Passed The Diamond League meet is Thursday. Bolt is the headliner, plus Kipruto vs. Kemboi in steeple, Chicherova vs. Vlasic in high jump. Neither Kiplagat nor Kiprop are running the famed Dream Mile.
*SA 3:54 Miler Johan Cronje Hoping For A Good Race At Oslo Dream Mile After DNFing In Hengelo Last Weekend He set a NR in the 1,500 earlier in the year with 3:33.46.
*Javelin Stars Tero Pitkamaki (2007 World Champ), Keshorn Walcott (2012 Olympic Champ) and Andreas Thorkildsen (Former Olympic Champ) Speak At Press Conference
*European Javelin Champ Vitezslav Vesely Wins Prague Competition On His First Throw He'll compete again tonight in Oslo.
*More Oslo Press Conference *Start Lists
NBC Sports: What Will It Take To Motivate Usain Bolt?
Assorted US News
Random News
Wednesday Non-Distance News
Surprising: Brenda Martinez To Run 800, Not 1,500, At USAs The 1,500 team just got a lot easier for Mary Cain to make as the US gets to send 4.
Classy Move: AJ Acosta's Family Has Taken In 4 X 400 Gold Medallist Keshia Baker So She Can Train And Go To Grad School
LRC Men's 1,500: Oregon's Mac Fleet Kicks To Victory To Delight Of Hometown Crowd Fleet was third at PAC-12s but first at NCAAs as he provided the in-stadium highlight of the 2013 NCAA champs while the crowd went nuts. 4:21 HSer Zach Perkins of Air Force was the runner-up as a true soph. We recap that plus post-race shoving shenanigans.
*Oregonian: Duck men 4th, but Mac Fleet's 1,500 victory reverberates Fleet is full of praise for coach Andy Powell. "(He) believed in me, I think, more than anyone, that I'd be able to bounce back. Without Andy, I don't think I'm here (with a title)."
*Recommended Watch: Texas' Patrick McGregor Was "Having The Race Of His Life Until 100 To Go" When He Fell To The Track
*MB: MAC FLEET FTW
*MB: Riley Masters Blames McGregor
*MB: NCAA Men's 1500m Live Updates


LRC Men's 5,000: Lawi Lalang Defeats Two Fresh Sub-13:20 Guys To Complete The 10k/5k Double Paul Chelimo and Diego Estrada were a very respectable 2nd and 3rd.
*MB: Lawi Doubles 13:35 FTW
*MB: LAWI vs. ESTRADA vs. JENKINS
*MB: Who exactly are the best in their events to never win an NCAA title?


Team Competition: Wild 4 X 400 Finish Results In Texas A&M And Florida Sharing NCAA Team Championship With 53 Points Texas A&M's powerhouse 4 x 400 team dropped the stick and only scored a single point as Florida won the event to miraculously tie A&M. Amazingly, in the year 2013, there is no tiebreaker. Arkansas was 3rd (46.5) and Oregon 4th (44).
*Texas A&M's Men Feel The Aggie-Ny Of NCAA Track And Field Title Tie
*MB: Pat Henry leaving A&M for University of Texas?
*Mike Holloway Pleased With Tie: "There's the old saying (about ties), it's like kissing your sister. I love my sisters."
*MB: Why the hell is there not a tie breaker for the team Champion at NCAA Champs?!?!?!?!
*MB: WTF: Did Dwight Stones Just Screw Up the NCAA Team Title on ESPNU?

LRC Day 4 Photos
Day 3 Coverage
LRC Men's 800: Elijah Greer Wins NCAA Title Number Two, Denies Cas Loxsom Of Coveted Title Number One The two seniors both wanted this one badly and were way better than everyone else in the field.
*MB: Elijah MF Greeeerrrr FTW! 2x NATIONAL CHAMPION - 2013 NCAA's
*MB: 800m final - why were the Penn State uniforms not matching?
*R-G: "Elijah Greer closed out his Oregon career by accomplishing what everyone expected when he arrived."


LRC Steeple: Anthony Rotich Wins As Henry Lelei Goes Down On The Final Water Barrier The Kenyans up front ran super-fast as Rotich came into NCAAs with an 8:37 PR but left with an 8:21 IAAF "A" standard. Former US junior champ Curtis Carr of BYU got top American honors.
*MB: Henry Lelei false started

LRC Day 3 Photos

Non-LRC Coverage:
Day 2 Coverage
LRC 2013 NCAA Men's 10,000: Lawi Lalang Halfway Home To The Double The Arizona junior made it look easy as he took home the 10,000 crown on day 2 of NCAAs. Full of confidence afterwards, he told us he's not worried about anyone in the 5,000 even though there are two other sub-13:20 guys.

LRC 2013 NCAA 1,500-Meter Semifinal Recaps: Undefeated Pat Casey Squeaks Into Final In the women's action Oklahoma State's and Natalja Piliusina emerged as the favorite.
*MB: Pat Casey - Say It Ain't So....

Non-LRC Coverage:
Friday Night: Women's 800: LRC Phoebe Wright Gets The Win, Ajee Wilson's Winning Streak Comes To An End And Gabrielle Anderson PRs Wright ran 2:00.85 as Wilson was 3rd (2:01.24).

Friday Night:
RRW/LRC Rabbits Falter, Kenenisa Bekele Outkicks Merga For 27:12 Win The 13:18 first 5k never materialized. In the end, Bekele was better than everyone else over the last 200 but he's got some work to do to scare Mo Farah.

Men's International Mile: LRC James Magut Wins, No HS Sub-4 As Will Leer Gets Top American Honors, As Andrew Wheating Runs "Scared" It was a little windy and the times disappointed, but the post-race interviews with Leer, Wheating and Montoya certainly didn't as they were full of insight.

Men's National 1,500: LRC Men's National 1,500: Garrett Heath Wins, Chris Solinsky's Lacking Speed And Alan Webb Struggles But Is Happy Garrett Heath got the win, but our focus in what was basically the "C" heat was firmly on the two Olympians and American record holders (one former, one current) in Webb and Solinsky. Neither ran fast. Webb was next-to-last in 3:45, but even more stunning than that time was the fact that the famously impatient Webb, who is on his fourth coach in four years, was very upbeat afterwards. *Alan Webb Interview
Lance Armstrong In The News
Post-Boston Marathon
LRC Men's 800 Even Rain Can't Stop David Rudisha; A Fall Robs Erik Sowinski Of Another Great Finish David Rudisha won as expected and Erik Sowsinki's good form continued as Robby Andrews still is searching for the breakthrough.
Recommended Read: NY Times Writes Feature On Colm O'Connell And David Rudisha: Improbably, Missionary's Work Is To Mentor Kenyan Stars
*MB: Rudisha's SECRET revealed: time operates differently for him!
*Brit Andrew Osagie Wins Race For 2nd Behind Rudisha In 800m


LRC Men's 5k Hagos Gebrhiwet Establishes Himself As Mo Farah's Biggest Rival, Ben True Runs Well American Ben True's fine 2013 continued with a 4th place finish ahead of Dejen Gebremeskel.
*RRW Distance Recap: Rudisha Cruises Despite Conditions, Gebrhiwet, Aregawi, Frazier And Saarel Win

Dream Mile/100: DyeStat Dream Race Coverage: Ben Saarel Closes Last Lap In 56 To Win In 4:02.72; Edward Cheserek Was 3rd In 4:05.36, Andres Arroyo 8th (4:08.41) In the girl's dream mile, Wesley Frazier won in 4:39.17. Cameron Burrell won the boy's Dream 100 (10.40) and Ky Westbrook won the girl's race in 11.52.
*Duke Recruits Go 1-2-3 In New York DL HS Girls' Mile
*On The Boards: BEN SAAREL 4:02.78!!! *Andres Arroyo O U C H *Boy's Mile Race Video *Girl's Mile Race Video

LRC Post-Race Interviews: Men: *David Rudisha *Leo Manzano (talks about no Nike deal) *Ben True *Robby Andrews (might run 800 at USAs) *Erik Sowinski After Fall *Ibrahim Jeilan
HS: *Ben Saarel Dream Mile Winner *Bernie Montoya *Andres Arroyo

For Those Who Don't Think Genes Matter: HSer Cameron Burrell Wins adidas Dream 100 On The Same Track His Dad Leroy Set The WR At 9.91, Beating Carl Lewis In 1991 Burrell's father is a former WR holder and a 4 x 100 gold medalist from the 1992 Olympics. His mom also won a gold medal in the '92 Games running the heats of the 4 x 100. Yeah, good genetics matter.
2 Reviews & 1 Book Excerpt From John McDonnell: The Most Successful NCAA Coach In History
LRC Book Review By Former Hog Marlon Boykins: "Two Thumbs Up:" - "The book is full of insight into the hard-working, team-first ethos that made us such a successful." We had two people review the book, including the 1:47 man Boykins, who was at Arkansas at the pinnacle of its heyday. "It was a self-contained UBER-COMPETITIVE atmosphere ... the sprinters, jumpers and distance guys all trying to show which group reigned supreme ..."

Book Excerpt The Legendary Story Of The 1989 Penn Relays DMR, Where 4 Kids From Arkansas, Texas And Missouri Beat 4 African Olympians And The Olympic 1,500m Champ The 1989 Mount St. Mary's Penn Relays DMR team featured 4 African Olympians, including 1988 Olympic 1,500m champ Peter Rono. John McDonnell's Arkansas squad featured 4 kids from Texas, Missouri and Arkansas. A legendary motivational speech by McDonnell and Joe Falcon on the anchor made for one of the great upsets in Penn Relays history. Read all about it in this excerpt from the new John McDonnell biography.

LRC Review #2 John McDonnell D2 Coach Torrey Olson We had Olson, who has an MFA in creative writing, give his take. "It's got a lot to offer anyone interested in an incredibly sustained passion for the both the sport and the profession."
More Post NCAA News
Drug News: Doug Logan Condones Doping?
US/NCAA News
UK Stuff
Sprint News: 51-Year-Old Ben Johnson Anchors Celebrity 4 X 100
Kenyan World Youth Trials In The Books; 7 Age Cheats DQed
More Post-NCAA Stuff
UK Chooses Their Team For Euro Team Championships
Tuesday Track Action
Toronto: Robby Andrews Beaten By Over 2 Seconds In 800, Running 1:49.74 The American star has a lot of work to do now. Andrews was 4th in a relatively slow race.
*Toronto Games Recap: Derek Drouin Win In HJ And Damian Warner Win In Hurdles Are Highlights
*Main Results Full results here. Zane Robertson ran 3:40 in 1,500.
*Photos

Moscow: World Champ Mariya Abakumova's Javelin Highlights Moscow World Champs Preview Meet Yuriy Borzakovskiy finished 2nd to Andre Oliver in the 800m. Dwain Chambers won the 100m. *Full Results
Wednesday's Distance News
Recommended Read: Race Director For Grandma's Marathon Scott Keenan - The Longest-Serving Race Director In The USA - Is Retiring He's been at Grandma's basically since the beginning, 37 years, and has made the race his life.
Post-NCAA News
News From Over The Pond
Speedendurance.com: Bolt's Loss To Gatlin - What Have We Learned?
Good News: NY Times Says You May Only Need To Go To A Dentist Once A Year The bad news is you have certain risk factors you should go more than twice a year.
LRC Women's 1,500: Oklahoma State's Natalja Piliusina Weaves Her Way From Seventh To First In The Final 100m To Win Florida's Cory McGee ended up a well-deserved second in 4:13.94.


LRC Women's 3,000m Steeplechase: Emma Coburn Wins Her Second NCAA Steeple Title As Colleen Quigley Gets The "A" Coburn got the win here, but wasn't nearly as dominant as she usually is in an NCAA steeplechase, as FSU's Colleen Quigley finished only 2.85 seconds back after a fast last lap.
*Emma Coburn Signs With New Balance To Begin Her Professional Career She's decided not to hire an agent.
*2nd Coburn-NB article She'll stay in Boulder to continue to be coached by Mark Wetmore and be a volunteer assistant at CU. She said, "In all of my conversations with companies, I made it very clear that no matter what, I'm staying in Boulder. No one protested ..."


Team Competition (Kansas Wins, Oregon Denied The Triple Crown): Kansas Wins First Women's NCAA Title In School History Stanley Redwine's program has risen as the Jayhawks look to recapture the track and field glory they used to enjoy when it was a men's only program. Kansas won with 60 points to Texas A&M's 44 and Oregon's 43.
*Oregonian: Oregon Women Unravel, English Gardner shocks everyone and says she's going pro early All we can say is good luck getting a big deal from Nike. Of course, it might look bad for the Swoosh if the beloved Gardner signs with someone else.
*Oregonian: Tough finish for a UO program with higher aspirations

Jesse Squire Blogs: "Worst Announcing Ever" At 2013 NCAA Meet

Other Events: *Women's High Jump ... Brigetta Barrett Of Arizona Ends Career With Record Sixth HJ Title
*Brianna Rollins Runs 12.39 In 100H WOW is all we can say. Truly incredible.

LRC Day 4 Photos
Non NCAA Saturday/Sunday Action: Hengelo & Oakley NYC Mini *Full Rabat Results *Mini Results
Day 3 Coverage
LRC Women's 5,000: Abbey D'Agostino Repeats And Denies Jordan Hasay The Storybook Ending Hasay somewhat surprisingly had the lead on the last lap and the Oregon crowd was going nuts until Abbey D battled back and won going away.
*MB: Abbey D wins Betsy 2nd, Jordan 3rd.
*MB: Abbey challenged by hasay, blows her away


LRC Women's 800: Natoya Goule Completes Undefeated Season and Pulls Five Others To Lifetime PRs Goule became the 4th-fastest collegian in history and just missed the coveted 2:00 barrier as Oregon's Laura Roesler had to settlle for runner-up honors.

Non-LRC Coverage:
Non-NCAA News
Day 1
LRC Betsy Saina Comes Through As Favorite And Wins 10k; Emma Bates Third Saina delivered as the favorite as she ran away from Aliphine Tuliamuk-Bolton on the last lap. Top American honors went to Boise State sophomore Emma Bates.
*Results LRC Rome Photo Gallery


LRC Women's 1,500: Abeba Aregawi Dominates As Jenny Simpson Runs Race Of Her Life* To Finish Third American Jenny Simpson is in the form of her life and we have the stats to prove it - way better than when she was world champ. The problem is Sweden's Abeba Aregawi is on another planet right now.
On The Boards: LR, Stop the hyperbole! Race of her life? Jenny Simpson won WC gold!


LRC Men's 100: Justin Gatlin Stuns Usain Bolt In Rome If Bolt losing isn't rare enough, how about this - Bolt got off to a self-described "perfect start" and still lost to Gatlin.
*MB: Gatlin 9.94 over Bolt in Rome
*Lauren Fleshman Tweets: "Wish I could get excited about an American off a drug suspension beating a world record holder, but nope. #RomeDL."
*After Loss, Bolt Puts Loss In Perspective & Says He'll Be Back Guardian Good news is Bolt says his hamstring is fine. Up next is a 200m in Oslo next week.


LRC Men's 5,000: Yenew Alamirew Stuns Hagos Gebrhiwet Hagos Gebrhiwet ran 12:55 but he was no match for the 23-year-old Alamirew, who closed in 54 to get the win after only finishing third at Pre. Meanwhile, Pre winner Edwin Soi was just 5th.
*MB: ALAMIREW OVER GEBRIWHET!!! 12:54 with 54 last lap!!


LRC Rest Of Meet: Aman Wins 8 Over New French Star, Allyson Felix Gets Beaten Badly, Fall In Steeple, Jump-Off In High Jump, And Almost A Home Win In Triple Lots of drama before a nice crowd in Rome. A 21-year-old Frenchman emerged in the 800, Allyson Felix ran her worst 200 since 2005 and much more.
*USATF List Of US Performances
*Milcah Chemos Gets Win In Steeple, Other Kenyans Fair Poorly In Rome Daily Nation
LRC Women's 800: Mary Cain Breaks 2:00 As Francine Niyonsaba Dominates Niysonaba was fantastic and got a new meet record. Also running amazingliy was American Brenda Martinez, but both were overshadowed by the 17-year-old Cain.
*Oregonian: Mary Cain shatters 31-year-old national high school record
*Mary Cain Yahoo Photos


LRC Men's 5,000: Mo Farah Is Beaten By Edwin Soi As Galen Rupp Finishes Sixth Dathan Ritzenhein ran the 2nd-fastest time of his career and Chris Derrick almost took top American-born honors but Galen Rupp's pride enabled him to mow them down in the last 100m.
*Oregonian: Edwin Cheruiyot Soi hands Mo Farah his first loss in an outdoor final in almost two years at the Pre Classic
*Eugene Register-Guard: Soi's saucy kick shoves Farah, Rupp aside *Register Guard Photo

LRC Bowerman Mile: Silas Kiplagat Steals The Race From Asbel Kiprop At The Line As 10 Guys Run 3:51 Or Faster Matthew Centrowitz and Lopez Lomong both ran 3:51 but wanted more as it's never fun to finish 9th and 10th.

LRC Men's Steeple: Conseslus Kipruto Survives Ezekiel Kemboi's Shove; Evan Jager 8:08 The men's steeple had everybody, including a mouth-watering dual between the future (Kipruto) and present rulers (Kemboi), that more than lived up to the hype. Evan Jager was right there until the last 250.

LRC Women's 5,000: Tirunesh Dibaba Survives A Scare From Mercy CheronoDibaba won but boy did she have to work for it on the thrilling last lap. Kim Conley PRed to grab top American honors.

LRC Women's 1,500: Hellen Obiri Wins In 3:58 As Treniere Moser And Sheila Reid Run 4:02 Alberto Salazar's magic continued as the 31-year-old Moser crushed her 2006 PR.

LRC Men's 800: Mohammed Aman Dominates As Nick Symmonds Debuts In Third An encouraging race for both Aman and Symmonds, who are dreaming of gold in Moscow.
Bummer: JapaneseTeen Sprinter Yoshihide Kiryu's 10.01 From Earlier This Year Won't Be Recognized By The IAAF As Tying The World Junior Record IAAF says the type of wind gauge they used (which recorded .9 m/s) was not up to current international standards.
Week In Review
LRC WTW: Lawi And Elijah Impress, Manzano And Webb Struggle, Farah And Rupp Lose But Win, Discus Love And More This week we look back at the last two weeks and tell you had a good two weeks and who had a bad two weeks. We rave about Elijah Greer and Lawi Lalang and tell you how special their NCAAs were, praise Galen Rupp and Mo Farah even though they got beaten, worry about Leo Manzano and Alan Webb, and throw in some discus and sprint love. Along the way, we tell the NCAA to get it right for once with the team score.
adidas To Make $400-500 Designer Running Shoe
CNN "Human To Hero" Piece On Haile Gebrselassie, Who Says He'll Run Until He Dies Geb blames increased standard of living in Ethiopia on producing fewer good runners, saying, "The more good things you have, the less athletes you have. You don't see so much athletes from Addis Ababa (the capital). You don't see so much athletes from the city, most of our athletes they come from the countryside."
Wednesday In Dakar: Full Results From Dakar IAAF World Challenge Ethiopia's Almaz Ayana won the 3k in 8:44, Daniel Komen the 1,500 in 3:35 and Kim Collins the 100 in 10.04.
*IAAF Dakar Recap
LetsRun.com 2013 NCAA Video Interviews (Larger Video Player With Captions Here)