Doping News
Very Random News
More From Penn/Drake/Payton Jordan
Payton Jordan: LRC: Women's Results/Analysis
LRC: Men's Results/Analysis
Diego Estrada And Betsy Saina Are USTFCCCA DI Athletes Of The Week For Their Payton Jordan Performances Estrada ran 13:15.33, which is the second fastest by a collegian outdoors, only behind Henry Rono's 13:08.4 from 1978. Saina ran 31:37.22, winning by 7 seconds with the No. 3 all-time collegiate mark.
NAU Head Coach Eric Heins On Estrada's 13:15: "I think Diego took a big step forward tonight in establishing himself as a world-class runner."
Emma Coburn On Just Holding Off Jamie Cheever: "In the steeple, if you are tired, you are tired. There isn't another gear you can change to with the barriers." Coburn won 9:28.26 to Cheever's 9:29.13.
Cheever Talks About Her Huge PR: "I was hoping to get in the 9:40s so this was a really big surprise to run under 9:30 and have a 22 second PR."
Britain's Olympic Triathlon Champion Alistair Brownlee Is Trying To Qualify For Selection To The UK Team For 2014 Commonwealth Games He ran 28:32.48, which puts him 22 seconds outside England Athletics' B qualifying standard.
Good: Regina Jacobs's Stanford Frosh 800 Record Broken Amy Weissenbach won the 800 in 2:04.24 and also put herself #2 all-time at Stanford.
Ben St. Lawrence Secures Australian Team Spot For Moscow World Champs With His 27:37.55 Win At Payton Jordan


Drake: AJ Acosta Still Sponsor-Less And Having A Rough Start To 2013 With A 4:11 (Kansas), 4:06 (Drake Road), And 4:05 (Drake Track) In His First Three Races He'll race again this weekend at the ReRun San Diego meet with a loaded mile field that includes David Torrence, Ryan Gregson, Donn Cabral, Cam Levins, Zane Robertson and Jordan McNamara.
*MB: AJ Acosta Has 700 Miles On His Current Shoes Because No One Will Give Him Free New Ones
Drake Relays Deal With ESPN2 Hurt Local Stations Who Were Restricted On What Replays They Could Broadcast From The Meet The article leads with, "Why would the powerbrokers of a fringe sport set parameters on free publicity?"
Europeans Fair Well At Drake Relays As Spanish HJer Ruth Beitia And Czech Republic's Zuzana Hejnova (400H) Both Win With World Leads German PVer Bjorn Otto beat his rival and Olympic champ Renaud Lavillenie twice, in both the mall and track competitions.


Random Olympic News
The NFL Gets A Discus Thrower
Admin News
The BBC Looks Back At The Horrific Systematic Doping Of East Germany
Countries Start To Name Their Marathon Squads For 2013 World Champs
The Virgin London Marathon - The World's Most Competitive - Was Sunday *Top Results LRC: Photo Gallery
Kansas Relays
Usain Bolt Injured, Rupp, Ritz, Centro At Oregon Twilight This Weekend
US Pro, Prep, NCCA News
Olympic News
Weekend Results On The Roads
Upcoming Action: Rudisha Will Open His Season Friday
LRC Men's Results And Flash Recap Ben True's big season continued as he won the 5k, but the most improved American is Eric Jenkins, who came into the meet as a 14:04 guy but is now one of the 10 fastest collegians in history thanks to his 13:18! Chris Solinsky's comeback to relevance took a BIG step forward while Alan Webb's took somewhat of a hit.
*Ashton Eaton Was 3rd In PV With 16 Feet, 3/4 Inch As His Fiance Brianne Theisen Won The HJ With 5-11-1/2
*Brett Larner Looks At Japanese Weekend Results: Suguru Osako (27:38.31) And Yuki Sato (27:39.50) Go 2-3 And Come Up Just Short Of 27:35.09 NR At Payton Jordan Elsewhere at Oda Memorial Meet in Hiroshima, Kenya's Paul Tanui won the 5k in 13:16.57 as Martin Mathathi was 6th (13:41.80) and Yuki Kawauchi 18th (14:09.88).

LRC Women's Results And Flash Recap The good news is Jordan Hasay is now one of the 5 fastest collegians in history. The bad news is she missed the "A" and "B" standards. The breakthrough of the night came from Jamie Cheever, who went from 9:51 to 9:29 in the steeple.
*MileSplit Weekend HS Coverage: At Payton Jordan, Elise Cranny Finished 3rd, Running The 3rd Fastest All-Time HS 1,500 At 4:15.07 The time is only behind the 4:10.77 by Mary Cain at Drake and Jordan Hasay's 4:14.50.

Stanford On The Message Boards:
MB: Official Payton Jordan Updates Thread
MB: WEBB IS BACK, BABY, 13:37
MB: JORDAN HASAY: 32:06 UO/PAC 12 #1 ALL TIME, NO. 4 NCAA ALL TIME - WOW
MB: #3 AT HS 1500m-Elise Cranny at Payton Jordan
MB: Olympic Triathlon Champion Brownlee runs 28:32 for 10k at Stanford
MB: Alistair Brownlee running Stanford 10K
MB: Twin Robertsons
Penn Relays Ended Saturday
LRC Saturday American Women's 4 X 800 Record, Robby Andrews Kicks Too Soon, Emily Lipari Impresses And More It was a great final day at Penn. The American record got crushed in the 4 x 800, Big East XC champ Emily Lipari somehow won the 4 x 800 for Villanova, excitement in the USA vs. the World DMR, Oregon won the 4 x mile, Penn State the 4 x 800, and German Fernandez and Robby Andrews were in the mile that saw 3 4 US guys go sub-4 for the first time. In the USA vs. the World races, the US won everything but the DMR and women's 4 x 100. *IAAF Recap
*IU's Derek Drouin Breaks Stones's Stadium Record At Penn With 7 feet, 7 3/4 inches
*Jamaican Women Win Penn Relays 4 X 100, Anchored By Olympic Champ Shelly-Ann Fraser-Pryce
*DyeStat Penn Relays High School Highlights
*Jamaican HSers Do Well As They Won 4 Of The 6 Available Relays At Penn
*Jamaican HSer Clive Pullen Wins Rare Penn Relays Double, Winning TJ The Year After He Won The LJ
*Philly.com Recap Of American 4 X 800 Record
*AP Recap Of 4 X 800 Record And USA Vs. The World
*Two Great Quotes From Emily Lipari And Cas Loxsom That Show The Passion Of Penn Lipari: "It's all about guts, and it's all about heart." Loxsom: "I heard all of those 'Nova fans with about 300 to go and said screw them."
*Villanova Women Somehow Upset Oregon In 4 X 800 Philly.com
*Jeff Demps Gets Traded He ran the 4 x 100 at Penn.
*USATF Recap With Quotes From Athletes
*Good Question: Why Are Drake And Penn The Same Weekend?

Penn On The Boards:
Experts: Don't Stretch Or Cool Down
2 Reviews & 1 Book Excerpt From John McDonnell: The Most Successful NCAA Coach In History
LRC Book Review By Former Hog Marlon Boykins: "Two Thumbs Up:" - "The book is full of insight into the hard-working, team-first ethos that made us such a successful." We had two people review the book, including the 1:47 man Boykins, who was at Arkansas at the pinnacle of its heyday. "It was a self-contained UBER-COMPETITIVE atmosphere ... the sprinters, jumpers and distance guys all trying to show which group reigned supreme ..."

Book Excerpt The Legendary Story Of The 1989 Penn Relays DMR, Where 4 Kids From Arkansas, Texas And Missouri Beat 4 African Olympians And The Olympic 1,500m Champ The 1989 Mount St. Mary's Penn Relays DMR team featured 4 African Olympians, including 1988 Olympic 1,500m champ Peter Rono. John McDonnell's Arkansas squad featured 4 kids from Texas, Missouri and Arkansas. A legendary motivational speech by McDonnell and Joe Falcon on the anchor made for one of the great upsets in Penn Relays history. Read all about it in this excerpt from the new John McDonnell biography.

LRC Review #2 John McDonnell D2 Coach Torrey Olson We had Olson, who has an MFA in creative writing, give his take. "It's got a lot to offer anyone interested in an incredibly sustained passion for the both the sport and the profession."
International News
Oregon News
Men's Race Recap & Analysis
LRC 2013 Boston Marathon Men's Race: Lelisa Desisa Wins 3-Way Kick For Title And Remains Undefeated At The 26.2 Distance The race ended up being a fan and promoter's dream - a 3-way kick between 3 big names for the title. Since the local CBS station went to commercial, we hype up the finish for you and ask if marathoning has a new #1 in Desisa. John Kellogg explains to you why the times were slow (2:10:22 FTW) and we point out how the slowest guy won the kick and just how special our predictions were. Plus Jason Hartmann (4th), Daniel Tapia (9th), Craig Leon (10th) and Rob Watson (11th) meant four North Americans in the top 11.


LRC Long-Time Track And Field Official Tommy Meagher Reacts Heroically To Boston Marathon Bombings Many of you certainly recognize Meagher - who in many ways is the "face" of running in New England. He passed the guts test with flying colors.

LRC LetsRun.com Visitor Will Brown Talks About The 2013 Boston Marathon Terrorist Attacks The 60-year-old marathoner was just 2.5 blocks away and says "it was the biggest sound" he'd ever heard - so loud he "thought it was possibly a plane crash."
The Virgin London Marathon *Top Results
Men's Race LRC Marathon Gods 1, Distance Runners 0: World And Course Record Attempts Disintegrated As Everyone Bonked After A Crazy-Fast First Half The totally loaded men's field tried to live up to hype as they went out on WR pace, but in the end it proved to be a destructive pace. Course record holder Emmanuel Mutai had a 28-second lead at 40km but ended up losing by 29 seconds as three different people had the lead in the last 4 miles. In the end, Ethiopia's Tsegaye Kebede was the winner.
LRC: What Happened to World Record Patrick Makau? He Didn't Stay With Leaders for 10k
*Top Results
*MB: Imagine if a in-form Ryan Hall had run London this year...
LRC: Photo Gallery

More London Men: *Side Stitch May Have Helped Kebede Come From Behind To Victory Independent
*Mo Farah Will Run Full London Marathon In 2014
*Editorial: Half A Mo Better Than No Mo Telegraph


Hamburg: 2003 5,000 World Champ Eliud Kipchoge Wins Debut In 2:05:30 The fastest marathon of the weekend.
*MB: HAMBURG MARATHON LIVE - ELIUD KIPCHOGE DEBUT
IAAF Good Q&A With David Rudisha's Coach, Brother Colm O'Connell "I am certain he can still improve on the 1:40.91 he ran in London ... But, frankly, I don't think 1:40 or below is going to be possible soon. 1:40 cannot be broken in the next two or three years. It will take time: 1:40.9, 1:40.8, etc. The question is, will he last long enough?"
Which Americans Can Go To Worlds?
RIP: European PVer Marianna Zachariadi Dies At The Tragically Young Age Of Just 23 After Battling Cancer
Field Event News
US Road Race News
Other Weekend Action: Japan HSer Runs 10.01; David Rudisha Is A DNS With The Flu
May 10th: 10 Olympic Champions And 14 World Champions On Start List For Doha Diamond League Meet Athletes competing include David Rudisha, Asbel Kiprop (1,500), Genzebe Dibaba (1,500), Allyson Felix vs. 2011 World champ Amantle Montsho and 2008 Olympic champ Christine Ohuruogu in the 400, Shelly-Ann Fraser-Pryce (200m), and Jesse Williams.
US Milers Getting Some Pub
Recommended Read Great Will Leer Profile: Move To Southern California Is Paying Off
*USATF Elite Athlete Spotlight - Garrett Heath He's getting his PhD from Stanford soon. One smart (and fast) dude.
The Week In Review
LRC No Boston Hat Unless It Has A Swoosh, The 2013 London Marathon, US 1,500 Stars Struggle, & How Do You Pronounce Tsegaye Kebede? This week we take a look at the struggles of the US 1,500 stars Manzano, Rowbury and Uceny, wonder if it's the year that Brenda Martinez and Will Leer break through, wonder if Abbey D will break 15:00, wonder what the name of the 2013 New York City marathon will be, explain to you why the men's times were so slow in London, tell you what Eliud Kipchoge, Paul Tergat and Haile G have in common, and lament the fact that Andrew Wheating can't wear a Boston cap unless it has a Nike swoosh on it. All of that and more including Usain Bolt the king and a HSer runs 8:46 in 15 mph winds.
Boston Marathon Bombers Were Going To Attack Times Square
US News
Upcoming Spring/Summer Action
Kenyan News
Recommended Read: IAAF Profile On Ethiopia's World Junior XC Champ Hagos Gebrhiwet, Who Is Being Referred To By Some As "The Next Kenenisa Bekele" The 12:47 5,000 man had a more difficult than usual East African "rags to riches" story as he had lost both this father and mother by the time he was 13 and actually quit running and school at one point to do farm work to provide for his 5 younger siblings.
Questions On The Boards
Blue Collar / Inspirational Runner Of The Week
LRC Meet Conner Paez: "Please don't cut off my leg. Please just don't amputate my leg. I can't lose my leg. I need to run." Two years ago, Conner Paez was on top of the world as a freshman at the University of Pennsylvania (8:16, 14:18). Then his life turned in a second as he was broadsided by a car while on his motor bike. The injuries were bad, very bad. He almost lost his leg, then some toes. Doctors told him he'd never compete again. What's he doing this weekend? Competing again.
Prince Harry And Richard Branson In London (Flash Gallery, More Coming)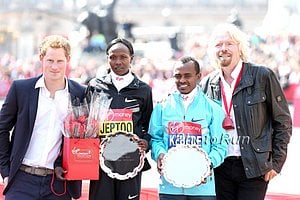 MB Haile Gebrselassie: Happy 40th Birthday!

On 40th BDay - Haile Recaps His 5 Favorite Races And His Biggest Racing Regret Haile's favorite race? The Sydney 10k. His one regret? No Olympic gold in the marathon.
*10 Of Haile's Greatest Races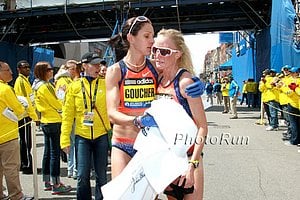 2,000+ World Cross-Country Photos Now Up
Learn From The Pros
LRC Ten Training Tips From Bernard Lagat, Dathan Ritzenhein And Abdi Abdirahman The American men took center stage at the NYC Half on Thursday. You can watch video interviews with the top American men (Lagat here, Ritz here and Abdi here) and we will have more on their race preparations on Friday, but in the meantime we compiled ten training tips from Bernard, Dathan, and Abdi that you can use in your own training.