Women's Race: LRC Priscah Jeptoo Finishes First in Women's London Marathon Marred by Wheelchair Collision Jeptoo was very special over the second half but race was marred by the fact that Olympic champ Tiki Gelana was wiped out from behind in a horrific collision with a wheelchair racer.
*Top Results

London Men's Preview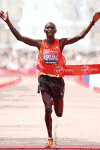 LRC The Greatest Men's Marathon Field Ever The running world keeps on running Sunday on the grandest scale at the Virgin London Marathon that features what we are calling the strongest men's marathon field ever. In it you've got the course record holders at the World Marathon Majors (including the WR holder and fastest marathoner ever) all in their prime squaring off versus the Olympic champ. Spread the word as we break down the field.
On the boards: If You Don't Think London Is the Best Field Ever Tell Us What Is


LRC Women's Preview: Olympic Gold vs Olympic Silver vs World Champ The women's field is stacked and led by Olympic champion Tiki Gelana of Ethiopia. Gelana will have her hands full on Sunday.
Flashback: Women's Olympic Marathon Photos
Note: In terms of Boston, we didn't find it appropriate to cover the race last week due to the tragic attacks. We plan on covering it one week after the fact. The runners will get the attention they deserve here on Tuesday.
More Boston News
Previous London News
Previous London News
Bolt Will Definitely Be At London Anniversary Games
It's Official: Usain Bolt Will Compete At London Anniversary Games At The Olympic Stadium In July; 100 On Day 1 And 4 X 100 On Day 2 Others competing include Mo Farah in the 3,000, Galen Rupp and Leo Manzano in the "Emsley Carr Mile," Arles Merritt, Sally Pearson, Kirani James, Sanya Richards-Ross vs. British silver medallist Christine Ohuruogu in the 300, Jessica Ennis and more. *Telegraph Article
Ricky Simms Talks About What It's Like To Manage The Sport's Biggest Star Simms: "We do a lot of things for Usain and other clients that are not simple business things. Like buying flights, buying cars, PlayStations, tuxedos, whatever. One hour I'll be doing management work for him, one hour I'll be doing agent work for him. Another time I'll be doing big brother work for him."
Oscar P Not Welcome At London Anniversary Games UK Athletics chairman Ed Warner: "I don't want to see the Sunday of the Anniversary Games turning into a media circus. It would overshadow every other athlete that was there."
*Good Read: South African National Championships Came And Went Without Oscar Pistorius "Where does Pistorius the athlete go from here? Where does he end up? And does he matter anymore?"
Yohan Blake Out For Up To 6 Weeks With Hamstring Injury The injury occurred during the UTech Classic meet where Blake DNFed, grabbing his right hamstring.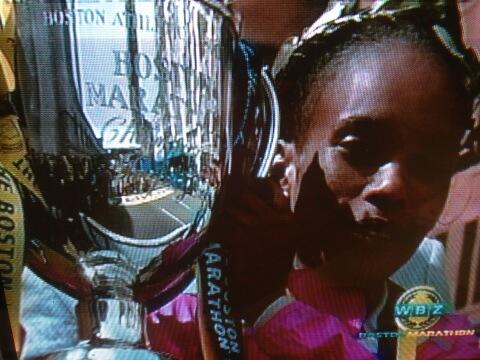 LRC Top 25 Boston Results: Rita Jeptoo And Lelisa Desisa Win The action was exciting as Portugal's Anna Dulce Felix was reeled in after having a 1+ minute lead at 35k. The men's race ended up being a 3-way sprint for home between Gebre Gebremariam, debutante Micah Kogo, and Desisa. Shalane Flanagan and Jason Hartmann led the American charge with 4th-place finishes. The American men, thanks to Daniel Tapia and Craig Leon, place 3 in the top 10!

Race Recaps/News:
Men's Race LRC Marathon Gods 1, Distance Runners 0: World and course record attempts disintegrated as everyone blew up after a crazy fast first half The totally loaded men's field tried to live up to hype as they went out on WR pace, but in the end it proved to be a suicidal pace. Course record holder Emmanuel Mutai had a 28 second lead at 40km but ended up losing by 29 seconds as three different people had the lead in the last 4 miles. In the end, Ethiopia's Tsegaye Kebede was the winner.
*Top Results
*MB: Imagine if a in-form Ryan Hall had run London this year...

Hamburg: 20035000 World Champ Eliud Kipchoge Wins Debut in 2:05:30
*MB: HAMBURG MARATHON LIVE - ELIUD KIPCHOGE DEBUT
Sprint News/Upcoming Track Action
Eventually, They Get Caught Did USADA Waste Its Time?
MB: 2004 Olympic 200 Champ Shawn Crawford Gets 2-Year Doping Ban It's not a surprise that Crawford, who worked with Trevor Graham but was never busted, is now out for 2 years for missing 3 drug tests. However, Crawford supposedly retired last year. Crawford should have notified USADA so as not to blemish his record and then USADA wouldn't have to waste its resources on this. *WADA Statement *More
Non-Boston/London News
Previous Boston Bombing News
FBI Releases Photos, Video Of 2 Suspects Message board thread.
Runners Plastered On Front Page Of NY Post As Possible Suspects Are Two Legit Runners The media has been botching the investigation left and right, but no one has botched it worse than the Post. More here and here.
How You Can Help: One Fund Boston Established To Raise Money For Families Affected By The Boston Bombings
*You Can Also Buy A Boston 2013 T-Shirt Where All Profits Go Towards One Fund
*RW: How To Help Or Show Support For Boston Includes list of everything from donations to memorial runs.
AP Article On Third Boston Bombing Victim, BU Chinese Graduate Student Lu Lingzi Her parents described her death as a "dagger in our hearts."
Yankee Fans Pay Tribute To Boston By Singing Red Sox's Anthem, "Sweet Caroline" During Game At Yankee Stadium After the 9/11 attacks, Boston was singing "New York, New York."
Tribute Paid To Boston Marathon Victims And First Responders During Boston Bruins Game With Moment Of Silence And Special Video Includes moving video of whole stadium singing the national anthem.
Bill Rodgers: "It's such a human sport. I don't think these bombers get that - that when they attack the Boston Marathon, they don't just attack America. They attack all the countries with runners in the marathon."
Ken Goe: "Why attack a joyous celebration of human achievement? That's what terrorists do." "To go ahead and live life without reservation in full understanding of the uncertainties and the possibilities is the kind of courage that makes the ultimate difference."
Friend Of Heat Guard Ray Allen Among Those Injured In Boston Attack The family was among those who lost a leg and that another friend owned the restaurant that employed the 29-year-old woman who was killed.
1968 Boston Champ Amby Burfoot Was At 25.5 Miles When He Had To Stop; Shares Experience In The Crowd Of Confused Runners Halted So Close To The Finish
After Blasts, Chris Rupe, M.D. Went From Marathoner To Medic 30 Seconds After Finishing His First Boston
Animal Rights Activists Outraged After Sochi Officials Announced They Would Kill More Than 2,000 Stray Cats And Dogs Before 2014 Winter Olympics To "Ensure The Safety Of Visitors"
Jamaican Team Concerned With Security Ahead Of Penn Relays Some parents are hesitant to send their children.

Investigation News:
Investigators Hunting For A Man Seen Dropping A Bag In Department Store Surveillance Video And In A Finish Line Image
Country On Edge: In The Wake Of The Boston Marathon, Security Has Upped Nationwide Against Other Possible Threats Including another Bomb threat in Boston's federal courthouse, suspicious packages being investigated, and preliminary tests showed letters sent to President Obama and Senator Roger Wicker contained the poison ricin.
Blue Collar/ Inspirational Runner Of The Week
LRC Meet Conner Paez: "Please don't cut off my leg. Please just don't amputate my leg. I can't lose my leg. I need to run." Two years ago, Conner Paez was on top of the world as a freshman at the University of Pennsylvania (8:16, 14:18). Then his life turned in a second as he was broadsided by a car while on his motor bike. The injuries were bad, very bad. He almost lost his leg, then some toes. Doctors told him he'd never compete again. What's he doing this weekend? Competing again.
Non-London Weekend Road Action
Other News
Random
US News
MB Haile Gebrselassie: Happy 40th Birthday!

On 40th BDay - Haile Recaps His 5 Favorite Races And His Biggest Racing Regret Haile's favorite race? The Sydney 10k. His one regret? No Olympic gold in the marathon.
*10 Of Haile's Greatest Races
More Athletics Kenya Voting Problems
After Being Postponed 5 Times, How Can They Still Be Shocked? Voters "Shocked" As Athletics Kenya Elections Were Stopped Yet Again A court order temporarily stopped AK from holding its elections.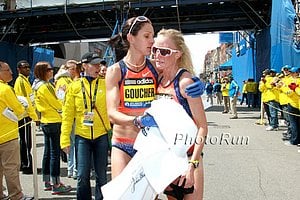 Cycling News: Who Is Dirtier, Lance Or The UCI?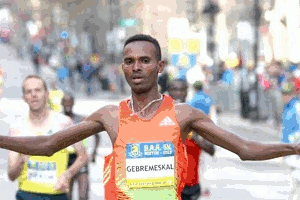 Non-Boston News
Mo And Galen (And The UK Press), You'll Want To Read This (aka Here's A Headline For The UK Tabloids)
LRC

Dejen Gebremeskel Tells LetsRun He Wants To Try 10,000/5,000 Double At Moscow World Champs He also reveals that he views his compatriot Hagos Gebrhiwet and not Mo Farah as the biggest threat. *Discuss
In Case You Missed It: April Fools On LRC
Did you not visit on the April 1st? LetsRun.com's 2013 April Fool Page Is Here
MB: *April fools page too obvious *What was your favorite April Fools 2013 headline
*Capital FM April Fools Joke On WMM Cutting Prize Money For Kenyans Fooled Many Causing Outrage On Social Media
2,000+ World Cross-Country Photos Now Up
Learn From The Pros
LRC Ten Training Tips From Bernard Lagat, Dathan Ritzenhein And Abdi Abdirahman The American men took center stage at the NYC Half on Thursday. You can watch video interviews with the top American men (Lagat here, Ritz here and Abdi here) and we will have more on their race preparations on Friday, but in the meantime we compiled ten training tips from Bernard, Dathan, and Abdi that you can use in your own training.