The 117th Boston Marathon Is Monday *TV/ Internet Info (Free Internet Stream 9:30AM ET, Women's Start 9:32, Men 10:00 am eastern) *Boston Pre-Race Photos
Previous Boston Coverage
More Boston News
Boston: BAA 5k: RRW: Kim Smith (15:16) And Dejen Gebremeskel (13:27) Win Aaron Braun was a strong second in 13:40 for the men and Molly Huddle third in 15:28 for the women. Link includes video interviews with Smith, Gebremeskel, Braun, Huddle and Aussie Brett Robinson.
*5k Photo Gallery
*Post Race Interviews



BAA Mile: 2013 BAA Mile: Brenda Martinez (4:51.4) Wins As Nick Willis Makes It Look Easy (4:03.3) Willis came in full of confidence as he'd already run a 3:34 this year - so confident that he was willing to sport pink shoes. Interviews with Martinez, Willis, Gabrielle Anderson and Donn Cabral.
*Post Race Interviews
*MB Thread
*Pre-Race: Nick Wills Moving On After Olympic Disappointment

Non Boston Weekend Action
Saturday: Andres Arroyo Does It Again!!! Andres Arroyo - 8:51.47, Brian Jäger Elite Classic
*Race Video *Video Interview
*MileSplit Weekend HS Coverage
International Track Action: Kirani James 400 WL, Merritt Over Gatlin
Boston Is Monday - Extensive (And Good) Boston Globe Coverage *TV/ Internet Info
(Free Internet Steam 9:30AM ET) *Boston Pre-Race Photos

Recommended Read: Irish Examiner Devotes 2,500+ Words To Look Back At Great Career Of Sonia O'Sullivan O'Sullivan is full of praise for Kim McDonald. "He taught me confidence and to challenge people I'd have seen as better than me ... He made me believe I belonged and in that sense, I think it takes a long time to understand what you are doing. I'd be a lot more confident about things now than I was as an athlete."
Crazy But Interesting Thinking
Previous Boston News
Jason Hartmann Talks To LetsRun Before The 2013 Boston Marathon "I'll try to run as hard as I can and allow other people to beat themselves."
*RRW Jason Hartmann Remains Confident In What May Be His Final Elite Race
*Boston Herald: Hartmann Closing In On Retirement: "I don't know how much longer I'll be in this sport."

Great Watch Goucher Goes 1-On-1 On Local CBS TV And Talks About Her Near Miss At First Boston

ESPNW: Boston Brings Shalane Flanagan Full Circle

Burla: Cancer Survivor And Mom Hoping To PR
Good, Bad And Awful Injury News
We Didn't Realize This Was Controversial
Kenyan Columnist Is VERY Upset With Atlantic.com Article Saying Kenyan Distance Success Is Due To Genetics "There exists a system of knowledge, institutional infrastructure, and people that created and sustain Kenyans running dominance." Our response. Of course genetics play a role. Genetics play a big role in the NBA where the avg. height is 6'7" - nothing wrong with saying that. If genetics aren't big, then why are so many of a single tribe so good?
*Atlantic.com: Why Kenyans Make Such Great Runners: A Story Of Genes And Cultures
*MB: How fast were your parents?
Week In Review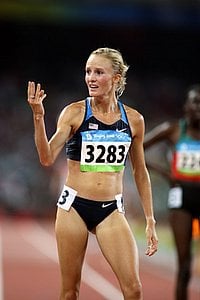 LRC WTW: Can An American Win Boston? Andres Arroyo Impresses, And It's OK To Race A Lot Less than a week before Monday's Boston Marathon, we examine American futility in Boston and ponder: Can Shalane Flanagan end the drought? Plus, we span the globe from Carlsbad, to Gainesville, to Prague, and look at women's running depth.
US Elite/NCAA News
London Loses One: 2:19 Marathoner And RAK Half Marathon Champ (66:09) Lucy Kabuu Pulls Out Of London Marathon, Citing Lack Of Fitness