Sunday: LRC 2013 Boston Marathon Preview: We break down the field and try to make you look good at the office on Monday If you read one piece all year here, this is the one you have to read. On Monday everyone in the office will ask you what is going to happen and you'd better be able to sound like a running expert or your reputation will be ruined. Sadly we say the American men have ZERO chance for victory and say don't expect Shalane to end the US drought that dates to 1985.

Saturday:LRC Elite Media Day At The 2013 Boston Marathon: Trying To Get The Inside Scoop On The Leading Ethiopian And Kenyan Contenders Rojo thinks he's got some inside scoop on who is the man to beat. It's a shame betting isn't allowed. How will the 6th fastest 10,000 man in history, Micah Kogo, do in his debut? Is Lelisa Desisa the marathon's newest young star? Is relative unknown Dickson Chumba really the man to beat or is he not in top shape as he claims? And what about 2010 champ Robert Kiprono Cheruiyot? Plus let's not forget defending champ Wesley Korir.

More LRC Coverage:
LRC Jason Hartmann Has Upped His Mileage But Talks To LetsRun Before The 2013 Boston Marathon "I'll try to run as hard as I can and allow other people to beat themselves."
LRC Stephanie Rothstein-Bruce Talks Prior To 2013 Boston Marathon "I feel like things are kind of right where they want to be and we'll see where 'Lady Marathon Luck' is on Monday."

LRC Fernando Cabada Hoping For Race Of His Life And Top Five Showing At 2013 Boston Marathon We caught up with a more mature Fernando Cabada, who isn't ruling out a top-3 showing.
*ESPN: Time Is Right For Fernando Cabada - Former U.S. Olympic Hopeful Is Ready To Show Running World His Evolved Self
LRC Andrew Wheating 1:50.75 season opener *Wheating 2013 debut!!

First Usain Bolt, Now Powell: Utech Classic: Yohan Blake Pulls Up With Cramp As Kim Collins Wins 100m *Powell hopes to stay healthy

2nd day of SA Senior Athletics Championships: Long jumpers steal show in Stellenbosch Johan Cronje (3:38.13) over Juan van Deventer (3:38.40) in 1500 as Stephen Mokoka (13:25) wins 5000.
*More on SA Champs

Recap of fourth National Bank of Kenya/Athletics Kenya track and field meeting at Thika Municipal Stadium.
Previous Boston Coverage
Reuters On Defending Champ Wesley Korir: Kenyan Lawmaker Faces Fast Field In Boston Marathon

RRW: Gebre Gebremariam Hopes Third Time The Charm At 2013 Boston Marathon

Nearly All Of The Kenyans Were Talking About This In Boston: Floods Sweep Athletes Out Of Kenyan Training Venues - Dirt Stadium Unusable

An Awesome/Tearful Read About The Power Of True Love Six Years Ago, Colombian Yolanda Caballero Was Only A Jogger; Now She's A 2:26 Marathoner Trying To Persevere After Losing The Man Who Romanced Her And Turned Her Into A Star She lost her beloved husband and coach to a totally unexpected death at age 44.

Did You Have To Work On Friday And Miss The Press Conference? LRC Archived BAA Teleconference With Nick Willis, Kim Smith, Ben Bruce And Gabrielle Anderson They are going to talk about Sunday's Invitational miles and 5ks as well as the BAA $100,000 distance medley challenge. If you miss it live, you can watch it taped.

Boston Isn't The Only Marathon This Weekend *Rotterdam on Live at 4:25 AM ET Sunday
*Rotterdam Preview: Ethiopian Favourite Getu Feleke Wants 2:04:27 Course Record And Weather Should Be Good

Paula Radcliffe Is Happy Her INCREDIBLE 2:15:25 WR Is About To Turn 10 Years Old - Hopes It Lasts Longer
HS News: MileSplit Updated 2013 World Youth Championships Prospects-April 10th Report
*adidas Grand Prix Dream Mile/100 Announce Some Of The First Invites
More Boston News
Some Interesting International Track News

Carlsbad: LRC Gebremeskel 3-Peats And Gelete Burka Wins - Manzano Struggles Big-Time When you put one of the top track runners on the road, normally he wins and Gebremeskel did just that. Leo Manzano's much hyped 5k debut was a total disaster but the race also served as the return of 2011 Mo Farah slayer Ibrahim Jeilen. Will Leer and Brenda Martinez were the top Americans. *IAAF

BAA 5k: LRC Kim Smith (15:16) and Dejen Gebremeskel (13:27) win Aaron Braun was a strong second in 13:40 for men and Molly Huddle third in 15:28 for women.
*Video Interviews with Smith, Gebremeskel, Braun, Huddle and Aussie Brett Robinson.

Rotterdam: MB: Tilahun Regassa (2:05:38) and Jemima Jelagat (2:23:27) Win Sammy Kitwara was third in 2:07:22.
Great Ireland Run: MB: Kenenisa ekele wins in 28:54 as Jeilan third in 29:20
Vienna: Haile Gebrselassie not done yet - Wins Vienna half in 61:14 w
Daegu: Abraham Kiprotich wins in 2:08:33 and Margaret Akai wins in 2:23:28 IAAF

Saturday: Andres Arroyo Does it Again!!! Andres Arroyo - 8:51.47, Brian Jäger Elite Classic
Boston Is Monday - Extensive (and Good) Boston Globe Coverage *TV/ Internet Info
(Free Internet Steam 9:30 AM ET) *Boston Pre-Race Photos

Recommended Read: Irish Examiner devotes 2,500+ words to look back a great career of Sonia O'Sullivan O'Sullivan is full of praise for Kim McDonald. "He taught me confidence and to challenge people I'd have seen as better than me ..."He made me believe I belonged and in that sense, I think it takes a long time to understand what you are doing. I'd be a lot more confident about things now than I was as an athlete."
Crazy But Interesting Thinking
Previous Boston News
His Mileage But Talks To LetsRun Before The 2013 Boston Marathon "I'll try to run as hard as I can and allow other people to beat themselves."
*RRW Jason Hartmann Remains Confident In What May Be His Final Elite Race
*Boston Herald: Hartmann Closing In On Retirement: "I don't know how much longer I'll be in this sport."

Great Watch Goucher Goes 1-On-1 On Local CBS TV And Talks About Her Near Miss At First Boston

ESPNW: Boston Brings Shalane Flanagan Full Circle

Burla: Cancer Survivor And Mom Hoping To PR
Good, Bad And Awful Injury News
We Didn't Realize This Was Controversial
Kenyan Columnist Is VERY Upset With Atlantic.com Article Saying Kenyan Distance Success Is Due To Genetics "There exists a system of knowledge, institutional infrastructure, and people that created and sustain Kenyans running dominance." Our response. Of course genetics play a role. Genetics play a big role in the NBA where the avg. height is 6'7" - nothing wrong with saying that. If genetics aren't big, then why are so many of a single tribe so good?
*Atlantic.com: Why Kenyans Make Such Great Runners: A Story Of Genes And Cultures
*MB: How fast were your parents?
More On 2016 Trials
The Fields For This Season's Top Track Meets Are Starting To Take Shape
Week In Review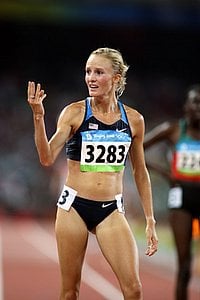 LRC WTW: Can An American Win Boston? Andres Arroyo Impresses, And It's OK To Race A Lot Less than a week before Monday's Boston Marathon, we examine American futility in Boston and ponder: Can Shalane Flanagan end the drought? Plus, we span the globe from Carlsbad, to Gainesville, to Prague, and look at women's running depth.
US Elite/NCAA News
London Loses One: 2:19 Marathoner And RAK Half Marathon Champ (66:09) Lucy Kabuu Pulls Out Of London Marathon, Citing Lack Of Fitness
Upcoming Action On The Track And Roads
Hypothyroidism Talk Gaining Steam World Wide
Mo And Galen (And The UK Press), You'll Want To Read This (aka Here's A Headline For The UK Tabloids)
LRC

Dejen Gebremeskel Tells LetsRun He Wants To Try 10,000/5,000 Double At Moscow World Champs He also reveals that he views his compatriot Hagos Gebrhiwet and not Mo Farah as the biggest threat. *Discuss
Oscar P News
*Oscar Pistorius' Family Say He's Been Coming Out Of "Isolation" And "Interacting With People," Including Some Who Were Close To Reeva Steenkamp USA Today
*Oscar Pistorious Book Already In The Works It will be published shortly after the trial.
Armstrong Sold His Estate To Help Pay For His Huge Legal Bills As He Faces Multiple Lawsuits; Has Hired Attorneys In 3 US Time Zones And GB And yet another lie Lance told - back in 2008 he told his kids, "You will graduate from high school in this house. I promise. Dad's not moving again."
The Wall Street Journal Investigates What You've Been Talking About For Years
Update: Good Read: Ross Tucker From Science Of The Sport Chimes In On The Thyroid Debate And Comments On The WSJ Article


The WSJ Takes A Look At The Endocrinologist To Athletes Who Have Won 15 Gold Medals What do Carl Lewis, Galen Rupp and Ryan Hall all have in common? Thyroid medication.

LRC Analysis Hypothyroidism, The Wall Street Journal, Jos Hermens, Mo Farah, Galen Rupp And The Olympics link fixed
*Discuss: Wall St Journal looks at Houston Doc who treats Rupp, other thyroid users
Reading About Running
Is Another HS Sub-4:00 On The Horizon?
LRC Andres Arroyo: Florida Prep Runs 1:47.79 For 800 Meters - Becomes US #7 #6 All-Time The question now is can Arroyo, who ran a solo 4:04 a few weeks ago and now sits right behind Alan Webb on the US HS 800 list, break 4? Amazingly, he was 7th to last at World XC a few weeks ago as well.

In Case You Missed It: April Fools On LRC
Did you not visit on the April 1st? LetsRun.com's 2013 April Fool Page Is Here
MB: *April fools page too obvious *What was your favorite April Fools 2013 headline
*Capital FM April Fools Joke On WMM Cutting Prize Money For Kenyans Fooled Many Causing Outrage On Social Media
2,000+ World Cross-Country Photos Now Up
Learn From The Pros
LRC Ten Training Tips From Bernard Lagat, Dathan Ritzenhein And Abdi Abdirahman The American men took center stage at the NYC Half on Thursday. You can watch video interviews with the top American men (Lagat here, Ritz here and Abdi here) and we will have more on their race preparations on Friday, but in the meantime we compiled ten training tips from Bernard, Dathan, and Abdi that you can use in your own training.
World XC: Medhin Is LetsRun's Athlete Of The Week
Meet Eritrea's Teklemariam Medhin - LetsRun.com's Athlete Of The Week Teklemariam defied all odds to get bronze at World XC as only a month ago he had malaria and then had to sleep on the floor of an airport for two days just before the race. If a US runner did this we'd rightly never hear the end of it, yet Teklemariam has received almost no publicity for the amazing feat.
Beautiful People: NCAA Banquet Photos (Click On Photo)