2012 US Women's Olympic Trials Marathon Preview - Expect A Record-Setting Day As Five Women Will Battle For Three Spots
We Break Down The Chances Of Ten Sub-2:30 Contenders
By LetsRun.com
January 12, 2012
Are you ready? We hope so, because we expect the 2012 US Olympic Women's Marathon Trials on Saturday to be record-setting. It wouldn't shock us if a woman broke Colleen de Reuck's 2:28:25 Trials record and didn't make the team.
For the 2012 US Olympic Men's Marathon Trials, Ryan Hall has predicted three men will go sub-2:10. Yesterday in our preview, we said that could happen but most likely will not.
In the women's race, however, we'd be very surprised if there weren't at least three sub-2:30s unless they just absolutely crawl for the first half. But unlike with the men, it's happened before. In 2004, Jen Rhines was 3rd in 2:29:57.
With the good weather forecast, assuming a somewhat honest start, we certainly expect the winner to set a new Trials record and expect at the very least for a sub-2:30 performer on Saturday to not make it to London in the marathon.
And given the fact that it has the potential to be a sub-2:30 race for a slew of people, we are eliminating everyone from our Trials preview for consideration unless they have broken 2:30 in the marathon. Below we take a look at 10 sub-2:30 performers and rate their chances.
As with the men, we group them into different categories. We have the "Two Women Who Almost Certainly Will Make The Team," then "One Woman Who Probably Will Make The Team," then "Two Women That Have Real Good Shots At Making It If Someone Falters A Little" and "One Woman Who Probably Will Make The Team," then "2 Sub-2:30 Women That Won't Make It" and finally "2 Former Sub-2:30 Women That Appear On The List For Nostalgia's Sake But Won't Make It Either."
If you do the math, we basically feel there are five legitimate contenders for three spots and only six people who really are in the hunt.
Two Women Who Almost Certainly Will Make The Team
#1 Shalane Flanagan - 2:28:40/68:37/30:22.22/14:44.80
Much like the others in our top category, there isn't much not to like about the 30-year-old Flanagan. Her credentials are basically impeccable. An American record and bronze medal in the 10,000 at the 2008 Olympics and a bronze medal at the 2011 World Cross-Country Championships. A runner-up finish in the New York City marathon in the only marathon of her career. A 69:58 half marathon run in the heat of Miami five weeks ago to prove current fitness. Seriously, it's almost impossible to see her not make the team.
Yes, we know her marathon PR is "only" 2:28:40. But that was in New York in a tactical race where she finished 2nd. The only doubts with the marathon with Flanagan were whether she could handle the distance. The answer she showed is "Yes."
If anything, a fast pace will feel more normal to her.
#2 Desiree Davila - 2:22:38/70:34/31:37.14/15:08.64
There is also little to not like about the 28-year-old Hansons-Brooks runner. She comes into the Trials as the #1 seed coming off a career year in 2011 when everything went really, really well. Seriously, it's hard to have a better year than Davila did last year.
In 2011, she PRed at 5,000, 10,000, the half marathon and marathon - so basically every distance. And in the marathon race, she nearly won Boston by running a nearly 4-minute PR. Yes, her 2:22:38 was massively wind-aided, but Davila is a consistent 2:26-2:27 performer at a minimum. Since 2008, she has run 3 marathons and all of them have been 2:27 or faster. Only four women in the entire Trials have run 2:27 during the qualifying window.
We'd argue she's probably likely now a consistent 2:25 performer or better in a flat, rabbitted race. In 2009, Davila broke 2:30 for the first time and ran 2:27:53 when her 5,000 and 10,000 PRs were 16:02 and 32:25. Now her PRs in the shorter events are nearly a minute faster at 15:08 and 31:37.
One Woman Who Probably Will Make The Team
#3 Kara Goucher - 2:24:52/66:57/30:55.16
On paper, there is (as with the first two) little to not like about Goucher. In April, she ran a wind-aided PR of 2:24:52 in Boston - just 7 months after giving birth. Very impressive. Then she ran 31:16 to get 2nd at USAs (some 21 seconds ahead of Davila) in the 10,000.
The problem is Goucher had a stress reaction prior to Worlds and had to take 5 weeks totally off from running. She also dumped coach Alberto Salazar for Jerry Schumacher. Coming back from injury and with a new coach, on December 11th, Goucher only ran 72:59 for the half marathon. Now "the word on the street" is that she was told not to go any faster than 73-flat, but it's certainly a bit nerve-wracking for Goucher fans.
That performance has made some people write Goucher off for the Trials. Not us. Yeah, it makes us be concerned, but we aren't all that nervous, as Goucher has a tremendous talent level. Remember last year, in the span of 9 weeks, she went from 74:02 to 69:03 in the half marathon. So she basically lopped off 5 minutes in 9 weeks. This time she has 5 weeks, so based on her history one would think she could knock off 2 minutes in 5 weeks even if she was only in 73-flat shape, so that gets us to 71-flat. Subtract another minute for the heat (the 72:59 was run in Miami) and Goucher is in 70:00-flat half shape or close to it. If she only cuts off 1:30, she's still in 70:30 shape, which is the PR of Davila.
Don't get us wrong. Goucher could go out there and stink up the joint. Having been out with maternity leave, the last thing she needed was the stress reaction.
But we are on the Goucher bandwagon for one key reason:
By dumping Salazar and going to Schumacher, Goucher showed she still has the fire at age 33.
We highly encourage you to read this great article on runblogrun.com, where Goucher explains her rationale for the coaching change. She didn't want to be ignored while Salazar focused on Rupp and Farah. Goucher wanted to be held accountable and get to a higher level:
"I wanted to be held more accountable. Alberto was taking on some big time athletes and has to travel a lot more than he used to, so I was by myself quite a bit, and it was just Adam and me (laughs). I could slack a little bit, or I could tell him, 'I was up all night with the baby.' He wasn't going to be, 'No, Kara, suck it up.'"
Since making the move, Goucher also has realized that she wasn't working as hard as she thought she was - "I thought I was working as hard as anyone else, and I've learned that I haven't been."
For an average talent, we'd have written Goucher off five weeks ago. But look at that half marathon PR. 66:57. Goucher is an unreal talent. And she's never run a really bad marathon in her life. She's always run 2:27 or faster except for the time she ran 2:32 and was sprinting for the win in a tactical Boston.
Two Women That Have Real Good Shots At Making It If Someone Falters A Little
#4 & 5 Amy Hastings & Deena Kastor
The next two are grouped together as they are training partners under the direction of Terrence Mahon and the Mammoth Lakes Track Club and in our minds they are very similar on paper. They are both ready to run very solid races but if the first three women show up with their A games, it's going to be hard for either of these two women to make the team.
#4 Deena Kastor - 2:19:36/67:54/30:50.32/14:51.62
The 2004 Olympic silver medallist is 38 years old.
But we aren't writing her off by any stretch of the imagination. We have a simple rule with women's marathoners and determining if they are too old - if you are young enough to still have a baby (Kastor had one in February), then you are certainly young enough to make the Olympics.
However, the LRC nation is writing off Kastor to some degree.
Take a look at the predictions from the LRC Prediction Contest:
| | | |
| --- | --- | --- |
| 1. | Desiree Davila (430) | 7193 |
| 2. | Shalane Flanagan (284) | 6669 |
| 3. | Kara Goucher (34) | 5365 |
| 4. | Magdalena Lewy Boulet (5) | 3965 |
| 5. | Amy Hastings (2) | 3587 |
| 6. | Deena Kastor (5) | 2974 |
| 7. | Jennifer Rhines (2) | 1920 |
| 8. | Janet Cherobon-Bawcom (2) | 1480 |
| 9. | Stephanie Rothstein | 1438 |
| 10. | Blake Russell (2) | 1225 |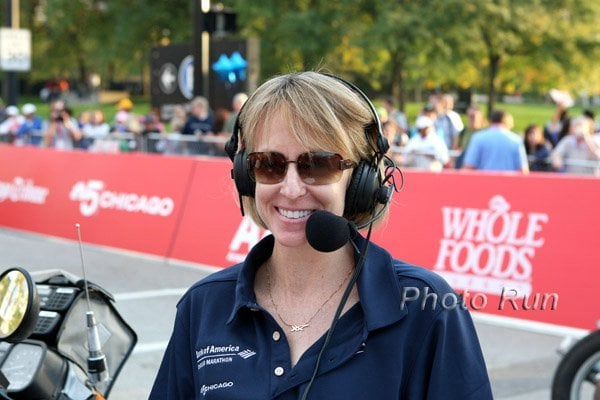 Not Retired Yet
Sixth isn't a terrible spot for Kastor to be picked, but she is definitely a top five in our book.
Yes, we know Kastor hasn't broken 2:28 since 2006. But have people forgotten that in 2006 she ran 2:19? Talent counts for a lot.
Moreover, Kastor seems re-energized and excited about both life (it's fun to be a mom) and running (it's fun to have a great training partner like Amy Hastings) and her training has been going very well. If you don't believe us, then you must read this Runnersworld interview of her, as after reading that you'll think she's ready for a good race.
Since giving birth, Kastor has methodically planned her comeback. She ran two solid half marathons in October (72:23 and 71:48), which she said were run "to practice running at marathon pace."
Well, you can do the simple math. 72 x 2 = 2:24. That's not too shabby and almost certainly would make the team.
But Kastor's a veteran who knows what she's doing. So instead of listening to us, listen to her. Here's what she said in Runnersworld about her chances:
"I'm definitely not going to set a PR. I'm not in 2:19 shape. But I'm ready to run the best I have in years. I'm excited about that. I've learned to push myself harder mentally. Amy helped me with that - she's so tough. It's been a breakthrough for me. In the past, when I've gotten fatigued and started to slow down, that was the beginning of a bad trend. Now I've learned how to come out of it. I'm ready to race to the finish in Houston. The training in the last few months has renewed my confidence."
A 38-year-old learning new tricks. It's hard not to be inspired by that.
We just love the attitude Kastor is exuding in that RW piece. At the end of interview, she got mildly upset that the reporter hadn't asked her about her age, so she made him ask her about it.
Her reply was invigorating: "Some people look at me and think I'm older than the other women, and that's a weakness. I consider that my age gives me a big experience advantage over my competitors. I think it's one of my strengths."
Bet against her at your will. Reading her stuff makes us think she might beat Goucher after all. We'll let you know when we release our official predictions on Friday.
#5 Amy Hastings - 2:27:03/71:19/32:18.72/15:14.31
LetsRun.com has always believed that distance runners get faster when they get more endurance. As a result, we think training for the marathon is often great for one's track times. That's certainly been proven to be true with 27-year-old Amy Hastings this year. This year, the former Arizona State Sun Devil marathon debuted in LA, as she ran 2:27:03. Later in the year, what happened in the 5,000? Her PR dropped from 15:43 to 15:14.
Since running the World Championships 5,000 in Daegu, Hastings has proven her marathon training is going well, as she ran 71:22 in Las Vegas in early December. Hastings seems poised for another strong showing in Houston. If Goucher is off her game, Amy might be going to London. However, if everyone is on their game, we just don't see Hastings beating them.
One Woman Who Has Shot, But A Real Long Shot
#6 Magdalena Lewy Boulet - 2:26:22/71:46/31:48.48/15:14.25

If a 38-year-old Kastor can't be ignored, then a 38-year-old Magdalena Lewy Boulet shouldn't be discounted on age alone either. After all, she did make the team in 2008.
However, the field is way stronger this time and Lewy Boulet will have a real tough time making it again. For most of her career, she's been a pretty darn consistent 2:30-2:32 marathoner. And a performance like that won't be good enough.
Since she first dipped under 2:32 for the marathon in 2003, Magdalena has run 10 marathons, and in 6 of them she's run between 2:30 and 2:32, including 2:31:22 last April in London. Two were way slower and yes, there was a 2:26:22 and a 2:28:44 thrown in there in 2010. But even if she replicates her 2010 type of fitness, we think it won't be enough to make it in 2012. And why would one expect a big PR at age 38?
Wait a minute. We almost forgot about her incredible 2011 track season. At age 38, she lowered her 5,000 PR from 16:04.86 to 15:14.25 and her 10,000 PR from 32:20.45 to 31:48.58. Talk about a fountain of youth. That 10,000 performance came just three days before her 38th birthday.
And Lewy Boulet is a perfect example of the LRC training mantra #1: Strength = Speed. Check out what she told Scott Douglas of Runnersworld about her big PRs on the track:
"I really attribute all of my PRs in shorter races to marathon training. All the training I did for London, which didn't pay off on that day, resulted in that 5K, once I backed off a little bit and concentrated on sharpening."
The improved track performances and the fact that Lewy Boulet PRed in the marathon in 2010 shows she's certainly capable of getting into the 2:25 range. However, we don't think she's one of the 5 most likely people to do it. The Douglas interview with her was a great read (great job, Scott, on all of those by the way), but she's just not oozing with confidence as some of the other ladies were. In fact, she was very honest in realizing the long odds she's racing for, she said this about Saturday's race. She seemingly knows she needs 3 other women to be off their games for her to make it.
"Four years ago I PRed by a little bit at the Trials and I was able to make the team. Now I could PR again and not make the team. I'm totally prepared that this could happen. The strength of our women's marathoning is at a whole different level. But it's great for the sport, it's good for fans. It's just getting out there and running your best."
2 Sub-2:30 Women That Won't Make It
#7 Stephanie Rothstein - 2:29:35/73:20/33:08.37/16:10.08
The 28-year-old is one of just 7 performers with a sub-2:30 qualifying time. In the past, she might be in the hunt for an Olympic spot. Not in 2012, though. We just can't see at 16:10/33:08 5k and 10k performer making it.
On the positive side, she did run both her half marathon and marathon PRs in Houston.
#8 Clara Grandt - 2:29:54/73:13/33:16.96/16:01.18
The former West Virginia runner is a good story. We love the fact that she's already embraced the marathon at age 24 and we love her coach Sean Cleary of WVU, as he's one of the true class acts in the sport. But it would take a Billy Mills type or Miracle on Ice type performance for her to make the team. Her 2:29 at age 24 is impressive, but it came with a near-hurricane at her back and only got her 16th place.
2 Former Sub-2:30 Women That Appear On The List For Nostalgia's Sake But Won't Make It Either
#9 Jen Rhines - 2:29:32/71:14/31:17.31/14:54.29
Rhines COULD actually get on the team if a whole lot went wrong in front of her. She's a three-time Olympian who originally wasn't on planning on doing the Marathon Trials. But after dropping out of New York, she decided to go to the Trials. But Rhines - like Lewy Boulet - is a realist. She knows that it's very unlikely she makes the team given the great strength up front. Instead, she's said she's hoping for a PR. That's well within the realm of possibility for the 37-year-old, who ran 31:30 last summer and represented the US in the 10,000.
#10 Colleen de Reuck - 2:26:36/68:38/31:29/15:24.77
The 4-time Olympian is on the list for one simple reason. She's 47 YEARS OLD and still running incredibly well. We don't know why De Reuck doesn't get some mainstream media love.
Seriously, people - wake up. Swimmer Dara Torres is impressive, but she's just 44 and there is no physical pounding involved with swimming.
Let's try to put how amazing de Reuck is in perspective. Her half marathon PR of 68:38 came in 1989. Clara Grandt was 2 years old at the time.
She may be almost 50 but she's still running well. In 2008, she ran 2:32. In 2009, she ran 2:32, and in 2010, she ran 2:30.51.
Since we are being nostalgic, we should give one line to 36-year-old Blake Russell, who made the team in 2008 and is a former 2:29 performer. She's running but hasn't finished a marathon since Beijing and we don't expect her to be in the hunt.
LRC Predictions: Come back on Friday for them.