2012 US Olympic Track & Field Trials Men's 800 Preview: Will History Repeat Itself?
Will Nick Symmonds, Khadevis Robinson and Charles Jock Take The Top 3 Spots Or Might History Repeat Itself From 2008 When KD Faltered and An Oregonian NCAA Star Stole A Spot?
By LetsRun.com
June 21, 2012
(Editor's note: We are trying to preview each of the mid-d and distance events at the 2012 US Olympic Track and Field Trials prior to the their start. The 800 first round gets under way on Day 1, along with the men's 10,000m (preview here) and women's 10,000 (preview here). Below we preview the men's 800. For the women's 800 preview click here)
The men's 800 final was certainly one of the highlights of the 2008 US Olympic Track and Field Trials as after a Christian Smith dive across the finish line (click here for an amazing photo of the finish), runners training in Oregon had swept the top 3 finishes.
The men's 800 will have a hard-time of living up to the excitement it produced four years ago in Eugene but it's possible as the nature of the event leads itself to great excitement. The men's 800 very well could be the one event at the Trials where everyone in the finals has a legitimate shot of finishing in the top 3 and making it to the Olympics.
The event certainly is full of quality Olympic hopefuls as five of the eight finalists from 2008 including all three Olympians in Nick Symmonds, Andrew Wheating and Christain Smith are back. Eight entrants already possess the IAAF 'A' standard of 1:45.50 and another eight have already run 1:46.02 or faster during the qualifying window. Not included in those 16 at 1:46.02 or better is Wheating (1:46.83) or Smith (1:47.44).
We'd be stunned if the top three finishers aren't all under the 'A' in Eugene.
The question is, 'Who ends up as a 2012 Olympian?'
The Three Favorites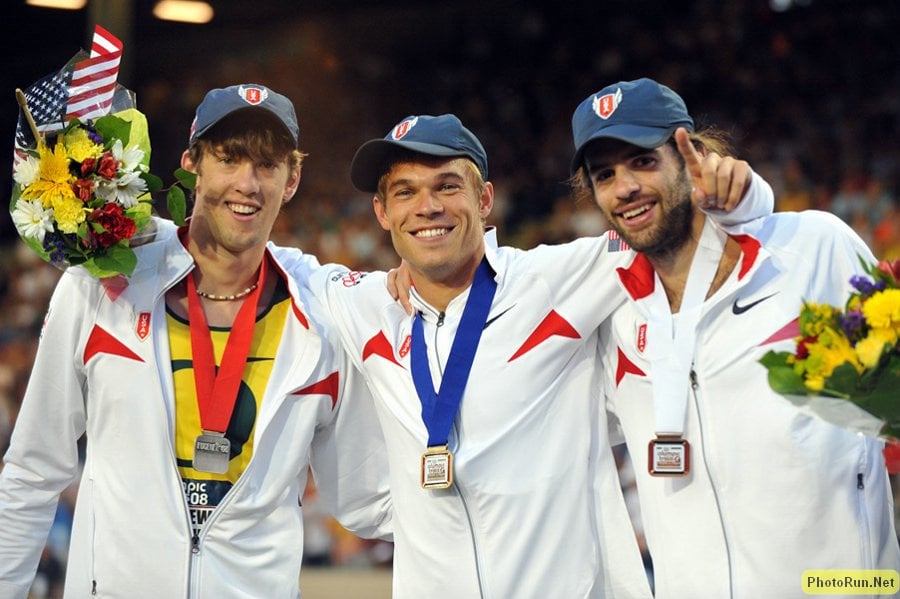 Nick Symmonds (c) All Smiles In 2008 With
Andrew Wheating (l) and Christian Smith (r.)
The favorite is Nick Symmonds who has won the last four US 800 meter outdoor titles. Since he's won four US titles in a row and has already run 1:44.32 this year (#9 in the world), there is little to not like about Symmonds' chances. Only once before (2007) has Symmonds gone sub 1:45 prior to USAs.
Having made five straight outdoor teams, all we'll say about Symmonds is if he doesn't at least make the team, he'll get crucified for all of the attention he's been giving Paris Hilton of late.
After Symmonds, who is about as much of a lock for the team as one can be in the 800 not being a front runner given the fact falls aren't uncommon, the next logical choices for the team are the two other guys who were on the world championship team with Symmonds last year - Khadevis Robinson of Nike and Charles Jock of UC Irvine - soon to be Asics.
The trio of Symmonds, Robinson, and Jock were the three fastest in the US last year at 1:43.83, 1:44.03 and 1:44.67 and they made the world championship team. This year, they also are the three fastest in the US once again and are once again ranked in the same order with Symmonds (1:44.32) first, Robinson second (1:44.54), and Jock third (1:44.75).
We know that in the media you are supposed to pretend to not have favorites but it's hard to not root for both Robinson and Jock. Robinson, at 35, is a guy who has been near the top of the sport for a long time and never received a lot of financial support from a shoe company. After agonizingly missing out on the 2008 US Olympic team to a Christian Smith dive at the line, one might think Robinson would bow out of the sport. Far from it as Robinson is still competing professionally and made the 2009 and 2011 World championship teams after missing out in Eugene in 2008.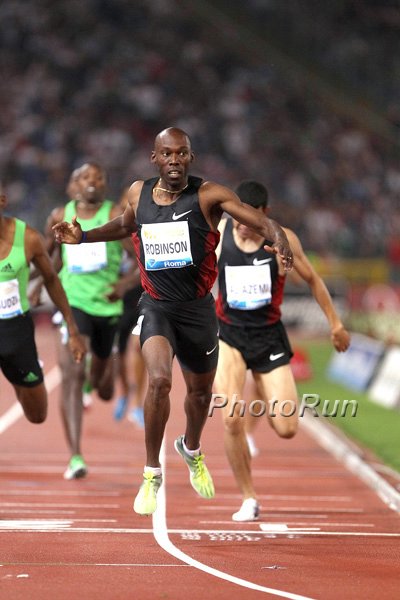 One might also think that trying to juggling coaching at UNLV, with being a world-class runner would hurt Robinson's performance but it seemingly hasn't. Last year, his first year at UNLV, Robinson won the Golden League in Rome before finishing 5th in the semis of Worlds (photo of Rome win on left). This year, he's only raced twice but both were good races as one was a 1:44.54 fourth place showing at Pre and the other a 1:45.16 win in Canada.

Robinson is a study of consistency as he's made seven straight World championship teams outdoors in the 800, dating to 1999. The only two times he hasn't made the US team since 1999 were the Olympic years of 2000 and 2008. But going 8 for 11 is pretty darn good. NBA stars barely hit free-throws at that level. 2 of Robinson's 3 misses have been in Olympic years however.
The life story of Jock is hard not too like. Jock made his first US team last year after agonizingly losing out to Robby Andrews at NCAAs in a truly epic race. This year, Jock got the NCAA title he so coveted and has run the same time that he had last year prior to USAs - 1:44.75.
Plus, we imagine Jock is feeling a little bit more confident about his chances of finishing top three at the Trials than he was last week. Why is that? Because his nemesis Andrews, has surprised many and entered just the 1,500 - not the 800 and 1,500.
With Andrews not competing, who could be a new-comer to a US outdoor team?
If Symmonds, Robinson or Jock falter, there are a lot of collegians that potentially could take their spot on the London team.
The Leading Collegians
The NCAA runner-up Eric Sowinski of Iowa is a possibility but he's not the most likely candidate in our mind. Sowinski was only third at the Big 10 outdoor meet and he doesn't have the 'A' standard as his pb is the 1:45.90 he ran at NCAAs.
Oregon's Elijah Greer is the collegian with a good shot of "pulling a Wheating" and making the US Olympic team in the Oregon uniform in front of the hometown Eugene crowd just like Andrew Wheating did four years ago. Greer made his move way too early at NCAAs in our mind but managed to hold on for third. With the Oregon crowd behind him, he shouldn't be dismissed.
The Big 10 champion this year was Penn State's Casimir Loxsom. He's had a very inconsistent and poor 2012 for the most part save for the Big 10 win in a new meet record of 1:46.12 as he didn't even make the NCAA final indoors or out. But there is a reason for it. He was diagnosed with anemia and now that the low ferritin has been corrected, he could be a surprise. Remember, this is the guy who beat Robby Andrews at USA jrs and beat him again at world juniors to nab bronze in 2010.
Jock's conference rival Ryan Martin has run 1:44.77 in the past, but after his fourth place showing at NCAAs, we don't like his chances.
What About The Pros?
Looking at the pros, the guy who was fourth last year was Tyler Mulder. Mulder has been running well so far this year as he just ran 1:45.55 at Pre. He runs for the Oregon Track Club so he'll have some crowd support as will last year's 5th placer Mark Wieczorek.
A couple of East coast guys though can't be ignored. 2012 world indoor finalist Michael Rutt has been having a pretty good season. He recently prd in New York at 1:45.20 and made the World Indoor final. If you are looking for a wild-card/long shot, we've got a great candidate for you - Rutt's teammate Tevan Everett.
An insider once told us that Everett, the 2009 NCAA runnerup, was one of the greatest mid-d talents to set foot on the UT campus in the last decade and that includes the likes of Leo Manzano and Jacob Hernandez. Legendary coach Frank Gagaliano ("Gags") has seemingly connected with Everett as he finally broke his 2009 pb in his last race when he ran 1:46.02.
Despite the fact that Everett finished competing at UT in 2009, Everett is only 24 years young. We know he hasn't been doing too much of late but people need to remember this is the guy who almost beat Andrew Wheating at NCAAs in 2009 when Wheating already was an Olympian.
Speaking of Wheating, we almost forgot that he's entered in this race as well. We haven't mentioned him yet because we're not convinced he's going to really go after it in the 800 and not just wait for the 1,500. After the 2008 US Olympian at 800 ran 3:30.90 in the 1,500 in 2010, we figured that would be his event for years to come. And Wheating has only run one 800 this year and he's on the comeback trail from a hamstring injury so it seems unlikely that the speed-oriented 800 is the right call for Wheating.
And Wheating seemingly agrees with us as reported by Gary Horowitz of the Statesman Journal.com earlier this week:
Wheating said the odds are "70-30" that he will enter the 1,500 only, but he is leaving the door open for both events.

"I have no doubt I could probably do all right and maybe make the top three spots (in the 800), but confidence-level wise I feel a lot more confident running the 1,500 then an 800 right now," Wheating said.
But Wheating is entered and declared in the 800 so who knows what happens? We could imagine at most he'd run a round or two to sharpen up for the 1,500 and possible see what he thinks about the 1,500.
(Editor's update at 8:16 pm: Just after we finished typing this preview, we have learned that Wheating is now out of the 800. Man are we smart)
If the goal is to simply make an Olympic team, then trying twice in both in the 800 and 1,500 might increase his chances (although we're not sure if a lot of races is good for his hamstring). If the goal is to be competitive and possibly steal a medal in London, then that is only possible in the 1500 and we see why he and Robby Andrews just put all of their eggs in the 1,500 basket. Andrews has never been to the Olympics, so you think he might have run this event to increase his chances of being "an Olympian."
One other pro worth considering is 2007 world championship team member Duane Solomon. After winning the US indoor crown this year (photo right), the 27-year old has finished in first or second in all four of his outdoor races so far this year, two of which have been 1:45 performances including a 1:45.66 clocking on June 10th. That 1:45.66 is the third fastest time of his career.
LRC Prediction: History repeats itself, an Oregonian makes the team and Robinson gets left off but we hope we're wrong, and we see last year's results.
1) Symmonds
2) Jock
3) Greer
2) Robinson
3) Jock
*****************************************************
Below you can see a few parting thoughts we have about the event as well as the heat breakdowns and descending order list..
Parting Thought #1: The 800 is one of the few mid-d or distance events where the first round is really worth watching. In the 800 this year, there are 32 entrants this year instead of 30 in year's past. We like to think we had something to do about that as we've been ranting about that injustice for years. When you have heats of 8, it makes no sense to have two heats of 7 and two of 8.
In the 1,500, barely anyone gets eliminated as the field is reduced from 30 to 24. That is truly a waste of time and an insult to both the fans and the potential Olympic hopefuls Let in 48 and take it down to 24 or at least let in 36 and go down to 24. But to only let in 30 when a 1,500 naturally works better for more people to be in a heat than an 800 is so stupid.
And people want to know why the sport isn't more popular? Because the administrators either are complete morons or don't care about putting on a good product. They insult the fans and ask them to watch basically no one get eliminated.
PT #2: The parallels between 2008 and 2012 for Christian Smith are a bit scary. He is the next to last entrant and only got into the field when a few guys didn't declare. Isn't that the same thing that basically happened in 2008?
PT #3: Andrews decision to not double is a bold one but his coach Jason Vigilante is a master of psychology: MB: Stunned I'm first to post this - Robby Andrews hasn't declared in 800
More:34-Year-Old "Regular Guy," Working Dad Khadevis Robinson Talks About Beating the World's Best In Rome) *
*Wheating on comeback trail
1st Round Heats - Top 3 and next 4 fastest advance to Semia
Heat 1 Name Affiliation
1 Lance Roller Jr Virginia
2 Willie Brown Akron
3 Erik Sowinski Iowa
4 Rob Novak N Y A C
5 David Pachuta Minnesota
6 Tevan Everett New Jersey New York Track Club
7 Sharif Webb Unattached
8 Nicholas Symmonds Nike / Oregon TC Elite

Heat 2
1 Ryan Martin U C S B
2 Brian Gagnon New Jersey New York Track Club
3 Mark Wieczorek Unattached
4 Christian Smith Unattached
5 Brandon Johnson Unattached
6 Tyler Mulder Nike / Oregon TC Elite
7 Andrew Wheating Nike / Oregon TC Elite
8 Benjamin Scheetz Unattached

Heat 3
1 Liam Boylan-Pett New Jersey New York Track Club
2 Michael Rutt New Jersey New York Track Club
3 Michael Preble Texas A&M
4 Casimir Loxsom Penn State
5 Tetlo Emmen Unattached
6 Christian Gonzalez New Jersey New York Track Club
7 Charles Jock U C Irvine
8 Richard Jones Santa Monica Track Club

Heat 4
1 Duane Solomon Jr Saucony
2 Andrew Dawson Unattached
3 Khadevis Robinson Nike
4 Elijah Greer Oregon
5 Brandon Shaw Brooks / Evo Track Club
6 Joe Abbott Unattached
7 Patrick Roach S.W.I.F.T. Racing
8 Harun Abda Minnesota

Descending Order List of Entrants


| | | |
| --- | --- | --- |
| Nicholas Symmonds | Nike / Oregon TC Elite | 1:43.83 |
| Khadevis Robinson | Nike | 1:44.03 |
| Charles Jock | University of California, Irvine | 1:44.67 |
| Ryan Martin | University of California, Santa Barbara | 1:44.77 |
| Tyler Mulder | Nike / Oregon TC Elite | 1:44.83 |
| Elijah Greer | University of Oregon | 1:45.06 |
| Michael Rutt | New Jersey New York Track Club | 1:45.20 |
| Casimir Loxsom | The Pennsylvania State University | 1:45.28 |
| Richard Jones | Santa Monica Track Club | 1:45.56 |
| Duane Solomon Jr | Saucony | 1:45.66 |
| Erik Sowinski | University of Iowa | 1:45.90 |
| Willie Brown | University of Akron | 1:45.91 |
| Mark Wieczorek | | 1:46.00 |
| Rob Novak | New York Athletic Club (NYAC) | 1:46.01 |
| Tevan Everett | New Jersey New York Track Club | 1:46.02 |
| Brandon Johnson | | 1:46.23 |
| Brian Gagnon | New Jersey New York Track Club | 1:46.40 |
| Michael Preble | Texas A&M University | 1:46.43 |
| Patrick Roach | S.W.I.F.T. Racing | 1:46.58 |
| David Pachuta | University of Minnesota-Twin Cities | 1:46.62 |
| Harun Abda | University of Minnesota-Twin Cities | 1:46.65 |
| Liam Boylan-Pett | New Jersey New York Track Club | 1:46.66 |
| Andrew Wheating | Nike / Oregon TC Elite | 1:46.83 |
| Joe Abbott | | 1:46.84 |
| Tetlo Emmen | | 1:46.95 |
| Andrew Dawson | | 1:46.96 |
| Sharif Webb | | 1:47.04 |
| Lance Roller Jr | University of Virginia | 1:47.07 |
| Brandon Shaw | Brooks / Evo Track Club | 1:47.13 |
| Benjamin Scheetz | | 1:47.43 |
| Christian Smith | | 1:47.44 |
| Christian Gonzalez | New Jersey New York Track Club | 1:47.49 |