2012 US Olympic Track & Field Trials Men's 10,000 Preview: Galen Rupp Is Heavily Favored, But Who Else Makes The Team?
By LetsRun.com
June 20, 2012
We preview the men's 10,000 at the 2012 US Olympic Men's Track & Field Trials, but before we do that, we list the leading entrants so you can get some background info before you read our preview.
The Leading 13 Contenders
Those With The "A" Qualifer Of 27:45.00
Galen Rupp - 26:48.00 - American record holder. Only a flare-up of allergies could prevent him from making the team.
Bobby Curtis - 27:24.67 - Villanova alum has purposely stayed off the track so far this year as he wants to get his peak right. His 27:24 last year makes him the 7th-fastest performer in US history. 4th last year behind Rupp, Teg and Bauhs.
Tim Nelson - 27:28.19 - We think he's been injured, as our results database doesn't show much for him. Been overshadowed by DIII Track athlete of the year - Tim Nelson.
Matt Tegenkamp - 27:28.22 - No 10ks this year. 30-year-old is definitely past his peak but his peak was way better than everyone's but Ritz & Rupp in this race. 13:15.00 SB.
Chris Derrick - 27:31.38 - Ran 27:31.38 at Payton Jordan, also has run 13:19 this year.
Brent Vaughn - 27:40.21 - Ran 27:40.21 at Payton Jordan. TFN's pick for #3 has never finished higher than 5th at a US Champs on the track.
Ben True - 27:41.17 - Ran 13:26 for 5,000 at Pre.
Joseph Chirlee - 27:43.96 - Former Kenyan ran 28:32 on April 6, 28:16 on April 29th and 27:43 on May 30th.
Those Close To The "A" Qualifier
Dathan Ritzenhein - 27:50.82 - Says he's in sub 13-shape but he only ran 27:50 in heat in Hengelo. Has run 27:22 in the past.
Aaron Braun - 27:51.01 - Quietly having great season. 10,000 pb at Stanford and then just ran 13:20 PR in Portland on June 9th. Also 4th at Bolder Boulder.
Ryan Vail - 27:51.07. Ran 2:12 marathon at Trials. Recently PRed in 1,500 - 3:42.80.
Scott Bauhs - 27:51.78. DNF at Stanford 10,000 this year but was third last year at USAs. Ran PR in 5,000 at Occidental this year. That's the good news. The bad news is his 5,000 PR is 13:28.
Bobby Mack - 27:53.52 - 2012 US XC champ has lowered his PR from 28:11 to 27:53.52 this year.
Men's Preview
The first day of the 2012 US Olympic Track & Field Trials concludes in fine fashion with the first two running finals of the meet - the men's and women's 10,000 trials.
The men's 10,000 is first and this event is likely to please the crowd as Oregon's favored son, Galen Rupp, enters as the heavy, heavy favorite.
Galen Rupp - Heavily Favored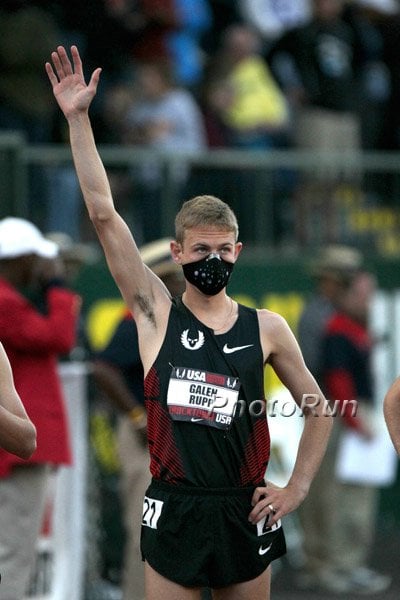 The American record holder at 10,000 (26:48.00) is in fine form, as he recently went sub-13:00 for the first time, at Hayward Field in the 5,000 at the Prefontaine Classic. He's a legitimate medal contender in the 10,000 for the Olympics. To be truthful, that statement of him being a legitimate medal contender is a statement we thought a few years ago we might not type again for a long time a non-African born runner.
What could derail Rupp?
A fall, you say? He's so much better than the third guy in this race that even a fall likely wouldn't stop him from making the Olympic team unless it was in the last lap of the race.
A lost shoe? Running a ton of laps barefoot would be a disaster, so Rupp would hopefully be smart enough to put his shoe back on. If he had big trouble putting it back on, then we could see that derailing him.
The pollen? This is really the only legitimate fear for Rupp, who has struggled with allergies throughout his career and wore a mask at last year's Trials (pic right). However, the pollen forecast seems to be cooperating, as the pollen count is supposed to drop from it's current high level to a medium level by Friday and it's going to be cool and rainy.
So look for Rupp to get the win. He's one of the world's best distance runners and he's in fine form.
The real drama then becomes - who else makes the team behind Rupp?
Ritz & Teg
In terms of talent, career accomplishments, and name recognition, the logical candidates are the two men in the field who have also previously made an Olympic team and gone sub-13 for 5,000 in their careers - Dathan Ritzenhein and Matt Tegenkamp. But both men have some serious question marks surrounding them.
At age 30, Tegenkamp seems suddenly to be past his prime. He hasn't broken 13:15.00 for 5,000 so far this year and hasn't broken 13:14 since that magical year of 2009 when he ran his 12:58.56. In some ways, it's amazing how quickly he's gone from a medal contender to someone who will be thrilled to make an Olympic team.
The injury-prone Ritzenhein, who is Rupp's training partner, also hasn't broken 13:14 since his own magical year of 2009 when he ran 12:56.27. He's claimed in recent interviews that things are going better than they were in 2009 when he ran 12:56, but wasn't Ritz also confident of his fitness heading into the 2012 US Olympic Marathon Trials in January, where he finished an agonizing 4th? If he's in sub-13:00 shape, then why did he only run 27:50 in the heat of Hengelo on May 27th? Is it possible he's forcing his workouts a bit to keep up with training partners Mo Farah and Galen Rupp, and not quite as fit as he thinks?
If the previous Olympians in Rupp, Ritz and Teg don't secure all three Olympic spots, then who else might end up in London?
There are a ton of candidates, as a total of eight Americans already have the "A" standard of 27:45.00 and another 5 in the field have run under 27:55 last year or this year.
Previous NCAA Champ Bobby Curtis
The leading candidate in our minds is 2008 NCAA 5,000 champ Bobby Curtis of Reebok.
He's in the sweet spot age-wise at age 27. The 7th-best performer at 10,000 in US history, also has the third-best 10,000 PR of anyone in the field at 27:24.67, which is better than Tegenkamp's PR. He's also got something on his resumé that Rupp, Ritz, and Teg have but no one else in the field has - an individual NCAA title.
Now Curtis hasn't run any track races this year and that's seemingly making some people nervous about his chances, as somehow he's being ignored by Track & Field News in their top 10 picks. To us, not having Curtis at least in your top 5 is a mistake, as his not running the track races has been by design, as last year he felt he peaked too soon, finishing 4th at USAs after running 27:24 at Stanford. Curtis seems to be in good form, running 3rd in the Healthy Kidney 10k in May (Curtis pictured far left). The winner of that Healthy Kidney 10k, Daniel Meucci of Italy, ran 27:32 at Stanford.
If three of the four former individual NCAA champs don't lock up the three individual spots, then the next logical place might be to look at the arguably the greatest American distance runner who never won an NCAA title - Chris Derrick of Stanford. Derrick has enjoyed a sensational 2012 as he's run 13:19 and 27:31. Only 11 Americans in history have ever broken 27:30 and Derrick is #13 in US history in the 10,000 - just .04 behind multi-time Olympian Todd Williams.
The big concern with Derrick is simple - is he past his peak for the season? The runner-up in both the 3,000 and 5,000 at NCAA indoors was only third in the 10,000 at NCAA outdoors. But the pressure is off now. Instead of desperately trying to win an NCAA title, he is trying to upset the form charts and make the Olympics just after graduating from college.
We could go on and on talking about the guys in the field, as the top 13 have a lot going for them. For example, we're sure some of you are saying, "Scott Bauhs was third last year and he just ran a 5000 PR." What about Aaron Braun, who has just ran 13:20 and also has run 27:51?
Those are all good darkhorse candidates, but the fact of the matter is there is a big difference between a 27:30 guy and a 27:50 guy - nearly one second per lap.
As a result, the three Olympians will most likely come from the 5 healthy guys who have run under 27:35 in their careers - Rupp, Ritz, Curtis, Teg and Derrick. That being said, there's reason to be nervous about 4 of those 5 and that gives hope to the other guys on our list.
A middling to bad race for these guys would be a 13:25/27:50 type performance, which is a good race for most of the guys in the field.
The Race Itself
Leading Olympic contender Dathan Ritzenhein and a slew of other guys don't have the "A" standard of 27:45.00. That doesn't concern us too much, as the weather forecast for Friday is great for distance runners (temp in the 50s, light winds). As a result, we certainly think the top three will end up under the "A" standard as a result. The question is who does the work to get them there? It's in everyone's best interest to do zero of the work but the problem is if someone doesn't do the work, then the time won't come. It's a classic example of the prisoner's dilemma expressing itself in running.
It would seem logical that Ritz would work with training partner Galen Rupp to set the pace. Rupp may be the only one good enough to run the first 5,000 in 13:55 from the front and not have that hurt him at all. But will that actually happen? Coach Alberto Salazar has always been incredibly focused on doing everything to help Galen Rupp and would that necessarily help Rupp? We guess one could argue that a sub-14:00 1st half would make falls less likely than if they go out in 14:30 like they did last year.
Ritzenhein recently did a 13:19/13:58 5,000 double in Portland. Was that second 5,000 run so that Ritrz would feel confident that he can lead the first 5,000 in under 14:00 and then maybe Rupp will take it from there?
The intrigue of "Who will do the work?" is one that certainly fascinates us. At the last Olympic Trials, there certainly was some disappointment expressed by Chris Solinsky after his teammate Matt Tegenkamp didn't uphold his end of the bargain in terms of leading the 5,000 final as they had pre-planned.
LRC Prediction:
1) Rupp - If he loses, it's a huge story. Not making the team is almost hard to imagine.
2) Ritzenhein - We just can't bet against the 12:56 talent, although we're still not 100% convinced.
3) Curtis - 27:24 is damn good. We want to see a new Olympian.
Looking for a darkhorse pick? Aaron Braun has been running well.
Want a guy to root for? LRC fan favorite (see here and here) and blue collar runner Bobby Mack. Mack is the US XC Champ and unsponsored. We talked to Mack about running in the LRC singlet, but that would have jinxed his chances. That doesn't mean you all can't pull for the unsponsored guy.
Quick Take #1: It's a shame 26:59 man Chris Solinsky isn't in this race and then it would really be full of intrigue as there might be a battle for the win and battle for spot #3.
QT #2: Making the Trials was incredibly hard this year. The 24th declared entrant, Jeff Schirmer, ran 28:20. That's really good. In 2008, the 24th declared entrant was Dathan Ritzenhein at 28:28.
At the last OTrials, there were 9 declared entrants under 28:00. This year, there are 13.