LetsRun.com's Predictions: We've Stalled Long Enough - Now It's Time To Tell You Who Will Make The 2012 US Olympic Marathon Team
By LetsRun.com
January 12, 2012
We give you our predictions for both the men's and women's races at the 2012 US Olympic Marathon Trials below (and unlike virtually every website in the world that tries to make you click on a million pages, we give you everything you want below all at once - you don't have to click on 10 pages to see 10 people). The men's predictions come first and are followed by the women.
To see the runners the LetsRun.com nation has picked for their top 10, click here.
Men's Prediction: The Unthinkable Could Happen
In our pre-race preview, we gave you 10 guys that might make the team. Then yesterday we gave you more 10 long shots. All the while, we were waiting for the pre-race press conferences and pre-race articles to come out so we could try to judge people's fitness. And now that we have, we still really think the three Olympic spots will come from our top 4 picks in our preview. Not all four can make the team, so who is going to be left out?
1) Ryan Hall - It's almost impossible not to pick him for spot #1. A 2:09 is a so-so race for him and it's a great race for everyone else and a PR for all but two other people in the field. Plus, he seems to be thriving now that he's out of the Mammoth TC and coaching himself with God's help. His wife Sara said he's a totally different person and a lot happier now.
Is there anything not like about Hall? The only thing we'd say is he hasn't spent any time at altitude in the marathon buildup. Altitude can be huge. And honestly, the more we think about this, it does make us a little nervous. For some people, living at altitude confers one second per lap advantage in long track races. Well there are a lot of laps in a marathon - 105+. But even if Hall is off his best game by 1:45, he likely still makes the team. But he may not win the race.
If you are playing our prediction contest, we suggest you pick someone besides Hall, as that way you probably have a better chance of winning it. Instead of trying to outsmart a thousand people, hope a shocker happens and someone else wins. Hall is a 21-1 favorite in the LRC picks. Now that's crazy. Stupid stuff happens in a marathon. No one in the world wins a high-caliber marathon 21 out of 22 times.
2) Dathan Ritzenhein - We've waited as long as possible to make our predictions, as we wanted to try to hear something about Ritz, who has been out a lot lately with injuries. Is he injury free? Is he in shape? Apparently, the answers are yes and yes.
You can't always believe what you read in interviews, but his coach Alberto Salazar told Amby Burfoot of RunnersWorld the following about Ritz's condition for Saturday:
"All Dathan's training has gone great, and he's one hundred percent healthy. He's trained as well as he ever has under me, and we're very optimistic at this point about his race. We're both feeling relaxed and very confident that he's in good shape. God willing, he'll run a great race on Saturday."
Read that again. "He's trained as well as he ever has under me." Well, in his first few months under Alberto, Dathan ran 12:56.27 for 5,000 for a then-AR and earned a bronze medal with a 60:00 at the World Half Marathon. If he's in that type of shape, then Hall had better watch out.
Aw, screw it. No one is going to remember it if we pick Hall first. We'll take Ritz at #1 and Hall at #2.
So ignore what's up top.
Dathan Ritzenhein #1
Ryan Hall #2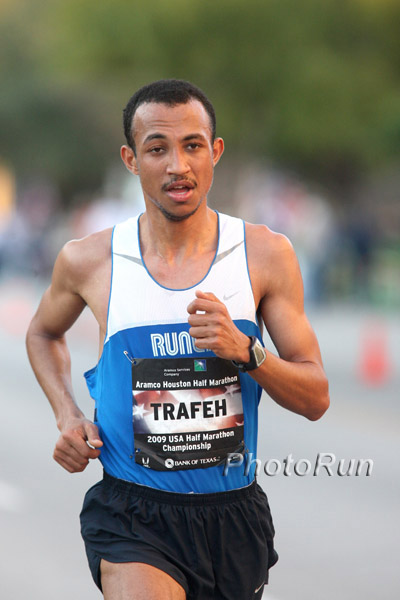 3) Mo Trafeh - Before reading about Ritz's good shape, we were thinking about picking Trafeh as the #1 pick. The guy is a stud and he's fearless. And in case you didn't realize it, your place of birth matters in the marathon. African-born runners absolutely dominate worldwide and they do pretty well in the US, as three of our top six are African-born. And don't get us started about how it's because they run to and from school (Abdi admits here that he didn't start running until college).
After reading his pre-race interview, we have even more faith in him, as he said, "I'd like it to go out in 1:03-1:04 in the first half. That's the pace I've been training for. That's a pace that I know I can handle for a long time. If no one else wants to run that pace, I might take it myself. Why not? If I'm feeling good and the others are just playing around, I'll throw in some surges. I've got nothing to lose."
So how did Ritz end up as our #1 pick. We guess because of Alberto's quotes and Ritz's 12:56 and 60:00 PRs.
Unfortunately, with Trafeh at #3 that leaves Meb in our #4 spot.
4 ) Meb Keflezighi - It's hard not to pick Meb in the top three, but in our minds, Meb doesn't have to have this race. He's accomplished a lot and just recently ran New York. If he was 25, there would have been little chance that he ran New York as this would be his sole focus. Quite honestly, we don't think Meb will finish fourth. We can see him battling for the top three and then fading as the team is out of reach. Actually, scratch that. In 2008, Khalid Khannouchi, who was as accomplished a marathoner that there is, hung on and finished 4th.
But don't get mad at us for not picking Meb. History is not picking him. No man has ever made the US Olympic marathon team, then not made it, and then come back to make it again on the third try (8 years after first making it). As we heard Charles Barkley say today on the radio, "Father Time is undefeated."
5) Brett Gotcher - This guy is a real marathoner. He ran 2:10:36 in Houston in his debut. But even if he does that again, we think that he still may not make the team. How does he beat the 4 names ahead of him on this list if they are on top of their game? Answer: He doesn't.
6) Abdi Abdirahman - Abdi's in shape. He's done nothing of late, but he's a 27:16 TALENT and his coach and agent have been talking him up. Abdi's been strangely quiet. Maybe the lack of attention on him has motivated him. On a decent day, he runs 2:12, which should be top 6. If everyone shows up and runs their absolute bests, Abdi's one of five guys that is in the hunt for top three. Our top four above and then Abdi. There are only really 5 guys in the field who we could see running 2:08:30 ever in their careers, and he's one of them.
7) Jason Hartmann - A fairly consistent 2:11-2:12 guy. Hard to pick against him doing something similar here.
8) Nick Arciniaga - A 2:11 PR runner. Six weeks ago, this guy wasn't ready, but he's been coming on of late and seems upbeat even though he was 90 seconds behind Gotcher on a 15-miler. But if you are 90 seconds behind Gotcher in the race, you could still be top 10.
9) Jason Lehmkuhle - Due to this video, we've got to have a Team USA guy in here. He's the best bet. Although since he's 33, we can see him going for broke and not ending up in the top 10, whereas one of his teammates might run a more measured race.
10) Mike Morgan - For all that the Hanson brothers do for the sport, it would be a disgrace to not have a Hansons-Brooks guy in the top 10, and they always seem to have a guy pull a shocker or come close. But this year, the Hansons will get noticed for Desi.
Don't agree with these picks? Well, smarty, show us just how good you are by entering the Puma LetsRun.com Trials Prediction Contest. These picks have been entered under the name "Rojo." We are going to enter the LetsRun.com fans top 10 picks into the contest under the name "LRCnation."
Women's Predictions: Flanagan And Davila Can't Both Win
On Thursday, the top two contenders in Davila and Flanagan raved about their marathon buildups. Expect a heavyweight fight. But in the end, we just don't see how Flanagan loses. She's at talent level above someone like Davila.
They both deserve to win and both will be Olympians (barring disaster). The battle for third should be interesting.
We Haven't Fogotten What 30:22 Means


Flanagan Was Happy On The Track In Beijing
1) Shalane Flanagan - Flanagan is probably the most accomplished American female runner in the last decade. With PRs of 14:44 for 5,000, 30:22 for 10,000, an Olympic bronze medal and a World Cross bronze medal, plus a debut marathon time of 2:28:40 for a runner-up spot on the tricky New York course, it's very hard to envision her not making the Olympic team (in any distance she runs). Other entrants have faster PRs, some much faster, but in a championship race at the US level, Flanagan should have little trouble staying close to the front and very likely making a winning move.
2) Desiree Davila - The Hansons-Brooks star burst onto the national class scene in 2008, qualifiing for the World Championships, where she promptly moved up to world class with an 11th-place showing and a PR of 2:27:53. Since then, she lowered that loop-course PR to 2:26:20 in Chicago in 2010 before arriving at almost superstar status with a stunning near-victory at Boston in 2011. Her time, though wind-aided, was 2:22:38, the fastest ever run by an American woman at Boston and the kind of performance that actually gets her mentioned as a darkhorse threat for a major medal if she can produce it at the right time. We believe Davila is as close to a lock for the team as you can get in a marathon.
3) Deena Kastor - This pick may come as a surprise (which is partly the point), but Kastor seems full of confidence that she's in her best shape in years, and when a runner with a 2:19:36 PR and an Olympic bronze medal says she's feeling ready to roll, it bloody well means something - to the tune of disheartening news for some other hopefuls. Now, she's not saying she's in 2:19 shape; in fact, she specifically says she isn't. But she is brimming with confidence that she can run significantly faster than she has since 2006, and that's the kind of performance that could very well put her on the London squad. Because of her experience and accolades at the marathon distance, and because of her confident attitude toward these Trials (calling this a "restart to her career"), we think she can upset a number of runners who come into the race with better recent credentials.
4) Kara Goucher - Yes, Goucher does have the 2nd seed time (and 3rd-best PR) and is nearly as accomplished a runner internationally as anyone in the field, so she should definietly be in the top 3, right? The problem is she missed 5 weeks with a stress reaction last year and now wishes she had those 5 weeks back. In our thoughts, she seems to be lacking a little confidence. We are by no means writing her off or discounting the tremendous talent that helped her to a 30:55 medal-winning performance at 2007 Worlds and a 66:57 half marathon. But Deena Kastor has been even better as a marathoner, with an AR and an Olympic medal of her own, and we get the impression Goucher's run-up to these Trials hasn't been as smooth as Kastor's, so we're reluctantly picking her 4th.
5) Amy Hastings - Hastings is the training partner of Deena Kastor on the Mammoth Lakes Track Club. She comes in with a 2:27:03 time and has been making Kastor push hard in training. Leading in workouts shows the fitness is there, but we think the AR holder and Olympic medalist Kastor could very well have something experience-related up her sleeve for the actual race. As good as Hastings is getting, we think it will be tough for her to beat the 4 we have already picked unless they slip up.
6) Magdalena Lewy Boulet - Lewy Boulet made the team in 2008, ran 2:26:22 in 2010 and produced PRs of 15:14 and 31:48 last year at age 37, so she is not far removed from nationally elite performances. Unfortunately for her, the runners we have already picked are at least as good or better right now, so she'll have to produce a PR type of effort and probably have some blowups from other contenders if she's to make the team again. As an experienced and decorated veteran, she does get our nod for a high pick over a few of the newcomers to the sub-2:30 club, such as Stephanie Rothstein and Clara Grandt.
7) Jennifer Rhines - Rhines has made three Olympic teams (10,000 in Sydney 2000, marathon in Athens 2004 and 5,000 in Beijing 2008) and ran 31:30 for 10,000 as recently as last summer. She realizes it will be very tough to make this year's team in the marathon but feels like she can challenge her PR nonetheless. Since her PR is 2:29:32, equalling or just bettering that probably won't make the team, but it could be pretty close.
8) Stephanie Rothstein - Rothstein's PR of 2:29:35 came in Houston last year and is the 6th fastest among the entrants within the qualifying window. A maxim we like to repeat to athletes who qualify for major championships is "Just run like you did to get here and you'll do fine." If Rothstein pulls off another 2:29 in Houston, it is likely to be a top 10 effort.
9) Dot McMahan - The Hansons-Brooks runner comes in with a 2:31:48 qualifier and seems ready to go one better. Respecting the Hansons-Brooks runners' race execution as we do, we're compelled to put another of their athletes in the top 10 in addition to Davila, whom we obviously pick to make the Olympic team.
10) Blake Russell - Russell made the Beijing Olympic team but we don't think she'll be a real threat to do it this time. She qualified with a 71:55 half, which shows she's in recent form, but she hasn't finished a marathon lately. We still like to give proven veterans the benefit of the doubt vs. young up-and-comers with similar recent performances, so we'll go out on a limb and pick Russell for a respectable showing here.