More Weekend Results
Richmond Marathon, Half & 8k + Athens, Beirut & Istanbul Marathons *Richmond Photos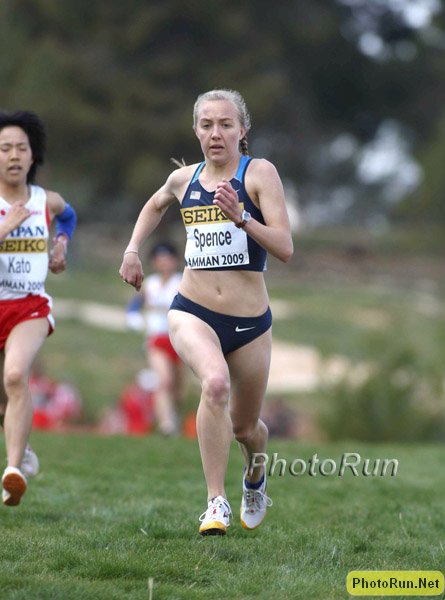 Neely Spence Runs With Dad Steve For 3 Miles Then Smashes 8k Course Record With 25:22 Win Steve ran 25:45. Ethiopians won the half marathons. Mengstu Nebsi set a CR at 1:03:21 as Hirut Beyen ran 1:15.14. *Discuss

Kenya's Kipkoech Ruto Wins Richmond Marathon In 2:15 As American Christo Landry Debuts In 2:17 After Pushing Pace Early Hoping For 2:12

Aziza Aliyu Of Ethiopia - Who Was Going To Run In New York - Blows Away Women's Field In 2:40:21 A pretty easy run for Aliyu, who has a 2:36 PR.

Pre-Race: Richmond Marathon Acquires A New York Accent Not too much of one as the first place prize was only $2,500.

Istanbul:Tortoise Beats The Hare Stephan Chebogut Picks up $50,000 & Wins Istanbul Marathon By 4 + Minutes In 2:11:05 As Leaders Blow Up After Going Out In 62:47 (new link) Koren Jelela won the women's title in 2:28:05.

Athens: Marathon Record Is Now 2:11:35 Thanks To Raymond Bett That's a long way from the 2:58:50 that won the 1896 Olympics. The women's race was won in 2:40:00.
*59-Year-Old Man Running 10k As Part Of Athens Marathon Dies From Heart Attack After Finishing

Beirut: 33,000 Run As Ethiopia's Kedir Fekadu Wins In 2:12:57 Saeda Kedir won the women's race in 2:35:08 as American Mary Akor was third in 2:37:32.

Other Marathon News: Great News: Philly Takes 1,360 NY Would-Be Marathoners - Says They'll Donate $100 Hurricane Sandy Relief
*Ridiculous: New York Marathon Giving Out Finisher Medals Even Though No One Finished The Race
Kenyan XC Meet
Pre-Regionals News
Pre-Race: LRC John Kellogg's Projected Team And Individual Qualifiers Thanks to message board poster "devils advocate," we were able to tell you what teams and individuals would get in if JK's picks hold up.
LRC NCAA XC Regional And National Polls: The Numbers Are In Nate Silver is still crunching his numbers for NCAAs, but the LRC polls are in. We've got the national and regional top 10 before regional action. John Kellogg's Pre-Regional Projected 2012 NCAA Cross-Country Team and Individual Qualifiers
LRC John Kellogg's 2012 Individual NCAA Cross Country Formchart - The Top 10 Individuals Who has in the inside track on being the King and Queen of collegiate running? Will an American man crack the top 10? Could a true frosh American woman win it all? What about Jordan Hasay?
LRC John Kellogg's Amazing Regional Previews LRC stats/prediction/coaching guru John Kellogg, the one man on the planet who saw the possibility of the 2:03:02 coming before Boston 2011, tells you what he sees coming on Friday at the NCAA Cross-Country Regionals.
*Northeast Region *Mid-Atlantic *Southeast *South *South Central *Great Lakes *Midwest *Mountain *West

*RunningTimes Looks At The "At Large Bid" Process For Making It Into NCAAs Dartmouth coach Barry Harwick: "It's a really fair system, without any backroom politicking."
*Good Oregonian Profile On Oregon's Top Runner This Year, Alexi Pappas, Who Came In As A Grad Student After Finishing At Dartmouth Last Year Pappas: "Our team is dangerous. With the work we've put in, if we come with confidence there is no telling how great we can be."
Kenyan News
US News: Lolo Jones Wins Bobsled World Cup Silver Medal
Pro News: Galen Rupp Will Be Back At It November 23rd In Japan
NYC News: NYPD To Refund Fees Paid By NYC Marathon Police fees were the main reason entry fees spiked for the 2012 marathon.
NCAA Stuff
Recommended Read If You Are A Seb Coe Fan
British Journalist Reads Seb Coe's Autobiography, Interviews Him And Then Totally Pans Him As An "Uninspiring" Bore We don't think we've ever read a more critical review of someone who is such a success.

Nice Read: 20-Year-Old Irish Pentathlete, Whose Inspiration Is Steve Prefontaine, Has Painfully Made Himself Into One Of The World's Elite With Just A Ton Of Hard Work
Japan And China Go To War Over A Marathon?
A Bit Random But Very Interesting
Jamaica's - Yes Jamaica's - Kemoy Campbell Is Arkansas' #1 XC Man Right Now The Jamaican junior record holder at 1,500 (3:42 from 2008 when he was just 17) and 14:18 is running well in his first year at Arkansas.


Cam Levins Will Move On Without His Southern Utah Coach Eric Houle - He's Getting Ready For Attempt At Canadian XC Title #3 Looks like the Malcolm Gladwell look-alike will be coached by Speed River's Dave Scott-Thomas, but Houle deserve a ton of props in our minds for just letting Levins run that much.

Not Sure If This Is Funny/Sad
Janitor At San Diego's Mission Bay Park - Home Of USA XC In 2008 And 2011 - Says Runners, Particulary Women, Are Mean *Discuss

Alberto - Time To Put This In The Nike Budget
Mushroom That Supposedly Powered Record-Breaking Ma's Army (Chinese Women) In 1990s Now Sells For Thousands Of Dollars Per Pound *Longer Article On Mushroom Translated In German
Field Event News
Sunday Action
Olympics-Related News
Lance Armstrong
HS News