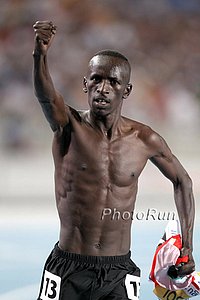 Big News: All Charges Against Two-Time Olympic Steeple Champ Ezekiel Kemboi Are Dropped After Woman Voluntarily Withdraws Her Complaint She says no money exchanged hands but she simply felt ostracized for bringing charges against a Kenyan hero. "I want to go back to university to pursue journalism and I have forgiven Kemboi out of my own free will. I have not been compensated whatsoever but I've just decided to forgive him."
*MB: Discuss

More: *Capital Sport *The Daily Nation *The Standard

Vault: LRC Relive Kemboi's Historic 2nd Olympic Win Here - Is He The Greatest Ever?
*LRC 2011 World Champs Win Was His 3rd Global Title
Distance News
Usain Bolt News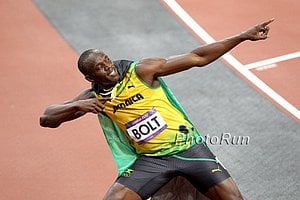 Bolt Goes To Rio Says He's Still Wants To Learn LJ But Not Sure If He Will Due To Coach's Injury Fears

Usain Bolt - I want to play pro soccer after 2016
IAAF agrees to 6 year broadcasting rights deal with CCTV in China
New York City Related News
Sunday, October 21 Marked Meb's 25th Anniversary In US

One Year After Finishing 9th In 2:11 At NYC In His Marathon Debut, Ed Moran Withdraws From New York With An Injury The injury? Posterior tibial tendonitis.
Read This If You Think All Elites Are On Drugs - They Aren't U17 World Champs Are Next Year - Kirani James & U. Bolt Are Past Superstars Kirani James ran 45.70 at age 15. Usain Bolt ran 20.40 into the wind. Some people are just total prodigies.
Random News On A Slow Tuesday
Sunday Results: Amsterdam, Birmingham, Des Moines, US Army Ten Miler, Gyeongju
Jamaican Olympians Cash In
Mo Farah Gets A Visit From His Twin Brother Hassan In England
Recommended Read: For The First Time Since They Were Separated At 8 Years Old, Hassan Farah Visits Mo In England Mo, talking about his daughter, said, "She's taught [Hassan] 'fat ass, big bum bum' because she says he's a fat version of daddy."
*Twitter Post/Photo From Mo
Kenyan News: Brother O'Connell Gets Honored
UK/Post-Olympic News
Sunday's Action *Bupa Great Birmingham Half Televised In UK On Channel 5 (10AM UK Time)
European News
US & Worldwide Distance News
Alberto Salazar, Nina Kuscsik And Miki Gorman To Be Inducted Into NYRR Hall Of Fame Maybe we're biased, but Alberto should have been inducted by himself this year. Way more a legend than Kuscsik and Gorman. Plus if there is an annual induction ceremony, with 2-3 people a year, soon they'll be out of people.
No Fall Marathon For Stephen Kiprotich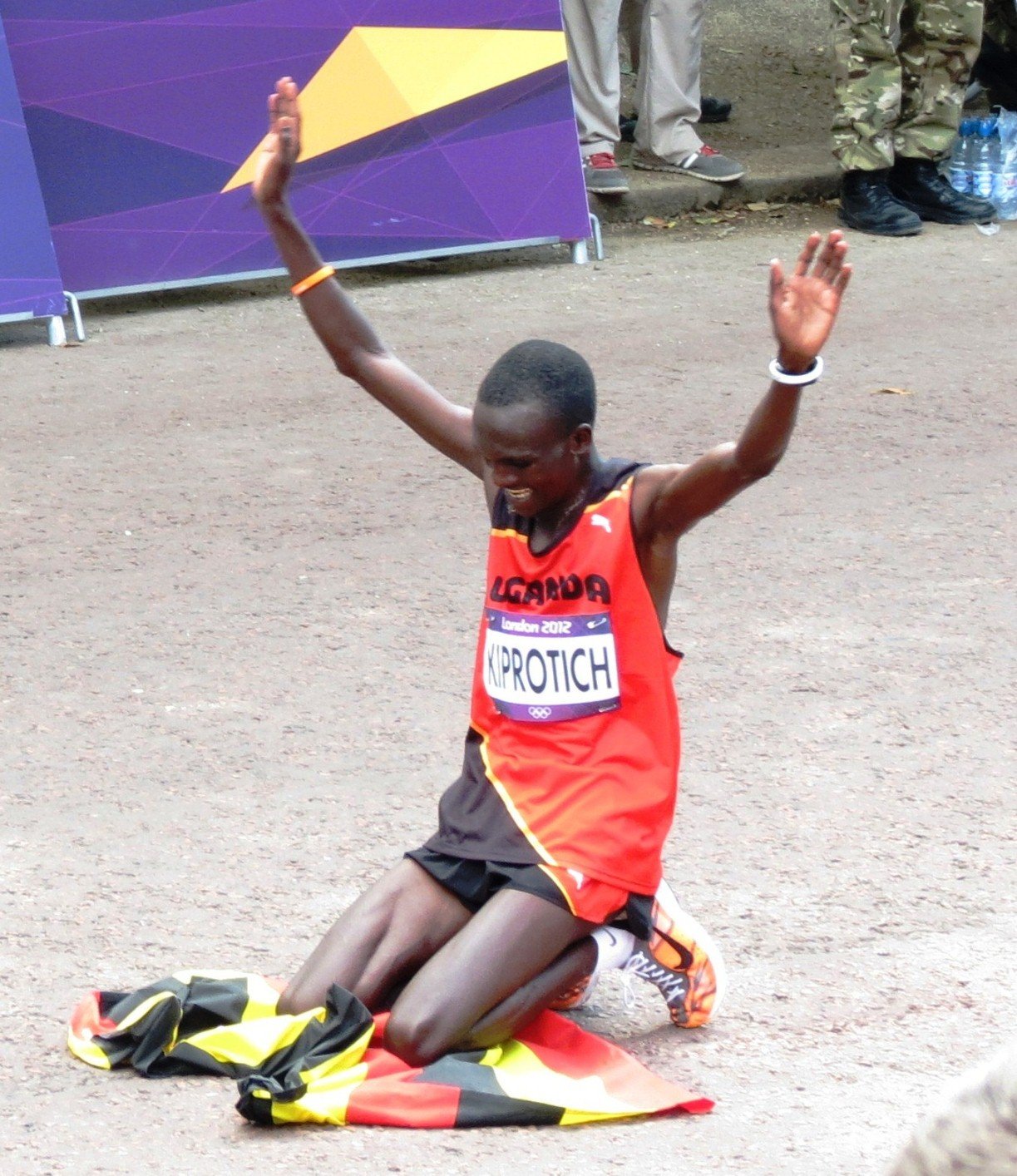 Olympic Marathon Champion Stephen Kiprotich Talks About What He's Been Up To And Why He Won't Run A Fall Marathon "It is simple: I am not ready for it. It is only two months ago since I won in London. Recovering from a marathon takes time, you know." Taking time to recover instead of rushing for a quick payday. That's the attitude that makes you Olympic champ.
US News: Christian Hesch To Do Interview Answering Your Questions
NYC Marathon And Pro US News
Rec. Read: Lengthy NY Times Piece On NYRR President Mary Wittenberg: "Running INC" Since taking over at the NYRR, Wittenberg has more than doubled the club's revenue. No one in our opinion has done more to promote running as a pro sport in America. Most of the criticism in the article is from those who say the NYRR has gone too far from the "grass roots" the club started with. Wittenberg: "We're not sorry we're successful. To our critics, we say, we want you to come along."
*Mary Wittenberg To Receive Sports Leadership Award From The March Of Dimes New York Division
*MB: Wittenberg article in the NY Times
Upcoming Races
More Results From The Weekend
Weekend Results: Road, Track, XC
Recommended Read: Liam Boylan-Pett Writes 4-Part Series On Sam Bair III, Who Struggled To Join His Dad As A Sub-4 Miler Bair gained fame for a series of near misses in college with 4:00.14, 4:00.35, 4:00.87 and 4:00.99, but continued the chase post-collegiately.
Ridiculously Deep Fields Set For November 3rd NYRR Dash To The Finish Line 5k *Full Elite Start Lists
Elite Field Announced For November 3rd NYRR Dash To The Finish Line 5k And Includes 17 Olympians Men: Chris Solinsky, Alan Webb, Matt Tegenkamp, Lopez Lomong, Evan Jager, Ben True, Andrew Bumbalough, Chris Derrick, Luke Puskedra, Cam Levins, Leonard Korir and German Fernandez. Women: Shalane Flanagan, Kara Goucher, Molly Huddle, Jen Rhines, Lisa Uhl, Kim Conley, Sheila Reid and Neely Spence. *Full Elite Start Lists
Marathon News: Martin Lel Joins NYC Marathon Field
Men Full Recap Kebede 2:04:38 Course Record, Ritz 9th 2:07:47 updated Tsegaye Kebede scorched the second half in 1:01:44 to run 2:04:38, a course record by nearly a minute. Dathan Ritzenhein ran a more than 2-minute PR of 2:07:47 to become the third-fastest American in history but amazingly that only got him 9th.


Women Full Recap Baysa Edges Jeptoo In A Thriller Two-time Paris champ Atsede Baysa and Rita Jeptoo battled all the way to the line. They both raised their hands but Baysa was the winner. Renee Metivier Baillie's marathon debut was great as she's now #8 all-time in US history at 2:27:17.

LRC Ritz Runs A Big 2:07:47 PR To Become Third-Fastest American And Finish 9th Dathan Ritzenhein ran a solid race to become the third-fastest American ever. That only got him 9th place in the race, but this was a big step in the right direction for Ritz.


10 Years Ago, Paula Radcliffe Raced To A 2:17:18 World Record (with pacing help from LRC's Wejo) Radcliffe is back in Chicago to celebrate.
*Video: Korir Talks: Is There Something About Faith & Successful Distance Runners? A new film, tRANscend, is coming out next summer.
Even If They Fixed The Race, Athletics Kenya Boss Congratulates Mutai And Kimetto The WMM should disband its $500,000 first place gimmicky prize going forward if this is the outcome that is encouraged. LRC's recap and message boarders are quoted extensively in the article.
*Km-By-Km Splits In Berlin Updated

LRC Geoffrey Mutai Wins?* Berlin And World Marathon Major Title In Bizarre Finish (AKA Did Dennis Kimetto Let Geoffrey Mutai Win $500,000?) The 2012 BMW Berlin Marathon was a masterpiece on the men's side until the final 2km. The fastest marathoner ever, Geoffrey Mutai, and his training partner and breakout star in 2012, Dennis Kimetto, were putting on an exhibition, running side-by-side with each 5km faster than the one before it and on world record pace. Then the wheels fell off and there was the sprint for the finish. The problem is the mad dash for home never occurred and that left some wondering what the hell happened? Were they both completely trashed or had Kimetto deferred to Mutai, helping him win $500,000? Aberu Kebede won on the women's side for the 2nd time in a PR of 2:20:30.
LRC Does Politics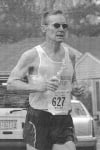 LRC Meet The Man Who Changed American Politics Started The Paul Ryan Marathon Controversy LRC Poster and 2:29 marathoner Bill Walker started the thread that made Paul Ryan's marathon time a matter of national discussion. Until now, Mr. Walker has received no credit for his contribution to the American political landscape. Meet the man behind it all. Plus learn who he's voting for.
Saturday:

LRC Mo Farah Completes The Double As The British Fans Go Wild The British fans got what they wanted on the final day of Olympic track competition (marathon tomorrow is on the roads and doesn't end in the stadium) as Farah won a tactical 5,000. Bernard Lagat came up just short in his quest for his first Olympic medal for the US as he was 4th, Rupp 7th and Lomong 10th.
*MB: Official men's 5000m thread *That was the worst 5000m final in an Olympics ever
Friday
W 1,500: LRC Disaster Strikes Twice As Morgan Uceny Gets Tripped Again And A Former Doper Wins Gold Disaster struck twice in the 1,500 final. First at the bell when, unbelievably, Morgan Uceny was sent sprawling for the second straight year. It struck again a lap later when a former doper won gold and her compatriot, who has gone from 4:18 to 4:01 this year, nabbed silver.
*Pat Forde: "Saddest sight of the Games"
*Woods: "Half a lifetime of preparation, of dreaming, shattered in an instant."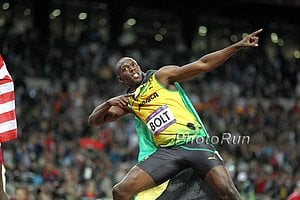 Usain Bolt Wins 200 To Become A "Legend" Bolt became the first man to win the 100 and 200 at back-to-back Olympics and become a legend in his own words. We thought he was already a legend. After leading the Jamaica 1-2-3 sweep, Bolt trashed Carl Lewis, saying he has "no respect for him" as a result of Carl's thinly-veiled drug allegations at Bolt.
More Bolt-Lewis: *Bolt Rips Lewis
Lots of Lance Armstrong News
Science of Sport Guys: Thank God The UCI Came Down Hard On Lance - They Estimated The Odds Were Only 50-50% *Science of Sport Facebook Page

Proof The Science of Sports Guys Know How Bad The UCI Is
Ridiculous: A Day After Its Decision, UCI Head Criticizes USADA For Having Errors In Its Decision Says Lance Could Still Appeal
*USADA Head Fires Back: "The truth is Lance Armstrong, on their watch, pulled off the greatest heist sport has ever seen"
*Lance Armstrong's competition results from every event sanctioned by the World Anti-Doping Agency (Meaning Boston and New York) will be erased from the record books.

Another Ex-Lance Teammate, Steffen Kjaergaard of Norway, Admits To Doping ''I have long thought that it was best for cycling as a sport that I took this (secret) to the grave. But the last weeks have made me change course for my own sake and tell the truth.'

It's Official Miguel Indurain Is A Fool: Five-times Tour de France winner Indurain claims Armstrong is innocent

The NYT's William Rhoden Slams Nike & Says Charles Barkley Was Right - There Are No Sports Heroes "The reasons Nike stuck with Woods and abandoned Armstrong have more to do with money. Woods and Bryant are still making loads of it for the corporation."
Psychiatrists Have A Field Day With Lance
Memo To All LetsRun.com Fans - You Now Have As Many Tour de France Titles As Lance Armstrong
Cycling Feds Strips Lance Armstrong Of 7 TDF Titles & Bans Him For Life "The UCI will strip him of his seven Tour de France wins. Lance Armstrong has no place in cycling. He deserves to be forgotten in cycling."

Insurance Company Wants Its Money Back "Mr. Armstrong is no longer the official winner of any Tour de France races and as a result it is inappropriate and improper for him to retain any bonus payments made by SCA."

We 100% Agree - Declare Amnesty For Cycling & Then Do It For Track
Former Team Managers React To Armstrong Verdict "We need to put in place a system of amnesty so that everyone can come clean and we can truly start from scratch, because the real problem is, where do we go from here? We have to go to the end."

*Lance Armstrong Removes Mention Of TDF Victories From His Twitter Profile
*Disgraceful: Lance Armstrong Texted Pat McQuaid And Tried To Find Out Verdict Ahead Of Time
*Mary Wittenberg: NYC Will Strip Lance Of His 2006 NYC Marathon Finish Let's hope he didn't dope to run 2:59.
*Oakley Drops Armstrong
US News: Lolo Jones Bobsledding, Mary Cain, Hesch And More
Lance Armstrong's First Comments Since USADA Report
US High Schoolers Mary Cain And Sarah Baxter Get Some Press
More Armstrong Stuff
NY Times: How Armstrong's Wall Of Silence Fell Rider By Rider Race director Andrew Messick on his conversation with Floyd Landis: "Lance Armstrong never came up. But he did make a comment on the Mafia. He said, When you're in the Mafia and you get caught and go to jail, you keep your mouth shut, and the organization takes care of your family. In cycling, you're expected to keep your mouth shut when you test positive, but you become an outcast. Everyone just turns their back on you."
UK Decathlon Great Daley Thompson Calls For Cycling Be Banned From The Olympics Thompson: "Armstrong is a cheating b*****d and that's all there is to it. It's a terrible situation for anyone who cares about sport in its purest sense."
This Should Be Interesting: UCI To Respond To USADA's Armstrong Report On Monday
US News
More Lance Armstrong Doping News
Lance Armstrong To Be At Gala Tonight For 15th Year Anniversary Of Livestrong Lance will have to issue a mea culpa at some point, will it start Friday? For years, the cheat berated those who said he doped as his sponsors turned a blind eye to the evidence out there.
We'll Say This For Athletics Kenya - They Keep Things Interesting
Crazy: Athletics Kenya Issues A One Week Ultimatum To All Foreign Coaches Working In Kenya To Get Out Of The Country AK chairman Isaiah Kiplagat claims that the foreign coaches are responsible for the doping cases in Kenya and that "These coaches have been extracting blood from some athletes and mixing them with others things to qualify their doping claims."

Other Doping News: South African Sprint Star Tsholofelo Thipe Fails Drug Test
*Doping Cases For Two Jamaican Athletes Who Tested Positive Adjuourned For Silly Reasons Hopefully this doesn't turn into a Costas Kenteris and Katerina Thanou (Greek sprinters) situation and get postponed forever.
Some Good Interviews With US Athletes
Christian Hesch Admits To Taking EPO, And Other Drug News
Pre-Nats And Wisconsin adidas Invitational In The Books - Pre-Nats Results
Zersenay Tadese Dominates World Half - Wins Record 5th Title Tadese put on a show at the 5k mark and won by 32 seconds.
*LRC US Men, Led By Top-20 Showings By Augustus Maiyo And Luke Puskedra, Finish 4th
*South Africa's Stephen Mokoka Moves From 16th At 15km To 8th At Finish
*Amateur Kawauchi Is Top Finisher & Japan Running News Brett Larner Rips The Entire Japanese System As A Result How can a self-trained guy who has won two marathons in six weeks beat the best of the Japanese corporations?

Ethiopian Women Stun Kenya And Win Individual And Team Titles
The Kenyan women had the five best times in the field but someone forgot to tell that to the Ethiopians, who went 1-2 to win as Meseret Hailu (68:55) edged Feyse Tadese (68:56).
*LRC Shalane Flanagan Falls Off Early - Fades To Disappointing 25th Place Finish As US Women Finish 5th Flanagan went out in the top 10 at a sub-70 pace but ended up in 74:41 as just the third US finisher.
Recommended Read: 27 Years Later, Twin Cities Marathon Record Of 2:10:05 Still Belongs To A Single Father Of Three Who Had A Full-Time Job & Didn't Go College As He Wasn't Fast Enough For A Scholarship
LRC "Non-Running" Running Photo Of The Week

LRC LetsRun License Plate Spotted In Texas: What Does It Mean? A car (Porsche?) in Texas has been spotted with a 26.2 sticker and a LTS RUN license plate. We assume the owner has run a marathon, but more importantly ... do they come to LetsRun.com? Of course they should, but we want your help in unraveling this mystery.
W 5,000: LRC Meseret Defar Stunningly Stops The Coronation Of Tiruneh Dibaba The script was all set. Tirunesh Dibaba was to complete the "Double Double" and become the first women track athlete with four individual golds. Only thing was, the person making history ended up being Meseret Defar.
Thursday
800 Could Be Was Epic:

LRC David Rudisha Becomes A Legend By Winning Gold With A World Record In The Greatest 800 Race In History updated David Rudisha went after in London and delivered, as he became the first person to break 1:41 in the 800. The rest of the field went after Rudisha and delivered as well as 7 of 8 runners PRed in a truly epic race where places 1-8 set new all-time best time-for-place marks. Duane Solomon and Nick Symmonds became the 2nd and 3rd Americans to break 1:43 and amazingly neither medalled.
*MB: Rudisha 1:40.91 WORLD RECORD!!
*Epstein: How low can Rudisha go in 800?
*Science Of The Sport Analyzes The Olympic 800 Final And Rudisha's Race Strategy

LRC Duane Solomon And Nick Symmonds React To Their Historic Olympic 800s That Leave Them Short Of The Medals The sub-1:43 club has two more Americans. Unbelievably both of them will leave London without medals. Nick Symmonds ran faster in the final than he thought was humanly possible for him.


LRC Column/Editorial: Sarah Attar Makes Olympic Track And Field History For Saudi Arabia In 800m, But Is It Enough? Imagine the outrage if the South African delegation made its black athletes walk behind the whites and told them to not give interviews or mingle with whites."It's time for the IOC to stop supporting sexism. Gender discrimination should be treated no differently than racial discrimination. ... How about for a start, the Saudi women come out first at the closing ceremonies? Come out before anyone else enters the stadium, that would be a step in the right direction."
Monday
400 Final: 19-Year-Old Kirani James Wins Grenada's First Olympic Gold In The 400 Luguelin Santos took silver and Lalonde Gordon bronze. Kirani James is Mr. Clutch at age 19. Incredible.
SI: US 400m Dynasty Comes To An End
Goodbye, London
Getting High Praise In The Email Inbox:

LRC Mediocre Great Britain: You Lived Up To Your Name "For a country where pessimism is now part of the national consciousness, the Olympics were a resounding success. Not okay, not pretty good, but truly Great ..."
LRC The Incredible Meb Keflezighi Reacts On Just Missing A Medal, Ryan Hall & Abdi Talk About Dropping Out Post-race reaction from the Americans and the medallists. Meb used the fact he was slighted and not introduced to the worldwide audience at the start, even though he was the only Olympic medallist in the field, to fuel him. Ryan Hall reacts to his first non-top-10 result and Wilson Kipsang says he has no regrets about the 14:11 3rd 5k.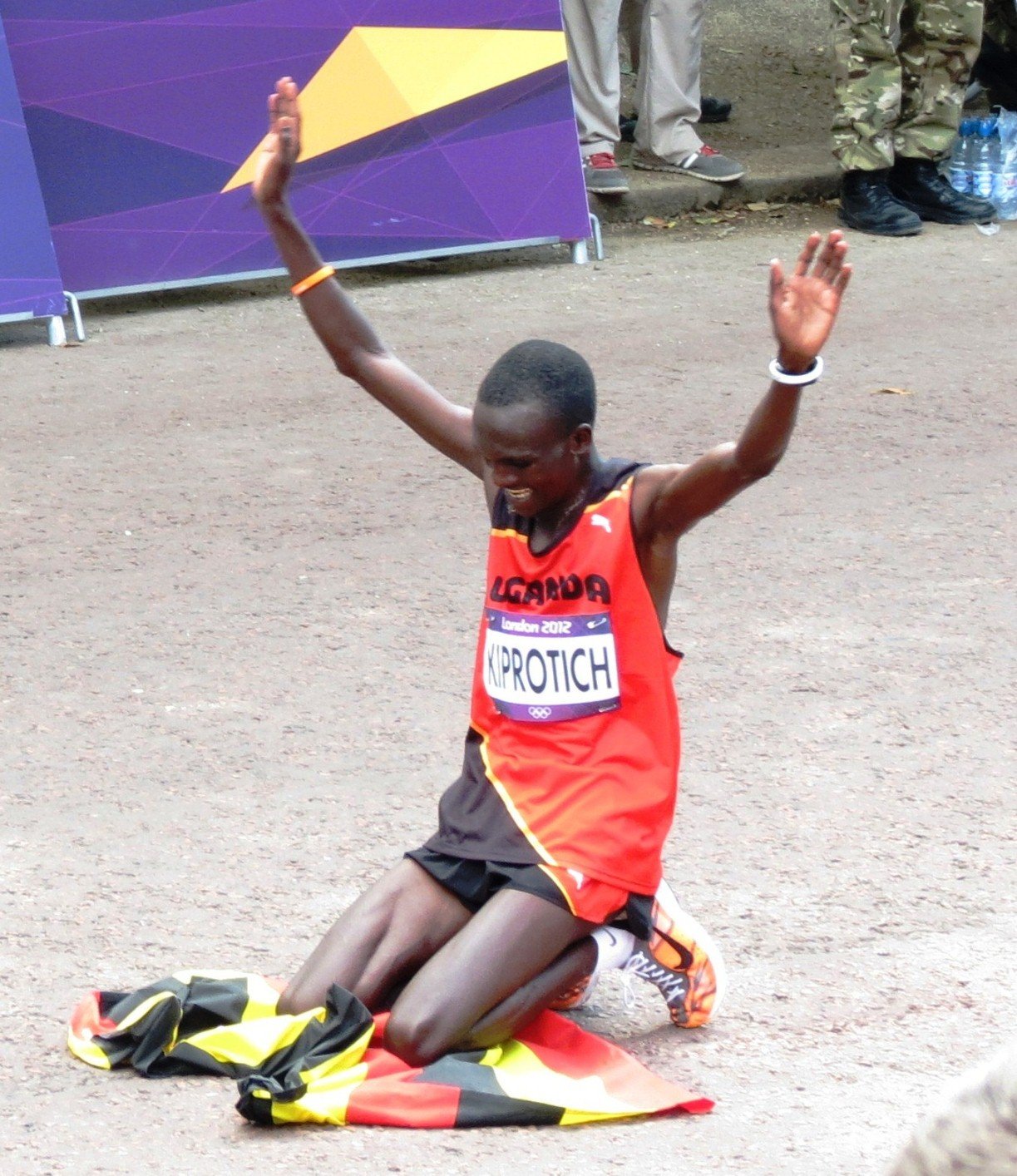 Olympic Marathon: LRC The Unheralded Stephen Kiprotich Of Uganda Stuns The Field And Wins The 2012 Olympic Men's Marathon Uganda's only Olympic medal of the 2012 Games has a great color to it and it came in a historic event, as after getting dropped at the 35km mark (21.7 m), Kiprotich stormed back to the lead at the 23-mile mark and stunned the world and Kenyans Wilson Kipsang and Abel Kirui as the US's Meb Keflezighi was a surprise 4th. Kipsang tried to do his best Sammy Wanjiru impersonation with a crazy 14:11 5k early in the race, but that 5km segment at 1:59 marathon pace may have done him in later.
LRC NCAA Polls
LetsRun.com NCAA National And Conference Polls Are Back Tell us your top 10 teams in the country and just in time for this weekend's conference action, tell us for the first time in 2012 your conference predictions.
News From The UK/Ireland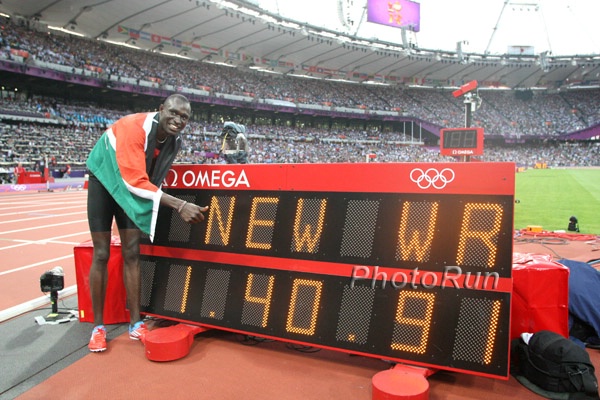 Class Act: David Rudisha Travels With Colm O'Connell To Coach's Irish Hometown - Says He's Honored To Visit "For years I have wanted to visit the hometown of my coach." *Video of Rudisha in Ireland
*Brits Are Upset That American Christain Taylor Will Now Train in Britain on UK Tracks Under Coach Just Hired By UK Athletics - Rana Reider wI guess someone should remind them that Mo Farah trained in the US on US tracks.
*London 2012 is set to come in almost $639 million under budget Don't let that fool you into thinking they got it on the cheap - now it only cost $14.26 billion.
*Britain's Stephen Way Comes From Behind To Win World 50k Trophy In Thrilling Fashion as Fellow Brit Helen Taranowski Claims Women's Win
Exercising In Your 70s May Help Prevent Brain Shrinkage
Lynn Jennings Wins Race - Rowing Race
The Pole Vault And The 20-Foot Barrier Only WR holder Sergey Bubka has ever gone over and this writer argues that no one else ever will without improved technology.
The IAAF Looks Back At Daley Thompson's First International Championship: When He Won European Juniors In 1977
Kawauchi Hat Trick: Yuki Kawauchi Wins Chiba Aqualine Marathon By Over 10 Minutes In 2:17:48 This is his 3rd marathon win following wins at August's Hokkaido Marathon and a CR at September's Sydney Marathon.
Watch Out For That Last 5K: Study Finds That Most Cardiac Arrests In Marathoners Happen Between Mile 23 And The Finish Line
And You Thought London's Opening Ceremony Was Weird: Russia's Winter Olympics Opening Ceremony Will Feature "Dead Souls And Mermaids"

Interesting: Study Shows Why Running At Night Feels Faster "When running at night, in the dark, objects further away aren't visible and you only have close-by objects to use as reference, and so you get a greater sense of speed compared to running during the day."
Well Done, Mattress Firm (We Need More Sponsors In The Sport Doing This)
Dopestrong
Episode #3 Of On The Run (Sponsored)
Usain Bolt Planning His Next 4 Years
Usain Bolt Makes SNL Cameo During Vice Pres. Debate Skit *Article
The NYC Marathon Returns To Live Television
ESPN Going All Out On Coverage Of ING NYC Marathon It's a fact sporting events of signifcance are shown on live national TV (or tape delay prime time in case of the Olympics). The ING NYC Marathon is back on ESPN2 this year and ESPN2 is going all out on its coverage announcing today that Sports Center anchors John Anderson and Hannah Storm will lead the broadcast. With the way ESPN works, this also means you'll likely see some pre-race and post-race coverage. Tim Hutchings and others on the broadcast as well. Unfortunately no Toni Reavis.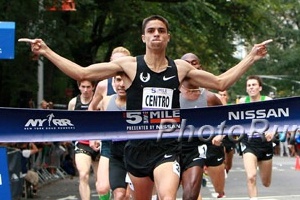 LetsRun.com T-Shirts Hit The Streets Trails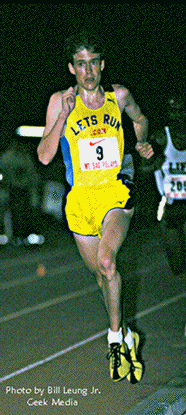 LRC High School Team Dominates In LetsRun.com T-Shirts If you're going to run fast, you should also look good doing it. That's what the Blue Valley Northwest XC team did in Topeka, Kansas as they sported their new LRC T-Shirts and swept four of the top 10 places last weekend. With Wejo no longer competing, maybe we should sponsor them.



LRC Guest Columnist: Lactic Acid - Is It All That Bad?
LRC From Time Magazine To NBC Commentators: Why is everyone still so confused about lactate (and exercise physiology)? LRC guest scientific contributor, PhD Matthew Goodwin, takes a look at some common exercise physiology misconceptions. His #1 target: The idea that lactic acid causes muscle soreness.
Nick Symmonds' Beer Mile AR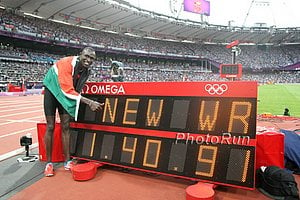 Day 4 Photo Gallery: King James, Felix Sanchez, Jenn Suhr, Women's Steeple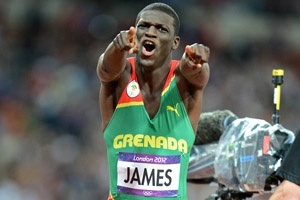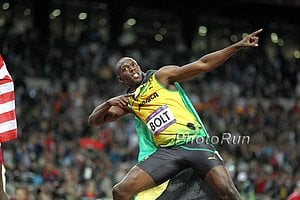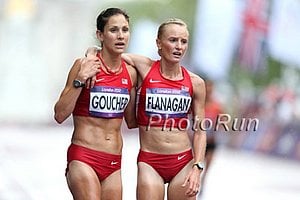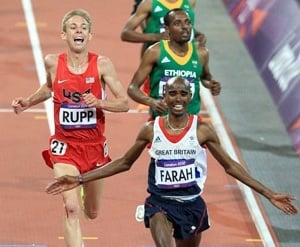 A Legend Passes Too Young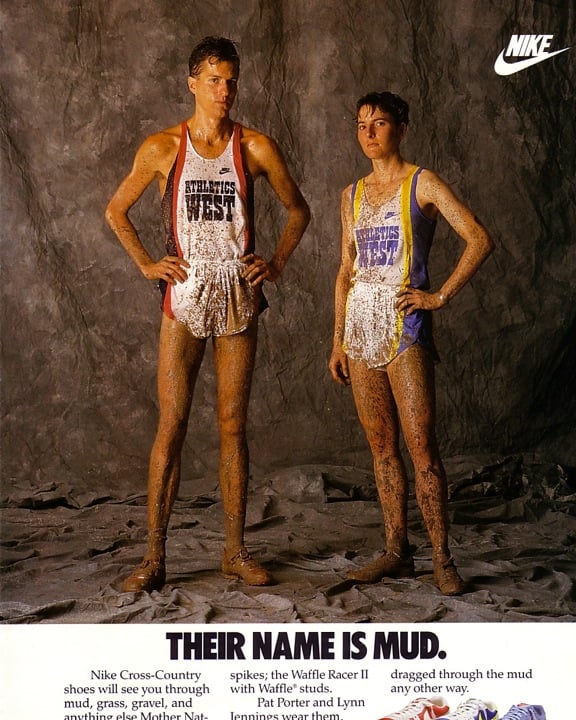 LRC Eight-Time US Cross-Country Champion Pat Porter Dies In Plane Crash Updated: We've added a great photo of Porter with 3-time World XC Champ Lynn Jennings.
*Authorities: "There are no indications as to what may have caused this accident." Porter and his 15-year-old son and a neighbohood friend have perished.