Birmingham DL Sunday *Start Lists/Results (TV Portion Starts At 10am Eastern)
International News From Retired/Almost Retired Olympians
Coach Dan Pfaff Might Return Home To Texas After His Contract With UK Athletics Expires, And Greg Rutherford May Come With Him
Lance Armstrong Pleads Guilty Gives Up
USADA To Ban Lance Armstrong For Life And Strip Him Of All 7 Tour de France Titles USADA chief exec Travis Tygart: "It is a sad day for all of us who love sport and athletes. It's a heartbreaking example of win at all costs overtaking the fair and safe option. There's no success in cheating to win." *ESPN
*MB: BREAKING Report: Lance Abandoning Fight vs Doping Charges, TDF Titles Gone
*Lance Armstrong's Full Statement On USADA Refers to USADA's investigation as an "unconstitutional witch hunt."

More Drugs: Dick Pound Says Despite All The Drug Testing At The Olympics, The Dopers Are Winning The former WADA chairman criticizes his successor for not taking the advice and making use of the expertise of Victor Conte. Pound accuses countries of not caring and only handing out 2-year bans since they want their athletes back in action.
Paralympics: Paralympic Torch Relay Has Begun
*Guide To Understanding The Confusing Paralympic Classification System
US Olympic-Related News
US Stuff
LRC Stockholm Diamond League Full Recap Updated A slew of Olympic champions competed and some did really well and some did awful. Duane Solomon ran a great 800m, Evan Jager ran a PR and revealed he wants to run a 5k, and Shannon Rowbury and Jenny Simpson ran seasonal bests. Now with quotes and interviews.
More: LRC Evan Jager Wants To Run A 5k, But Coach Jerry Schumacher Is Against It
LRC Shannon Rowbury Speaks Out Against Drug Cheats
LRC Taoufik Makhloufi Explains How He Got So Much Better This Year
LRC Andrew Wheating Runs 1:46.4 In B Race And Says It's A Positive Step

LRC Full Results *Video Highlights
*IAAF Recap *Athletics Weekly *Reuters
*Bolt Didn't Run Because He's Too Expensive, Say Meet Organizers
*Valerie Adams Dominates In Stockholm
Goodbye, London
Getting High Praise In The Email Inbox:

LRC Mediocre Great Britain: You Lived Up To Your Name "For a country where pessimism is now part of the national consciousness, the Olympics were a resounding success. Not okay, not pretty good, but truly Great ..."
*IAAF's 12 Highlights Of London 2012
*London Athletes Face Post-Olympic Blues It now even has an official name: Post-Olympic Stress Disorder, or POSD.
Need A Running App For Your iPhone? Runtastic Gets Praise In NY Times
LRC The Incredible Meb Keflezighi Reacts On Just Missing A Medal, Ryan Hall & Abdi Talk About Dropping Out Post-race reaction from the Americans and the medallists. Meb used the fact he was slighted and not introduced to the worldwide audience at the start, even though he was the only Olympic medallist in the field, to fuel him. Ryan Hall reacts to his first non-top-10 result and Wilson Kipsang says he has no regrets about the 14:11 3rd 5k.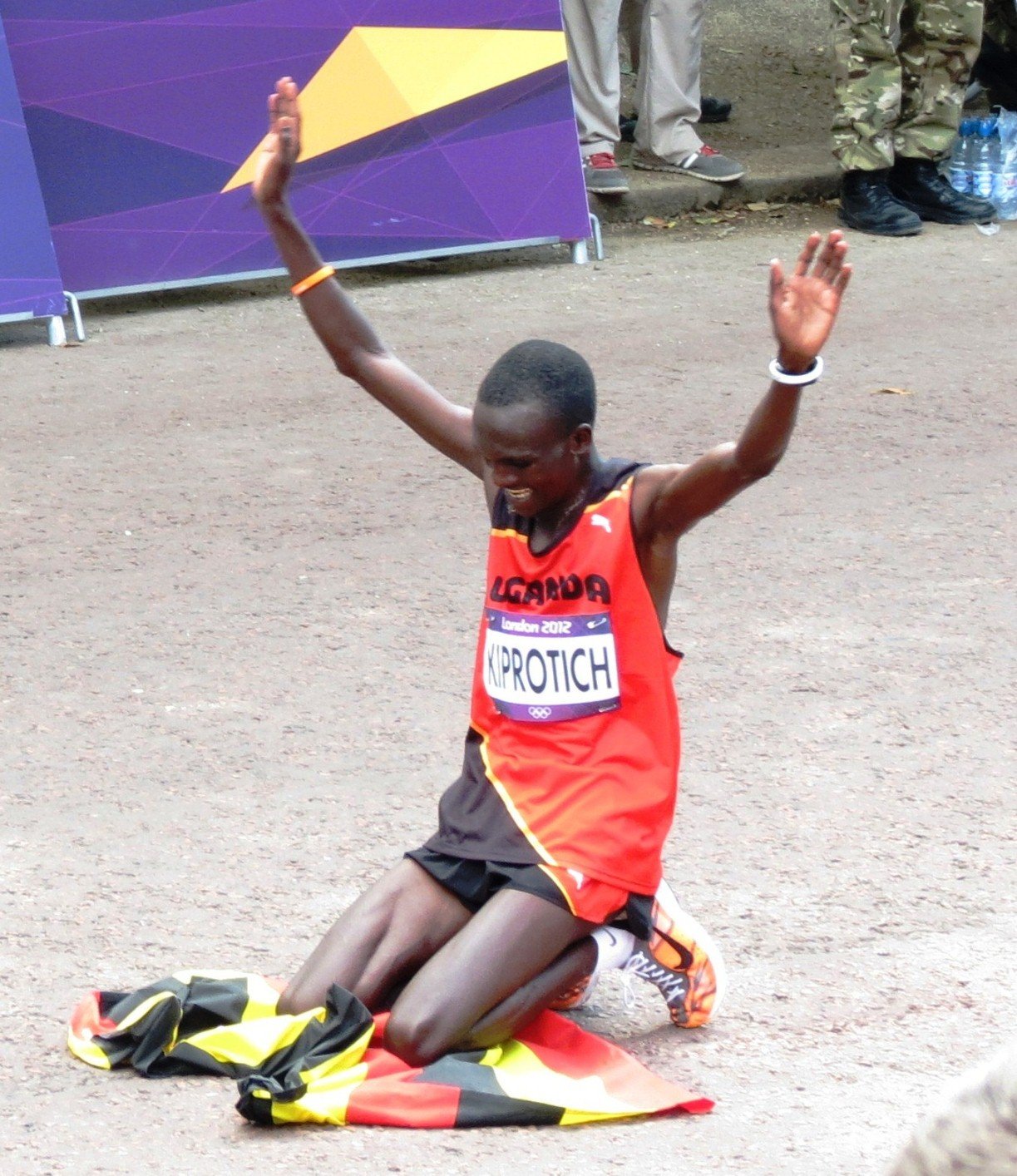 Olympic Marathon: LRC The Unheralded Stephen Kiprotich Of Uganda Stuns The Field And Wins The 2012 Olympic Men's Marathon Uganda's only Olympic medal of the 2012 Games has a great color to it and it came in a historic event, as after getting dropped at the 35km mark (21.7 m), Kiprotich stormed back to the lead at the 23-mile mark and stunned the world and Kenyans Wilson Kipsang and Abel Kirui as the US's Meb Keflezighi was a surprise 4th. Kipsang tried to do his best Sammy Wanjiru impersonation with a crazy 14:11 5k early in the race, but that 5km segment at 1:59 marathon pace may have done him in later.
*USA Today: Kiprotich: "Now, I am known and I am happy that I am known."
*RRW Recap *AP Recap
Saturday:

LRC Mo Farah Completes The Double As The British Fans Go Wild The British fans got what they wanted on the final day of Olympic track competition (marathon tomorrow is on the roads and doesn't end in the stadium) as Farah won a tactical 5,000. Bernard Lagat came up just short in his quest for his first Olympic medal for the US as he was 4th, Rupp 7th and Lomong 10th.
*Picture: Mo Farah And Usain Bolt Swap Victory Poses
*Mo Farah Says He Wants To Move To The Marathon Eventually, But Not Yet
*MB: Official men's 5000m thread *That was the worst 5000m final in an Olympics ever
Friday
W 1,500: LRC Disaster Strikes Twice As Morgan Uceny Gets Tripped Again And A Former Doper Wins Gold Disaster struck twice in the 1,500 final. First at the bell when, unbelievably, Morgan Uceny was sent sprawling for the second straight year. It struck again a lap later when a former doper won gold and her compatriot, who has gone from 4:18 to 4:01 this year, nabbed silver.
*Pat Forde: "Saddest sight of the Games"
*Woods: "Half a lifetime of preparation, of dreaming, shattered in an instant."
*Battaglia: Uceny's medal hopes fall - again
*MB: *I am crying for Morgan Uceny *Uceny goes down! *US should protest - Let's re-run the 1,500
*UK 1,500 Runner Lisa Dobriskey Voices Concerns Over Turkey's Asli Çakir Alptekin Being Clean Dobriskey said: "I'll probably get into trouble for saying this, but I don't believe I'm competing on a level playing field.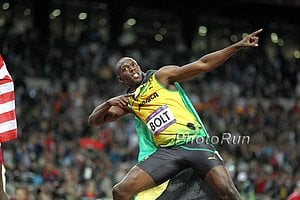 Usain Bolt Wins 200 To Become A "Legend" Bolt became the first man to win the 100 and 200 at back-to-back Olympics and become a legend in his own words. We thought he was already a legend. After leading the Jamaica 1-2-3 sweep, Bolt trashed Carl Lewis, saying he has "no respect for him" as a result of Carl's thinly-veiled drug allegations at Bolt.
More Bolt-Lewis: *Bolt Rips Lewis
*Editorial Saying This Will Hurt Bolt In US With Endorsements We Disagree. The article nails it in describing how entertaining Bolt was in the rest of the press conference.
*Article From Last Month Explaining What Lewis Said
*Yohan Blake's Watch Has Caught The Eye Of IOC Brand Police
*Four Years Ago, Warren Weir Was Watching The Olympics From The Couch, But Now He's Part Of A Jamaican 200 Medal Sweep When asked what Bolt whispered to him before the start, he said, "1-2-3." All 3 are coached by Glen Mills.

Ashton Eaton, Trey Hardee Go 1-2 In Decathlon Hardee: "It's safe to say my reign is over. I still think my best decathlon is ahead of me, but Ashton's are too."
*Ashton Eaton: "20 years on you will have people saying 'I was sitting on my couch, watching Hardee and Eaton win.'"
*USATF Release On 1-2 Finishes In Decathlon And TJ Includes athlete quotes.

Gators Christian Taylor And Will Claye Go 1-2 In Triple Jump 2nd medal of Games for Claye as he got bronze in the LJ.

NYTimes: Day Of Drama In London
Wednesday
Allyson Felix Wins 200 Gold As USA Crushes It With 7 Medals & 3 Golds Brittney Reese also won gold as did Aries Merritt. The meet was "was slipping away" from the US when everything got turned around with a ton of medals. Lashinda Demus had to settle for silver despite running 52.77. *USATF Release On Historic Day
*Layden: Allyson Felix finally strikes gold on banner night for US track and field
*After Coming Up Short 4 Years Ago, Allyson Felix And Brittney Reese Come Through For Gold In 200 And LJ In 2012


110H: Aries Merritt Is On Fire - PRs At 12.92 As US Goes 1-2 Jason Richardson was a little disappointed he got silver.
Epstein: Merritt quest perfectionism pays off with gold medal in 110m hurdles
Reuters: After showing great promises as jr. world champ, Merritt arrives on center stage


LJ: After Four Straight World Titles, Brittney Reese Gets Long-Sough- After Olympic Gold
*Reese Celebrates With Mom Who Told Her To Turn Down Basketball Scholarship For College & Focus On Track



Tuesday:
A Great Read: LRC Men's 1,500m Reaction, Leo Manzano Talks About His Medal, Matt Centrowitz His Near Miss, Makhloufi, Kiprop, Willis, More LRC gives you all the athlete reaction from the crazy men's 1,500m, which saw Leo Manzano take home the first US Olympic 1,500m medal since 1968. Leo says he felt awful but his prayer was answered; Centrowitz says he was running for gold and wouldn't change a thing; Asbel Kiprop praises Leo; Nick Willlis is amazed by Makhloufi's recovery but embarrassed by his own showing. What happened to the Kenyans? What about Nick Willis? What about Makhloufi's injury? *LRC Leo Photo Gallery


Race Recap: LRC 1,500 Final: Taoufik Makhloufi Dominates As Leo Manzano Surprises With Silver (updated) Makhloufi's last 300 was just way better than everyone else's, as anyone that tried to go with him paid a big price. Leo Manzano had the next-best last lap as he went from 10th to 2nd as Matt Centrowitz just missed a medal by .04. *IAAF Recap

*Deadspin: Algerian Runner Booted From Olympics For Quitting A Race Reinstated After Getting A Doctor's Note
*Taoufik Makhloufi: The Man Who Won Olympic Gold After Being Thrown Out For Not Trying An honest assesment of the DQ situation and questioning the rules around it.

Monday
400 Final: 19-Year-Old Kirani James Wins Grenada's First Olympic Gold In The 400 Luguelin Santos took silver and Lalonde Gordon bronze. Kirani James is Mr. Clutch at age 19. Incredible.
*Grenada Prime Minister Declares National Holiday To Celebrate Kirani James' 400 Win
SI: US 400m Dynasty Comes To An End
*MB: Kirani James 43.94!!!!



RR: Felix Sanchez Weeps Tears Of Joy And Dedicates 400H Win To His Grandmother, Who Passed Away After The First Prelim In Beijing 2008 He ran with a photo of him and his grandma tucked under his jersey and "Abuela" scrawled in black pen on the straps of his spikes. When he won, he honored his grandmother by kneeling in the middle of the track and kissing her photo.
*Yahoo Photos


LRC Taoufik Makhloufi (One Of The 1,500m Favorites) Kicked Out Of Olympic Track Meet Reinstated Makhloufi's performance in the 1,500m semifinal on Sunday was absolutely stunning but not as stunning as what happened 15 hours later. Less than 24 hours after the race, he was disqualified from the meet for not giving an honest effort in the 800m round 1 on Monday. After an appeal, he has now been reinstated. *Discuss
Saturday
LRC Men's 10,000m: Mo Farah Gets It Done As Galen Rupp Gets Historic Silver Mo Farah powered home to win Britain's third track gold medal of the night and first long-distance gold in 104 years, as his training partner Galen Rupp got America's first men's flat long-distance track medal since 1964 with silver. The bronze went to Ethiopia's Tariku Bekele, as he held off his brother, Kenenisa.
Friday
LRC Women's 10,000m: Tirunesh Dibaba Makes The Case For Being The Greatest Ever The Tirunesh Dibaba/Vivian Cheruiyot dual did not live up to the hype, as Dibaba was simply stunning the final 500 meters, crushing the field to assert her claim to best female distance runner ever. Sally Kipyego got second, Vivian Cheruiyot third. Afterwards, Dibaba said she wants to run a marathon next year.
*MB: Dibaba!!? wtf *OFFICIAL WOMENS 10 000M THREAD
German Fernandez Runs 3:40.71 For Comfortable Win In Low-Key Belgium Meet
Mo Farah/Usain Bolt News
Olympic 5,000m Final Was So Loud That Finish Line Camera Shook And The Official Finish Photo Was Blurry For The First Time Ever It didn't happen in any other race in London. Farah mania > Bolt mania in London.

Mo Farah's Wife Gives Birth To Twin Girls

Usain Bolt Gets Honored At Manchester United Halftime
US Olympians In The News
LRC: Matt Centrowitz Runs 3:31.96 For Third The twenty-two-year-old American continued to roll as in his first race post-London he skipped the 3:32s and 3:33s to run 3:31.96 and come close to the win in Lausanne.
*Video Of Centro's Race
*MB: CENTRO 3:31!! *What the hell happened? Centro 3:31, Rupp DNF, Manzano/Willis 3:34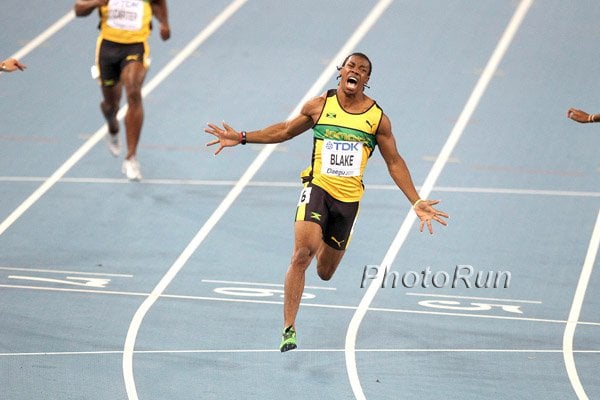 Results: Yohan Blake 9.69, Usain Bolt 19.58, Pamela Jelimo Over Mariya Savinova, Matt Centrowitz 3:31, Leo Manzano 3:34, Galen Rupp DNF The two Jamaican sprint stars came to play in Lausanne. But the mid-d and distance action left you wondering how the Olympic results were as they were. In the 1,500, the American silver medallists didn't really show up as Leo Manzano was 10th and Galen Rupp didn't finish, as Silas Kiplagat got the win and Matt Centrowitz showed why he's the best American miler when healthy. In the women's 800, Pamela Jelimo got the win over the 2012 Olympic champion, and in the 3,000, Jenny Simpson was dead last - proving in our minds that her problems in 2012 aren't a matter of confidence or tactics, but rather fitness.
*IAAF Recap *AP *BBC
*MB: The Good: CENTRO 3:31!! *9.69 - My head just exploded
The Bad: What the hell happened? Centro 3:31, Rupp DNF, Manzano/Willis 3:34
The Ugly: JennyB needs a new coach fast

More:
Monday/More Weekend Track Action
Monday In Linz, Austria: Kirani James, Felix Sanchez Impress Overall recap.
*Men's 1000m: Seurei Wins,

Nate Brannen 2:16.52,

Over Nick Willis (Missed NZ Record By .01), Wheating, Torrence Willis for some reason was getting top billing earlier. Brannen deserves it. He is in fabulous shape and fell in London. Kirani James won the 400 (44.46) as Oscar P was 6th (46.91). In the 800, Hanna England ran 1:59.66 to beat Anna Pierce and Molly Beckwith. Felix Sanchez won the 400H; Michael Tinsley was 3rd. Other action included a poor steeple showing by Bridget Franek (9:52.90) and bronze medallist Kellie Wells losing to US runners Ginnie Crawford and Queen Harrison in the 100H. *Full Results *Cory Martin Wins City Shot *MB: Brannen 2:16:52 1000m
Budapest: Christian Taylor, Sanya Richards-Ross (200) And Jason Richardson All Win In Budapest Olympic bronze medallist Timothy Kitum won the 800. *IAAF Recap
Sunday In Warsaw, Poland: Reese Hoffa Defeats Gold Olympic Medallist Tomasz Majewski Again To Win Shot Pot Other US action at the meet included Jeneba Tarmoh winning the 100 in 11.30, Duane Solomon taking 3rd in the 400 (46.07), Leo Manzano 4th in the 800 (1:47.84) as Kenya's Nicholas Koech won in 1:46.12 and Brenda Martinez winning the 1,500 (4:20.31). *Full Results
Saturday In Germany: Olympic Champion Ivan Ukhov Finishes A Terrible 5th Place In HJ Meet As Bronze Medallist Mutaz Essa Barshim Wins Over Robbie Grabarz He blames some recent weight loss on affecting his form.
More Post-London News
Saturday: W800: LRC The World Champion Is Now The Olympic Champion As Mariya Savinova Wins Comfortably Over Caster Semenya (updated) Russia's Mariya Savinova came from way back to win the gold comfortably in 1:56.19 and retain her global superiority. Caster Semenya had a blazing last 100 to grab the silver, but waited way too long to kick to challenge for gold. Defending champ Pamela Jelimo led with 200 to go, but faded badly and was the first outside the medals.
*David Epstein: "Silver Medal in 800 meters Offers Little Clarity in Semenya Speculation" Talks about speculation as to how Semenya came out of nowhere again to get silver and points out how those who objected to her in the past (such as Savinova) seem to be fine with her now that she's losing.
Friday
W 5,000: LRC Meseret Defar Stunningly Stops The Coronation Of Tiruneh Dibaba The script was all set. Tirunesh Dibaba was to complete the "Double Double" and become the first women track athlete with four individual golds. Only thing was, the person making history ended up being Meseret Defar.
*Reuters Defar's golden focus pays dividends Defar said she's had great health and says she changed training to prepare for a tactical race. The religious Defar says she feels "born again."
*Defar Says She Will Now Move Up To The Marathon She's ran one half before in 67:45. Dibaba has said she's making the same move, so their rivalry isn't over yet.
*AP Recap
Thursday
800 Could Be Was Epic:

LRC David Rudisha Becomes A Legend By Winning Gold With A World Record In The Greatest 800 Race In History updated David Rudisha went after in London and delivered, as he became the first person to break 1:41 in the 800. The rest of the field went after Rudisha and delivered as well as 7 of 8 runners PRed in a truly epic race where places 1-8 set new all-time best time-for-place marks. Duane Solomon and Nick Symmonds became the 2nd and 3rd Americans to break 1:43 and amazingly neither medalled.
*MB: Rudisha 1:40.91 WORLD RECORD!!
*Epstein: How low can Rudisha go in 800?
*Science Of The Sport Analyzes The Olympic 800 Final And Rudisha's Race Strategy

LRC Duane Solomon And Nick Symmonds React To Their Historic Olympic 800s That Leave Them Short Of The Medals The sub-1:43 club has two more Americans. Unbelievably both of them will leave London without medals. Nick Symmonds ran faster in the final than he thought was humanly possible for him.
*IAAF Article On Rudisha's WR 17-year-old Kenyan Timothy Kitum, who got bronze, said, "[Rudisha] told me he was going to go fast for the line. He advised me not to follow him and to go for silver. That's why (Mohammed) Aman failed. That was our plan."
*Usain Bolt & David Rudisha: Olympic Stars United In Greatness The 800 was crazy; British runner Andrew Osagie's 1:43.77 was enough to get him 4th all-time UK and would have won any of the past three Olympic finals ... but here it got him last.
*Ultimate Track Showdown: Bolt Vs. Rudisha Over 400 Both have hinted they'd be up for it. Props to whatever meet organizer makes this happen. *MB: More Dominant: Bolt or Rudisha ?


LRC Column/Editorial: Sarah Attar Makes Olympic Track And Field History For Saudi Arabia In 800m, But Is It Enough? Imagine the outrage if the South African delegation made its black athletes walk behind the whites and told them to not give interviews or mingle with whites."It's time for the IOC to stop supporting sexism. Gender discrimination should be treated no differently than racial discrimination. ... How about for a start, the Saudi women come out first at the closing ceremonies? Come out before anyone else enters the stadium, that would be a step in the right direction."

*LRC Meet Sarah Attar - Saudi Arabia's First Female Track & Field Athlete The woman who will make history in traditional Islamic attire at the Olympics is a Pepperdine sophomore who runs in shorts during the collegiate season. She's never run an 800 in college, but that's what she'll run in London.
*Alberto Salazar Says Mo Farah And Galen Rupp Are Feeling Recovered And Ready For 5k
*Allyson Felix Looking For Redemption In 200 As All 3 Americans Advance To The Final
*Usain Bolt And Yohan Blake Prepare For The 200 Showdown In What They Both Consider Their Best Event
*Asafa Powell Won't Compete In Jamaican 4 X 1 Due To Injury He's out for the rest of the season, but plans on being back in 2013.

Tuesday:
Sunday
M Steeple:
LRC Ezekiel Kemboi Wins Second Olympic Steeplechase Title - Is He The Greatest Steeplechaser In History? Kemboi blitzed everyone in the last 300 and had time to finish out in lane eight once again before doing his now-patented victory dance. Mahiedine Mekhissi-Benabbad took silver as he did in 2008 and Kenya's Abel Mutai won bronze. Defending champ Brimin Kipruto was tripped with 700 to go and heroically tried to rally, but ended up fifth. Evan Jager and Donn Cabral were 6th and 8th.
*Ezekiel Kemboi Says His Track Career Is Over Now And He'll Be Switching To The Marathon


100 Final: BOLT: Tim Layden: "In many ways, this one was better." (link fixed) If you ever thought there was a better short sprinter in the world think again. Usain Bolt delivered on the biggest stage once again in the gretest 100m final ever. All 8 men would have broken 10.00 but Asafa Powell, the man who has gone sub 10 more than anyone else in the world, pulled up before the finish.



W Marathon: LRC Tiki Gelana Wins 2012 Olympic Marathon As Shalane Flanagan And Kara Goucher Finish 10th And 11th The star-studded field featured Mary Keitany, Edna Kiplgat, and Liliya Shobukhova, but in the end it was the marathon's new star Tiki Gelana who got the win. American Shalane Flanagan was 10th and teammate Kara Goucher 11th. LRC analysis, recap and more from London.
*Kara Goucher After Marathon Finish: "Honestly, I haven't felt that kind of pain since I had a baby. I'm serious." Flanagan said all the turns really broke her rhythm and "trashed her legs."
*IAAF Marathon Recap *MB: OFFICIAL WOMENS MARATHON THREAD
Saudia Arabia Sends Women To Olympics
LRC Meet Sarah Attar - Saudi Arabia's First Female Track & Field Athlete The woman who will make history in traditional Islamic attire at the Olympics is a Pepperdine sophomore who runs in shorts during the collegiate season. She's never run an 800 in college, but that's what she'll run in London.
*NY Times: Attar's Family Asked School Website To Take Down Photos Of Her Competing In Singlet And Shorts
*Philip Hersh Says Recent Gender News Isn't Quite As Good As It Seems Still needs to generate change at home.
Collegiate News: NCAA XC Is Just Around The Corner
Nick Symmonds' Beer Mile AR
Coaching/Administrative News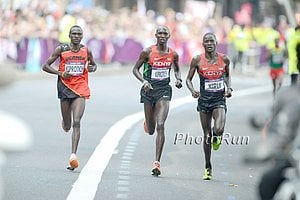 Non-DL Weekend Action
The Only Thing Worse Than Cheating Is Cheating And Then Lying About It
LRC Asks Carmelita Jeter & Jason Richardson About Mark Block
Day 8 Olympic Photo Gallery: Women's 4 X 100 WR, Uceny Falls, Women's 5,000m Final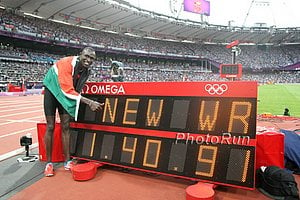 Day 6 Photo Gallery: Allsyon Felix, Aries Merritt, Brittney Reese, Women's 1,500m Semis
Day 5 Photo Gallery: Leo 1,500m Silver, Men's High Jump, Men's 800m Semis, Men's Discus Final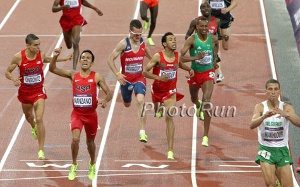 Day 4 Photo Gallery: King James, Felix Sanchez, Jenn Suhr, Women's Steeple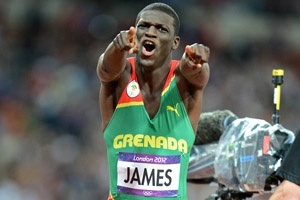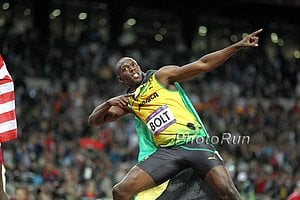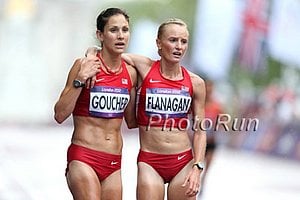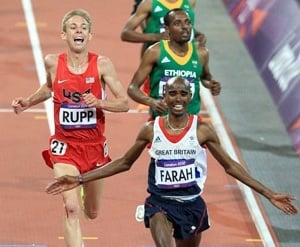 Day 1 Friday Photo Gallery: Women's 10k And Men's Shot Final, Round 1 Steeple, 1,500
A Legend Passes Too Young
Usain Bolt The Video Game Is Out