LRC Friends And Family Preview Of Day 1 Of The Olympic Games Track And Field The Olympics are the one opportunity track and field has every four years to expand its fan base. With that in mind, each day, we're going to present to you an "LRC Friends and Family Guide" to the action - a quick overview of what to expect that day in track and field. Hopefully, you can share the link or print it out and hand it to your friends and family that are either casual track and field fans or not track and field fans at all. If they know the storylines behind what they are watching, they will enjoy it a whole lot more and you won't have to drive yourself nuts by starting at square one with them. *IAAF Day 1 Preview *IAAF Event-By-Event Olympic Previews *TFN News Previews All Track & Field Events *MB: What Will Be the Gold Medal Winning Times in London?


LRC We Rank The US Mid-D And Distance Olympians' Odds For A Medal No one has the guts to rank all the US Olympians in terms of their medal hopes but us. While we're a little fearful of the athletes' reactions, we think the piece is very positive, as for the first time in recent memory, if not ever, the US men have a legitimate medal contender in every event. *Discuss


Friday 4:25 PM ET: LRC Women's 10,000 Preview: All The Makings Of A Classic - Tirunesh Dibaba Vs. Vivian Cheruiyot We start our series of Olympic previews with the first distance final which features two runners who haven't lost in almost two and three years respectively. Yet we, unlike the bookies in London, don't think it's hard to choose between Vivian Cheruiyot and Tirunesh Dibaba. Plus what about the American chances - is top 5 or 10 realistic?

Other Events Starting Friday: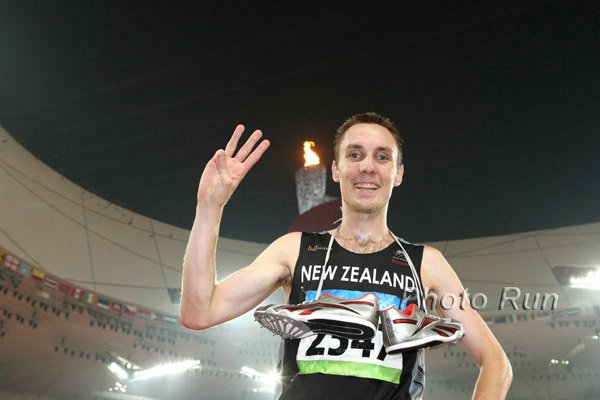 Final Is 4:15 PM ET Tuesday: LRC Men's 1,500 Preview: Asbel Kiprop Tries To Join Seb Coe As A Repeat Champ And do the Americans have a chance?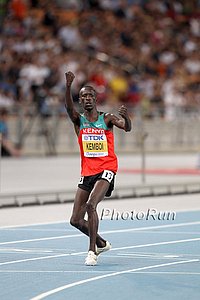 Final Is Sunday 4:25 PM ET: LRC Men's Steeple Preview: Will Kenya's Record Streak Continue & Can Evan Jager Medal? Kenya's won every Olympic steeple they've run but they've never had a double Olympic champ. Seemingly one of those streaks has to come to an end. Will Ezekiel Kemboi be celebrating like only he and Bolt can? Plus can Evan Jager medal?
Some Doping News And Other International Stuff
Big Words From Kenya: They Want 12 Gold Medals And Then Some
A Look Back At The 1992 Olympic 10k Where Tirunesh Dibaba's Cousin Derartu Tulu And South Africa's Elana Meyer Ran A Historic Victory Lap Together
Science Of The Sport Explains How The Biological Passport Works
Bekele's Agent Says He's Ready All summer long, Bekele has looked average in Europe but his agent says he's a changed man. Last year, he transformed himself 19 days after Worlds. This year, he's had 29 to do it since finishing 9th in Paris (in 12:55).

350 Track & Field Olympians Have Collegiate Ties USC, FSU and Auburn lead the way with 12 apiece, although Arkansas has the most current Olympians at 5. The SEC dominates the conference standings as expected. *Discuss
Track Starts Friday And The US Team Is Getting Ready
Science, Technology And Doping At The Olympics
US Olympic News
Negative News From London
It's Official: Paula Is Out
Olympic Controversy And Criticism
Interactive World Medal Map Updates Every 5 Minutes To Show Which Countries Are Winning The Most Medals 82 have been handed out so far.
In Track & Field, The Olympics Have Yet To Begin, But They Are Already Over Before They Start For One Marathoner & Possibly Two
Kevin Hanson: American Desi Davila Pulls Out With Injury *Discuss *Never Mind; Despite Kevin Hanson's Statement, Davila May Now Run

More Press With Negative Tones Coming From London
*
Indians Irate That Random Woman Sneaks In & Walks Next To Flagbearer In Opening Cermony
*London Organizers - Don't Worry About It - She Was A Cast Member From Bangalore
*Some Saudis Not Happy With Women's Appearance In Opening Ceremony "Whores of the Olympics ... They want to run so that they intentionally fall down and reveal (their figures)."
*BBC Relies On World Feed & Butchers TV Coverage Of Cycling & Gymnastics Apparently there were GPS problems in cycling and they didn't even know who medalled.
*Despite Doing Her Best To Ignore It, The Start Of Tthe Olymipcs Has Lauren Fleshman Feeling "Not So Good" Not so good.
*Irish Track Coach - The American Kevin Ankrom Is In Hot Water After His Mom Says He's Actively Searching For Jobs In The US The original article in the Jacksonville paper has outraged some people who think Ankrom is more excited to get to party with friends in London than he is for the track competition.

LaShawn Merritt Hoping He Once Again Has A Small Slight Problem His coach is hoping his hamstring problem is just "slight." The good news is Merritt can still flex it.
Opening Ceremony News
Non-Opening Ceremony Olympic News
US Team Updates With 2 Recommended Reads
EPO Cheats Out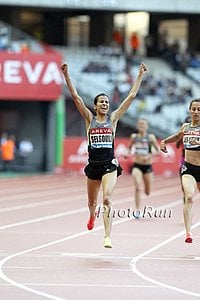 LRC 1,500 World Leader Mariem Alaoui Selsouli Of Morocco Tests Positive The former EPO cheat has tested positive a second time. Let's just say people who follow the sport day in and day out are not surprised. Perhaps the bigger question is why would an AAM member represent her and Nike sponsor her? Kudos for drug authorities for targeting her for testing.
We 100% Agree:
Man Who Transformed Olympics Into Multi-Billion Enterprise Says Enforcement Of Olympic Sponsorship Agreements Has Gone Too Far In response to Seb Coe saying fans wearing a Pepsi shirt likely won't be let into the Games. "The public do get it. They do understand that Coca-Cola has paid, Pepsi hasn't, so Coca-Cola should be entitled to provide the soft drinks, but what's that got to do with a flaming torch baguette in a café?"
Scientist Who Has Studied 100,000 Runners Says Don't Listen To Quacks - Running Is Good For You "It's important to not rush to any conclusions that 10 to 20 miles a week is the optimal dose."
US High School Record/Incredible World Jr. Results (More On Right Column)
LRC Mary Cain Smashes American High School 1,500m Record The 16-year-old sophomore ran 4:11.01 to smash Jordan Hasay's high school record by nearly 3 seconds to finish 6th at the World Junior Championships in Barcelona, Spain.
On The Boards: MARY CAIN 4:10
5,639-Word NY Times Front Page Sports Article On The Faith-Coached Ryan Hall Sara Hall: "The Bible is not going to tell you how to be a good runner ... I don't think Ryan is looking at the Bible for a formula, necessarily. There are certain things that God highlights for him that he applies to his training."
Anti-Drug News
Amateur Hour II
Update: Nike Responds (Like We Thought They Would) "Gaining entry into the Nike box is an informal process and we plan to review our protocol for access for future events." *MB: Mark Block: Nike Responds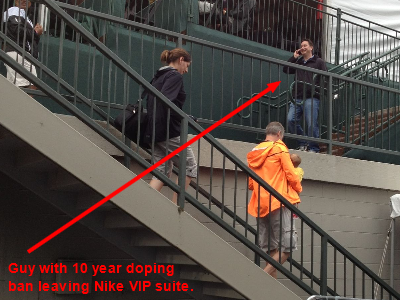 LRC Why Was A Man In The Midst Of A 10-Year Doping Ban Enjoying The 2012 US Olympic Track & Field Trials From The Nike Sky Box? If you thought the days of looking the other way at doping were totally over, then you need to read this. Supposed former agent/coach Mark Block, who is in the midst of a 10-year doping ban, was seen by LetsRun.com njoying the Trials in the sky box of the #1 sponsor of both USATF and the Olympic Trials - Nike. All we can say is shameful. *MB: Discuss
LRCThree Best Punch Their Tickets To London As Leo Gets US Title #1 Leo Manzano, the man who had been top three every year since 2006, finally got the win he deserved but even he didn't expect. Manzano chased down Centro to get his first national title as Wheating pulled away from Robby Andrews to get third. *Men's Race Video



LRC World #1 Uceny, World Champ Simpson And Medallist Rowbury Get It Done The Big 3 came through as US #1 Morgan Uceny got her second straight US title with Rowbury 2nd and Simpson third. LetsRun.com recap hopefully coming later. *Women's Race Video
*After Winning The State XC Title As A Freshman, Morgan Uceny Quit Her Junior Year To Focus On Basketball That's what you do when you live in Indiana in a small town of 10,033 that has a high school basketball gym that seats 4,600.
The Conscience Of The Sport:

LRC What Are Carmelita Jeter And Jason Richardson Doing With Mark Block? All year long, two of the America's three individual track World Champions from last year have been traveling the globe and associating with convicted doper Mark Block. Whether it's been dinner in California, a walk to the track in Jamaica or a pre-meet stretch in China, Jeter and Richardson haven't been shy about continuing to associate with someone deeply involved in the BALCO scandal, who is currently supposed to be banned from the sport for ten years. All we want to know is "Why?"


Saturday 4:15 PM ET: LRC Men's 10,000 Preview: Can Kenenisa Bekele Upset Hometown Favorite Mo Farah And Win An Unprecedented 3rd Olympic Gold? Kenenisa Bekele, Mo Farah and Galen Rupp are all battling history on Saturday, as no one has ever won three Olympic 10,000s, no Brit has ever won and no Yank has won since 1964. Who will defy history? We definitely give Galen a shot to not only medal but also win.

Also Starting Saturday:

Final Is 4:05 PM ET Monday: LRC Women's Steeple Preview: Can Anyone Stop Yuliya Zaripova? We start our series of Olympic previews with the first distance final which features two runners who haven't lost in almost two and three years respectively. Yet we, unlike the bookies in London, don't think it's hard to choose between Vivian Cheruiyot and Tirunesh Dibaba. Plus what about the American chances - is top 5 or 10 realistic?


Sunday 6:00 AM ET: LRC Women's Marathon Preview: Mary Keitany Takes On The Greatest Women's Marathon Field Ever Assembled Even with the recent withdrawal of world record holder Paula Radcliffe, the race still features seven of the 17 women in history who have gone sub-2:20, including the great Mary Keitany. Can anyone challenge her for the win? What about Shalane Flanagan and Kara Goucher?


Some Quick Stuff On US Olympians
Good News: Verzbicas Out Of Surgery And Tweeting
Track Starts Friday And US Olympians Say They Are Ready
Maggie Vessey Talks About Moving On After Her Disappointing Trials And Racing "B League" Meets In Europe
Random Olympic Stuff
LRC Plan Ahead: 2012 Olympic Track And Field Schedule Getting to the Olympics is a difficult task. Watching the Olympics while not getting fired at work or having your significant other dump you is almost as difficult. Plan ahead and figure out how you are going to watch the track and field action live while not being fired or divorced by looking at our two versions of the Olympic schedule. *** Updated with links to NBC TV schedules for track and all other Olympic sports.
Non-US Track News
More Olympic Complaints, Debates, And Conspiracies
More On Rule 40: A Vicious Cycle: Athletes Can't Support Their Sponsors Because They're Not Olympic Sponsors; Olympic Sponsors Don't Sponsor Athletes Because IAAF Regulations Sanya Richards-Ross: "Only two percent of U.S. athletes are able to tweet about their sponsors because only two percent of athletes have USOC or IOC sponsors."
International T And F
General Olympic News
A Lot Of Great Advice For All You Future Sports Journalists: The Power & Glory Of Sportswriting "An editor at Sports Illustrated once advised me that the art of the work rested in telling people who already know what happened a story so compelling that they forget everything and, at the end, wish they'd been there."
LRC $200,012 LetsRun.com London Prediction Contest The very future of LetsRun.com may be at stake, but our world-famous prediction contest is back and better than ever as it's up a full week before the 2012 Games. Even though every potential sponsor we approached wouldn't touch it out of fear of Rule 40, we have given you what you've demanded - a fantasy contest that we believe is allowed by the US Supreme Court. But because of the cowardice of everyone else, the prizes have been curtailed a bit. If you aren't good enough to win $200,012 for a perfect ballot or $2,012 for a perfect distance ballot, you will be just like the Olympic athletes themselves - competing solely for pride unless you are lucky enough to get top three.

Need Help Making Your Picks?
*London 2012 Athlete Database Tracks the world's top athletes for their 2012 season. Includes this season's entire race results and individual bio pages with career achievements, biographical data, personal bests, twitter feeds, and some interviews.
*IAAF London 2012 Athletics Statistics Book Available For Download
Rule 40
Track And Field Olympic News
This Proves What We Already Knew - Track And Field Is The Olympics
Some Aren't Happy That The Symbol Of The Olympics - The Olympic Flame - Isn't Visible To Fans Unless You Are In Track Stadium Well, it's visible if you have track and field tickets, as it's down low in a corner of the stadium.
Doping Articles
Recommended Read Learn All About The Life Of 2:18:20 Marathoner Liliya Shobukhova IAAF Once a failed 1,500 runner who struggled to do speed work in -25 Celsius weather with no indoor track within 60 miles, she's now a marathon star.

It's Back: The Week That Was
LRC The Week That Was In Running: July 16-22, 2012 Just so we can remember how to do it, our famed "Week That Was" weekly recap is back after a two month vacation. This week we talk about another third-place tie, how an Olympic champ thinks computers are evil, the declining fortunes of Meb Keflezighi and Deisree Davila and the rising fortunes of Duane Solomon.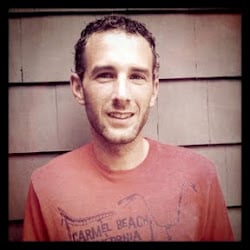 Matt Taylor Redefine Running: Time To Ditch The Olympics? For the first time in decades the balance of power is shifting and many bureaucrats are feeling the heat. They're looking for tweaks to a broken system that they hope will appease the peasants. But I'm afraid there's only one way for athletes and fans to permanently tip things in their favor: Move away from the Olympic model. The sport will never progress when every aspect of it revolves around an "amateur" event that takes place every four years and is governed by a legal monopoly granted "perpetual existence."
Jump Start Your Tuesday With 4 Recommended Reads
RecommendedRead: Emil Zatopek Wasn't Just One Of The Greatest Olympic Distance Champions - He Also Was A Great Man Of Principle Who Stood Up To The Soviets (link fixed) As a result, the 4-time gold medallist was forced to work as a laborer in a uranium mine at the age of 45.
Running 3:30 Has Its Advantages After Big PR, Nick Willis Gets High-Speed Police Escort To Take Him To Have Dinner With Prince Albert Of Monaco
Doping Corner
LRC Guess Who Was In Monaco On Friday? Banned Agent Mark Block The banned agent Mark Block, who just happened to be hanging out at the Nike hospitality suite for the Olympic Trials, just happened today to be in Monaco, site of the Diamond League meet. Evidence also points to him also being at the Penn Relays, Mt. SAC and the Jamaican Invite. Plus he was in Daegu last year. And a trusted source says Block drank a celebratory beer in "Cap's Corner" at the Trials, where he also watched the women's 100 from the Nike box and not just the 200. Hey, Nike - It's pretty easy; why don't you ask John Capriotti, your Global Director of Athletics, if he knew Block was in the VIP area. If so, fine or suspend him for poor judgement. At a minimum, tell him, "Block's presence is unacceptable." And tell your star athletes Jason Richardson and Carmelita Jeter the same thing.

LRC 8:16 Spanish Steeplechaser Dropped From 2012 Olympic Team Amid EPO/HGH Doping Probe A local Spanish paper has released a reported email exchange between 8:16 steepler Angel Mullera and a doctor from last year's World Champs where the two discuss his required doping for the 2012 season. The Spanish federation was aware of the doping exchange months ago but hadn't acted on it until it was leaked to the press.
*MB: Spanish steeplechaser's leaked EPO discussion / doping plan for 2012
More Doping
THIS Is Why There Should Be Lifetime Bans:
*Hungarian Discus Thrower Robert Fazekas Out Of Games After Tests Positive For Steroids He was stripped of the gold medal in Athens 2004 for doping. He's also "coached" by someone who was stripped of a gold medal. How are these people allowed to stay in the sport?
*French Olympic Steeplechaser Nour-Eddine Gezzar Tests Positive For EPO He also served a 2-year ban back in 2006.

Recommended Read From Cycling: Running Needs A Fan To Do This: Fan Writes "An Open Letter To The Peloton" About Importance Of Anti-Doping Whoever writes it, please CC John Capriotti at Nike and the folks at USATF.
LRC Help Pick Ryan Hall's Shoes For The Olympics Asics made 3 pairs of specially-designed shoes for Hall and he wants your input as to what he should wear.
Ryan Hall Talks To LetsRun.com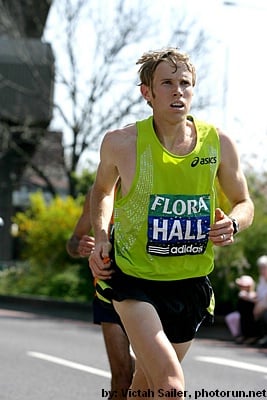 LRC Ryan Hall Hoping To Have "Best Stuff Ever" At 2012 London Olympic Marathon On Friday, LetsRun.com spent over 30 minutes talking with Ryan Hall. An optimistic Hall talked about his training has turned around, his goal for London, how he still thinks he's learning a ton, how he thinks his best marathon is ahead of him, and a whole lot more. We got Hall to give us the specifics of his training which has recently been changed to emphasize speed more often. Is he back at altitude? Hint: He gave the interview from the birthplace of LetsRun.com. How much mileage does he do? 20 x 1k? 10 miles of in and out 400s? *Discuss
Saudia Arabia Sends Women To Olympics
LRC Meet Sarah Attar - Saudi Arabia's First Female Track & Field Athlete The woman who will make history in traditional Islamic attire at the Olympics is a Pepperdine sophomore who runs in shorts during the collegiate season. She's never run an 800 in college, but that's what she'll run in London.
*NY Times: Attar's Family Asked School Website To Take Down Photos Of Her Competing In Singlet And Shorts
*Philip Hersh Says Recent Gender News Isn't Quite As Good As It Seems Still needs to generate change at home.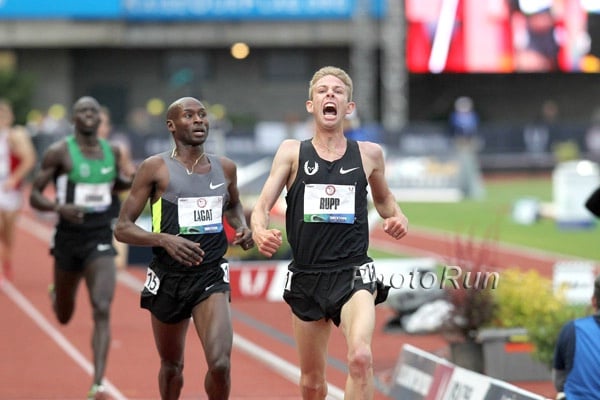 LRC What Does The Paris 5,000 Mean For Galen Rupp's Medal Chances? Before Friday, only 10 men in history had broken 12:50 for 5,000. Now after on amazing race, 16 guys have done it. Surely this is the end of Galen Rupp's medal chances, right? Wrong. We argue that once one gets over the initial shock of the "6 Guys Under 12:50 In Paris" headline, then one realizes there were plenty of encouraging results in Paris for Rupp. *Discuss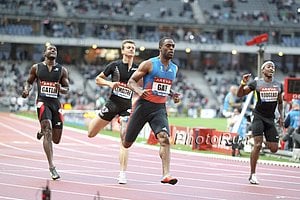 LRC Paris Recap: A Sensational Men's 5,000, A Troubling Women's 1,500, And David Rudisha's 1:41 Highlight Fans of Galen Rupp, Bernard Lagat, Kenenisa Bekele, Jenny Simpson and Morgan Uceny probably had a hard time watching this meet as the results of the men's 5,000 and women's 1,500 were stunning to stay the least. Plus Tyson Gay vs. Justin Gatlin. Read all about it. *Discuss
*Results Video highlights for US visitiors in player on right.
*LRC Winners Photo Gallery
Down Goes Bolt #2: Blake 19.80 Over Bolt 19.83 Bolt had the lead in this one and ran horribly the last 100. Video here.
*Bolt: "It is not like I was blown away. I know what I need to do to get it right."
Worth Checking Out: Pretty Hilarious Running Blog Using Short Video Clips Maybe you would call these animated memes?
Some General Track Stuff
Help Out A LRCer Who Has Terminal Cancer: Help Cancer Guy
Comical Marathon Article By The Onion: I'm Truly Sorry For This, But You're About To Hear All About The Last Marathon I Ran
Rule 40 Still Making Waves
Other Olympic News
RIP Oregon Track Clasic Founder Paul Banta
Danish Ultra Runner Sets Unofficial WR By Running Around The World From North To South He used up 32 pairs of shoes running 30-40k a day in what was his second trip around the World, having previously ran around East to West.
Chris Solinsky's Comeback To Begin At Falmouth The first non-African born runner in history under 27:00 will race in Falmouth on August 12th. *MB: Falmouth Road Race Prize Money - SLASHED
LRC It's Official: The NCAA Says Its Athletes Can't Be Coached By Their Actual Coaches In The Olympics The NCAA seems to officially be a joke. Imagine training your whole life for the Olympics and then being told your actual coach can't coach you in the Olympics unless they are listed as an official coach by the national governing body even if the NGB wants them there and gets them credentials. *Discuss
Silas Kipruto Repeats As Bix 7 Road Race Winner Ryan Bak was first American in 11th. Margaret Muriuki won for the women with Caroline Rotich 2nd, Julia Lucas 3rd and Catherine Ndereba 9th.
Craziest Sports Video Ever - Worth A Watch
Kaylin Whitney Breaks 100/200 Youth Records Of Sanya Richards-Ross Whitney ran 23.41 in the 200 and 11.59 in the 100 (Ross's records were 11.61 and 23.63).
Peter Kirui Dominates Bogotá Half Marathon In 1:02:26 Gladys Cherono won the women's race in 1:13:27.
A Legend Passes Too Young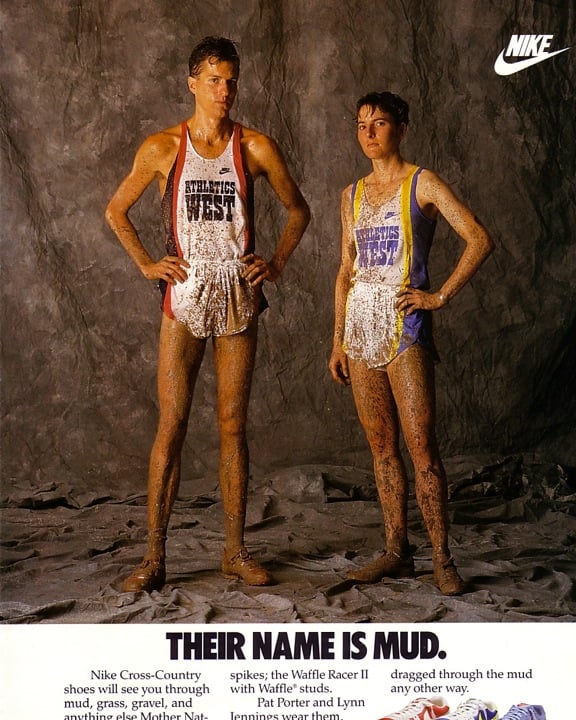 LRC Eight-Time US Cross-Country Champion Pat Porter Dies In Plane Crash Updated: We've added a great photo of Porter with 3-time World XC Champ Lynn Jennings.
*Authorities: "There are no indications as to what may have caused this accident." Porter and his 15-year-old son and a neighbohood friend have perished.
IAAF Announces 9 Doping Suspensions And The Worldwide Press Eats It Up
Rojo Nine Over-Hyped Doping Suspensions Or A Savvy PR Move Gone Too Far? Headlines across the globe are talking about the 9 doing suspensions announced by the IAAF on Wednesday. Yet LetsRun.com co-founder Robert Johnson finds himself not happy with the way the development was announced and broadcast to the world. *MB: IAAF finds 6 new dopers using biological passport
*Mathew Kisorio (58:46 Philly Half Marathon) Busted
LRC: Evan Jager Breaks The American Steeplechase Record Evan Jager got the AR in just the 5th steeple of his life. Medalling at London isn't out of the question. Only a steeple recap above, but in other action, Asbel Kiprop made running 3:28.88 look easy as Nick Willis ran a 3:30.35 PR. And in the 800m Duane Solomon is now the fastest active American as he blitzed a 1:43.44 ahead of Nick Symmonds.
*Evan Jager Race Highlight Video
LRC Asbel Kiprop Reasserts Himself As The Olympic Favorite By Running A Sensational 3:28.88 The defending Olympic champ made a statement by running a 53.43 last lap with a 26-flat last 200 to mark himself as the London favorite. At the same time, Nick Willis marked himself as a medal contender with a stellar 3:30. Robby Andrews was a DNF and Centro and Manzano were DNSs. *Race Video
LRC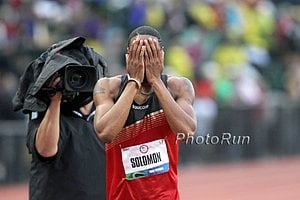 Duane Solomon Is Now The 5th-Fastest American Ever At 1:43.44 Americans, it's official - you can dream of your first 800 men's medal since 1992 after Duane Solomon and Nick Symmonds both ran in the 1:43s, but on this night, the hype justifiably belongs to Solomon, who had a massive PR. *MB: DUANE!!!
LRC The Rest Of The Meet: Alysia Montano, Jenny Simpson And Caster Semenya Disappoint In the women's 800, Semenya was awful throughout and Montano didn't look like a medal contender. In the 3k, Simpson was unable to break 70 on her final lap.
Video Highlights Of Evan Jager's American Record (Larger Here)
Asbel Kiprop Makes 3:28 Look Easy, Nick Willis Runs 3:30
From Michigan Roads To Colorado Mountains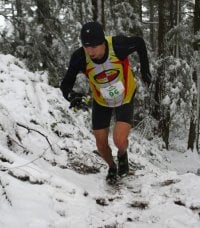 LRC Two-Time Olympic Trials Qualifier Sage Canaday Wins The US Mountain Running Championships On His First Time Out We catch up with former Hansons-Brooks marathoner, Sage Canaday, and talk to him about his switch in race focus, decision to leave Hansons-Brooks, and surviving as an unsponsored runner. Runners like Sage embody what could be called the "American running dream," as they put off pursuing what society says is practical or normal, making huge sacrifices to pursue their dreams.
Australian Hurdler's Provocative Pre-Race Dance Generates Thousands Of YouTube Hits
*MB: Michelle Jenneke Warm Up Routine. Oh, My...
Usain Bolt The Video Game Is Out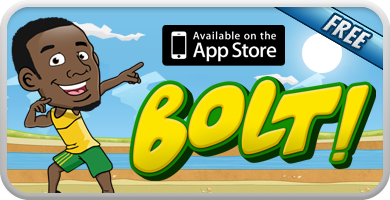 LRC Usain Bolt The Video Game For Iphone/Ipod - Q & A With Friend Of LRC Matt Taylor Bolt!, the Usain Bolt Iphone/Ipod free video game was released yesterday. We talk to LRC guest columnist Matt Taylor, who was instrumental in the game coming to fruition.
*Can Usain Bolt Create An Olympic-Sized Brand?
*Puma Pinning Hopes On Usain Bolt
*Jon Gugala Reviews Usain Bolt Video Game "Bolt!" An iPhone App "Think of Bolt! as the Angry Birds for the track and field fan. ... a fun diversion from whatever you're supposed to be doing."
LRC Day 2: Nick Willis Goes For It, The American Mid-D Men Struggle & Molly Beckwith Pulls Upset On Day Full Of Upsets Day 2 was full of a lot of upsets, particularly on the women's side, as Carmelita Jeter, Shelly-Ann Fraser-Pryce, Sally Pearson, Janeth Jepskosgei, Amantle Montsho and others were upset. The highlight from a LetsRun.com standpoint was wacky men's mile, where Nick Willis had a 3.5-second lead at the bell. It wasn't a good day for Bernard Lagat, an awful day for Leo Manzano, and a day to be remembered for Molly Beckwith, who suffered heartbreak at the US Trials. But the American who had the best day may have been Nick Symmonds - and he didn't even run.


LRC Day 1: Mo Farah, Vivian Cheruiyot Win With Ease As Maryam Jamal Shocks Women's 1,500 Field Mo Farah beat a week field that included training partner Dathan Ritzenhein, the American 1,500m women did not impress, Vivian Cheruiyot kept it going, and Aries Merritt stepped up again, as Tyson Gay came from behind to win.

More: Track & Field Athletes' Association Statement On Nick Symmonds & Lolo Jones Being Barred From Meet *MB Thread.
6 Guys Break 12:50
Paris DL Photo Gallery (Click Here Or Below)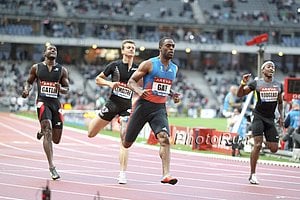 Blake Beats Bolt X 2 In 200
Emma Coburn Gets Emotional With Teammate Shalaya Kipp After Making Olympics
The Race Of The Trials: Julia Lucas' Agony Of Defeat (Race Video Here, More 5k W Interviews Here, Men 5k Here, Men Steeple Here)
Alan Webb's 2012 Olympic Dream Is Over (More On This Here (Link Fixed)). More Trials Videos Here
Tyler Mulder Showing The Emotion Of The Trials