Canadian Marathoners Lanni Marchant & Krista DuChene Are Denied Entry Into Olympics Despite Having "A" Standard They didn't meet the stricter Athletics Canada standard.
*MB: Canadians: What is up with your crazy Olympic qualifying process?
Cheruiyot Vs. Dibaba In London, African Champs Start Today
Olympic Trials Monday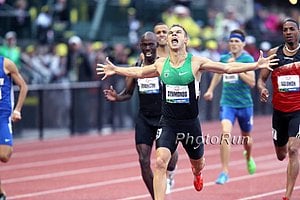 LRC Mr. Hayward, Nick Symmonds, Makes It 5 In A Row, KD Goes To London And So Does Duane Solomon Nick Symmonds ran faster than any American ever at Hayward field (1:43.92) to get the dominant win, veteran rival Khadevis Robinson "KD" made his second team, and the Johnny Gray-coached Duane Solomon came up huge with a PR and "A" standard to book his ticket to london. Recap and analysis. *Race Video
*Nick Symmonds, KD, And Duane Solomon Get Olympic Spots
*USA Today Article On Symmonds And Webb
*Unsponsored Mark Wieczorek PRs And Places Seventh In 800
*Great Pre-Race Article: KD is running with purpose

More Trials: Reuters Recap Of Monday At The Olympic Trials
Non-USATF News:
USATF Sunday
*Latest Sunday Photo Gallery (Men's 100, Women's/Men's 400m, LJ, More)

Justin Gatlin Wins The 100, Tyson Gay Makes The Team, Jeremy Wariner Goes Home, And Gunshot Victim Bryshon Nellum Makes The Team Nellum is a great story, as he was shot in both legs and has been coming back from that. He did not even make the NCAA final but made the London team. Interview with him here.
Sunday Photo Gallery, Saturday (Eaton World Record Here) Friday (10,000m Finals Here
)
USATF Saturday
LRC Ashton Eaton Sets WR & Mesmerizes On And Off The Track The former Oregon star was sensational and got the world record after a big PR in the 1,500 that sent the Hayward faithful into a frenzy. Afterwards, he sent the media into a frenzy with an amazing press conference.
LRC If You've Got 20 Minutes, Watch This Ashton Eaton Press Conference The world record holder is cerebral and fascinating.

Classy Move Of Year: Curtis Beach Lets Eaton Cross Line First As He Breaks WR - Eaton Wishes He "Could Be As Graceful" As Beach (link fixed) "I just thought it would be better for Ashton to win as he broke the world record."
*Eaton Uses Hayward Field Magic To Help Set World Record
*Ashton Eaton World Record Photo Essay

Olympic Champ Bryan Clay DQed In Hurdles *Clay, After Hurdles DQ: "It's The Worst Feeling Ever"

What About The Sport? LRC This Doesn't Have To Be The End For Bryan Clay; He Should Do A Decathlon Next Week
Mid-D/Distance Action
800 Semis: LRC Fans Get What They Deserve - Two Stacked 800 Finals The big guns all made the final as the top 6 men's and women's seeds will all be in the final on Monday. *Monti: Mulder Upstages Symmonds In 800m Semifinals

Recommended Read: Sports Illustrated: Children of the Internet era, Alan Webb & Dathan Ritzenhein know intense scrutiny LetsRun.com gets a prominent mention in the Tim Layden piece on how Ritz & Webb have had careers full of scrutiny since they were HS phenoms. Layden is the same guy who wrote a 2001 piece on Ritz & Webb for SI.
MB: Webb on LetsRun: "Way back in the beginning, it was fun,..(but now) every single thing I do is scrutinized by some blogger."
Friday At The Trials - Day 1
LRC Galen Rupp Puts On A Clinic As The Sub-13 Guys Punch Their Tickets To London Galen Rupp won and the three sub-13:00 guys made the team but this race held in a downpour was full of drama. Chris Derrick continued his fine 2012 in fourth. Recap, splits, results, and post-race interviews.
LRC Day 1 Photos Gallery
LRC Men's Post-Race 10,000m Reaction

LRC Olympic Track And Field Predictions Galen Rupp A 99.1% Percent Favorite
Recommended Read: NYRR Chairman George Hirsch Remembers Watching Emil Zatopek Complete 5,000, 10,000, Marathon Triple at 1952 Games New York Times
Jamaican Trials Start Tomorrow
More Olympic Trials Monday Distance
LRC Montano Hangs On, Gall Comes On, Schmidt Sneaks On, And Beckwith Has A 4-Year Wait Alysia Montano won as expected, but this one was close. 5 women were in contention for 3 Olympic spots and Molly Beckwith was the unlucky 4th place loser in a dramatic final 20 meters. *Race Video

LRC Alan Webb's 2012 Olympic Dream Is Over article link updated w comments from USA Today, SI The dad-to-be faded to last in his 5,000m heat and immediately after said he would not run the 1,500 at the Trials. It's soul-searching time for Alan Webb. Article, links and video.
*Mboard thread

LRC 5k Prelims: Alan Webb, Jackie Areson And Brie Felnagle Go Home - Lauren Fleshman Does Not Alan Webb finished last in his heat and then announced he won't be running the 1,500. Some other big names went home as well, including 2012 US #3 Jackie Areson.

LRC Steeple Prelims: All The Favorites Are Through As US Champ Billy Nelson Barely Makes The Final Former US Champ Steve Slattery did not advance. In the women's race, Emma Coburn showed why she's the favorite as she tempoed to victory in her heat while some others tried and failed to hit the "A" standard.
800m Final Photos (Click Below For gallery)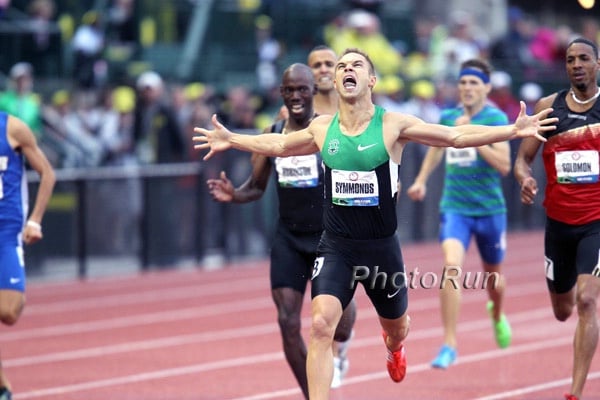 Monday On The Boards
24 Hours Of Amateur Hour At USATF Comes To An End (In Case You Missed LRC Featured On The Homepage Of Deadpsin)
USATF Tie-Breaking Procedures Announced A run-off will break all ties unless BOTH athletes agree to a coinflip. We can't wait to see a run-off in a 10,000m.

Employee #1.1 Editorial: A Rule Still With A Million Loopholes USATF needs a rule that will solve all situations; this one does not.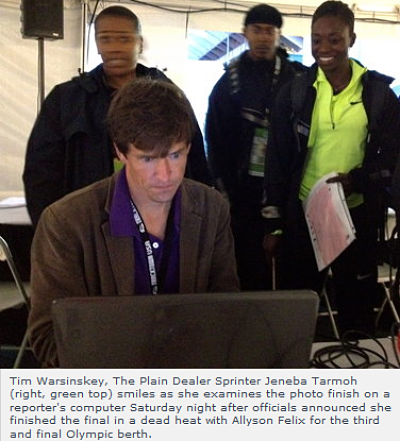 LRC The Inside Story Of How Jeneba Tarmoh First Saw The 100m Finish Photo On The LetsRun.com Laptop Roughly 3 Hours After The Race Carmelita Jeter won the 100m, but the story was the battle for the third spot between training partners Jeneba Tarmoh and Allyson Felix. At first, Tarmoh was announced in third by .001 but then after the stands had emptied, a dead heat was announced. We thought we were the only ones not knowing what was going on, until next thing we knew Tarmoh was looking at the finish photo on Wejo's laptop (pic on right).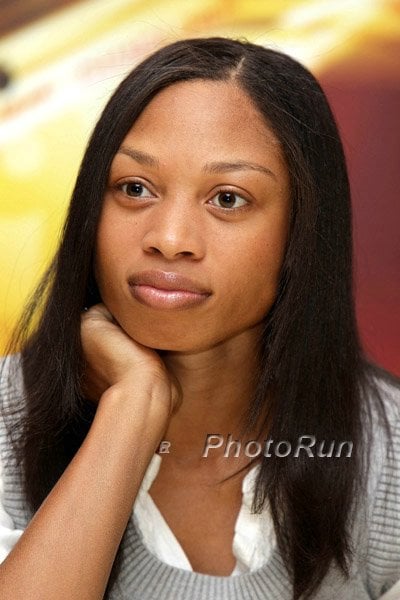 LRC An Exclusive Interview With The Man Responsible For Reading The Allyson Felix 100m Finish Picture LetsRun.com exclusively caught up Roger Jennings, the man whose job it is to determine who finished third and who got fourth, and the timing whiz explained how it was determined there was a dead heat. Plus we do a little bit of research and determine that even though USATF has said there is no protocol for breaking a tie, that the USATF rule book does in fact envision such a scenario and has a solution - a old-fashioned drawing of lots!!!
MB: BREAKING NEWS FELIX TIES FOR 3RD IN REVISED RESULTS??
MB: Exclusive Interview With Man Responsible For Reading Women's 100 Final (Allyson Felix's Race) Finish Image
*Official USATF Press Release
*Felix Video Interview After Her "4th Place" Finish

LRC Lolo Jones' Third Place Steals The Show In The Olympic Trials Hurdles Final Lolo turned around her season in 24 hours after a "reality meltdown" following round one. She said, "I woke up today and did not think I would make the team. I was fighting a constant head battle to get through this. I had my sports psychologist on speed dial 1, my pastor on speed dial 2, and my mom on speed dial 3 ..."

Shot Put Stunner: LRC 5-Time World/Olympic Silver Medallist & One-Time World Champ Adam Nelson Misses Final, Gives Emotional Presser And Advice For Us All Nelson may still compete but had great advice for us all: "When you do it the right way and you do it every single day, the hard work pays off time and time again." Full video and recap.
LRC Women's 10,000m Amy Hastings Outkicks Suprising Natosha Rogers And Shalane Flanagan For Redemption This race had no drama for the Olympic spots the final mile but it was full of drama. Lisa Uhl's shoe came untied, Natosha Rogers fell and then got up and in the fourth 10k of her life beat Olympic medallist Shalane Flanagan. The laurel wreath went to Amy Hastings, the fourth place finisher at the Marathon Trials.
*LRC 10,000m Photos
*Post-Race Reaction
Bekele Is Back/International News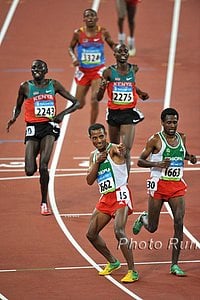 Kenenisa Bekele Is Back As A Winner - Wins UK/Ethiopian Trials The King (27:02.59) beat his brother Tariku (27:03.24), Gebre Gebremariam (27:03.58), and Mr. Silver Sileshi Sihine (27:03.65) in the battle for the three Olympic spots and declared himself to be ready to defend his Olympic crown. "I hope to show to the world great things. Absolutely I am back, 100 per cent." *MB Discussion Of Race
Day 1 Trials Photo Gallery
LRC Hammer Time Kicks Off 2012 Olympic Trials Successfully And The First LetsRun.com Hammer Interview Ever With The Guy In The Green T-Shirt Best hammer throw we've ever seen. Plus the exclusive first-ever LetsRun.com hammer interview with the guy (Chris Cralle) who finished second in a plain green T-shirt.
*Kibwe Johnson And Amber Campbell Win Hammer Throws To Kick Off Olympic Trials In Portland
Non-Trials US News
UK News
Alan Webb's 2012 Olympic Dream Is Over (More On This Here (Link Fixed)). More Trials Videos Here
Tyler Mulder Showing The Emotion Of The Trials
Geoffrey Mutai Runs 27:29 In Boston, Kim Smith Wins
We think Sam Chelanga still has a good chance to win $100,000 despite being crushed by nearly a minute.
LRC Exclusive: Timer Explains The Allyson Felix Tie
Matt Taylor Speaks #2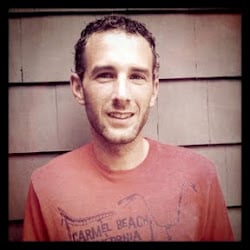 LRC Redefine Running: Who's In Charge Of "The Sport" (link fixed) Last week Matt Taylor, the guy behind ChasingTradition, ChasingKimbia, ChasingGlory, and an upcoming Usain Bolt video game, told you running was dying. This week he tells you it's thriving. He explains the inconsistency. While the activity of running is thriving, the sport is dead with the mainstream sports fan. In the internet era, diehards get their fix, while Joe Sports-Fan has no idea who Matt Centrowitz is. How do we fix this?