LetsTri.com
Lukas Verzbicas Wins His First World Cup Triathlon The sub-4:00 miler beat 2 of the top 5 in the World. Think how dominant the USA would be at running without the Africans, and what you have left is the triathlon.
On The Boards: Verzbicas wins ITU World Cup, drops a 30:55 on the run leg
Double NCAA Champion Cam Levins Signs With Nike *Message Board Thread Here *RW Brief Chat With Levins
Friday: Kenenisa Bekele Running UK Trials 10,000 To Prove Form To Ethiopian Selectors His brother Tariku Bekele is in the race as well. Mo Farah is in the 1,500.
Talking About The Sport
Usain Bolt Outlining His Victory Speech For London 2012 "At the end of London 2012, I want to go into the press conference and say before anyone asks me a question - 'You are now looking at a living legend.'"
Tyson Gay Prepared To Race Through Pain To Earn His Olympic Spot
UK News:
*GB's 2008 Olympic 400 Hurdles Bronze Medallist Tasha Danvers Has Announced Retirement And Revealed She Attempted Suicide Last Year
*Adam Gemili Runs 3rd-Fastest British Junior 200m Time At 20.61 Into A 1.1m/s Headwind He had some tightness in his hamstrings so skipped the final, which has caused headache for selectors.
*Seb Coe Denies That Greece Was Given Extra Tickets As IOC Starts Investigation On Black Market Ticket Sales Includes list of officials mentioned in allegations.
Other International News/Results
More News From Kenya
UK/Olympic News
Kenyan Champs And Women's 10k Trials
Vivian Cheruiyot Wins Kenyan Trials, Joyce Chepkirui 2nd, Sally Kipyego 3rd updated Cheruiyot's unbreaten streak continues. She'll face a great test versus Tirunesh Dibaba at the Olympics.
*Video Of Last 100 With Interview Of Top 3
*IAAF Recap
Recommended Read: A Look At The Neuroscience Of Physical Limits Using Canadian Marathoner Reid Coolsaet A great article that blends a motivational underdog story with the science behind how we mentally limit ourselves in races.
More International News/Results
The Hammer Comes Down On Lance
Formal Doping Charges To Be Brought Against Lance Armstrong The fate of USADA might rest on this case. The evidence had better be strong or anti-doping will suffer a huge setback. USADA alleges it has numerous people who will testify Lance doped for multiple years with "EPO, blood transfusions, testosterone and cortisone." Lance lovers can send the hate mail here.
*Full Letter Outlining Charges Against Lance Here
*Alan Abrahamson Looks At What This All Means
*Letter From Armstrong's Lawyer To The USADA
*NY Times: Lance Armstrong And His Lawyers Ready For New Doping Fight Mentions that he was barred from competing in an Ironman triathlon in France on June 24.
On The Boards: Formal Charges Brought Against Lance Armstrong
4 Good Reads About Some Leading Women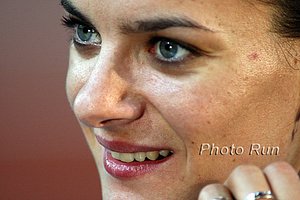 After A Year Away From The Sport, Yelena Isinbayeva Is Back Enjoying PV And Vaulting As Well As Ever A very interesting read. Before retirement, she found dominating the pole vault globally to be boring but then during retirement, she found everyday life to be much more boring.

Another Female Who Is Finding Joy In Her Sport Even Though She's Not Necessarily Achieving What She Wants
3rd Time The Charm? After Finishing 4th At Last Two Olympic Trials, Katie McGregor Is Still Pursuing Olympic Goal "I'm always going to have this chip on my shoulder because I haven't accomplished everything I wanted. But I've learned to appreciate what I have. Otherwise, you become jaded and it's not fun anymore. I think I got to that point after the last trials where just nothing's ever good enough. I got to the point where I had to say, 'If you didn't have Team USA or Reebok as a sponsor, would you still be doing this?' And I would. I love it."

3-Time Olympian Tamsyn Manou, Who Has "B" And Is Australian Champ But Hasn't Heard Anything From Federation, Writes Blog That Absolutely Rips Her Federation The 3-time Olympian and 5-time World Champs qualifier feels "Chewed up and spat out!" Think the average Aussie supports her? Not at all according to the comments on the article, as she just gets ripped.

And A Not-So-Well-Known Woman
Weber State's Amber Henry Dislocated Her Elbow In Middle Of Steeple Final At NCAAs - Still Finished Anyway
2 Good Reads About Some Leading Men
Learn All About How Andrew Wheating Fortuitously Got Hooked Up With Jeff Johnson And Oregon

Mo Farah Enjoying Anonymity Of Portland As He Gets Ready For London 2012 - He Also Reminds Us He's Never Made An Olympic Final. "Nobody recognises me there [in Portland]. I just walk down the street with my family, go out for coffee, or for lunch, I just do a normal routine."

After 9:25 Breakthrough At Pre, Emma Coburn Is Excited For Trials
Olympic News
Moses Mosop Out, Emmanuel Mutai On Kenyan Olympic Marathon Team, G Mutai And Makau Snubbed Last night, we wrote "an injury to Mosop opens the way for World record holder Patrick Makau or World #1 Geoffrey Mutai to make the team." However, the big news this morning was that Emmanuel Mutai was put on the team. A guy named Stanley Biwott (2:05 Paris) is the next alternate and Makau and G. Mutai were totally snubbed because apparently they didn't report back to Athletics Kenya why they dropped out of their spring marathons. Really?
On The Boards: *Emmanuel Mutai Replaces Mosses Mosop in 2012 London Games
*Mosop out--who will replace him?


Worth A Read
Badass Tim Broe Reflects Back On His Career Tim won 3 straight USATF 5,000m titles in the 2000s, one with a broken back. He admits he didn't like training, but the guy could compete with the best of them.

Ben Johnson 24 Years After Seoul: In-Depth Look At Him Now
2012 Harry Jerome Classic *Results
LRC Much Improved Andrew Wheating Wins 1,500 At 2012 Harry Jerome Track Classic Wheating closed in 55-high to get the win in 3:35.89. Centro was much improved from last week as well.

IAAF Recap Canadian Jessica Smith went sub 2:00 for the first time to upset Alice Schmidt in the 800.

MB: Wheating wins in 3:35.89
MB: Canadians: What is up with your crazy Olympic qualifying process?
Samsung Diamond League - adidas Grand Prix *Results *LRC Photos
LRC 800s: David Rudisha's 1:41.74 Mesmerizes The Crowd As Fantu Magiso Wins Again David Rudisha was simply magnificent, as he was so good he even surprised himself, setting a new US all-comers record of 1:41.74. Robby Andrews' adidas debut resulted in him beating two people but running his second-fastest time ever. In the women's race, the Fantu Magiso show rolled on as Maggie Vessey was a non-factor and Jenny Simpson was simply atrocious and beaten by two high schoolers. In other events, Tirunesh Dibaba handled Meseret Defar with ease, and Tyson Gay impressed us a ton in the "B" heat of the 100m.


LRC 5,000: Tirunesh Dibaba Crushes Defar With 4:05 Last 1500 to Win 5000m In Breathtaking Fashion The matchup between the #1 and #2 5,000 runners in history did not disappoint as Dibaba closed the last 1,600 in 4:22 and last 1,500 in a ridiculous 4:05 to get a dominant 6+ second victory over Meseret Defar. It's as if the "baby-faced assasin" was never gone and didn't miss all of 2011.


LRC 1,500: Bernard Lagat Returns To His Winning Ways (updated with quotes from Lagat, Webb & Torrence) Lagat's finishing kick of old came out in full force as he got the win in a thrilling stretch run over a guy 17.5 years younger than him and a guy who is the world's #4 1,500 man on the year. Alan Webb's quest for the "A" came up short as David Torrence ran well.


LRC HS Miles: Junior Bernie Montoya Runs 4:01.32 To Capture Deepest Boys Mile In HS History As Three Girls Break 4:40 6 guys broke 4:03 and 9 broke 4:05 - truly ridiculous. *Levonte Whitfield, Shayla Sanders Win Boys/Girls Dream 100s As Recent 10.19 Star Tyreek Hill Is DQed For False Start

Recommended Read NY Times Profiles The "Baby-Faced Destroyer" - Tirunesh Dibaba - LRC Gets Mention The Times takes a look at the woman who is big enough in Ethiopia that hundreds of thousands came to her post-wedding celebration. "Because she did a traditional marriage ceremony, it added to the respect people have for her," Teferi Debebe, who covers Ethiopian track for Letsrun.com, said. "She showed her respect for the culture. This is what everybody wanted to see."
Recommended Read Meet Ron Delaney - The Villanova Alum Won The 1956 Olympic 1,500, Set 3 Mile WRs And Won 40 Miles In A Row He is in the news as he recently carried the Olympic torch.
Video/Pics Of Bolt Slamming Into Flower Girl In Oslo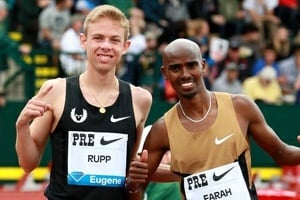 LRC Day 2: Rupp Joins Sub-13 Club, Asbel Kiprop - Mr. Bowerman, Liu Xiang, SRR And Much More Mo Farah is still the top distance runner in the world and Galen Rupp was right there with him mixing it up like he belonged as he became the first American under 13:00 at Pre. Asbel Kiprop won the Bowerman Mile as Andrew Wheating got DFL. Kaki prevailed over Aman as Nick Symmonds and KD squared off again. Liu Xiang ran 12.87, Sanya Richards-Ross got a big win and much, much more. LRC analysis, results, race video and interviews.
Pre Friday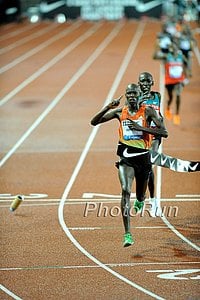 LRC Day 1: Wilson Kiprop Wins In USA, Alysia Montano Dominates, Tirunesh Dibaba And Alan Webb Want More, Alice Schdmit Upsets Jenny Simpson Arguably the greatest Pre Classic ever kicked off Hollister Night at Hayward. The Kenyan Olympic Trials - won by World Half Marathon champ Wilson Kiprop - were the headliner, but Alysia Montano tried to steal the show, Alice Schmidt upset Jenny Simpson, and Alan Webb and Matt Centrowitz ran the mile. Full recap, analysis, post race reaction.
*More: Renato Canova Talks About Alan Webb, Wilson Kiprop, And More *RRW Recap *Photos
*Moses Masai Says He Didn't Push Too Hard At The End
*BBC Article On How You Should Choose An Olympic Team "Ultimately selection is a compromise with no perfect solution."
*Oregonian Recap: Alysia Montano 1:57.37, Alice Schmidt Wins 1,500m Over Jenny Simpson, No One Gets "A" In International Mile
*MB: OFFICIAL THREAD PRE CLASSIC 06/01/12 (LIVE FEED)

Pre-Pre:
LRC Kenenisa Bekele, Mo Farah, Bernard Lagat And Asbel Kiprop At The 2012 Prefontaine Press Conference Lagat gave advice as to what event Lomong and Torrence should run at the Trials, Farah talked about Rupp doing all the workouts with him, Bekele reveled whether he has enough time to get ready for the Olympics and Kiprop even praised Matt Centrowitz.
*LA Times Profile On Bernard Lagat
*Manager Jos Hermens Says Bekele Has Only "Just Started His Real Training" As His New Softer-Surfaced Track Was Finished 2 Weeks Ago
The Guy In The Fall
LRC The Collegiate Career Of Jake Hojnacki, The Guy In The Epic Steeple Fail, Comes To An End If you're like the other 516,654 people who have seen this video, you know Jake Hojnacki as a guy who took a dive into the steeple pit and pretty much almost drowned. Turns out Employee 1.1 is one of Jake's coaches. Jake's collegiate career came to an end this past weekend in notable fashion. We bring to you his story as runners like Jake represent the heart and soul of LetsRun.com.
Recommended Read: Two Years Ago, Joey Stoltz Almost Died And Today He Is A Marathoner "Less than two years ago, I was at the hospital and the doctors told me I wouldn't run again so those last two miles [of the marathon] were so emotional."
Doha: LRC LetsRun.com's Recap Of Doha 2012: The Samsung Diamond League Starts Off In Style If all the meets this year are as good as this one, we're going to have an incredible Olympics. Asbel Kiprop went sub-3:30 for the first time ever and lost to Silas Kiplagat, a race was perfectly designed for Vivian Cheruiyot to lose and she won, Kenenisa Bekele looked average, Paul Koech tore up the steeple, and Pamela Jelimo may have a new challenger. American stalwarts LaShawn Merritt and Allyson Felix impressed, and Americans Russell Brown and Molly Beckwith did what they wanted in the distances.
Pro Distance News
Korir Running Chicago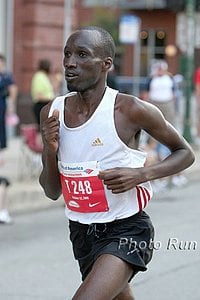 LRC Wesley Korir: From #T248 To #1 At Chicago The first time Wesley ran Chicago (photo here), he paid his entry fee like everyone else and started with the masses. Now 4 years later he's returning as the Boston Marathon champ. Learn more about Wesley (he hopes to be a US citizen soon) and how the late Sammy Wanjiru inspired Wesley to be a champion.
Non-London Marathon News
Meet Glenn Randall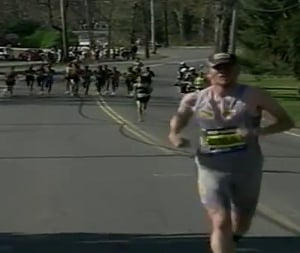 LRC The Story Behind Glenn Randall (The Guy Who Led Boston) Who was that dude leading the first 10k of the Boston Marathon? Believe it or not, he's an NCAA champion (in another sport). LetsRun.com talks to the guy who made the first 10k of the marathon entertaining. His frontrunning was no stunt and has paid off big time in the past. This time it resulted in a 2:37:13 61st place finish.
Sunday Night Bloomington Twilight Meet: German Fernandez PRs!
German Fernandez Runs 3:37.76 To Get Olympic Trials "A" Standard This race came less than 24 hours after running his second fastest time ever at the American Mile Series. NCAA champ Andy Bayer and Wisconsin's Rob Finnerty were 2nd and 3rd, also qualifying for the Trials. *Race Video
Final Day Of USATF Juniors *Results *NBON *Results (See Right Column For News From Previous Days)
Saturday Night Track Results
Other US News
LaCaze Is In: Athletics Australia Bows To AOC And Public Pressure And Extends Deadline To Allow Steepler Genevieve LaCaze On The Team
International News:
*NZ 1,500 NR Holder Nikki Hamblin Will Miss Olympics With Achilles Injury
*Algeria's Larbi Bourrada Breaks African Decathlon Record With 8332 Points In German Multi Event Meet
*Q&A With Retired Israeli PVer Alex Averbukh, Who Says "I'll miss pole vaulting until the day I die."
US Olympics News: Lopez Lomong Will Double; LJ World Champ Dwight Phillips Out Of The Trials
Other US Stuff: Next Year's NCAAs May Be Split By Gender
US Olympic Trials: Deena Kastor And Ed Moran Out
Trolling At Its Finest: Denver Police Continue Pursuit Of Oscar Ponce "Denver police in early April discovered that a person posting on a running website (LetsRun.com) under the name 'Jake Thomas' claimed to have seen Ponce running Magnolia Road in Boulder several Sundays in March."
Gender News
US News
It's Time For ... Boston
US Olympians Desi Davila, Kara Goucher And Shalane Flanagan Will All Run 2013 Boston Marathon Not only does having America's 3 best marathoners numerically increase the odds of an American winning, it also takes a lot of money away from top-notch foreign talent. Davila came close to winning Boston in 2010, so an American walking away with the laurel wreath wouldn't be shocking. The announcement says this will be their first marathon after the Olympics, but we wouldn't be surprised if one of them ran New York City in the fall.
Kenya Gate
Patrick Makau's Manager Presents Email Evidence Showing He Corresponded With Athletics Kenya About Makau's Injury In case you missed it, yesterday Athletics Kenya named Emmanuel Mutai to the Olympic Marathon Team after Moses Mosop pulled out with injury. In the process AK snubbed Makau and Geoffrey Mutai, saying they did not keep AK abreast of the status of their injuries.

LRC Update: Statement From Makau's Manager Zane Branson Disputing AK's Claim
*1-Minute Audio Clip Of AK President Isaiah Kiplagat Saying He Had Not Received Reports From Agents On Makau's Status
Police Claim Bolt Was Given A Breathalyzer & That He Passed It Sounds like they'd give him a free pass no matter what from this quote from the police chief: "He is a youngster and he will do what youngsters do to enjoy themselves, but not to that extreme. I am not here to ridicule youngsters but here to guide them and a warning is one way to guide a youngster and so discretion will be used."
Usain Bolt Involved In 5:15 AM Car Accident After Partying It Up Asafa Powell was allegedly on the scene as well. The good news is no one was seriously hurt and the Jamaicans are saying Bolt is not above the law. The real question is what is Bolt doing out at 5:15 am? *Discuss

*Publicist: Bolt Uninjured In Jamaican Car Crash
Post-NCAA News
Illiniois Sr. Andrew Riley, Who Pulled Off Unprecedented 100/110H Double At NCAAs, Now Might Be A Bank Teller? Yep, because he's from sprint-rich Jamaica.
*Drake Wants To Host 2016 US Olympic Trials We know one thing. It shouldn't be in Eugene. The Super Bowl rotates to generate excitement - well, the Trials are our sport's Super Bowl.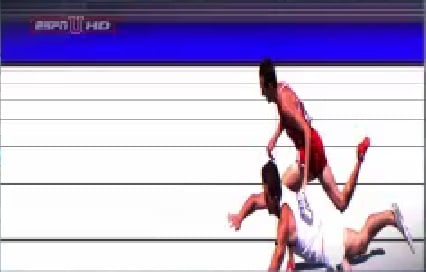 Saturday: LRC Andy Bayer Wins Over Miles Batty With A Diving Finish, Katie Flood Outkicks Emily Infeld & Jordan Hasay The 2012 outdoor NCAA Track and Field championships in Des Moines came to a close with some edge-of-your-seat finishes in the distance and mid-distance races. In the 1,500, Andy Bayer won by a hundredth of a second in a photo finish over Miles Batty, and Katie Flood held off attacks from Emily Infeld and Jordan Hasay. Donn Cabral got his first NCAA title in the steeple and in the women's 5,000 Dartmouth's Abbey D'Agostino won by .03 seconds over Washington's Megan Goethals. In the team competition, LSU women beat Oregon and Florida men beat LSU by 2 points as it came down to the 4 x 4.

*IAAF Recap Of NCAAs
*Florida Men Finally Claim First NCAA Outdoor Title
*AP Recap: LSU Women, Florida Men Win Titles
Three Recommended Reads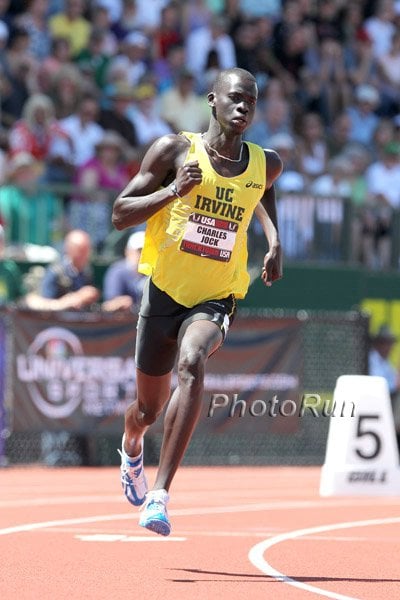 Friday: LRC Cam Levins Becomes A Legend, Charles Jock Becomes A Champion, And Nachelle Mackie Remains Undefeated Against Collegians Day 3 certainly did not disappoint the mid-d and distance fans!!! In the 800, Charles Jock and Nachelle Mackie got the titles they so deserved after fighting off some spirted challengers, as Jock won for the first time and Mackie remained undefeated against collegians on the year; in the steeple, Colorado's Shalaya Kipp got a closer-than-expected victory; and then in the 5,000, Cam Levins became a legend by doing what he does best - obliterating the field over the final 150.

Thursday:
LRC Texas A&M's Natosha Rogers Is The Surprise Winner In The Women's 10k After a blistering first mile led by Cal's Deborah Maier, Rogers and her traded the lead until it was down to a 4-woman race. Like the men's race, it was no contest as Rogers closed in 68 to blow the other 3 away and PR by over a minute (32:41). Wichita State's Alphine Tuliamuk was 2nd, Maier 3rd, and Meaghan Nelson of Iowa State a close 4th.
LRC Rest Of Day 2 Recap: 1,500m And Men's Steeplechase Prelim Recaps: Kyle Merber Misses Final

*Coach Dave Smith: "[Fernandez] was in the fast heat because he made it the fast heat ... It's a really tough, gutsy way to run."
OTB:
*Laura Roesler SO Spilt 51.4 WOW
*Merber chokes.

Wednesday:

LRC Men's 10k Results: Cam Levins Wins, Sambu 2nd, Derrick 3rd Two seniors with amazing credentials really wanted this one but in the end only one could get his first NCAA title and it was no contest the final 200m. After Chris Derrick fell back on the bell lap, Cam Levins blasted the last 150m and looked sensational in getting the win over Stephen Sambu.
LRC Rest Of Day 1 Recap: 800m And Women's Steeple Prelim Recaps: Cas Loxsom Goes Home
*LRC Day 1 NCAA Photos
US 5k Stars Of Past In News
Excellent Read: Science Of Sport Breaks Down Comrades Marathon Like Only They Can Former 2:06 guy Gert Thys tried to break the course record by 20 minutes and ended up a DNF but that totally changed the race.
Diamond League Rome *Results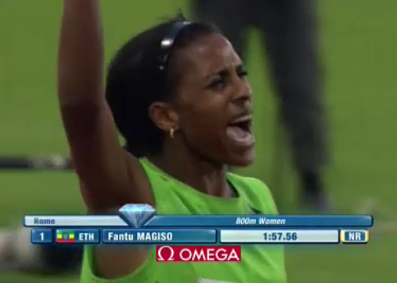 Rome: LRC Recap Of Rome 2012: Bolt Returns In Style, Men's Steeple WR Almost Goes Down, Dibaba & Jelimo Do Go Down In Defeat, And A Thrilling Women's 5,000 Usain Bolt returned to form with a world leader in the men's 100, but this race from a LetsRun.com perspective was led by the women's mid-d and distance action. There were two mid-d stunners on the women's side, as two heavy favorites in Pamela Jelimo and Genzebe Dibaba were soundly beaten as US world #1 Morgan Uceny impressed but was nowhere close to winning. The women's 5,000 produced a thrilling finish between Vivian Cheruiyot and Meseret Defar that reminded us of Haile G/Paul Tergat and Paul Kipsiele Koech nearly got the WR in the steeple. All of that and a whole lot more.
Sammy Wanjiru RIP: Nov 10, 1986 To May 15, 2011
4 Really Great Recommended Reads *Also Look For A Great Wanjiru Article In Print Version Of The New Yorker
#1 - Journalism Still Exists: ESPN The Magazine's Shaun Assael Writes 5,122 Word Epic On Sammy Wanjiru's Life And Death From his start as a schoolboy to details as to why his mother claims he was murdered, Assael leaves no stone unturned. He also points out that many other successful Kenyans before Wanjiru have also struggled with fame, including Paul Kipkoech, Richard Chelimo and Benson Masya, who all died young. Sadly, Wanjiru was going to train in San Diego to get away from it all but couldn't because of a gun charge. *Interview Of Author On Right Column

#2 - 50 Stunning Olympic Moments No. 30: Zola Budd In 1984 Do most people remember Budd was just 17 when she set the WR in the 5,000 at 15:01 and when she collided with Mary Slaney? The article reveals that Budd's family disintegrated after she left South Africa to compete for GBR and it also reveals Mary Slaney to have been unbelievably rude to rip a 17-year-old. *Zola Budd - In Pictures

#3 - Wall St. Journal Profile Nails Abdi Abdirahman's Personality Perfectly!!! "Going for Gold - or Whatever The Secret to an Aging Olympian's Endurance: Don't Let Training Get in the Way of Fun" Is Abdi's love of life (ohers might say laziness) an asset?

#4 - What Really Happened At 1st Olympic Women's 800 In 1928? Despite what was reported, 5 of the 11 runners didn't drop out with another 5 collapsing at the finish. The only person collapsing at the finish that year was Paavo Nurmi, but women's mid-d and distance running would be banned for years nonetheless.
USATF Juniors/ New Balance High School Outdoor Nationals This Weekend NBON: *Results *Boys Preview *Girls Preview *US Junior Champs *Results
NCAA Photos Day 4 Andy Bayer's Dive Vs. Miles Batty's Dive (Click Below For Gallery)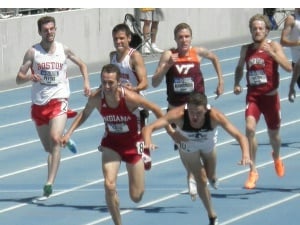 NCAA Photos Day 3 Charles Jock Title #1, Cam Levins #2 (Click Below For Gallery)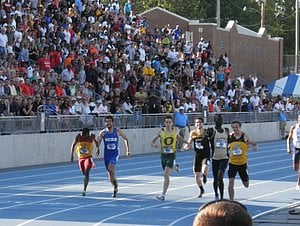 UK Olympic Trials Start Next Friday
Diamond League Previews
adidas GP Photos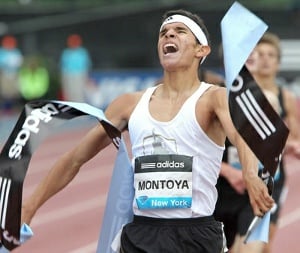 Matt Taylor Speaks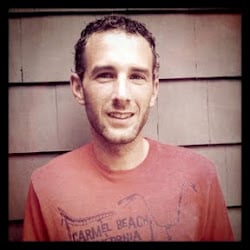 LRC Redefine Running: An Introduction Matt Taylor, the guy behind ChasingTradition, ChasingKimbia, ChasingGlory, ChasingBolt, and an upcoming Usain Bolt video game, has some thoughts on our "dying sport." He introduces himself in this piece. We honestly don't know where he's going with this series, but are proud to let Matt be the second guest columnist to have a series on LRC.
Non-Adidas/NCAA Weekend Results
LRC: Bolt Reigns, Ethiopian 5k Trials, Chemos Wins Historic Steeple, Kiprop Wins Dream Mile, And More The meet is in the books. Usain Bolt had to work hard to beat Asafa Powell. Dejen Gebremeskel won the 5,000m at the Ethiopian Trials and Kenenisa Bekele finished 5th. Milcah Chemos won a historic steeple while Aregawi showed she's best in the world at 1,500m and Morgan Uceny had no pop the last 100m. Javier Culson and Sally Pearson had world leaders in the hurdles.
*Milcah Chemos Smashes African Steeplechase Record With 9:07.14 (#4 All-Time) www.capitalfm.co.ke
IAAF Celebrates 100th Anniversary In Times Square (Desi Davila And Tirunesh Dibaba On Hand, Article Here, Photo Gallery Below)
Pre Day 2 Photos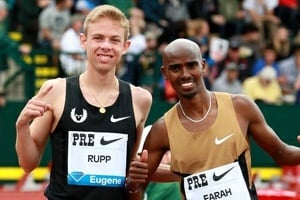 The Great One Says Goodbye To The Track (Hengelo Photos)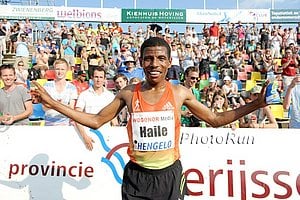 Ostrava Photos (Usain Bolt 10.04)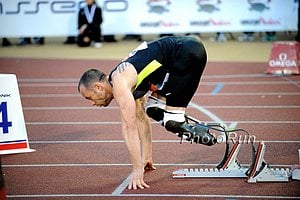 The Wait Is Over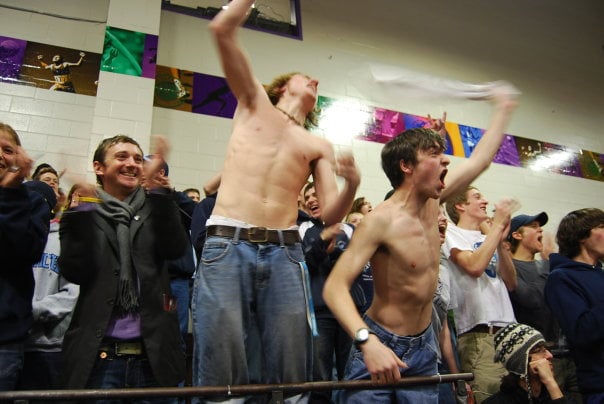 LRC LetsRun.com T-Shirt Design Contest The Empire State Building was built in a year, Hoover Dam took 5, so we figured 12 years is long enough for LetsRun.com T-Shirts. We pay homage to the 99%, and you let your LRC faithful come up with the design.
Drug Corner
Big Story? Doping widespread in Kenya? Fresh allegations by German journalist

Unbelievable: Convicted Drug Cheat Dennis Mitchell Coaching Justin Gatlin This isn't new news and has been the case all spring, we just didn't realize it. 6 years ago, little LRC pointed out Mitchell, the guy who claimed he tested positive because he had five beers and sex four times with his wife (maybe Dennis can give his advice here), an excuse USATF accepted, was coaching a USATF international team. USATF then tried to claim a different Dennis Mitchell, the University of Akron coach, was the actual coach. Mitchell is free to coach whomever he wants. You'd think Gatlin might be concerned about public perception.
UAE Healthy Kidney 10k Photos
Another Steeple Fail (Getting Picked Up By USA Today Blogger)
Interesting Read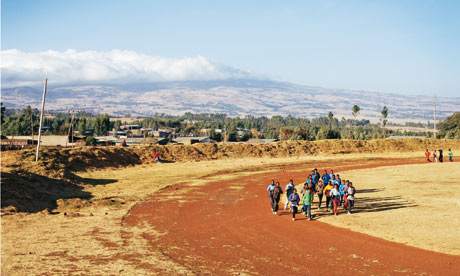 Bekoji, Ethiopia: Town Of Runners By now many of you have heard of Iten, Kenya - the tiny town where many Kenyan stars train. The Ethiopian town of Bekoji may be even more impressive, as it is where Kenenisa Bekele (3 Olympic golds), Tirunesh Dibaba (2 Olympic golds), Derartu Tulu (2 Olympic golds), and Fatuma Roba (1 Olympic gold) were all born. Lengthy Guardian profile on the town and its unheralded coach Sentayehu Eshetu. A movie on the town - "Town of Runners" - comes out later this month.
*Bekoji Photo Gallery
Virgin London Marathon Photos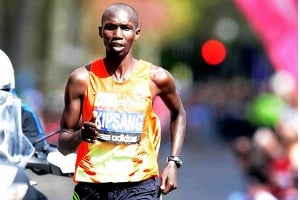 Training Corner (More In The Training Forum)