Samsung Diamond League
ExxonMobil Bislett Games Are Wednesday *Bislett Start Lists (2pm ET)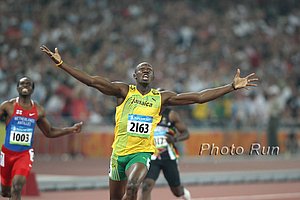 LRC Oslo Preview: Bolt Vs. Powell, Morgan Uceny In Great Women's 1,500m, Bekele In 5,000m, Dream Mile And More Bolt vs. Powell at 100m will get all the attention. The women's 1,500m is absolutely stacked with the top 4 in the world in 2012 (Ethiopian sensations Abeba Aregawai and Genzebe Dibaba, Helen Obiri, and USA World #1 in 2012 Morgan Uceny) all squaring off. Plus Kenenisa Bekele in his second 5k in four days, Asbel Kiprop in the Dream Mile and Sally Pearson in the hurdles.

*MB: What An Amazing Men's 5000 Meters
*USA Today's 100 Athletes, 100 Days Looks At Morgan Uceny, Who Says She Used To Be Championship Goat Picker
*Phillips Idowu Pulls Out Of Oslo As A Precaution He got hurt on his 3rd jump in Eugene.
adidas Grand Prix In NY Is Saturday *adidas Start Lists
Meseret Defar Added To Field - Will Clash With Tirunesh Dibaba At 5,000 This is Defar's 1st 5,000 in NY since she set the WR in 2006 on the same track.

*HS Dream 100s And Dream Mile Fields Are Finalized Last year, Lukas V broke 4:00. Less than a year later, he was mentally crushed and out of the sport.
*MB: Robby Andrews Talks About Facing Rudisha
*Leg Swelling Causes Dayron Robles To Pull Out of NYC Coach: "It will not rule out his attendance at the London Olympics and he will compete again in late June in Europe
*Oscar P Gets Publicity In NY Post - He Still Needs Olympic A Of 45.30
*Allyson Felix, Tianna Madison Join adidas Grand Prix 100m The 100-meter field that already included Carmelita Jeter, the reigning World Champion ranked #1 in the world for 2011, and Shelly-Ann Fraser-Pryce of Jamaica, the 2008 Olympic gold medalist and 2009 World Champion.
*Tyson Gay To Make Opener In New York In B Heat
*Former Columbia Runner LBP Runs 2-Second PR - Qualifies For 800 With 1:46 Kudos to them for having direct qualifiers (scroll down). Results here. *Lalonde Gordon Runs 45.33 To Also Qualify
*Robby Andrews Runs 1:50.96 - Wins By A Ton
A Few Good Reads
Recommended Read Meet Kenyan 10,000 Champion Wilson Kiprop Abadoned by his father and then effectively orphaned at the age of 15 when his mother passed, Kiprop had to raise his family and somehow start a running career. A GREAT story.
Recommended Read: UCI's Jock driven to write perfect ending to incredible journey Jock's life story sounds like it was written by a movie director, but will he get the happy ending?
Boss Of Company That Owns Puma Loves Usain Bolt Check out who the guy who owns it is. "Francois-Henri Pinault, the world's 77th richest man with an estimated £7.15bn fortune, husband of Hollywood actress Salma Hayek, father of supermodel Linda Evangelista's child, could easily be dismissed as an uber-rich playboy who has gone around the world collecting brands and beautiful women."
Olympic-Related News
Vanya Stambolova Runs 54.08 To Beat Natalya Antyukh In Bydgoszcz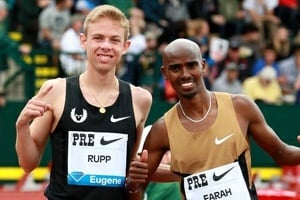 LRC Day 2: Rupp Joins Sub-13 Club, Asbel Kiprop - Mr. Bowerman, Liu Xiang, SRR And Much More Mo Farah is still the top distance runner in the world and Galen Rupp was right there with him mixing it up like he belonged as he became the first American under 13:00 at Pre. Asbel Kiprop won the Bowerman Mile as Andrew Wheating got DFL. Kaki prevailed over Aman as Nick Symmonds and KD squared off again. Liu Xiang ran 12.87, Sanya Richards-Ross got a big win and much, much more. LRC analysis, results, race video and interviews.
More Pre:
Pre On The Boards:
Non-Race Result News
Prefontaine Friday Previews
Bring Back The 1,500!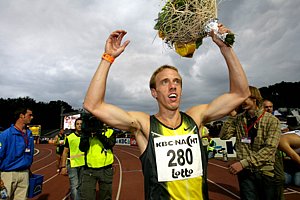 LRC Pre Friday Preview: An Unreal/Farce Of A Mile With Alan Webb & Centrowitz; Alysia Montaño's 800 Debut For 2012; The Return Of Tirunesh Dibaba For The "De Facto" Ethiopian Trials; And Of Course The Actual Kenyan Trials Friday night, "Hollister Night" in Eugene, should be something special as the very best (amazing talent) and worst aspects ("A" standards/1,500s/miles) of our beloved sport will be on display. We break it down like only we can. Along the way, we give you the most amazing, "Did you know?" about Galen Rupp and wonder "Where is Wurth-Thomas?" But mainly we say "Bring back the 1,500" as we can't believe that in a matchup with Matt Centrowitz that the American record holder in the mile, Alan Webb, will kick it in for a 1,500 in the middle of a mile but then have to finish? Give us a break. *Discuss

*Good Article From The Register-Guard: In 2009, Julia Lucas Was Close To Quitting The Sport; Now She Has The Fastest American 5,000 This Year (15:08) She's in the 3k at Pre.
*Lauren Fleshman Entered In Her First-Ever Rabbitting 10K At Pre
*Good Article #2 From R-G: Lauren Fleshman Training Diary: Concedes That Due To Injury She Is "Probably Not Going To Be An Olympian"
*Preview Of 10,000 From Kenya
US News
UK News
Random Mid-D / Distance News
Mamitu Daska (33:06) Wins 3rd Bolder Boulder - Americans Janet Cherobon-Bawcom 2nd (33:23) & Deena Kastor 3rd - Kenya's Allan Kiprono Wins Men's (29:54) Over Tadese Tola (30:03) Aaron Braun was 4th in 33:09 as the US women were 2nd in the team standings.

*Runner-Up Janet Cherobon-Bawcom Is Winning In Love & Running John Mayer gives insight into how her husband was a teacher in Kenya who fell in love with Janet when returning to the US and delivered a Care package to Janet from her mother.
*50,000 People Run On Picture-Perfect Day The event is much more than a race. It's an event (as shown by picture).
*Bolder Boulder: Josh Eberly, Nuta Olaru Win Citizens Race
*Former Romanian Olympic Marathoner Nuta Olaru Is Now A US Citizen At Age 41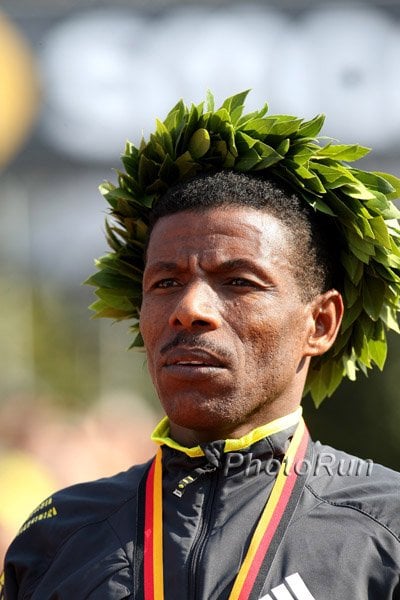 LRC Haile G's Olympic Days Come To An End As Tariku Bekele Wins In 27:11.70 As Geb Gets Smoked On Last Lap, Ritz Misses "A" Standard updated The Ethiopian selection race came down to a kick on the final lap and there was no way the 39-year-old Gebrselassie was going to outkick his younger rivals. Afterwards, Geb said, "That's life. I am not disappointed." Dathan Ritzenhein missed the "A" standard of 27:45 on a warm day (78 at the start). In other action, Nixon Chepseba won in 3:29.90, Nate Brannen got a PR and an "A" standard, Janeth Jepkosgei ran 1:57.79, Hannah England won the 1,500, Adam Kszczot ran 1:43.84 for his second win in 2 days, and 18-year-old Luguelín Santos ran 44.45. *IAAF

*Post-Race Video Interview With Ritz He's not sure if he'll just run the 5k at the or go for the "A" in the 10k at the Trials. Says the heat was tough.
*Some More Quotes From Haile
*Pre-Race Video With Haile G With this race he became the fastest 39-year-old ever at 10k.
*SA 800m Runner Andre Olivier Hits Olympic Standard In Hengelo With 1:45.20
*Phillips Idowu Won The TJ In 17.31m
OTB: Live play by play of 10k thread
*Chepseba 3'29.90 !!!
*What will Ritz do now?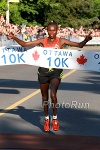 Toronto: Geoffrey Mutai (27:41), Lindsey Scherf Win Ottawa 10ks It's ridiculous that Mutai, the Kenyan XC Champion and the best runner on the planet in 2011, won't be at the Olympic Trials next week or the Olympics in the 10,000m. *Results
*Former Harvard Standout Lindsey Scherf Wins Women's Race
*IAAF Article Windy conditions and lack of competition or pacemaker hurt Mutai's time.
*Laban Moiben Defends Ottawa Marathon Title In 2:09:13 For the women, favorite Teyba Erkesso (2:23:53 PR) dropped out with sickness, leaving the victory to Yeshi Esayias in 2:28:46.
On The Boards: I just watched Mutai destroy the field in Ottawa

Canadian High Schooler Runs 1:47.14 To Beat Nick Willis
The Guy In The Fall
LRC The Collegiate Career Of Jake Hojnacki, The Guy In The Epic Steeple Fail, Comes To An End If you're like the other 516,654 people who have seen this video, you know Jake Hojnacki as a guy who took a dive into the steeple pit and pretty much almost drowned. Turns out Employee 1.1 is one of Jake's coaches. Jake's collegiate career came to an end this past weekend in notable fashion. We bring to you his story as runners like Jake represent the heart and soul of LetsRun.com.
Recommended Read: Two Years Ago, Joey Stoltz Almost Died And Today He Is A Marathoner "Less than two years ago, I was at the hospital and the doctors told me I wouldn't run again so those last two miles [of the marathon] were so emotional."
BUPA Great Manchester Run
Haile Gebrselassie Wins In 27:39, Thinking Olympic 10,000m The great one turned back the clock in Manchester on Sunday with a comfortable win 27:39 over Tsefaye Kebede, Patrick Makau and Ayele Abshero. After the race, Geb turned his attention to making the Olympic team next weekend in Hengelo at the Ethiopian Olympic Trials, saying, "I am not surprised to run that fast. I wanted to run under 27 minutes."
*BBC Interview With Geb After Race *Top Results *IAAF
On The Boards: Great Manchester 10km - Gebrselassie DOMINATES!

Manchester City Games Street Meet: Wallace Spearmon, Sanya Richards-Ross, Jessica Ennis All Got Wins In Cool Conditions Ennis beat Olympic champ Dawn Harper in a PR but afterwards they found out there were only 9 hurdles instead of 10. She was understandably very annoyed. Spearmon looked great in his 14.87 150m win.
*Dwain Chambers Admits He Was Worried How The Crowd Would Greet Him He got 2nd to Spearmon.
LRC Men's Recap: Mo Farah Wins Twice! Galen Rupp 3:34 & Robby Andrews 3:34! Donn Cabral Collegiate AR! Ritz 13:14! What a meet! The men's very entertaining from start to finish. The meet started off with an Evan Jager face plant and American collegiate record in the men's steeple and ended with a world champion rabbitting and then winning the men's 5,000. Along the way, Galen Rupp showed speed he's never shown before that made us think he might be a medal contender and Robby Andrews PRed by 5.99 seconds as both ran 3:34, David Torrence got the "A" and a whole lot more, including an Andrew Wheating loss to a guy you've probably never heard of. Oh yeah, so much happened we almost forgot Alan Webb ran 3:37.
*Dathan Ritzenhein Visibly Happy And Excited In Interview After 5k


LRC Women's Recap: Morgan Uceny Loses, Anna Pierce Almost Wins & Deena Kastor Does All The Work The women's action at the 2012 USATF Occidental High Performance meet confirmed what we already knew - the US women's 1,500 team is going to be very hard to make (world #1 Morgan Uceny was beaten and world champion Jenny Simpson ran 2 seconds slower than she did last year), Deena Kastor is very tough and still motivated at age 39, and Bridget Franek, Lisa Uhl and Jackie Areson are all in good form even if Uhl and Areson did zero work and let Kastor do it all. Plus Shannon Rowbury wins.


Occidental On The Boards:
Doha: LRC LetsRun.com's Recap Of Doha 2012: The Samsung Diamond League Starts Off In Style If all the meets this year are as good as this one, we're going to have an incredible Olympics. Asbel Kiprop went sub-3:30 for the first time ever and lost to Silas Kiplagat, a race was perfectly designed for Vivian Cheruiyot to lose and she won, Kenenisa Bekele looked average, Paul Koech tore up the steeple, and Pamela Jelimo may have a new challenger. American stalwarts LaShawn Merritt and Allyson Felix impressed, and Americans Russell Brown and Molly Beckwith did what they wanted in the distances.
Week That Was
LRC Old Vs. Young, Bekele, Tegenkamp, Lagat, Montano And The 40-Year-Old Who Went Sub-4, Plus Much More A lot of our week in review centers around age. We look at some young stars, some older ones, and then debate how much they've got left. And in case you missed it, 40-year-old Anthony Whiteman went sub-4 this week. Plus we look at the American-born sub-13:00 5k runners (Kennedy, Ritz, Rupp, Solinsky, Teg) and see how Galen Rupp's sub-13 compares to their PR races.
2012 NCAA Champs Start Wednesday *Schedule/Results
LRC NCAA Women's Preview:Will Sheila Reid remain a legend or will Jordan Hasay re-emerge? Can Mark Wetmore coach two NCAA champions?

*Oregon Women Looking For 1st Title Since 1985 And 800 Performances By Three, Including Laura Roesler, Will Be Key "Laura Roesler was beating high school seniors as a 12-year-old, and running in the U.S. Olympic trials as a high school sophomore. Don't expect her to be overawed this week at the NCAA Track & Field Championships."
*Second's not an option at NCAA championships for Oregon women's track and field They've already 3-peated as runner-ups.
*Could The Kansas Women Be In The Hunt? They've never finished higher than 14th but are picked 3rd. *More On Kansasre Picked #3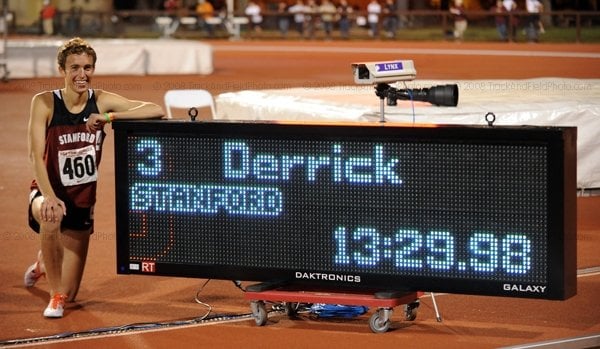 LRC Men's Preview: Will Justice Prevail And Will Chris Derrick, Charles Jock, Cam Levins & Donn Cabral Get The NCAA Titles They So Deserve? Chris Derrick is one of the greatest Americans to ever have laced it up at the collegiate level but he's never won an NCAA title. His last chance takes place Wed. night. Later, will Charles Jock, who has never won one either, realize his dream? Will Ivy Leaguers Kyle Merber and Donn Cabral realize theirs?

*Recommended Read: UCI's Jock driven to write perfect ending to incredible journey Jock's life story sounds like it was written by a movie director, but will he get the happy ending?
*RR #2 UTSA Long Jumper Tyler Williamson Saves Life Of 3-Year-Old Boy - Hops On Plane And Goes To Des Moines 12 Hours Later
*Nice Long Luke Puskedra Profile "Luke's a lead-by-example type of guy. He's not into talking a big game. But he's the hardest worker I've ever been around."
*Puskedra's Ruptured Appendix Caused Him To Miss 5-6 Weeks Of Training
*Florida Men Looking For 1st Outdoor Team Title
*10 Athletes To Watch At NCAAs Only two are mid-d or distance according to local paper.
US 5k Stars Of Past In News
Excellent Read: Science Of Sport Breaks Down Comrades Marathon Like Only They Can Former 2:06 guy Gert Thys tried to break the course record by 20 minutes and ended up a DNF but that totally changed the race.
European Cup 10,000: 3 Women Get "A," Including France's Christelle Daunay, Who Sets New French Record (31:35.81) *Jo Pavey Runs 10,000m Olympic Qualifying Time (31:32.22)
Random But Interesting
Ireland/N. Ireland News
Non-Pre Results
Pre Friday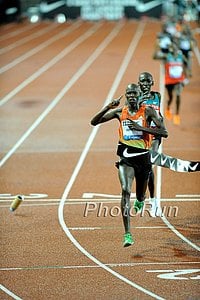 LRC Day 1: Wilson Kiprop Wins In USA, Alysia Montano Dominates, Tirunesh Dibaba And Alan Webb Want More, Alice Schdmit Upsets Jenny Simpson Arguably the greatest Pre Classic ever kicked off Hollister Night at Hayward. The Kenyan Olympic Trials - won by World Half Marathon champ Wilson Kiprop - were the headliner, but Alysia Montano tried to steal the show, Alice Schmidt upset Jenny Simpson, and Alan Webb and Matt Centrowitz ran the mile. Full recap, analysis, post race reaction.
*More: Renato Canova Talks About Alan Webb, Wilson Kiprop, And More *RRW Recap *Photos
*Moses Masai Says He Didn't Push Too Hard At The End
*BBC Article On How You Should Choose An Olympic Team "Ultimately selection is a compromise with no perfect solution."
*Oregonian Recap: Alysia Montano 1:57.37, Alice Schmidt Wins 1,500m Over Jenny Simpson, No One Gets "A" In International Mile
*MB: OFFICIAL THREAD PRE CLASSIC 06/01/12 (LIVE FEED)

Pre-Pre:
LRC Kenenisa Bekele, Mo Farah, Bernard Lagat And Asbel Kiprop At The 2012 Prefontaine Press Conference Lagat gave advice as to what event Lomong and Torrence should run at the Trials, Farah talked about Rupp doing all the workouts with him, Bekele reveled whether he has enough time to get ready for the Olympics and Kiprop even praised Matt Centrowitz.
*LA Times Profile On Bernard Lagat
*Manager Jos Hermens Says Bekele Has Only "Just Started His Real Training" As His New Softer-Surfaced Track Was Finished 2 Weeks Ago
High School Results:
*Border Clash: Tanner Sork Breaks WA Record With 1:48.74, Marcus Dickson 2nd With 1:49.33
*Grosse Points South Runs US #4 All-Time 4 X 8 To Win Michigan State Meet In 8:48.29 Splits: 2:13.0, 2:13.4, 2:13.3, 2:08.2.
*Amazing Sportsmanship: Ohio State 1,600m Champ Meghan Vogel Stops At End Of 3,200 To Help Collapsed Runner Cross Finish Line *Photo
Other News
Diamond League Rome *Results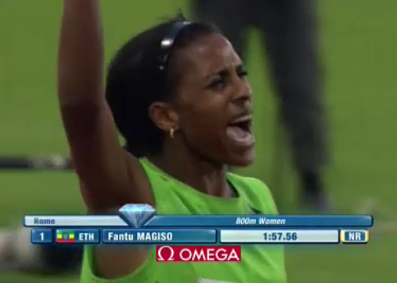 Rome: LRC Recap Of Rome 2012: Bolt Returns In Style, Men's Steeple WR Almost Goes Down, Dibaba & Jelimo Do Go Down In Defeat, And A Thrilling Women's 5,000 Usain Bolt returned to form with a world leader in the men's 100, but this race from a LetsRun.com perspective was led by the women's mid-d and distance action. There were two mid-d stunners on the women's side, as two heavy favorites in Pamela Jelimo and Genzebe Dibaba were soundly beaten as US world #1 Morgan Uceny impressed but was nowhere close to winning. The women's 5,000 produced a thrilling finish between Vivian Cheruiyot and Meseret Defar that reminded us of Haile G/Paul Tergat and Paul Kipsiele Koech nearly got the WR in the steeple. All of that and a whole lot more.
Non-Diamond League News Worth A Look
Drug News:
*2nd Training Partner Of Abdi Abdirahman Tests Positive For EPO *MB Thread #1: Ezkyas Sisay busted for EPO *Thread #2: So...is ABDI dirty too?
*NYC Marathon 9th Placer, Ethiopian Ezkyas Sisay Banned For 2-Yrs After Testing Positive For EPO
Doping News
Coming To America - June 9th
LRC David Rudisha Q&A: World Record Holder Is Excited To Be Coming To NY And Excited To Take On Challenge Of Being 1st 800 WR Man To Win Gold In 36 Years A confident Rudisha spoke to the media on Tuesday morning and revealed himself to be a true student of the sport, one who is familiar with the history of the sport, and one who doesn't seem fazed by trying to be the first 800 world record holder to win the Olympic 800 title since 1976. Considering Rudisha runs the majority of his races in rabbitted time trials in Europe, we asked him if he feared the championship style racing that is found at the Olympics and Rudisha sounded very confident when he said he did not.
*AP On Rudisha
High School
Golden South: Tyreek Hill Runs 20.14 To Miss Roy Martin's High School Record By .01 In one day, Hill dropped his PRs from 20.94 fo 20.14 and from 10.44 to 10.19. Crazy. And Hill probably didn't know it, but he paid homage to Roy Martin by saying in this interview when he goes to New York for the adidas 100m, he hopes to see tall buildings and a bunch of McDonald's.
*Video Of 200m Race *100m Race Video & Interview He credits his new adidas spikes.

PA: MileSplit Weekend HS Coverage: Angel Piccirillo Wins PA State Meet 1,600 In 4:39; Doubles Back To Win 800 In 2:09 After being wrongfully disqualified and then reinstated, Eric Futch won the 200m, the 300H, and ran a leg for his team's winning 4 x 4.

Washington: Izaic Yorks 1:50.56, 4:04.77 Double

Delaware: Hailey Pierce 4:41, 10:24 Double
*WV: 1:54, 4:08, 8:57 Triple
Lolo Jones Virginity Update
*Shanghai Diamond League #2: Saturday *Results *Yahoo Photos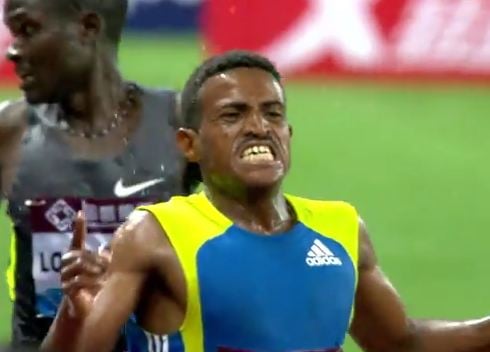 LRC: Shanghai In The Books: Liu Xiang And Genzebe Dibaba Impress, Bekele's 5,000m, 17-Year-Olds Go 1-2 In Tthe 800, And More Liu Xiang's 12.97 in the rain was incredible, as was Genzebe Dibaba's 3:57.77 world leader in the 1,500. There wasn't a sub-4:00 all last year and now there was one in the first DL race of the year. In other action, two "17"-year-olds went 1-2 in the 800, VCB and Carmelita Jeter battled in the women's 200 in a driving rain, and of course Kenenisa Bekele's return to 5,000. Recap, analysis and results.
*Race Videos In Recap

LRC: Women's 1,500 And Men's 5,000: Genzebe Dibaba Runs Brilliant 3:57.77! And Kenenisa Bekele 5th In 13:13.89 We break down the two most important distance races of the night. The full recap of the meet above has this story as well.
*5,000m Winner Hagos Gebhriwet Only Started Running 2 Years Ago

On The Boards: *Bekele's Done!
*Shanghai Live Thread

LRC Rojo Speaks: Is Kenenisa Bekele Done? Rojo says everyone who is predicting Kenenisa Bekele's demise is jumping the gun. He compares Bekele's run to Dathan Ritzenhein's the night before.
Sammy Wanjiru RIP: Nov 10, 1986 To May 15, 2011
4 Really Great Recommended Reads *Also Look For A Great Wanjiru Article In Print Version Of The New Yorker
#1 - Journalism Still Exists: ESPN The Magazine's Shaun Assael Writes 5,122 Word Epic On Sammy Wanjiru's Life And Death From his start as a schoolboy to details as to why his mother claims he was murdered, Assael leaves no stone unturned. He also points out that many other successful Kenyans before Wanjiru have also struggled with fame, including Paul Kipkoech, Richard Chelimo and Benson Masya, who all died young. Sadly, Wanjiru was going to train in San Diego to get away from it all but couldn't because of a gun charge. *Interview Of Author On Right Column

#2 - 50 Stunning Olympic Moments No. 30: Zola Budd In 1984 Do most people remember Budd was just 17 when she set the WR in the 5,000 at 15:01 and when she collided with Mary Slaney? The article reveals that Budd's family disintegrated after she left South Africa to compete for GBR and it also reveals Mary Slaney to have been unbelievably rude to rip a 17-year-old. *Zola Budd - In Pictures

#3 - Wall St. Journal Profile Nails Abdi Abdirahman's Personality Perfectly!!! "Going for Gold - or Whatever The Secret to an Aging Olympian's Endurance: Don't Let Training Get in the Way of Fun" Is Abdi's love of life (ohers might say laziness) an asset?

#4 - What Really Happened At 1st Olympic Women's 800 In 1928? Despite what was reported, 5 of the 11 runners didn't drop out with another 5 collapsing at the finish. The only person collapsing at the finish that year was Paavo Nurmi, but women's mid-d and distance running would be banned for years nonetheless.
Kenyan News
One Year Later, The New Yorker Looks At Sammy Wanjiru's Death & Says He Looked Into Running For Qatar We imagine that piece of info was included to get people to read it, as he wasn't hurting for money. *New Yorker Article On Wanjiru Subscription needed for whole article.

A Brief Chat With "Running With the Kenyans" Author Adharananand Finn The subtitle is "Discovering the secrets of the fastest people on earth."
Great Read If You Didn't Read It Yesterday: Alberto Salazar Unplugged - Part II This interview with Amby Burfoot is great. From Ritz's struggle in the marathon, to Ritz's form change, to Alberto's competitive relationship with Jerry Schumacher, to Galen Rupp's marathon future and, to Alberto's biggest regrets, Amby Burfoot leaves no question unasked and Alberto doesn't shy away from any of them and talks about Rupp running 12:45 and in the 26:20s.
*Part I: Alberto's Book & The "Duel In The Sun"
MB: An Incredible Amby Burfoot Interview With Alberto Salazar
Non-London Marathon News
Meet Glenn Randall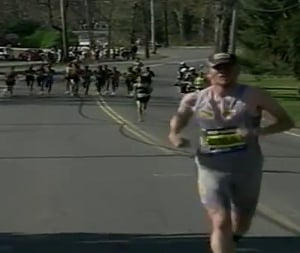 LRC The Story Behind Glenn Randall (The Guy Who Led Boston) Who was that dude leading the first 10k of the Boston Marathon? Believe it or not, he's an NCAA champion (in another sport). LetsRun.com talks to the guy who made the first 10k of the marathon entertaining. His frontrunning was no stunt and has paid off big time in the past. This time it resulted in a 2:37:13 61st place finish.
Pro Distance News
Korir Running Chicago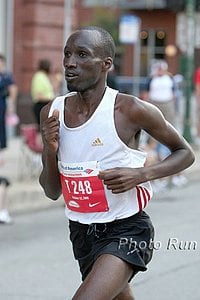 LRC Wesley Korir: From #T248 To #1 At Chicago The first time Wesley ran Chicago (photo here), he paid his entry fee like everyone else and started with the masses. Now 4 years later he's returning as the Boston Marathon champ. Learn more about Wesley (he hopes to be a US citizen soon) and how the late Sammy Wanjiru inspired Wesley to be a champion.
Pre Day 2 Photos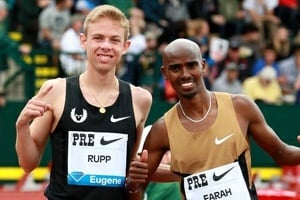 Final 800 Of Pre 5,000 - Farah Wins With 12:56.98
Asbel Kiprop Dominates Last Lap Of Bowerman Mile
Usain Bolt 9.76 Over Asafa Powell (US Only)
Last Lap Of Defar's And Cheruiyot's Great 5,000m
The Week That Was
LRC Weekly Recap: US Mid-D Fans, It's Time To Get Nervous; Hope For Bekele; Meet Ayanleh Souleiman; Fast 800 Juniors; A Look Back At Jim Ryun; & Bolt Struggles - Or Does He? Last week, the world and even Usain Bolt himself panicked when he ran 10.04, but we start things off by telling Bolt there is likely little to worry about. However, there is plenty for fans of Nick Symmonds to worry about, as well as fans of Robby Andrews, Matt Centrowitz, Leo Manzano, Alan Webb, Andrew Wheating and Nick Willis. Along the way, we tell Pamela Jelimo she can't quite start celebrating yet. Plus hope for Kenenisa Bekele fans, a geography lesson on Djibouti, the world is confirmed to be round, and we introduce you to Ayanleh Souleiman - the world's new mid-d star? And we take a look at some fast junior times at 800 and before you can call them age cheats, we remind you what Jim Ryun did some 46 years ago.
Cashing In
Robby Andrews Signs With adidas The mid-d star Andrews will run a low key 800m this weekend and then race David Rudisha, Kaki & crew at the adidas Grand Prix next week in NYC.
On The Boards: ROBBY ANDREWS SIGNS WITH ADIDAS!!!
The Great One Says Goodbye To The Track (Hengelo Photos)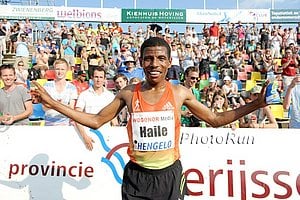 Ostrava Photos (Usain Bolt 10.04)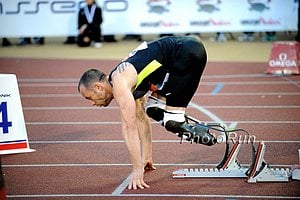 The Wait Is Over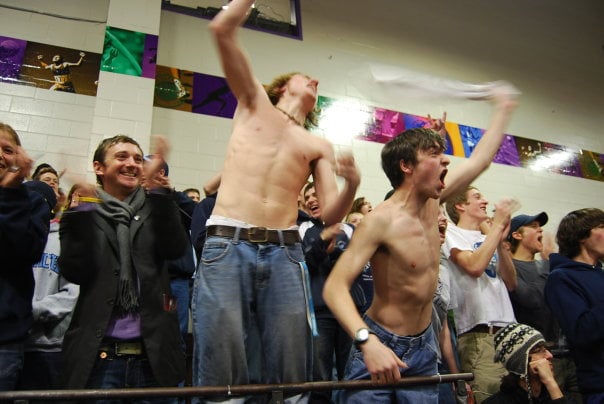 LRC LetsRun.com T-Shirt Design Contest The Empire State Building was built in a year, Hoover Dam took 5, so we figured 12 years is long enough for LetsRun.com T-Shirts. We pay homage to the 99%, and you let your LRC faithful come up with the design.
Doha Photos Now Up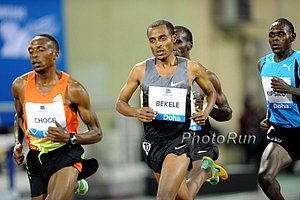 Shanghai Photos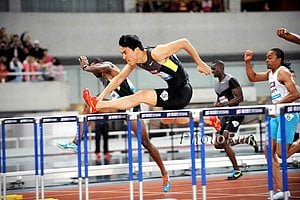 Drug Corner
Big Story? Doping widespread in Kenya? Fresh allegations by German journalist

Unbelievable: Convicted Drug Cheat Dennis Mitchell Coaching Justin Gatlin This isn't new news and has been the case all spring, we just didn't realize it. 6 years ago, little LRC pointed out Mitchell, the guy who claimed he tested positive because he had five beers and sex four times with his wife (maybe Dennis can give his advice here), an excuse USATF accepted, was coaching a USATF international team. USATF then tried to claim a different Dennis Mitchell, the University of Akron coach, was the actual coach. Mitchell is free to coach whomever he wants. You'd think Gatlin might be concerned about public perception.
UAE Healthy Kidney 10k Photos
Another Steeple Fail (Getting Picked Up By USA Today Blogger)
Interesting Read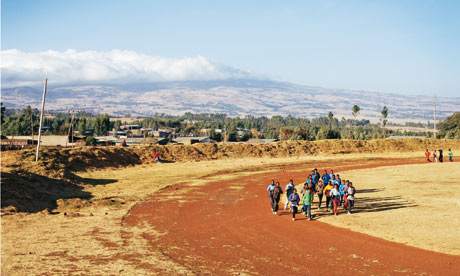 Bekoji, Ethiopia: Town Of Runners By now many of you have heard of Iten, Kenya - the tiny town where many Kenyan stars train. The Ethiopian town of Bekoji may be even more impressive, as it is where Kenenisa Bekele (3 Olympic golds), Tirunesh Dibaba (2 Olympic golds), Derartu Tulu (2 Olympic golds), and Fatuma Roba (1 Olympic gold) were all born. Lengthy Guardian profile on the town and its unheralded coach Sentayehu Eshetu. A movie on the town - "Town of Runners" - comes out later this month.
*Bekoji Photo Gallery
Virgin London Marathon Photos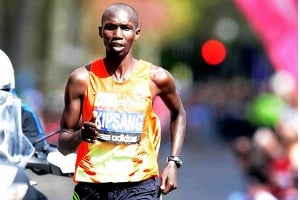 More London
Employee #1 Goes To Kenya

LRC Meet Mary Keitany The half marathon world record holder destroyed the best women's field in the world last year in London. Then on the hilly New York course, she went out faster than Paula Radcliffe during her world record before falling apart miserably. Now she has to qualify for the Olympics in London. Get to know Mary Keitany.
*Keitany Photo Gallery *Getty Images Photos From Kenya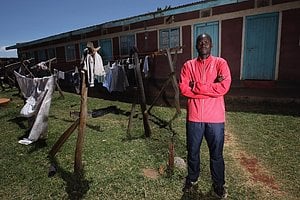 LRC The Electrifying Abel Kirui The two-time World Champion has dominated non-rabbited races. Learn all about him.
Training Corner (More In The Training Forum)