New Distance Articles Worth Considering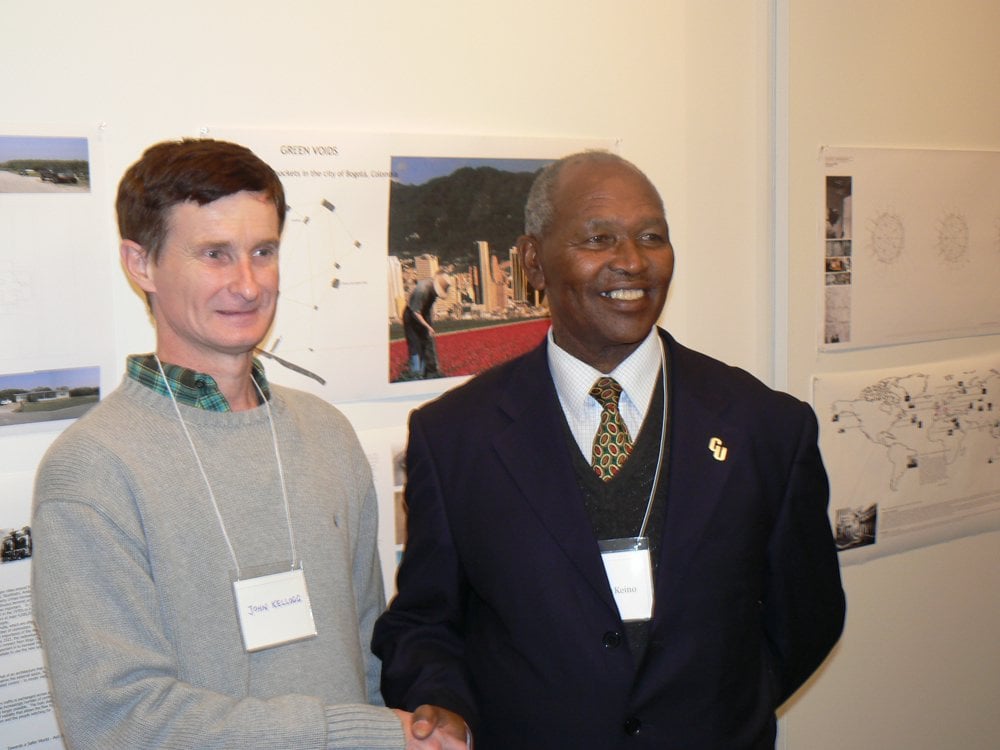 After Running 10k & 5k With Gallstones, Kip Keino Was Told He Might Die If He Ran 1,500 But He Did It Anyway And Crushed Jim Ryun
*MB: Did Kip Keino Really Run The 10k and 5k Before Crushing Jim Ryun in 1,500 at 1968 Olympics?

*Japan's Ryuji Kashiwabara - "The God Of The Mountain" - Who Is More Popular* Than Mo Farah, Ryan Hall & Haile G - Goes Pro With Fujitsu Kashiwabara is famous for having won Hakone Ekiden's 900m-climb Fifth Stage all four years of college, with three records, and for being the face of recovery efforts in the Fukushima area. *He has more Twitter followers than Haile G.

*Are Harvard-Westlake's Amy Weissenbach (2:02) And Cami Chapus (4:40) The Best High School Duo In History?

*Tirunesh Dibaba Is Excited To Be Back At Carslbad For 4th Time It was one of her 1st international races as a 16-year-old when she lost to Deena Kastor.
Texas: US LJ Champ Marquise Goodwin Is Now Again Focused On Track Last year after he won USAs, Goodwin said he was giving up football to focus on track but that didn't last long. "(In track) not a lot of guys in the stands wearing burnt orange and cheering you on. My mom's not in the stands yelling for me. It's different.'' Coach Thornton: "I knew all along he's going to miss the cigar smoke, the big crowds and the fight song. He's going to die if he's not out there.''
*Allex Austin Wins Texas Relays HS HJump At 7'.25"
*With Large Black Crowd At Texas Relays, Many Wonder If Black Men Are Being Discriminated Against In Austin A few years ago, a mall announced it was closing early on the Saturday of Texas relays after a fight broke out.
*The "Voice" Of The Texas Relays - Bill Melton - Is Retiring After 40 Years
*Leo Manzano's 1:47.65 MR A Highlight Of Thursday (result, video here) It's faster than the 1:47.89 he ran last year. Jacob Hernandez was 4th.
*Trey Hardee Hoping To Recover From Elbow Surgery In Time For US Trials/London He's doing LJ, discus and hurdles at the Texas Relays, but can't do the jav or PV at all right now.
*Texas A&M 4 X 8 Sets Texas Relays Record With 7:15.99
*Isaac Murphy & Chelsea Carrier-Eades Win Multis
Raleigh: UNC Greensboro's Paul Chelimo Blitzes A 3:40 1,500 From The Front With No Rabbits We watched this and thought it was a great run for the 4th placer from NCAA indoors in the 3k.
*HSer Thomas Graham Runs 14:11.66 At Raleigh Relays (#15 All-Time)
*MB: DIV3 - NYU Matt Turlip 3:46.8 @ Raleigh Relays
A Lot Of Action This Weekend
Assorted US News
Suspension Costs Kenyan Marathoner $40,000 Rose Jepkemboi Chesire $40,000 in prize money after failing a doping test and getting a 1-year ban.
Upcoming Action
Khannouchi's Retirement
LRC Carey Pinkowski Reflects On Khalid Khannouchi's Career: "He Was The Absolute Best I've Ever Seen" The Chicago marathon director talks about the man who made his name in the Windy City. Plus quotes from London Marathon director Dave Bedford and a tweet from Ryan Hall.

LRC Marathon Legend Khalid Khannouchi Officially Retires Khalid Khannouchi, one of the greatest marathoners of all time, has told LRC that he is officially retiring from competitive running. Khalid helped revolutionize the sport of marathon running, setting two world record in the span of three years, including his final one at the "Greatest Marathon Ever Run" - the 2002 London Marathon matchup that featured Khannouchi, Paul Tergat and Haile Gebrselassie. All three men would eventually hold the marathon record. Take a minute to read this article and reflect on Khannouchi's incredible career. At the end of 2002, Khannouchi had 3 of the 4 fastest marathon times ever run, and 8 of the top 9 times were run in races Khalid won, as he helped revolutionize the marathon. A decade later, Khalid's best time - believe it or not - is only the 46th best in the world (but is still the American record). Read all about it.

More: *RRW Flashback On Khannouchi's 1999 Chicago Marathon Race Where He First Broke The WR
*RRW Flashback On Khannouchi's 2002 London Race Where He Beat Paul Tergat & Haile Gebreslassie
*RW: Do Marathoners Have An Obligation To Run For Their Country "Will Geoffrey Mutai have a blight on his career if he's never selected for the Kenyan Olympic team?"
*Scott Douglas Asks: What Does Phil Hersh Owe His Readers?
*Reuters Story With LetsRun.com Mention
*IAAF Story With LetsRun.com Mention
*Chicago Tribune's Phil Hersh Reacts Bitterly: Khannouchi calls it quits, which is nothing new Hersh is apparently very upset that Khannouchi never ran for the US in the Olympics.
*Recommended Read 1998 New York Times Profile Of Khalid Khannouchi - From Morocco to Brooklyn, A Runner's Road to the Top Nice quote from Joe McVeigh.
*1998 Chicago Tribune Profile Of US Immigrant Khalid Khannnouchi
*LRC MBoard: Khalid Khannouchi Retires
US Distance Pros In The News
"Fam" Says He Won't Back Down At Carlsbad 5k This Weekend Against Dejen Gebremeske, Eliud Kipchoge & Tariku Bekele He may not back down, but we'll give 150 dollars to charity if he's within 15 seconds of the winner.

Shalane Flanagan Surprised Herself With Lisbon Half Victory "When I saw the start list, I was wondering if I should have entered the race. I was wondering what I'd gotten myself into. A lot of the women on the start list had PRs (personal records) that were a minute to a minute and a half faster than mine."

US World Indoor 1,500 Team Member Sara Vaughn Is Trying To Make It As A Mom Of Two & Next To Zero Sponsorship Props to her for going to World Indoors. "I'm not old, but I'm a little bit older. I didn't have a shoe deal - I couldn't get a shoe contract after I got pregnant with our second kid. Adidas dropped me. The Bowerman Athletic Club were the only people to offer anything, and it was like shoes and $500."

Somewhat Related: Des Moines Set To Host 2013 USA Outdoor Track & Field Championships
News From Kenya
Marathon News
Lengthy Profile On Double World Champ Abel Kirui As He Prepares For London And Talks About Canova Kirui's dream is making the Olympics. On Renato: "Canova is a man almost 70, so old is gold all the time. He has the wise words and wise programmes. If you follow what he tells you, you will succeed. He gave good programmes and I respect him as a grand father."

Camobidan Olympian In Marathon Is A Japanese Comedian Who Was Discovered On A Reality Show There is another guy who is five minutes faster training in Kenya whom the federation does not like. The IAAF shouldn't waive its rules for this Japanese guy.
More Results From The Weekend
London 2012 News
Shalane Flanagan Wins Lisbon Half, Tadese Three-Peats Updated with IAAF story The American got the big upset win (just as we predicted) and Zersenay Tadese got the win but not the world record (just as we predicted - a broken clock is accurate twice a day). Flanagan ran 68:51 for the win.
OTB: Flanagan wins Lisbon. Lock for Olympic gold?
*Will there be an official Lisbon half-marathon thread?
*Letsrun...seriously your picking Shalane Flanagan to win the 2012 Lisbon Half Marathon?
*Full Photo Gallery
*LRC Lisbon Half Marathon Preview

B Of A Shamrock Shuffle: *Results (link fixed) *Discussion Abdelaaziz Atmani won as Abdi was 3rd. Julia Lucas won over Delilah DiCrescenzo.
A Look At Top US Marathon Women Who Didn't Make The Team In Houston And Their Plans As They Move To The Track Deena Kastor originally thought her London Games dreams were done, but now is going to try to qualify on the track and says "my legs are waking up to the training and I feel refreshed dropping down in distance."
LRC Men's 3,000m Final Lives Up To The Hype World 5,000m champion Mo Farah squared off with two-time world indoor champion Bernard Lagat and 2012 World leaders Augustine Choge and Edwin Soi of Kenya. Once again, Bernard Lagat was too good. They were all in contention on the final lap. There was some contact, two guys running on the infield, a DQ and a resintatement, but none of that stopped Bernard Lagat from showing he's the best 3,000m runner in the world.


LRC 800s: Pamela Jelimo Is Back As USA's Erica Moore Gets Bronze, 18-Year-Old* Mohamed Aman Gets Gold The last time Pamela Jelimo was any good, Erica Moore wasn't an 800m runner. They both left World Indoors pleased, as Moore made her first sub-2:00 clocking count with a bronze medal. In the men's race, 18-year-old* favorite Mohamed Aman got gold. On The Boards: Erica Moore 800m at Worlds

LRC Hellen Obiri Stuns Four-Time World Champ Defar link fixed Obiri Closes In 4:06.6 For Gold Get used to the name Hellen Obiri. Last year, she ran internationally for the first time and won the Kenyan 1,500m championships. This year, in the fourth 3,000m of her life, she came from behind to stop Meseret Defar from getting her 5th world title.

IAAF Final Day Recap: Brittney Reese Is Incredible, Aries Meritt Upsets Liu Xiang, Will Claye Wins Brittney Reese had her back to the wall in the long jump, so what did she do? Unleash a jump that made her #3 all-time to win.
Saturday
LRC Saturday: Iguider Wins Thrilling Men's 1,500m, Dibaba Lives Up To The Hype, Ashton Eaton, Sanya Richards Ross, Chaunte Lowe And Justin Gatlin (Uh) Get Gold World Record And $90,000 For Eaton A tremendous day of action and a good one for the USA. We break it down, including the men's 1,500m, where Abdalaati Iguider ruined the coming out party of Ilham Tanui Özbilen in an exciting race that saw Matt Centrowitz challenge for the lead. Genzebe Dibaba dominated the women's 1,500, showing she's the real deal. Plus Sanya Richards Ross, Chaunte Lowe and Justin Gatlin are all back from various ailments, some self inflicted, some not. Not to mention a super-tight long jump and a gold by a 39-year-old married to a former heroin dealer.

The Fast Guys Of The LRC Puma Faas Challenge (Our Apologies For Disrespecting The Always Disrespected David McNeill)

LRC The Fastest Puma Faas Winners - Mark Wieczorek, David McNeill And Ricky Flynn LetsRun.com is made up of the most passionate and fastest runners on the planet. The three guys above entered the Puma Faas Challenge just like you even though they are total studs. Mark is a 1:46.00 800m runner, David a two-time NCAA 5,000m champion and an Australian national champion, and Ricky was a breakthough performer at the Olympic Trials Marathon. Read all about them. Thanks to Ricky's run at the Trials, he may be getting a sponsor soon, so he's giving his shoes to his roommate.

Previous: Get Inspired With The Final 20+ Winners In The Puma Faas Challenge A guy with incurable cancer who wants to run 16-minute miles, a guy who want to break 4 despite getting hit by a car going 35mph, a woman who has a 5-year running streak going that includes two pregnancies, much more.
Dreams Don't Become Reality?

LRC Haile Gebrselassie Tweets "My Olympic Marathon Dream Is Over" And Ethiopia Announces A Preliminary Olympic Marathon Team Missing A Few Stars Geb's tweet is big news as we'd like to see him make one final attempt to compete in the Olympics. Just as big news may be that neither Gebre Gebremariam, Tsegaye Kebede nor Fiyesa Lilesa were on the preliminary team. Their men's team is the top 4 Ethiopians from Dubai.

LRC Galen Rupp's American 2-Mile Record Is Highlight Among 5 World Leaders Pre-race, we pondered if this was the best men's indoor mile in the US since LetsRun.com was founded and it lived up to the hype, as Silas Kiplagat edged Caleb Ndiku in a world-leading time, but it was Galen Rupp, running to honor the late Geoff Hollister, who stole the show with an impressive American record at 2 miles. In other action, Brenda Martinez took on some of the world's best in the mile, Jamaica's 8th best sprinter beat all the Americans, and Tianna Madison (a long jump world champion most of you have forgotten) shocked VCB and Allyson Felix in the 60m.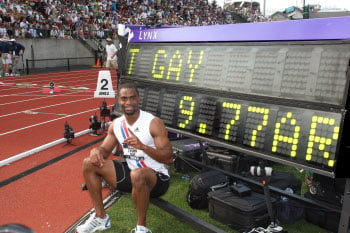 Reuters: Tyson Gay Holds Open Workout For Media & Says He'll Only Do 100m This Year *ESPN.com *AFP

*AP Article That Is More Upbeat & Says He's Nearing Full Recovery Given his surgery, Gay doesn't feel he hasn't done enough work to handle the 200m. His coach says that the Trials might actually be his first race of the year: "You'd prefer to have a couple of races before the trials. But at the end of the day, if his first race is at the Olympic trials, then he'll be ready to run.''

More Sprint News: Slate Asks: Might Justin Gatlin (And Other Drug Cheats) Be Benefitting From Doping They Did Years Ago? Answer: Yes
Olympics-Related/UK News
Spice Up Your Weekend ...
Olympic News
Interesting To Say The Least
Olympic News
Sad News
1984 Olympic 5,000m Bronze Medallist Antonio Leitão Dies He was only 51 years old. The Portuguese club Benfica named its race after him. *More On Antonio Leitão's Death Here
*Rosa Mota Pays Her Respects *Video Of 1984 Olympic 5,000m Final Announcer Tim Hutchings got 4th.
*RIP Dmitry Polyakov, Coach Of World Indoor Pentathlon Champ/World Record Holder Nataliya Dobrynska
LetsJump.com - Remember The Name Devin Field As He Seems Like A Real Stud
Recommended Read: Learn Why High School LJ & TJ Phenom Devin Field May Not Have A Jr. Season The two-time state champ in Texas in the LJ has already gone 25' 5.75" this year and won indoor nationals but can't compete for his team as he doesn't live with his mom, as she moved back to the coast after fleeing from a hurricane. *More On Field
We All Have Our Own Story Of How We Became A Runner, But Few Can Say It Was Because They Were Arrested
Recommended Read: Former CEO Of BETonSPORTS.com Went To Jail To Become A Runner At 50 years old, David Carruthers used his time in prison/house arrest to go from being 192 lbs. and overweight to running a 3:07 marathon and sub 5-min. mile.
Olympic And Distance News
News At Home: A USATF CEO This Year(?), Another Men's Track Program Gone, And A Marathon WR For The US (Sort Of)
LA Times Take A Look at Altitude Training At Mammoth Lakes
UK News: Athletes Not Feeling The Pressure
Aussie/NZ Updates
In Case You Missed It
4 Recommended Reads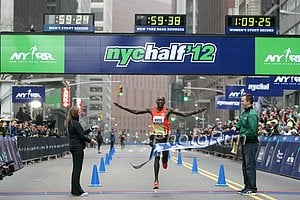 LRC Recap: Peter Kirui & Firehiwot Dado Prevail After Head-To-Head Battles From the start, both the men's and women's races turned into one-on-one battles but with different results. In the men's race, Peter Kirui did all the work as Deriba Merga tried to hang on, but in the end, Kirui was rewarded with a victory in the 2nd fastest time ever (59:35) as no American men finished in the top 10. Kim Smith led most of the women's race, but Firehiwot Dado pulled ahead late and won in a new CR (68:35) as Kara Goucher was 3rd.
*MB: NYC Half 2012 race coverage thread and updates.
*MB:Today was Ritz's worst finish Since....
*MB:Did Kim Smith get pawned? (sic)
*MB: Todd Williams is really good at broadcasting
*Nice WSJ Recap
*Davila Loved The Weather: "If you can't run fast on a day like today, you might as well go bowling."
*IAAF Recap
*Goucher: "I had a lot more fun this year."

LRC 3,000s: Chris Derrick Pushes Lawi Lalang To The Line, Emily Infeld Wins Her First Title (link fixed) Friday night, Chris Derrick won accolades for coming within 1.7 seconds of beating Lawi Lalang. Derrick did even better on Saturday night, coming within .17 seconds. In the end, Derrick's efforts weren't enough, as Lalang completed the double. In the women's 3,000m, Emily Infeld won a four-person sprint around the final bend over (among others) Jordan Hasay. Hasay's Ducks were so good they would have won the team title if she had stayed in Oregon.
Flanagan Over Davila, Goucher Gets Third As Top 4 All Break Old OTrials Record Flanagan (2:25:38) pulled away from Davila (2:25:55) and Goucher was third in 2:26:06. Amy Hastings broke the old Trials record at 2:27:17 but didn't make the team. Deena Kastor was 6th in 2:30:40.
LRC Men's Marathon Trials Analysis And Reaction The 2012 Trials race was a classic. We throw some love to the top 3, ponder Ritz's future in the marathon, tell you who had the best debut, and tell you who that guy you never heard of was. Plus we talk about Meb's 74-year-old badass dad and look at the fortune of some old timers who didn't make the team, Josh Cox and Dan Browne, in addition to the ones who did (Meb and Abdi).

Race Recap: Meb Keflezighi Captures 2012 Olympic Trials Marathon Title
The Week In Review
LRC The Week That Was In Running: March 19-25, 2012 Last week, South Africa's 800 stars opened up at their specialty with resounding victories and we tell you what their wins mean (which means our incessant update on Nick Symmonds' medal chances), we do the same for Shalane Flanagan's impressive win in Lisbon, plus free coaching advice from Lauren Fleshman (do as I do) and Chris Solinsky (don't do as I do), and quotes from Mo Farah, a happy Nick Willis, an angry Ron Hill and a happy Olympic janitor. Plus Wallace Spearmon and LetsRun.com impress the brass at USATF.
Spice Up Your Friday With This Steeple Fail (Turn Up Volume) *MB Thread
Lisbon Photos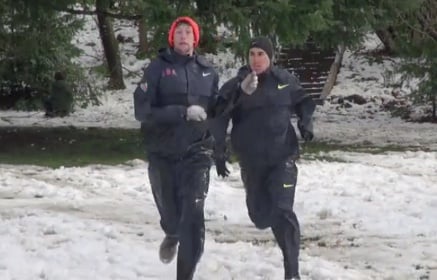 LRC Andrew Wheating Gets In A Snow Fight Brawl With Russell Brown Eugene got a rare snow and all hell broke loss between former NCAA star Andrew Wheating and training partner Russell Brown. Fortunately for track and field fans everywhere, it was all captured on film. Full video. *Discuss On The Boards
Three Nice Deals On Running Shoes
1) Nike Free 2+ $59.98 For men - 1 color only at this price. Other colors and women $79.99-$99.99.
2) Adidas Leap $49.98
3) Brooks Adrenaline 11 $59.98
Little LRC gets a commission with your purchase.
Highlights And Last 800m Of Men's 3,000m At Worlds (Larger Video Here - We Previously Had It Set Up So You Could Watch Without Knowing The Results)
Men's 1,500m Final From World Indoors (Women's Here)
Prince Harry Over Usain Bolt
Spend 10 Minutes To Get To Know The World's Best(?) Marathoner Patrick Makau (Also Has Footage Of Him Training In Kenya)
LetsRun.com Track Talk Live From Kenya: Friday's Live Show Is Now Available On Demand In The Player Below (Or Download It Here)
Rupp's 2-Mile American Record From Arkansas (Last 2:20 Or The Full Race)
Final 400 (Or Full Race) Of Lagat's American Record (Wanamaker Mile Video Here)
Photo Gallery: Rupp Makes History (Interview Below Or Here)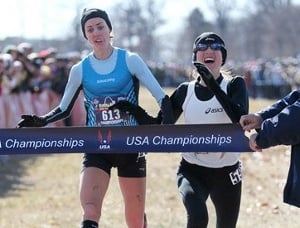 Trailer For "ITEN - The Town Of RED Dust"
NCAA Women's Photo Gallery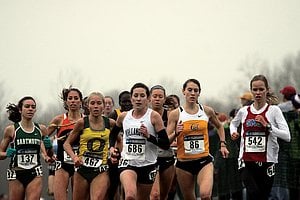 NCAA Men's Photo Gallery (500+ Photos)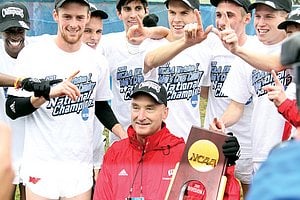 Training Corner (More In The Training Forum)