The Twelve Days Of Puma: Day 10
A Football Player Turned 31:30 10k Runner, A Cop Inspiring His Family To Run, A Collegiate Runner Constantly Injured, A Woman Who Thinks Puma Is Sexy And A Guy Who Showed Up To Practice In Allen Iverson Basketball Shoes
By LetsRun.com
December 10, 2011

*Enter The LRC Puma Faas Challenge Here
Editor's Note: Puma has an incredible offer to get you to test the Puma Faas line. They are so confident you'll like the shoes, that now through 12/14 you can get 30% off your order ($75+) with Free Shipping. Try the Puma Faas line shoes for up to 30 days. If you don't like them in the first 30 days? Return them "in any condition" for a full refund and get free return shipping. How is that for backing its product? Plus with some of the shoes on sale already you can get 2 pairs for $75 in certain styles. Scroll to the bottom or click here for more info.
We're nearing the end of the 12 Days of Puma and we've been saving some of the best for last as we announced the LRC Puma 55, the first 55 people out of 100 selected in the LRC Puma Faas Challenge to put Puma's new Faas line of shoes to the test. Puma wants to prove its Faas shoes are made for the LRC runner.
Today we've got a football player who became a 31:30 10ker, a cop inspiring his family to run, a constantly injured collegiate runner, a runner who thinks Puma is sexy, and a guy who showed up to his first day of XC practice in Allen Iverson basketball shoes and made us laugh.
If you want catch up on the LRC Puma 55: Day 1: The First 5, Day 2: A 27:31 10ker, A Marine Corps Marathon Champ, A Girl From Our Favorite High School, And A Guy Who Loves Asics, Day 3: Winter Wonderland, Day 4: Married Guys And A Guy Whose Wife And Kids Left Him, Day 5: The Coaches, Day 6 Rest, Day 7: Read It To Believe It: A "Cigarette Smoking, Pill Popping, Booze Drinking Slob" Who Now Runs 90 Miles A Week, A 12-Year-Old, A Woman Who Trolls The Message Boards, Day 8: A 34-Year-Old Who Wants To Go Sub-4, A 26-Year-Old Who Grew Up With LRC, "The" Running Autograph Collector, A Guy Whose Pumas Were Stolen 13 Years Ago, And A Girl At A Nike School
Day 10:
41) Football Player Who Became A 31:30 10ker And Now Is a Running Coach
Dennis Mickey 45 years old West Virginia
Shoe To Test: Puma Faas 550

Why Dennis Is Up For the LRC Puma Faas Challenge:
I am a former football player turned runner. What began as a way to lose weight and my football body has transpired into a 25 year journey as a runner. My first run I couldn't even complete a mile. But after years of hard work and passion I was a 31:30 10k runner and a 2:26 marathoner and completely hooked on running. The enthusiasm and passion I had for running had to be shared. After I had accomplished my personal goals it was time to share the joy of running with someone else. Since 1995 I have coached both high school and adult runners. My greatest joy now the love of running and passion I see in the athletes I work with. If the American public only knew what running could do our society would be cured of many of it's ills. Running is your constant companion, a reliever of stress and depression and way to manage weight in a healthful manner. My time as a competitive runner is coming to an end. The knees aren't what they used to be, but If I can inspire and motivate others to utilize running to do for them what it has for me then I will in my mind always be a runner.
42) A Guy Whose Wife And Daughter Have Become Runners Because Of Him
We all know the average LetsRun.com visitor is a selfish prick. Todd Barker is in the 1%, however. He is giving back to the sport and has inspired his wife and daughter to run. He also is in a running club of 60 people and not a single person wears Puma. That is why he is the perfect candidate for the LRC Puma Faas Challenge.
Todd Barker 46 years old Richmond, Indiana
Shoe To Test: Award Winning Puma Faas 500 Color: Fluo Green-Puma Silver-New Navy-Fluo Lime

Todd's LRC Puma Faas Challenge Entry:
It is pretty simple really. I have grown up running and have passed the desire on to my wife and 13 year old daughter. I run two marathons a year with the next being Boston in the Spring. During marathon training I will be running 70-80 miles a week. My wife's interest in running has taken off and she has completed three half marathons this year. She is eyeing her first marathon next year. My daughter will be running her first half marathon in May. With all that being said, that is a lot of running shoes for the family every year on a police officer's salary. I would love to try these shoes but I always buy what I know works for me. How would I ever know how good the Faas is unless I could try a pair on? I belong to a running club of about 60 that meets every Saturday morning for a run. NO ONE has Puma shoes. What a great way to advertise! Thanks for your consideration, Todd Barker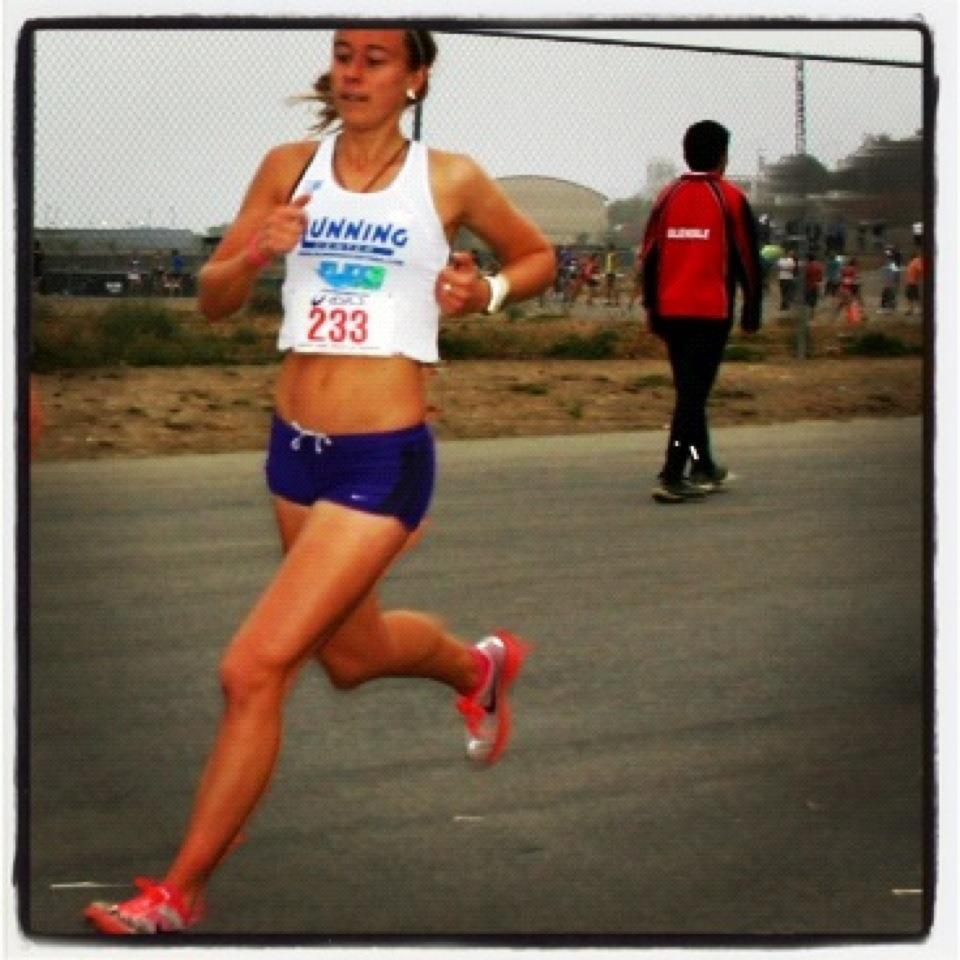 43) 25-Year-Old Woman Who Thinks Puma Is Sexy
The Puma Faas Challenge is primarily all about converting skeptics, but someone who thinks a pair of Faas shoes is sexy deserves a pair. That's Morgan Sjogren.
Morgan Sjogren 25 years old California
Shoe To Test: Puma Faas 250 Color: Gray/Purple

Morgan's LRC Puma Faas Challenge Entry:
I started running when I was 9 years old, so at the ripe old age of 25 I already have almost 16 years of running experience under my belt. Like the little girl in today's headline quote who won that 5K, I was a precocious kid who wanted nothing more than to grow up, run fast, work at a running store, and spend my free time surfing running web sites. Since all of those dreams came true I need to move on to bigger ambitions, like trying out some Puma shoes! I must admit, no matter how good a shoe feels it has to look SEXY and Puma has got that all dialed in. I'm hoping some Puma Faas shoes will help me put in some good training for my fastest track season ever! Letsrun.com make my dreams come true!
Damon On The Left Setting A 1,500 PR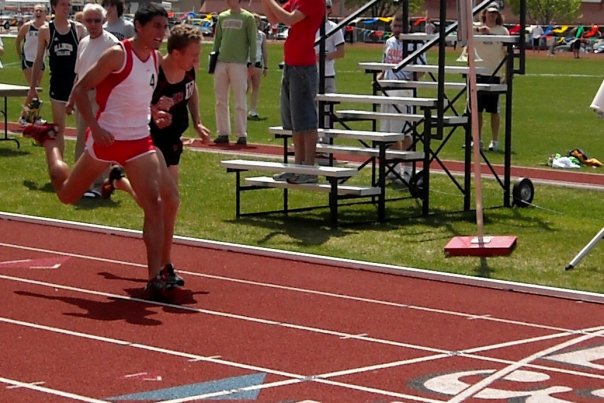 44) Guy Who Showed Up To Practice His First Day In Allen Iverson Basketball Shoes, Was Made Fun Of For Wearing Too-Long Shorts, And Now Is A Runner
When you've read hundreds of Puma Faas entries, you need a little entertainment. Damon Bautista had a very entertaining entry. We hope the Puma Faas 500s keep in healthy.
Damon Bautista 25 years old Silvis, Illinois
Shoe To Test: Puma Faas 500

Damon's LRC Puma Faas Challenge Entry:
Not that I am a free loader of any sort but trying a new running trainer has long been an idea of mine. Over the years I have only really tried 3 different brand of shoes. I started with Avia's and Nikes when I was a naive high school runner. Would you believe I showed up to my first XC practice, halfway through the XC season my junior year, in white Allen Iverson basketball shoes? Yeah the whole team looked at me like i was a joke as we did a track workout. (I think it was 12 x 400) I was feeling good for the first few but I sure could hear my Iversons slapping hard on the track. Wow just to thinking back to that day that hurts my feet. I actually finished the workout but I quickly realized I needed a running shoe or my season would be terrible. My dad who knew nothing about running or what kind of shoes I needed went out and bought me the cheapest running shoes he could find which at the time were the brand Avia probably from KMart or some place like that. They looked like running shoes so I figured to run in them. Since I was new to running I just went with those for about a month until they broke down and were beat up. Then I went with Nike Pegasus and they actually weren't that bad. I ended up running like 16:45 that year and #5-6 guy on my team. Not too bad for a person joining halfway through the season. I continued with Nikes but lets fast-forward to my college days at a small D3 Midwest private college. The running team at my college consisted of a guys that were obsessed with running. They always talked, read, did projects about, and probably dreamed about running. The running culture from my high school to college was a complete 180. They always wanted to talk about PR's and what not. Me, I didn't really care a whole lot about that, I was just glad to be in college. At the time I was the only member from my immediate family to attend a college, let alone graduate from college. Running I guess was a way to get an education. I remember being made fun of because my shorts were "too long" and not split on the sides. I thought to myself, "Really? I'm the one that looks weird even though you can almost see your d*** and b**** coming out of those shorts?" And from then on the slow transformation began to becoming a RUNNER. I started to make a collection of skimps (this is what my teammates called their shorts). I was buying shorts that were probably too small and cost way to much money but oh well it helped me fit in. As my collection of skimps grew so did my stockpile of shoes. I was still running in Nikes but the Pegasus changed and they screwed up my feet and shins and after buying two pair I decided to try a different brand. I made the leap to Asics which was influenced by the fact the my XC/TF teams got Asics brand at 40% off. Who wouldn't buy shoes 40% off? So then I started running in the 21 series and the Kayano. I still raced in XC in my Nikes and track in some old Adidas spikes. But now my trainers were exclusively Asics. After battling shin pains and a couple of stress fractures throughout my college years, I finally had a healthy 1.5 years of running. I made huge improvements but I was not stellar. (8k in 26:30, 1500 in 4:02, 800 1:56). After graduating from college, I knew I would continue being a runner but without that 40% off I knew buying shoes would be expensive. Since graduating, I have been trying to stay with Asics. But I still end up getting minor injuries that set me back. For example I was training for this years Chicago Marathon and 2.5 weeks out I hurt my ankle, ended up being a stress fracture in my fibula. Not sure if it was caused by the shoes but i was unable to run the marathon which I had trained for 15 weeks for. But it was still awesome to go there and watch a historic race with so many amazing athletes. Shoes have always been like gold to me. It is hard to throw away any pair of trainers because of the journey they have took me on. I usually give my old trainers to my dad and he wears them and every time I see them it reminds me of the journey I took in those shoes. Its weird, it's like I have a connection with each pair of my shoes. My wife hates it but she totally understands which is kinda cool. Whenever I buy or get a new pair of shoes I get an instant joy when I open that box and feel like nothing can stop me on the journey I will go on with those shoes. Running in new shoes is one of the best feelings in the whole world. It reminds me of when I was little and my dad would say,"Try these on, lets see how fast they make you!" And I would run around inside our little house smiling. Wow this was a lot longer than I anticipated, I hope you actually read this whole thing. I will just end by saying thank you for taking your time to read my story and trying a pair of Pumas would indeed be a start of a new journey. THANKS AGAIN!!

For the record, we read the whole thing. And we started laughing at the d*** and b**** comment.
45) Collegiate Runner Sick And Tired Of Being Injured
We can all relate to Amanda, some of more so than others. She's been constantly injured for 3.5 years. Hopefully, the Puma Faas shoes are the final change that can get her finally healthy.
Amanda
Shoe To Test: Award Winning Puma Faas 400 Color: White-puma silver-lime punch

Amanda's LRC Puma Faas Challenge: Throughout the last 3.5 years of running at the collegiate level I have faced 3 stress fractures and other various injuries no matter what the training load was like trying various running shoes and brands. I would really like to be injury free and running a lot faster than I was in high school and start setting some new PR's. Over this time it has been a struggle for me coming back injury after injury. I am still very determined to get back to performing at my greatest because how much I love running. It would be nice to find a shoe that had enough support and cushion to guide me along in that right direction.
---
Incredible Offer To Get You to Try the Puma Faas Line - Ends 12/14
If You Don't Like the Shoes Within the First 30 Days Return Them For ANY REASON
30% Off From Puma Orders $75+ AND Free Shipping



Puma wants you to put their Faas line to the test. They are so confident you'll like the shoes you can try them for 30 days. If you don't like them in the first 30 days you can return them "in any condition for any reason." How is that for backing its shoes? The Faas line is the Faas 200, 250, 300, 400, 500 and 550 (the higher the number the more the cushioning). Plus for a limited time get Free Shipping on Orders $50+. Considering that some of the Faas shoes are on sale already for $53.50, with the extra 30% off you can get test one pair for $37 (you need to have $75 in your cart to get the discount). Just click on the logo above or click here to get this offer. If you live in a city with a Puma store you can go into the store and get the 30% off as well.
LRC 12 Days of Puma Archives:
Day 11: A "Brotha" Who Wants To Break 13:30, An All-American Getting Back On The Roads, A 58-Year-Old Female Marathoner Who Was Winning Marathons Before Most Of You Were Born, A Cancer Survivor Who Happens To Be Caitlin Chock's High School Coach, And A Lady Who Entered To Cheer Her Husband Up
Day 10: A Football Player Turned 31:30 10k Runner, A Cop Inspiring His Family to Run, A Collegiate Runner Constantly Injured, A Woman Who Thinks Puma is Sexy and a Guy Who Showed Up to Practice in Allen Iverson Basketball Shoes
Day 9: A Girl Who Helps LRCers Get Dates, A Guy Who Wants a Shoe That Doesn't Suck, A Dog Lover, and a Sprinter Turned Distance Runner (Because of a Car Wreck)
Day 8: A 34-Year-Old Who Wants To Go Sub-4, A 26-Year-Old Who Grew Up With LRC, "The" Running Autograph Collector, A Guy Whose Pumas Were Stolen 13 Years Ago, And A Girl At A Nike School
Day #7: Read It To Believe It: A "Cigarette Smoking, Pill Popping, Booze Drinking Slob" Who Now Runs 90 Miles a Week, a 12 Year Old, A Women Who Trolls the Message Boards..
Day #6: Rest
Day #5: The Coaches
Day #4 Married Guys and a Guy Whose Wife and Kids Left Him
Day #3: Winter Wonderland: South Dakota, A National Champion Coach, Valdez, Alaska, and TxRUNNERgirl Represent
Day #2: A 27:31 10ker, A Marine Corps Marathon Champ, A Girl From Our Favorite High School, And a Guy Who Loves Asics, And a (Shoe) Geek
Day #1: A Boxer Who Runs 100 Miles a Week, A Guy Sick of Getting Free Nikes, A Soldier Doing Intervals With Incoming Rounds, A 16 Year Old Aspiring Champ

We're barely past halfway in selecting the 100 winners of free pairs of Puma shoes. Click here to enter the LRC PUMA Faas Challenge.