LetsRun.com Puma Faas 55 Day 5: The Coaches
By LetsRun.com
December 5, 2011

*Enter the LRC Puma Faas Challenge Here
Editor's Note: Puma has an incredible offer to get you to test the Puma Faas line. They are so confident you'll like the shoes, that now through 12/14 you can get 30% off your order ($75+) with Free Shipping. Try the Puma Faas line shoes for up to 30 days. If you don't like them in the first 30 days? Return them "in any condition" for a full refund and get free return shipping. How is that for backing its product? Plus with some of the shoes on sale already you can get 2 pairs for $75 in certain styles. Scroll to the bottom or click here for more info.
During the 12 Days of Puma we've been announcing the LRC Puma 55, the first 55 people (out of 100) selected in the LRC Puma Faas Challenge to put Puma's new Faas line of shoes to the test. Puma is out to prove its Faas line is made for real runners like yourself.
In case you want to catch up on the LRC Puma 55: Day1: The First 5, Day2: A 27:31 10ker, A Marine Corps Marathon Champ, A Girl From Our Favorite High School, And A Guy Who Loves Asics, Day3: Winter Wonderland, Day4: Married Guys and a Guy Whose Wife and Kids Left Him
The common denominator amongst the 55 is their passion or the sport of running. Today on Day #5, we praise the coaches amongst the LRC Puma 55. The LetsRun.com community is full of super knowledgeable runners and many of you are spreading that knowledge.
Without further ado, Day #5.
21) Coach In Texas Who Despite Having Practice at 5:30 am Has 47 Members on Her Teams And the High School Only Has 190 People
Sarah D 29 years old Texas
Shoe To Test: Puma Faas 500 Color: white-festival fuchsia-puma silver
Sarah D's LRC Puma Faas Challenge Entry: I coach high school girls and boys cross country as well as JH boys and girls cross country. I run with my kids everyday in order for me to able to better judge "where they are at" throughout the season. We're at a small school so in order for them to be able to participate in everything else(quite literally...cheerleading, volleyball, band, football, etc) we run at 5:30 every morning. At first I was skeptical about how many teenagers would show up at that time, but this year I had 15 high school girls, 10 high school boys, 12 JH girls, and 10 JH boys (our high school only has 190 kids total). With budget cuts across the board this year I've put some of my own money into my team. They need good shoes to run in or we run the risk of injury. I am looking for a good shoe that my team, and I can wear that will be affordable. My school budget for all teams is $500, so I need something that will be a good shoe for the kids that they can easily afford. My kids love to run and have recently advanced both varsity teams to regionals, and we will hopefully advance to state as well. I regularly run local races where I know I can earn a little money so I can donate it back to my program in the form of a pair of shoes for someone who wins their next race, or a pair of running shorts for someone who PRs! We could use the benefit of a free pair of shoes! Incentive to run FAST!!!!!!
22) Coach Inspired by Mark Thompson Running Sub 4 Over the Age of 30
David's Team Helped Him Win the Faas Challenge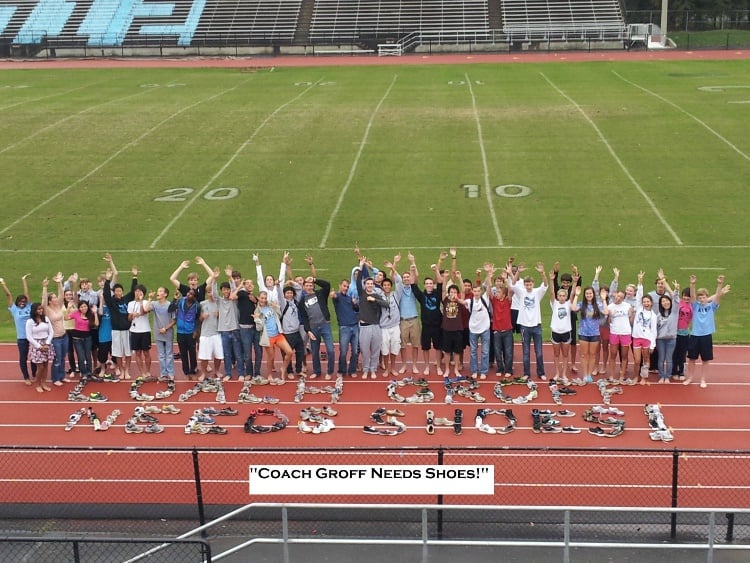 David 26 years old Centreville, Virginia
Shoe To Test: Puma Faas 300 Color: gray violet-fluo yellow-blue aster
Why David Is Worthy of the LRC Puma Faas Challenge: Hey Guys My name is David. Currently I'm a Cross Country and Track coach at Centreville HS in Centreville, VA. I started my running career at a different high school, but still in the Northern Virginia area. I had a fair amount of success as a 800/1600 guy (winning the Indoor NSIC 4x8 my senior year) and went on to run at William & Mary where I would record PR's of 1:49 and 3:46. However, I fell on some hard times mentally and emotionally towards the middle of my 5th year and ended up dropping out. It was a rough time, but one of the things that got me through it and has moved me towards a happy and productive life again is coaching high school athletes. Interacting with the kids and parents every day is an amazing thing. And, it has the competitive running spark burning in me once again. I was immensely inspired by a story that I found through Letsrun back in 2009. It was about Mark Thompson who ran his 1st sub 4 mile at age 30. I've had that thread bookmarked for a while now. https://www.letsrun.com/forum/flat_read.php?thread=3134397 This story made me think that the goals I had in HS and College aren't out of reach and that if I'm willing to put it all out there, then I can see great rewards for my effort. However, my budget is pretty tight these days. I'm sure ya'll know that HS coaches aren't the most well paid and the income from substitute teaching keeps me ahead of basic financial obligations (Student Loans, Increasing Gas prices, etc) but not my much. The rate at which I go through shoes doesn't afford me the luxury of being able to replace them as frequently as my IT Bands would like. The small injuries have really held my comeback down, and I know they'll keep coming back as long as I have to run in shoes well past their prime. Lastly, here's an image for ya'll to enjoy, as well: http://imgur.com/zCFPf I hope you'll consider me for the Letsrun.com Puma FAAS Challenge, and keep in mind, that if you don't chose me you'll be letting down all those kids, too, and I know I wouldn't want the guilt of 60 kids on my shoulders... Cheers, David Groff
23) High School Coach Looking for New Shoes For Her Team
Jen Kentucky
Shoe To Test: Puma Faas 550
Jen's LRC Puma Faas Challenge Entry: I would very excited to participate in the Faas Challenge. I am a coach and I run anywhere from 60 - 80 miles a week. I will be training for a marathon in the spring and it would be a great test for the new shoe. I am always looking for a shoe that is comfortable and lightweight and this may be it. I have actually been a wear tester in the past and enjoyed the experience. Because I am a coach of about 40 kids I am always looking for a new shoe that may work for someone that just has not found the right shoe yet. I would rather try things out on myself before recommending them to the team. I do that with workouts too ;). I would love the opportunity to test the shoe and I would be grateful if chosen.
24) Coach Who Had a Messy Divorce.... With His Long Time Shoe Company
George 31 years old Austin, TX
Shoe To Test: Puma Faas 250 Color: White / Red
Why George was worthy of the LRC Puma Faas Challenge: About a year and a half ago, I went through a messy divorce with my long-term shoe company (I'll leave their name out of it). Like so many other shoe companies, they tweaked and adjusted and revised and changed some great shoes until they were unrecognizable to my feet. And then to top it off, they acted like they were doing me a favor by using a new mid-sole material that brought back all sorts of pain that I hadn't experienced in years! At the time I was also moving whole-heartedly towards minimalist shoes, and I just didn't think this company "got" it. So I've been adrift lately. Every time I go to the running store I walk out with something different, but I'm looking for something to commit to. A shoe - and a company - that gets me and my running... fast, simple, and lively. For a long time I didn't take Puma seriously, but when I saw that they were sponsoring actual elite athletes I gave them another look. Now I see Pumas all over the place. I run every distance from 5K to 50K (100-Miler coming up) and I train with and coach runners with the same habits. I'm looking forward to the day when I can again say "Dude, this shoe rocks. You gotta check it out! I'm never taking these off."

25) HS Coach Whose Team Ran 7:37.93 4x800 and Love Lightweight Trainers
David Wood 50 years old Babylon
Shoe To Test: Puma Faas 550
Why David Wood was worthy of the LRC Puma Faas Challenge: I am the coach at St. John the Baptist high school. I have 50 kids on xc and over 100 on both winter and spring track. We have been having success over the past few years and I think getting the kids into light weight trainers for our tempo runs and intervals has been a big part of that. I am always looking for the best shoe to do this with and when I find it we will do a team order. This will get more of our kids to invest in themselves and their future. My 4x800 and DMR teams last year were methodical with what shoe they wore for what workout we were doing. It worked for us because the set the National Catholic HS record in the 4x800 - 7:37.93 and ran 10:14 in the dmr with a 4:15 mile at the end. As of now I would say that 30% of the team are purchasing light weight trainers for practice and I would like to get this to 100% and finding the right shoe is a big part of that...so pick me to win and try these shoes Thanks, David Wood SJB
---
Incredible Offer To Get You to Try the Puma Faas Line - Ends 12/14
If You Don't Like the Shoes Within the First 30 Days Return Them For ANY REASON
30% Off From Puma Orders $75+ AND Free Shipping



Puma wants you to put their Faas line to the test. They are so confident you'll like the shoes you can try them for 30 days. If you don't like them in the first 30 days you can return them "in any condition for any reason." How is that for backing its shoes? The Faas line is the Faas 200, 250, 300, 400, 500 and 550 (the higher the number the more the cushioning). Plus for a limited time get Free Shipping on Orders $50+. Considering that some of the Faas shoes are on sale already for $53.50, with the extra 30% off you can get test one pair for $37 (you need to have $75 in your cart to get the discount). Just click on the logo above or click here to get this offer. If you live in a city with a Puma store you can go into the store and get the 30% off as well.
LRC 12 Days of Puma Archives:
Day 11: A "Brotha" Who Wants To Break 13:30, An All-American Getting Back On The Roads, A 58-Year-Old Female Marathoner Who Was Winning Marathons Before Most Of You Were Born, A Cancer Survivor Who Happens To Be Caitlin Chock's High School Coach, And A Lady Who Entered To Cheer Her Husband Up
Day 10: A Football Player Turned 31:30 10k Runner, A Cop Inspiring His Family to Run, A Collegiate Runner Constantly Injured, A Woman Who Thinks Puma is Sexy and a Guy Who Showed Up to Practice in Allen Iverson Basketball Shoes
Day 9: A Girl Who Helps LRCers Get Dates, A Guy Who Wants a Shoe That Doesn't Suck, A Dog Lover, and a Sprinter Turned Distance Runner (Because of a Car Wreck)
Day 8: A 34-Year-Old Who Wants To Go Sub-4, A 26-Year-Old Who Grew Up With LRC, "The" Running Autograph Collector, A Guy Whose Pumas Were Stolen 13 Years Ago, And A Girl At A Nike School
Day #7: Read It To Believe It: A "Cigarette Smoking, Pill Popping, Booze Drinking Slob" Who Now Runs 90 Miles a Week, a 12 Year Old, A Women Who Trolls the Message Boards..
Day #6: Rest
Day #5: The Coaches
Day #4 Married Guys and a Guy Whose Wife and Kids Left Him
Day #3: Winter Wonderland: South Dakota, A National Champion Coach, Valdez, Alaska, and TxRUNNERgirl Represent
Day #2: A 27:31 10ker, A Marine Corps Marathon Champ, A Girl From Our Favorite High School, And a Guy Who Loves Asics, And a (Shoe) Geek
Day #1: A Boxer Who Runs 100 Miles a Week, A Guy Sick of Getting Free Nikes, A Soldier Doing Intervals With Incoming Rounds, A 16 Year Old Aspiring Champ

We're barely past halfway in selecting the 100 winners of free pairs of Puma shoes. Click here to enter the LRC PUMA Faas Challenge.
---
Runner's World &
Running Times



Combined Only $22
a Year
Save $87

---

Running & Track and Field Posters
---


More Nice Offers: Nike Lunar Glide Savings Super popular shoe from Nike featuring Flywire and Lunar Foam

*Nike Air Max Moto Sale $69.99 for this shoe from our partner.
---