The LRC Puma Faas 55 #11-15: Winter Wonderland, South Dakota Represents, TxRUNNERGirl and a Dude Who Will Lose $200 if He Doesn't Break 16 Minutes for 5k
By LetsRun.com
December 3, 2011

*Enter the LRC Puma Faas Challenge Here
Editor's Note: Puma has an incredible offer to get you to test the Puma Faas line. They are so confident you'll like the shoes, that now through 12/14 you can get 30% off your order ($75+) with Free Shipping. Try the Puma Faas line shoes for up to 30 days. If you don't like them in the first 30 days? Return them "in any condition" for a full refund and get free return shipping. How is that for backing its product? Plus with some of the shoes on sale already you can get 2 pairs for $75 in certain styles. Scroll to the bottom or click here for more info.
On December 1st during the 12 Days of Puma we started unveiling the LRC Puma 55, the first 55 people (out of 100) selected in the LRC Puma Faas Challenge.
The only common denominator amongst the 55 is their passion or the sport of running. Everyone's story is pretty cool.
We've unveiled the first 5, and 6-10 (A 27:31 10ker, A Marine Corps Marathon Champ, A Girl From Our Favorite High School, And A Guy Who Loves Asics.
Today in 11-15 it's a Winter Wonderland as our winners are from northern locales. Unbelievable 3 of the 55 are from South Dakota. We had no idea. Nearly as many people come to LRC each month as live in the entire state. Without further ado we present 11-15. (And if you want a pair of Puma Faas shoes there still is time to enter the LRC Puma Faas Challenge.)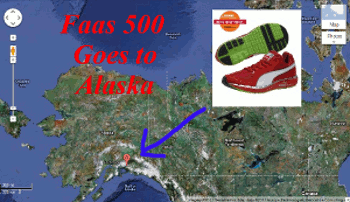 11) A Guy Spreading the LRC Gospel in Valdez Alaska
There is something to be said about running outside in the dark when its freezing cold. But that is life in Valdez, Alaska in the winter. If the Puma Faas shoes can withstand the harsh Alaska winter they can withstand anything.
Aaron Brown Valdez, AK
Shoe To Test: Puma Faas 500 Color: red
Aaron's Entry in the LRC Puma Faas Challenge: I've been encouraging running in Valdez, Alaska, since moving here in 2010. A pair of free shoes would help me continue the charge. This town of 4,000 people is 300 miles from the next bigger town. It's a remote, very small pond. But the city puts on a summer running series. As a perennial also ran, I was surprised to find myself winning these races. That earned me local fame and fortune (everyone's famous in a small town :)), which indirectly got me the high school cross country coaching job. There were good teams several years ago, but that had faded. There was no background in meaningful training, no concept of a warm up before a race or hard workout, or even what a hard workout should be. But I put the basic parts in place - summer training, easy days/hard days, and team dinners. The only reason some of the kids listened to me is because they knew I beat up on them at the local 5ks. Hardly a legitimate reason to earn their respect, but I'll take what I can get. 3 kids made it to state and participation increased this season, so we're on the up and up. I also started the Mineral Creek Half Marathon. A very humble local event. A money losing venture intended to provide a race with the basics someone should want in a race - a distance not previously locally available, beautiful course, on time start, and decent prizes for the winners. Encouraging people to run outside year round is another way I'm influencing the running community (to use the term in its loosest sense) in these parts. I moved up here with Amanda, and last year I believe we represented 100% of the local population that would jog outside during winter. Primarily by example, we've convinced a few others that their lungs won't freeze, etc by going for a jog when it's cold and icy out. There have been strong runners to come out of Alaska - Christine Clark, Trevor Dunbar - and there's a respectable running scene in Anchorage. But those people and places might as well be on the moon for as relevant as they are in Valdez. This town breeds oil terminal jobs, motorized recreation, alcoholism and domestic violence. There are some serious water and winter sports junkies floating around, but it'd be great to spread an active culture community wide. I'm helping with the running side of that. A free pair of shoes would keep me going in that direction.
7) TxRUNNERgirl Is Now in Idaho And Up for the Puma Faas Challenge
Stephanie Lowe, aka, TxRUNNERgirl, has been one of the more prominent female posters on LetsRun.com for years. She's now living in Idaho, dating a guy she met via LetsRun.com. For all that she's contributed to LRC (and the hell she has put up with) over the years she's definitely a good representative of LRC in the Puma Faas Challenge.
Stephanie Lowe 25 years old Mountain Home, Idaho
Shoe To Test: Puma Faas 250 Color: Gray violet - Blue atoll - Prism violet
Stephanie's Entry into the LRC Puma Faas Challenge: I should be picked for the LetsRun.com PUMA FAAS Challenge because I'm txRUNNERgirl. I don't mean to sound pretentious, but I deserve some recognition for what I put up with as one of the few females on the message board. Despite the negative reputation the message board receives, I can always find the needle in the haystack. I spend more time than I'd like to admit reading and posting on LetsRun. When I'm not doing that, I'm running, thinking about running and talking about running. Periodically there is some sleep and work involved as well. Maybe I'm obsessed, but I've grown to accept that. What drew me to LetsRun 7 years ago was that I was injured and burned out from competitive running. I was not a super star, but still ran for a DI team and put in 80+ miles a week. I felt like I was working way to hard for little results. LetsRun became my resource for knowledge and information outside of my team's bubble. I especially liked wejo's article, "Why I Sucked in College." I learned the hard way what I'd been doing wrong. Unfortunately, it was too late once I kept getting injured again and again. Or was it? I had to stop running for a while to get healthy. This was a tough time in my life, but I got my "fix" from LetsRun. I continued to study the sport and made friends from the message board who have given (and continue to give) me advice and support. Instead of being focused on my own running, I started to follow the professional side of the sport. My view from the sidelines led me to some exciting media work. I have worked with most of the well-known online running publications at some point, including LetsRun. I also interned with USATF. I would not have had these experiences if not for LetsRun. The world is much smaller thanks to LetsRun. Aside from work, I have also made a lot of personal connections through the website. One of these is my boyfriend who I've been with for over 2 years. I know you might be thinking that LetsRun is the last place anyone would find romance, but it happened for us. Since we have been together, I started training harder and racing again. I ran my first marathon in Eugene this year and will run Houston in January. We compliment each other well because we have opposite motivations to run. I like running for the intrinsic benefits, while he loves to compete. I help him get out the door every day and he helps me find my competitive spirit. Now that I am running consistently again and gearing up for the Houston Marathon, I have been trying various shoes in my training and racing. However, I have not found the "perfect" shoe. I would like to try shoes from the PUMA FAAS line because I have been a minimalist for years, yet I refuse to join the Vibram, etc. bandwagon. The PUMA FAAS shoes appear to have enough cushioning between me and the road, while they are still lightweight and flexible.
8) Coach of National Champion Augustana College
Jim Vahrenkamp is the modest sort of LRC visitor. He wrote us and said he was a decathlete and regular LRC visitor and coached for a college in South Dakota. We thought that was cool and selected him as worthy for the Puma Faas Challenge. Then after DII NCAA XC Nationals we found out he's an assistant coach at Augustana College, the upset winner of the women's NCAA XC crown. Congrats to Jim. If the shoes are good enough for a decathlete in the dead of winner and his national champ team, they might be good enough for all of you.
Jim Vahrenkamp 28 years old Sioux Falls, South Dakota
Shoe To Test: Puma Faas 550 Color: Blue
Why Jim Was Worthy of the LRC Puma Faas Challenge: I'm probably one of the few Decathletes that diligently follow's lets run. On top of that I coach roughly 75 collegiate runners. I want to try this training shoe out on myself before I pass anything along to my kids. I have athletes that demand shoes that can hold up for 100 mile weeks and I have sprinters that want a neutral shoe that they can put through the paces. I'm tired of my kids getting beat up wearing Nike and Adidas and I'm looking for something new and fresh that they can love. Send me a pair of shoes! Jim
9) LRC Visitor Who Bet His Friend He Could Break 16 Minutes for 5k and Has Dropped 1:25 Off His PR
Timothy Meyer has a cool story and shows that with a lot of training and knowledge from LRC just about everyone can become a much better runner.
Timothy Meyer 30 years old South Dakota
Shoe Of Choice: Award Winning Puma Faas 400
Why Timothy Meyer Is Up For the Puma Faas Challenge: I'm a never-was when it comes to running, just a jogger. However 6 months ago (over beers) I bet a friend I could run a 5k in under 16:00, or under 440 for a mile. I have until the end of this summer(2012) to get it done. If I win, he owes me $200. Since then I've brought my PR down from 1750 to 1625. The bad part is, I've lost 25 lbs, so I had to buy new pants. Now I need the $200 to get back to even. Free kicks would help out the cause in one main way; I'm poor and don't have any lightweight "race" shoes. Plus, I'm a college prof, and would supply good feedback. Cheers! Tim

10) Proof Women Actually Visit LetsRun.com
If you think 3 people from South Dakota in the LRC Puma 55 is an amazing coincidence, the fact we have 2 women in #11-15 of the LRC 55 proves that LRC is not just full of men.
Erin Meyer 34 years old Brookings, South Dakota
Shoe To Test: Puma Faas 500 Color: Pink
Why Erin Is Up for the LRC Puma Faas Challenge: As you can see from my fb picture...I have a new baby! At first I thought it would cut into running time, and it has. Now I realize how important running is, and that I continue to run; teaching my daughter it is ok to stay fit. Everyone has sent her free stuff, maybe it's my turn for a free pair of kicks! On a serious note, I've been an Asics/Brooks/Nike/Saucony wearer. Basically, I'll try anything. I think I have a lot of comparison knowledge to really be a good "tester." Thanks!
---
Incredible Offer To Get You to Try the Puma Faas Line - Ends 12/14
If You Don't Like the Shoes Within the First 30 Days Return Them For ANY REASON
30% Off From Puma Orders $75+ AND Free Shipping



Puma wants you to put their Faas line to the test. They are so confident you'll like the shoes you can try them for 30 days. If you don't like them in the first 30 days you can return them "in any condition for any reason." How is that for backing its shoes? The Faas line is the Faas 200, 250, 300, 400, 500 and 550 (the higher the number the more the cushioning). Plus for a limited time get Free Shipping on Orders $50+. Considering that some of the Faas shoes are on sale already for $53.50, with the extra 30% off you can get test one pair for $37 (you need to have $75 in your cart to get the discount). Just click on the logo above or click here to get this offer. If you live in a city with a Puma store you can go into the store and get the 30% off as well.
LRC 12 Days of Puma Archives:
Day 11: A "Brotha" Who Wants To Break 13:30, An All-American Getting Back On The Roads, A 58-Year-Old Female Marathoner Who Was Winning Marathons Before Most Of You Were Born, A Cancer Survivor Who Happens To Be Caitlin Chock's High School Coach, And A Lady Who Entered To Cheer Her Husband Up
Day 10: A Football Player Turned 31:30 10k Runner, A Cop Inspiring His Family to Run, A Collegiate Runner Constantly Injured, A Woman Who Thinks Puma is Sexy and a Guy Who Showed Up to Practice in Allen Iverson Basketball Shoes
Day 9: A Girl Who Helps LRCers Get Dates, A Guy Who Wants a Shoe That Doesn't Suck, A Dog Lover, and a Sprinter Turned Distance Runner (Because of a Car Wreck)
Day 8: A 34-Year-Old Who Wants To Go Sub-4, A 26-Year-Old Who Grew Up With LRC, "The" Running Autograph Collector, A Guy Whose Pumas Were Stolen 13 Years Ago, And A Girl At A Nike School
Day #7: Read It To Believe It: A "Cigarette Smoking, Pill Popping, Booze Drinking Slob" Who Now Runs 90 Miles a Week, a 12 Year Old, A Women Who Trolls the Message Boards..
Day #6: Rest
Day #5: The Coaches
Day #4 Married Guys and a Guy Whose Wife and Kids Left Him
Day #3: Winter Wonderland: South Dakota, A National Champion Coach, Valdez, Alaska, and TxRUNNERgirl Represent
Day #2: A 27:31 10ker, A Marine Corps Marathon Champ, A Girl From Our Favorite High School, And a Guy Who Loves Asics, And a (Shoe) Geek
Day #1: A Boxer Who Runs 100 Miles a Week, A Guy Sick of Getting Free Nikes, A Soldier Doing Intervals With Incoming Rounds, A 16 Year Old Aspiring Champ

We're barely past halfway in selecting the 100 winners of free pairs of Puma shoes. Click here to enter the LRC PUMA Faas Challenge.
---
Runner's World &
Running Times



Combined Only $22
a Year
Save $87

---

Running & Track and Field Posters
---

Offers of interest: Nike Lunar Glide Discount Discounting on this shoe not allowed until recently.
---