Millrose At MSG: When The Circus Comes To Town (2011 Millrose Games Preview)
Love For HS Girls, My Favorite Emails Of The Week, And Professional Freak Shows
By Emory Mort, LetsRun.com
January 27, 2011
Every pro track meet is essentially a circus minus the animals, but the Millrose Games might be the best freak show around. First of all, you've got the most massive and skinny pros, then you add the high schoolers and college kids, the ageless masters wonders of the US, the surprisingly not washed-up menagerie of current and former pro athletes in the "Super 60" (if you put the word Super in front of the event title, that will make it more interesting, right?), and the clown portion of the evening otherwise known as pro race-walking (how a race-walking mockumentary has never been made, I don't know). Then you mix all of these intercontinental freaks together in the cement underbelly of Madison Square Garden in the middle of winter and, somewhat like Barnum & Bailey (without the knack for putting on a show of interest to even a minuscule portion of the US's grandest city), a respectable but not as profitable freak show is born.

The Big-Top Patrons
Above the freaks in the stands, like at most track meets in the US not held in Eugene, are the competitors' friends, coaches, family, schoolmates, agents, track writers and of course a smattering of former college runners, plus a few dozen "normal" people who actually will still spend their time and money going to track meets where they are not blood relatives with any of the competitors. As one emailer wrote to us this week: "These people are somewhat like the Amish of sports fans - somewhat inexplicable, quirky and interesting potential subjects for psychological studies."

Ode To Adolescents - The Saving Grace Of Our Sport
If you've never been to Millrose, or haven't been lately, my conversation with a trackside observer last year pretty much sums up the state of the meet. "The only people at a track meet," he said, "are friends, family members, and former athletes." We've all been to track meets so we all know we'd be kidding ourselves not to agree with this guy. Of course I still find the meet fantastically interesting and fun, thanks in no small part to the fact that as a credentialed journalist, I can basically do anything I want, talk to anybody I want, and go anywhere I want while at the meet (unlike stuffier meets where you usually are restricted from doing anything that fans of the sport might actually find interesting, such as talking to the best athletes and asking them interesting questions after they've had - hold your breath - a BAD race.). At Millrose in particular, the vibe of the meet is saved only (and I mean ONLY) by high school kids. First of all, high school kids are apparently the only athletes (besides pro shot putters) who seriously want to compete in a huge, historic arena in front of thousands of fans. That's why my #1 most-anticipated meet of the evening is a high school event. Thanks to the relays like the CHSAA 4 x 8, the stands are at least somewhat filled with people, because these teams get half of their schools' student bodies to come to the meet to cheer them on. The kids have big signs made, body paint, chants ready, and are the only reason the meet has any energy - and it does have some amazing energy. I'd say this circus has got better energy and way better variety than 90% of NBA games and 100% of baseball games.

What To Watch (Or What I'm Excited To Watch)

#1 Girls HS Mile - Wilson, Crevoiserat And Nadel - 8:38 pm (ESPN2)

Move over Wanamaker Mile. Sorry Galen Rupp. And HS boys, this is not your year in the headlines.

Email: "I don't know if people realize that the girls mile at Millrose could be amazing. Ajee Wilson is a 2:00 800 runner and was 5th at world juniors last year as a 16-year-old (WJ's is 19 and under), Lindsay Crevoiserat just ran 9:41 (3k) and 4:49 (mile) in the past 2 weeks and is the US #3 all-time at the indoor 5,000, and Samantha Nadel just ran 9:41 for 3,000 2 weeks ago."

This is the only individual distance race of the day with more than 2 interesting competitors, and the emailer is right; this could be a stunning race. It will be interesting to see if any of the top finishers in the HS race should have been in the pro women's mile (featuring last year's narrow runner-up Sara Hall against Canadian Carmen Douma-Hussar, who ran 4:12 for 1,500 this year).

My Pick: I think a time in the 4:30s is possible, and my pick is Wilson moving up. I'm thinking she's got more athleticism as an 800m runner to handle the tighter turns.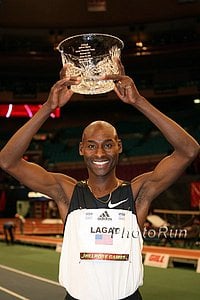 #2 Wanamaker Mile - Lagat Again Has 1 Man To Beat - 9:50 pm
Bernard Lagat will go for title #9 in the Wanamaker Mile. Lagat owns the tactical boards in Millrose. He ran 3:56 and smoked Asbel Kiprop last year at age 35. But this year he's got at least a 50% chance of losing. This year's villain, Deresse Mekonnen of Ethiopia, beat Lagat at World outdoors in '09, won World indoors in '10, and looks at least 8 intimidating years older than his published age of 23.

Last year I got to meet and talk to Asbel Kiprop for a while after his race against Lagat, where he looked smooth before folding in the crucial laps. For Kiprop, it was his first-ever race on an indoor track. Post-race, his lanky body truly looked out of place walking around in a big, puffy jacket with tiny shorts and spikes on - and the skinniest thighs I have ever seen. He did this for about an hour, did no cool-down, and just looked really cold. He also lost his voice. I don't get the sense the smaller Mekonnen will have quite the same reaction, but who knows what his fitness is like and who knows how his travel went? Like Lagat, Mekonnen has not raced yet in 2011. But Mekonnen's layoff is now nearing the 7-month mark as he hasn't run a race since a 3:33 1,500 at NYC's adidas meet in June (where he beat Lagat).

My Pick: I think on paper this is a toss-up unless I find out more about Mekonnen's current condition. There is no way anyone else in the field wins except Lagat and Mekonnen, and if it's a coin flip I'd be an idiot not to go with Lagat. If Mekonnen had run a race in the past 200 days, I might go with him ... but I'm taking Lagat in 3:57 after sitting on Mekonnen.

#3 Multi-Event Competition - Olympic Champ, World Champ, Heptathlon WR-Holder - Starts with SP at 4:30, HJ is at 8:15pm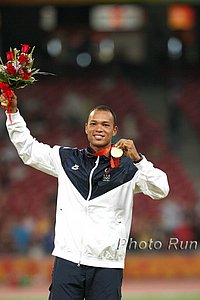 I think the biggest question with this event is how badly will ESPN choose to show the event on TV? Granted, it's not easy to give the viewer a good representation of this 3-event event. But over time I have developed a strong faith in track and field television programmers in my beloved country to find the most dull, boring and generally atrociously unappealing way of producing field-event television.

I think this event, featuring superstar Ashton Eaton, unheralded Olympic Hero Bryan Clay and totally unheralded shock world champ Trey Hardee, is mildly uplifting evidence that the Millrose organizers are thinking outside of the box to make their event more interesting. I also learned today that organizers have even arranged for live music during the prime time portion of the Games for the first time in 30 years. These are 2 great signs that somebody in the world of track and field is being a bit more creative in the planning and presentation of their events (I call this "pulling a Wittenberg"). Hardee, Clay and Eaton have been featured in the NY Times and USA Today as a result. What's next for organizers? How about a mid-event cage fight between two tuxedo-wearing 50+ meet officials? With Christian Cantwell officiating. Or how about contestants from "The Biggest Loser" hold a foot race with race-walkers?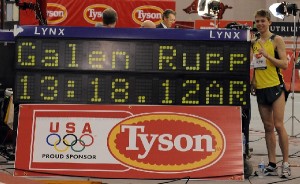 #4 Galen Rupp Stamps Millrose Track "CERTIFIED!' - 8:27 pm
(Editor's Note: Runnersworld magazine is reporting Rupp is not running Millrose. Wish the meet would take him off the start list)
This event signals a new trend in the career of Galen Rupp. Since getting married, Rupp has opened 2011 with not 1, but 2 competitions on non-Rupp-Certified courses. So there are really now 2 Rupps. Post-Nuptial Rupp and Pre-Nuptial Rupp. Post-Nuptial Rupp got 2nd to Mo Farah in Edinburgh on a nasty course that Pre-Nup-Rupp would never have touched, let alone dominated. Now he'll be testing his golden ankles and other valuable joints on an 11-lap-to-the-mile indoor track! Previously, Rupp preferred only 300+m indoor tracks, so this will be a big step. Unfortunately, Rupp is by far the class of the field and will destroy everyone whenever he chooses - I'm hoping he chooses to go to the front and run fast from the get-go. All banter aside, I give props to Rupp and Alberto Salazar for doing what many people are unwilling to do - coming to the meet to race - much like a couple years ago when Kara Goucher attended and put on an impressive show in winning the women's mile while training for the marathon (Editor's addition: WSJ.com has a great article that talks about how Alberto Salazar debuted at the 1981 Millrose Games just months after winning the New York City marathon).

#5 CHSAA Boys' 4 x 800m Relay - Highly Entertaining Race Also Known As "TV Commercial Time" - 9:31 pm
Though I can't tell you who the favorites or key players are (investigative journalism at its finest), from experience I know this will probably be the best event of the evening. I'm hoping they can show it on TV in its 8-minute entirety and have enough time for USATF and VISA commercials before the Wanamaker Mile intros. But, knowing track TV as we all do, I'm fearful producers will find a way to schedule only 12 minutes of running action in the final 30 minutes of the telecast yet still cut away from the relay (and ignore interesting shots of the student fans in the stands) right smack in the middle of the event. This is a little off topic, but we got this email a couple weeks ago from a reader in Illinois and I think it applies now, if only partially: "Good thing USATF got rid of Doug Logan, he probably had some outlandish ideas about TV presentations of track events needing to be improved."

If you and your friends watch the meet, let me know your favorite moments from the TV production ([email protected]): Top-10 quotes from Rawson and Stones would be much appreciated. How many times will we be told to look at "turnover"? Has Carol Lewis been re-hired now that Doug Logan is gone? Will the former bobsledder win the Super 60? How many race-walking missed disqualifications will we have?

Enjoy the evening, and if you can make it, tickets are $15 - $100. As for me, I'll do my part to let you know if anything interesting happens at the circus.
Millrose Live On ESPN2 8-10pm Eastern Friday
More: *Millrose Start Lists
*Nice Millrose Preview In USAToday
*Veronica Campbell-Brown Returns To Action At Millrose 60 VCB had the top 100 and 200 in 2011 but didn't race that often.
*Bryan Clay, Trey Hardee And Ashton Eaton (Clay, Trey & A) Ready For Millrose Multi Challenge
*NFL's Jacoby Jones, Bryan Jordan Of MLS, Steve Mesler (Bobsled Gold Medallist) To Race Some Other Ex NBA, NFLers At Millrose
*Millrose Preview From Track And Field Superfan Blog
---
Runner's World &
Running Times



Combined Only $22
a Year
Save $87

---

Running & Track and Field Posters
---

Running Shoe Savings: Nike Lunar Glide 20% Off Super popular shoe from Nike featuring Flywire and Lunar Foam
---