LRC Boys: Cheserek Outkicks Futsum For The Win This race lived up to its hype as the top 2 African-born stars went mano-a-mano until the final 100m. After a cat-and-mouse 9:50 opening 2 miles, their last 1.1 was run at a pretty quick pace (4:31 mile pace), but the winning time of 14:51.5 wasn't close to Reina's 14:36 CR.

LRC Girls: Molly Seidel Turns Back Tough Challenge From Erin Finn Seidel was the favorite, undefeated in 2011, but Finn was the top returner and Finn made it super-interesting as she opened up a big lead and even managed to regain the lead once Seidel caught her.

For Everyone Who Complains About Cheserek & Zeinasellassie Being Possibly Over-Aged And From Africa, Please Read This:
Recommended Read: Dyestat Recap: Cheserek, Zeinasellassie Forge Bond In San Diego Futsum Zeinasellassie was doing all he could to avoid Edward Cheserek, but dyestat reports that Cheserek and he became good friends over the week, showing that the two are just normal teenagers trying to find their niche and fit in. A very good read by Doug Binder.

More Coverage: *Newark Star-Ledger Recap Note the paper incorrectly reports their last 800 as being a 1:54. No chance.
*San Diego Tribune Recap Cheserek says he just wanted win - might go for Ruben Reina's record next year.
*Dyestat Girls Recap

MB: *Footlocker Nationals, predictions, play by play, results *Where would Cheserek have placed at NCAA XC? *Cheserek and Futsum's last 800 meters - 1:54? *If Futsum wasn't in in the race Cheserek would have ran in the low 14:30's. *Poll: How old are Cheserek and Futsum? *Will an American male ever win Foot Locker again? *Another FL Finalist Staying Home
News From Down Under
Profile On 400m Junior World Champ Shaunae Miller, Who Is Looking To Defend Her Title In Barcelona
Britain's Leading Lady In The News
Olympic/IAAF Corruption Scandal Upset - Surprise, Surprise, No One Gets In Trouble
Bernard Lagat To Try To Reclaim American 5,000 Record At MFKAMG (Meet Formerly Known As Millrose Games) At The Armory Lagat will go for the record of 13:11.44 that Galen Rupp set last year while collegians Leonard Korir and Lawi Lalang will go for Rupp's collegiate record of 13:18.12. Meanwhile, Lagat, the greatest Wanamaker Mile champion in history, will run the mile at MSG at the "US Open" but it won't be called the Wanamaker Mile. How about the meets just swap names?
US Marathoners In The News
Pro Track Stars Making News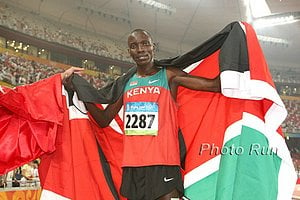 Three Years Too Late: Asbel Kiprop To Finally Get His Olympic Gold Medal On Wednesday

More News On Young Phenoms: "17"-Year-Old Mohammed Aman, Who Stopped David Rudisha's Winning Streak And Ran 1:43, Is From White Collar Family, Uses Facebook, Likes Action Movies

NCAA Long Jump & 100m Star Ngoni Makusha Has Signed With Li-ning We have no idea if this is new news, but the profile on Makusha in the Zimbabwe paper is new. Makusha wants to keep his Zimbabwe accent so he can pick up American girls.
2011 Fukuoka Produces Compelling Drama *Photos *Top 10 Results
Josphat Ndambiri Wins In 2:07:36 Debut; Yuki Kawauchi 3rd In 2:09:57 In the most memorable Fukuoka since Sammy Wanjiru's debut in 2007, sub-27 man Josphat Ndambiri, the fastest Kenyan in Japan, lived up the hype in his marathon debut, as he won comfortably. But once again the story of the day in Japan was the WILL of the amateur Kawauchi, who took home top Japanese honors in 2:09:57 and ended up in the medical tent. Alistair Cragg was a DNF and Andrew Lemoncello struggled with a hamstring problem and ran 2:24. MB: *2011 Fukuoka MB Thread *Yuki Kawauchi is a bada$$
*IAAF Recap Kawauchi talks about his new tactic of surging at the water stations.
*Alistair Cragg Fails To Finish In Japan The Irish Times wasn't nice to Cragg, as they said he dropped out "as he has done far too often in the past, including a few high profile track races."

Don't Know Kawauchi? Well, he's a man who approaches races with the mindset of "Every time I run, it's with the mindset that if I die at this race it's OK." He made headlines by fainting at the finish of Tokyo this year. *Video Of Tokyo
*More: *13:59 5k, 29:02 10k Japanese AMATEUR Runs 2:08:37 At Tokyo Marathon And Passes Out *Kawauchi Appreciation Thread *Kawauchi hospitalised with heat exhaustion
80-Year-Old 3:15 Marathoner Ed Whitlock Breaks A Rib
Show Me The Money
Matthew Centrowitz Explains His Decision To Leave Oregon Early To Turn Professional "I weighed both ends of this. It took me a couple months to decide. ... I had to make the decision based on what would keep me progressing, and keep me hungry."
*Centro Jr. Turns Professional *Matthew Centrowitz Jr., World Championships bronze medallist, has given up his final year of track to run professionally. Financially, it seems like a no-brainer for the former Oregon Duck.
Discuss: Centro Jr Turns Pro

LRC Archives: Worlds: Men's 1,500m: Matt Centrowitz Closes In 51.6 To Get Bronze As Asbel Kiprop And Silas Kiplagat Get Gold And Silver
USATFs: Men's 1,500m Final: Matt Centrowitz Jr. Pulls Away From Bernard Lagat
Video: *Centro's 1,500m Bronze Race *Post Race Reaction/Interview
Manchester: Brian Olinger, Sally Kipyego Win 75th Manchester Road Race ZAP's Landon Peacock and Team USA Minnesota's Andrew Carlson were 2nd and 3rd.
*Local News Coverage www.courant.com
*MB: Brian Olinger, Sally Kipyego Win

Silicon Valley: David McNeill, Jackie Areson Win Silicon Valley Turkey Trot McNeill ran 13:33, Arizona redshirt Stephen Sambu was 2nd, Diego Estrada was 3rd only 3 days after NCAAs, Ritz was 5th (13:49). Race videos/photos posted here.
*Video Interviews With McNeill, Areson And Estrada
*MB: Ritz running 5K on Thanksgiving

Australia: Craig Mottram Runs A Comfortable 13:46 To Win Victorian Champs 5k

Sacramento: Stember Runs 19:30

*Adam Goucher Lists 10 Running Things To Be Thankful For
*10 Things To Be Thankful For In TrackTown USA
Historic Irish Track (Home Of 4 X 1 Mile Record) To Be Ripped Up *MB: Historic Track Ripped Up
Some Interesting Science
*Science Of The Sport Examines Talent Vs. Training And Refutes The "10,000 Hour Rule" Says the "10,000 hour rule" is "nothing more than the realization of genetic potential."
*How Laziness Makes You A Better Runner Basically a study says your body tries to finds a stride/form that uses the least energy when running.
LRC Jason Vigilante Leaves The University Of Virginia Vigilante (the coach of Alan Webb and Robby Andrews), who rose to fame as the mid-d and distance coach at the University of Texas, has confirmed to LetsRun.com that he is no longer leading the Virginia program after three-plus years in Charlottesville. *Discuss: Vig out at UVA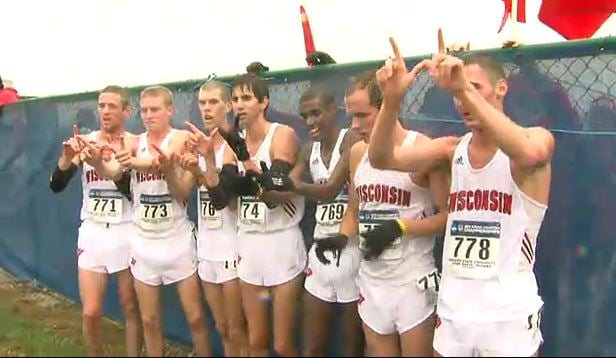 Men: LRC Wisconsin Badgers Take Control Early As Lawi Lalang Dominates Lawi Lalang waited until 5k before deciding it was time to crush the competition once and for all, while #1 Wisconsin showed no fear and put a stranglehold on the competition from the very beginning and held off a belated charge from Oklahoma State and a surprising Colorado team as the Cowboys tried to three-peat. American Chris Derrick took home individual runner-up honors to cap a brilliant career in style. *Discuss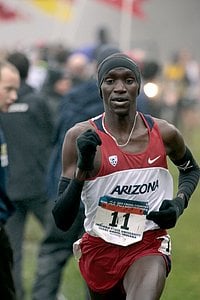 More: Wisco #1: *Give 'em five: Badgers lay claim to program's fifth national title *Krause earns redemption as Badgers storm to fifth national title host.madison.com
OSU #2: *Dave Smith Calls Loss "Disappointing" - But Expected www.okstate.com
Colorado #3: *Wetmore Calls Medina Most Improved Runner In Country www.denverpost.com *CU Coach Mark Wetmore Pleased With Buffs 3rd Place Run
Individual: Coach Li - I Think Lalang Would Have Got Course Record If He Was Pushed www.arizonawildcats.com
NCAAs On The Boards
Week That Was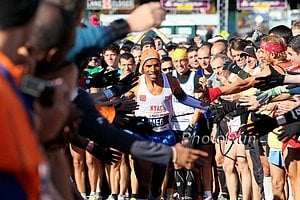 LRC Geoffrey Mutai Amazes Again, Adam Goucher Retires, & Lukas Verzbicas Calls It Quits We go behind the scenes to take a look at the last two weeks in the running world, which included the NYC Marathon, Adam Goucher's retirement, and Lukas Verzbicas leaving Oregon mid-season. Plus we take a look at the Phil Hersh-Ryan Hall spat and compare Hall to Tim Tebow.
Shoe News
Alan Webb Still With Nike

Look Out, Nike: Kenyan Brand Kourage Launched Of course Nike and Kourage both don't have a chance since Puma has partnered with little LetsRun.com for the LRC Puma Faas Challenge.
LRC 2:05:06!!! Geoffrey Mutai Caps Year In Style An unbelievable year in men's marathoning had an appropriate finish, as the Kenyan man who had the most unbelievable of all years, Geoffrey Mutai, smashed the previous NYC Marathon record by a stunning 2:38 - that's two minutes and 38 seconds. If it wasn't the greatest 2nd-greatest men's marathon performance ever, you'll have to tell us what was. American Meb Keflezighi hung with the leaders for 20 miles after a blistering 63:16 1st half and ended up with a much-deserved PR. Mutai picked up $200,000 by winning, but the big financial winner was runner-up Emmanuel Mutai, who won $635,000 ($500,000 for the WMM title).


LRC Mary Keitany Beats Herself The women's race was full of gut-wrenching drama, as Mary Keitany went out in a crazy 67:56. The problem was she came back in 74:42, as unheralded Firehiwot Dado (Rome Marathon champ) got the win.

LRC Post-Race Interviews: Meb And His Coach Bob Larsen Talks About His PR Despite Throwing Up Plus the winners Geoffrey Mutai, Firehiwot Dado, men's and women's top 3, Ed Moran, Molly Pritz, Lauren Fleshman and Bobby Curtis.
Club XC Nationals
Men's Results: Jonathan Grey Of Team USA Minnesota Wins Convincingly Aaron Braun 2nd, Centro 4th, McMillan Elite wins team title over Boulder Running Co. Prior to this, Grey's claim to fame was a 5th at NCAA indoors. If you have no idea who he is, click here.
Women's Results: Brie Felnagle Over Neely Spence Adidas/Team Rogue Elite wins.
On The Boards: Club Cross Updates?
Comeback Of Athens Olympic Champ Mizuki Noguchi Is Going Well As She Says She's Running Great In Boulder "I'm running well. I feel nearly as good and strong as I did before the Beijing Olympics."
Mo Greene / Usain Bolt War Of Words
Only Barely Related To Running
Good For Him: Head Of International Wrestling Federation Rips Britain For Recruiting Plastic Brits
Zatopek 10k: Emmanuel Bett Outkicks Bitan Karoki To Win In 27:39, Ben St. Lawrence Wins Aussie Title Bett, 28, is fairly new to the pro ranks but quickly making a name for himself. One spot behind Galen Rupp in Brussels this year (26:51), he got his first big track win. Craig Mottram surprisingly could not stay with 13:56 pace. *Zatopek:10 Results
Pre-Race: US Club XC Champs: McMillan Elite Looking To Defend Team Title Individual race includes defending champ Aaron Braun, Brett Gotcher, Nick Arciniaga, Max King, Ryan Bak and many others.
Some Interesting Stuff
UK And Olympic News
Two Recommended Reads From The 1968 Mexico City Olympic Games
US Stuff
News From Kenya
Who Needs An Agent?
Want To Sponsor A Potential Olympian? 10.23 British Sprinter Puts Himself Up on Ebay After Failing To Find A Sponsor The reserve is £30,000 (and has been met). LetsRun.com says, "No thanks. For that price, we'll get a couple 26:45/2:06 Kenyans. *Bid Here (link fixed) *2nd Article On Ellington
Week That Was
LRC Centro Goes Pro (Should German Have Too?), Kawauchi, NXN, And How Soft Are The Women's Olympic Marathon Trials Standards? We cover the big stories in the world of running in the last week, the ones above, plus the USATF convention and we take a look at the amazing depth of the Fukuoka marathon, where you can't compete unless you can run under 2:42.
Yuwi Kawauchi's Top Japanese Finish At Fukuoka In 2:09:57 Throws Olympic Selection Process Into Confusion The Japanese federation isn't sure what to do as Fukuoka was one of the 3 Olympic selection races and Kawauchi was the top Japanese finisher even though he claimed he was just running the race for experience and that he'll go back to Tokyo and make the OTeam in fine fashion by running 2:08 again.
Recommended Reads
RNR Las Vegas Half Marathon *Results
Sean Houseworth Is Surprise Winner At RNR Las Vegas Half Marathon Houseworth won in 1:03:12 over Jason Hartmann (2nd - 1:03:34), and Jason Lehmkuhle (3rd - 1:03:37), but says he probably won't run the Trials. Australia's 2004 World XC Champ Benita Willis won the women's race in 1:10:40 over Amy Hastings (1:11:22).
*Marathon Recap: Peter Omae Wins In 2:28:13; Zsofia Erdelyi Win's Women's In 2:48:59
MB: Lots of OT qualifiers at CIM More American OT qualifiers at California International Marathon.
Two Recommended Reads From New Zealand
Jake And Zane Robertson Chasing A Dream In Deepest Africa If you aren't familiar with their story, the two twin brothers left home four years ago at 17 to live and train in Kenya. Apparently they are now living separately with African girlfriends, one in Kenya and one in Ethiopia.
For 16-Year-Old Jacko Gill, Olympics Are Just One Throw Away Jacko's dad, Walter: "When he goes into a build-up phase, he does three training sessions a day. Some of them are in the middle of the night. The house shakes and the dog runs outside. We might be asleep, and he'll be lifting weights or bounding up and down the stairs to our bedroom door. He's definitely different. How we ever produced that, I'll never know, but we're very proud of him."
2 Weeks And NCAAs In Review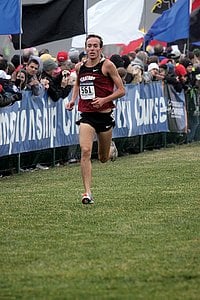 LRC NCAAs Go According To Form, Chris Derrick's College Career Comes To An End, Tim Tebow = Don't Overtrain, Track Returns To The Garden, And Alan Webb Has Sex Now that we've got your attention with the Alan Webb headline, get your weekly read on the running world. After the Thanksgiving break, we're back with a good week in review if we must say so ourselves. Plus a little comedy if you haven't seen the Border Clash XC false-start video.
The Uganda Witch Trials
Moses Kipsiro & Other Top Athletes Flee Home Training Area Because Of Witchcraft Where the 12:50 performer Kipsiro lives, the police get three reports a week of witches operating. Recently two women in their 80s were thrown off a cliff.
A Brief Chat With 4:07 1500-Meter Runner Katie Follett A recent engagement has resulted in a new coach for the first year pro.
This Would Have Been Quote Of The Day Had It Not Been For Centro: Question For NCAA #4 And Canadian XC Champ Cam Levins - Q: What was your average mileage per week throughout the fall season? A: 155+ miles *MB: Cam Levins is my new favorite runner
Recommended Read Rich Castro, Founder Of Bolder Road Runners, Retires As Head Of Road Runners We loved this quote: "Before there was a running boom in Boulder, before Frank Shorter won his gold and silver Olympic medals and helped Steve Bosley start the Bolder Boulder 10K, before the Boulder Creek Path and all the area training groups, there was Rich Castro."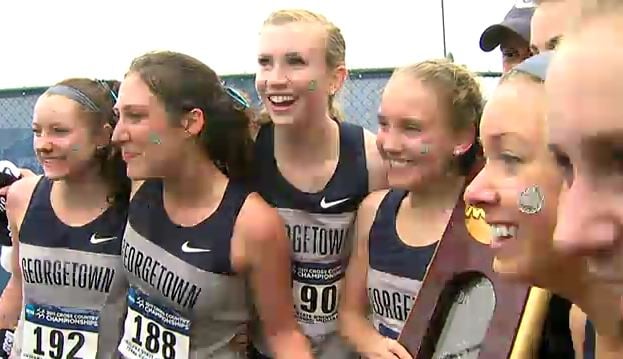 Women: LRC Georgetown, Reid Win Tight Battles Six women kicked for home over the last 400m of the race but in the end it turned into the duel many expected and Sheila Reid of Villanova got the narrow win over Jordan Hasay. The big surprise was in the team's race, where the Georgetown women, who were only third at Big East, won by eight over Washington as #1 Florida State faltered and finished 4th. *Discuss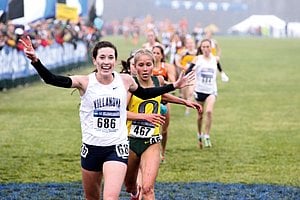 More: *Georgetown Gets Its First National CC Title GUHoyas.com
*Washington Comes Up 8 Points Short GoHuskies.com
*#1 FSU Finishes 4th & Coach Karen Harvey Pulls No Punches"I felt like I was watching a nightmare. I really thought there was no way this is happening." www.seminoles.com
*Wetmore Says 11th-Placed Colorado Women Purposely Peaked For PAC-12s, Not NCAAs www.denverpost.com
*The FSU women finished fourth and the men 12th at NCAA Cross Country Championships www.seminoles.com
*Lananna Says Hasay's Runner-Up Finish Was A Big Step Forward As She Didn't Get Antsy & Kick Too Early www.oregonlive.com
He Will Be Missed Adam Goucher Retires Goucher is having knee surgery on Friday and says his competitive racing career is over. We've always said that one way to judge whether a runner's career was a good one or not is simple: Were They Good Enough That They Could Retire Or Just Quit?
Goucher certainly is retiring, as he had an INCREDIBLE career - Foot Locker champ, NCAA champ indoors, NCAA champ outdoors and NCAA champ in XC, USA champ in XC and track and an Olympian. Goucher is a runner at heart and we wouldn't rule out seeing him in the 2016 Marathon Trials.
*MB: Adam Goucher retires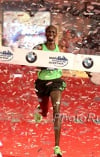 Frankfurt: Oh-So-Close: 2:03:42 - Wilson Kipsang's World Record Assault Comes Up Just Short IAAF The world of marathoning continues to be simply amazing on the men's side.
*AP Recap Levy Matebo was second (2:05:16) and Albert Matebor third (2:05:25) as the women's CR was broken by Mamitu Daska (2:21:59).
Pre-Race: Last Year's 2:04:57 Course Record Holder Wilson Kipsang Says World Record Can Fall At Sunday's BMW Frankfurt Marathon Kipsang may be getting a bit ahead of himself, but he's very good. More on Kipsang here.
LRC Moses Mosop A Superstar, Liliya Shobukhova Becomes Second-Fastest Woman Ever Updated Moses Mosop dominated the final miles in Chicago after Wesley Korir tried to make it interesting. Russian Liliya Shobukhova ran 2:18:20 to become the second-fastest woman ever. American Ryan Hall ran 2:08:04 for 5th. Great for any other American marathoner, so-so for him.

LRC: Wesley Korir Impresses With 2:06:15 Second Place In Chicago The former Louisville Cardinal broke the race up with a surge at 30km. Afterwards, he revealed what he was trying to do.

LRC Quick Recap With Men's Splits: Moses Mosop Breaks Course Record At 2011 Bank Of America Chicago Marathon, Shobukhova Runs 2:18:20
Other News
*Yohan Blake Signs Multi-Million Jamaican Dollar Endorsement Deal With WATA Bottled Water The coversion rate is 1USD to 85 Jamaican.
*It's Always About The Money Usain Bolt And Yohan Blake Might Race Before London ... If Someone Is Willing To Pay For It Glen Mills: "Track and field is not just a sport, it's also a business ... so it all depends on what meets are able to afford both runners to run in the same event."
*Mills Happy To See IAAF Lower A Standards
*COLD: A Marathon In Antarctica Our question is what was the winning time?
*Michael Johnson Wouldn't Have Let Oscar P Race World Champs
NCAA Women's Photo Gallery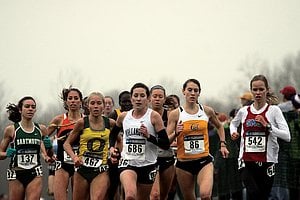 NCAA Men's Photo Gallery (500+ Photos)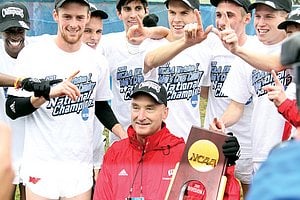 Beautiful People (NCAA XC Banquet Photos)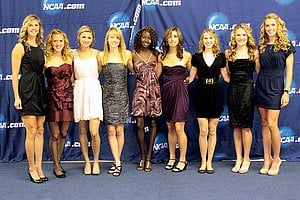 The LRC PUMA 55 - The 12 Days Of PUMA

Day #4: LRC The LRC Puma Faas 55 #4: Married Guys With Kids And A Guy Whose Wife Of 12 Years Left Him And Took The Kids Everyone knows the LRC man is an expert on women. Today we salute the LRCers, married with kids, who still are banging out high mileage weeks and even making the Olympic Marathon Trials. Plus we have some sympathy for a dude whose wife and kids left him and running is his refuge. You think you're worthy to put the PUMA Faas shoes to the test? Enter the LRC PUMA Faas Challenge here.
Day 3: Winter Wonderland: South Dakota, A National Champion Coach, Valdez, Alaska, and TxRUNNERgirl Represent
Day 2: #6-10: A 27:31 10ker, A Marine Corps Marathon Champ, A Girl From Our Favorite High School, And A Guy Who Loves Asics
Day 1: LRC Introducing The LRC PUMA 55
Sprint News
Asafa Powell And Veronica Campbell-Brown Racing At US Open (Madison Square Garden Games Should Be The Name) Tickets go on sale today. In other news, the Meet Formerly Known as the Millrose Games announced its schedule (Brittney Reese and Jesse Williams jumping). This all would be much easier if the meet going to be held in the Armory let the meet being held in the Garden have its name back. Track and Field needs to be on the biggest stage possible. That means national TV in the Garden. We didn't realize that the meets are even on the same day. Update: The meets are on different days. The problem is "the Millrose" meet at the Armory does not seem to be in control of the Millrose website, so we looked at last year's date by accident.

Good Read: 60 Seconds With Maurice Greene (He Talks About Partying, Jon Drummond Peeing In His Lane Before A Race) We're still grateful for the time Maurice threw a party in LA in 2005 and it was open bar for a half an hour on his tab.

Usain Bolt Q&A And Video Interview With ESPN The Magazine
NCAA XC Is Here
LRC NCAA XC Prediction Contest Powered By Puma Our world-famous NCAA Prediction Contests are back. Tell us who will win in Terre Haute and you could win some cool Puma gear or $200,010 if you have a perfect ballot.
Cross-Country For The "Geekiest" And "Nerdiest" (Discuss Here)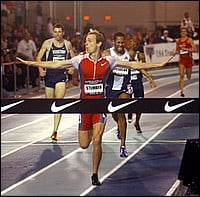 LRC Catching Up With Olympian Michael Stember:
Olympian Stember On Dunking A Basketball, Nerds Running Cross-Country, And Trying To Break 18 Minutes For 5k We know it drives a few people nuts when we call one of our own interviews a MUST read, but we are quite proud of this one. Stember talks about everything - from wondering if he really should have been an 800-meter runner, to having figured out the inner-city school problem, to solving the energy crisis and much more. Along the way he admits he once ran a 4-minute mile after months of drinking and only 3 weeks of running, admits to Gallowalking during his current training and says he has secured a rabbit to pace him to a sub-18 5k so he can win his bet on CharityBets.
NYC Men's Photo Gallery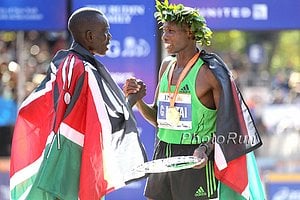 NYC Women's Photo Gallery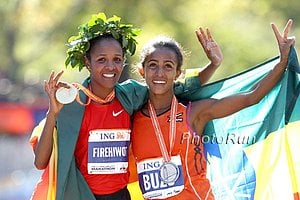 Training Corner (More In The Training Forum)
BMW Berlin Marathon Photos! Makau Takes Geb's World Record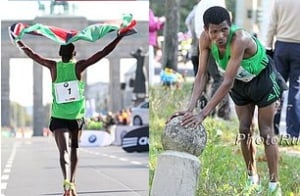 Great Deals

A Scintillating Men's 10,000 Finish (US Visitors Only)
Great Deals

Universal Sports Back To Top