Chile Pepper: Men's Results: Oklahoma State Dominates, German Fernandez Looks Good Fernandez got 3rd for the Cowboys as they go for the NCAA three-peat.
On The Boards: How Come No One is Talking about German Fernandez's Good Run Today?
*Is Nat Champs Ok State vs. Wisconsin, or am I missing something?

Women: Texas Edges Arkansas

Wisconsin Men: Lawi Lalang Dominates, Wisco Men Win, Verzbicas 62nd In His Debut (Results) This meet replaced pre-Nats as the place to be this year before next month's NCAA meet. Lawi Lalang, the brother of Kenyan star Boaz, who only started running last year, dominated. Lukas Verzbicas faded badly to 62nd in his first collegiate XC meet, as Texas freshman Craig Lutz was 15th.
*Wisco Men Run "Pretty Much Perfect" - So Good Their Coach Mick Byrne Was Stunned "I was surprised. At about 3 kilometers it looked like the team race was over."
*James Li Impressed By Lawi Lalang's Dominence "Lawi showed he's in a class of his own today. I don't think tactically he was the most sound, he's just so much stronger than everybody else."
*Providence Men Surprise As #1 Big East Team
*Lukas V: "Very rough opening race, have some rethinking to do. Time to move on and get fit for the rest of the season."
*Did You Know? Lukas Verzbicas' Stepdad Is Head Coach At USA Triathlon's New Elite Academy

Wisconsin Women: Sheila Reid Gets Best Of Jordan Hasay, Washington And Unranked Vanderbilt Women Surprise (Results) Reid beating Hasay is not a surprise, but Washington winning and unranked Vanderbilt being #2 was a shocker, especially with #1 Villanova in the field.
*Oregonian: Jordan Hasay Nipped By Sheila Reid In Hasay's 1st Race Of Year
*'Nova Website Calls Reid's Win "Dominant"
*Unranked Vandy Women Finish 2nd By Running "Close To A Perfect Race"

Oregon: Register Guard: Coach Powell: "Obviously, both teams have some things to work on before the conference meet."
Video Interviews: Sheila Reid *Lawi Lalang *Men's Race

MB Talk *OFFICIAL Wisconsin Invite Thread
*LAWI LALANG RUNS 50 MPW?!
*Hasay/Reid dual.... + Vandy women!!!
*LUKAS last 3k = 9:29.4, LUTZ last 3k = 8:42.7
*LUCAS V DOMINATES WITH A 62ND PLACE FINISH!
*Feb 27: Prediction: Lawi Lalang wins an NCAA title this year
G.M. Pulls Ad Suggesting Cyclists Can't Get Girls Imagine the outrage if this was done for Cross-Country.
Big $100,000 Payday For New B.A.A. Distance Medley Now the BAA's 5k, 10k and Half Marathon races are a series with an overall male and female prize of $100,000 each. Rather than a points system, it will be awarded to the finisher with the lowest overall combined time from all three races.
NYC Marathon Is November 6th
LA Times Q&A: Usain Bolt On Fashion
RIP: Northeastern University Loses A Coach And Mentor In Joe Donahue
Marathon Olympic Trials Are January 14th; Track Starts June 21st
Chicago Marathon Mom Generating Headlines
Writer Reflects On Having To Interview Chicago Marathon Mom "What prompted her to run a marathon at nearly 39 weeks pregnant? Speculation was rampant, but to me, it seemed like Miller ran because that's what she does. She runs. This was neither her first pregnancy, her first marathon, nor her first pregnant marathon. As a local physician told me later that day, 'I don't think she's crazy ... it sounds like she's an elite athlete to be able to run that many miles this late in pregnancy.'"
*Time Magazine Investigates: Is It A Bad Idea To Run A Marathon While Pregnant?
*MB: Amazing--woman gives birth after completing Chicago Marathon?!?
LRC Moses Mosop A Superstar, Liliya Shobukhova Becomes Second-Fastest Woman Ever Updated Moses Mosop dominated the final miles in Chicago after Wesley Korir tried to make it interesting. Russian Liliya Shobukhova ran 2:18:20 to become the second-fastest woman ever. American Ryan Hall ran 2:08:04 for 5th. Great for any other American marathoner, so-so for him.

LRC: Wesley Korir Impresses With 2:06:15 Second Place In Chicago The former Louisville Cardinal broke the race up with a surge at 30km. Afterwards, he revealed what he was trying to do.

Ryan Hall Says He Needs More Time At Sea Level To Work On Turnover RW

LRC Non Quotes Of The Day From 2011 Bank Of America Chicago Marathon Hall talks about what 2:08 means, Canova talks about the world record.

LRC Quick Recap With Men's Splits: Moses Mosop Breaks Course Record At 2011 Bank Of America Chicago Marathon, Shobukhova Runs 2:18:20

Chicago On The Boards: *Live Feed And "Official" Thread
*At mile 16 Moses and crew will throw 3 back to back 4:25 miles, what should Ryan Hall do about it?
*Ryan Hall Disappointing
*Credit to Wesley Korir ... 2nd in a big PR
*Ryan Hall Excuses
Get Caught Up On The Running World
LRC Weeks In Review: Catch-Up: 2011 Worlds, Makau's World Record, And A Look Ahead To London 2012 Our post-Daegu time change fatigue is a thing of the past and after 6+ weeks away, the famed LetsRun.com Week in Review makes a comeback as we provide some insight on the key action from the 2011 World Champs as well as the new men's marathon world record. Plus we tell US Olympic hopefuls to be thankful they don't live in Kenya and then we look ahead towards London 2012.
Mr. World Record: *Patrick Makau Had Worked On His Tactics On His Way To World Record IAAF.org
*Paul Tergat Congratulates Patrick Makau On Bringing World Marathon Record Back To Kenya
*Despite Death Of Sammy Wanjiru, Kenyan Olympic Team To Be Stacked
Patrick Makau Smashes Marathon World Record, 2:03:38!!! Florence Kiplagat got the win on the women's side, Haile Geb dropped out when Makau took off, and Paula ran 2:23 in 3rd to book her ticket to London.
*IAAF: Patrick Makau Talks About His "Zig-Zag" Tactics Which Knocked Geb Out Of The Race "It is one of my tactics. I did some zig-zags, to confuse him. I had a lot of energy, and wanted to tire him. He was trying to use me, to maintain the pace, and I wanted to run alone, either behind him or to the side."
David Rudisha Loses *Race Video
In Rainy & Windy Conditions, David Rudisha Loses For 1st Time Since 2009 Worlds The weather was similar the last time Rudisha lost in Berlin in 2009 and Rudisha said he had trouble warming up. Ethiopian teen sensation Mohamed Aman got the win 1:43.50 to Rudisha's 1:43.57.
*AW: Rudisha's 34-meet winning streak is broken by a 17-year-old
*Milan Results
*LRC MB: Aman has beaten Rudisha
Recommended Read: Rupp & Salazar Reflect On Galen's Historic Run Galen's mindset and focus on improvement is 100% spot on. The article is a great read and full of interesting quotes, including this one from Salazar, who thinks the heat hurt Galen in Daegu: "Galen is not a big guy, he's still big compared to a Kenyan or an Ethiopian. It's a disadvantage if you are a Caucasian running in the heat versus an African, you just have more body mass and it's going to be harder."
*LRC MB: Discussion Of Rupp Article
*Writer Admits He Mistakenly Doubted Bekele: "Never again will I doubt Bekele's ability to do amazing things on the track."
2011 Diamond League Is Over *Results
LRC 2011 Brussels Recap: Usain Bolt Runs World Leader But Gets Overshadowed By His Training Partner Yohan Blake's 19.26!! (link fixed) In terms of sprint action, Yohan Blake and Usain Bolt may have done the fans a disservice by ducking each other, but at least they put on quite a show as Usain Bolt put up a world leader in the men's 100 before Yohan Blake stole the show by running 19.26. *IAAF Recap: Blake Upstages The World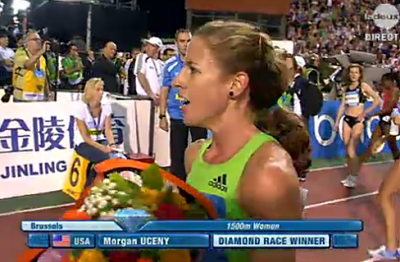 LRC Morgan Uceny Emphatically Shows She's The Best In The World The American who suffered a heartbreaking fall at the World Championships destroyed the field over the final 400 to win the Diamond League title in a world-leading 4:00.06 as she got her third DL victory on the year. World champ Jenny Barringer Simpson was way back in 13th.
*LRC MB Chatter: Pic of the Day, Uceny, really?
*Uceny just proved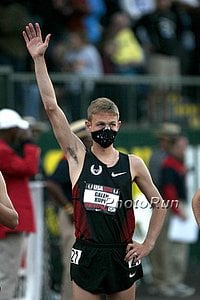 LRC Galen Rupp Shatters The American 10,000 Record By Running 26:48.00 Galen Rupp crushed the American record and became the 16th-fastest man in history, as Kenenisa Bekele won in a world-leading 26:43.16.
*LRC MB Chatter: CALLING IT RIGHT NOW, RUPP WILL RUN A 2:03 MARATHON
*Dear Galen Rupp: Time to Move up to the Marathon
*Remember when 13:26.6 and 13:23.4 would have ranked you in the top 5 in the US? Now they're 10k splits
*Galen Rupp's 10000m Is Not Superior To Chris Solinsky's
*Official Brussels 10k live update thread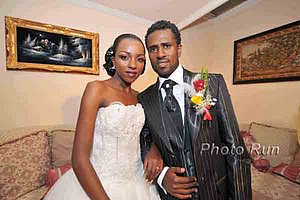 Amsterdam: Sileshi Sihine's Debut Vs. Wilson Chebet Sihine, with his 5 WC/Olympic silvers, is making his marathon debut (he's only run 1 half marathon) and will take on upstart Wilson Chebet, who has averaged 2:05:50 in his 2 marathons.

Toronto: 3-Time Defending Champ Kenneth Mungara Leads Field That Serves As De Facto Canadian Olympic Trials
More Toronto: 100-Year-Old Hoping To Be Only Centurion To Finish A Marathon
*MB: Will Coolsaet Break Drayton's Canadian Marathon Record This Weekend?

Istanbul: CR Holder Vincent Kiplagat Leads A Slew Of 2:08-2:10 Runners

Beijing: Catherine Ndereba Running Sunday The former world record holder is now 39.

Reims: 2001 World 5,000m Champion Richard Limo Highlights Sunday's Reims Marathon
Olympian Amy Yoder Begley & Alberto Salazar Part Ways "She has had a lot injuries, and it's been frustrating for her and for me," Salazar said. "She wanted to try something new. I support her." Amy had great success with Alberto but considering she came in to train with Kara Goucher it makes sense for her to leave.
MB: Yoder-Begeley Leaves Salazar Too?
Pan Am Games Opening Ceremonies Impress LRC Visitors
*Impressed Associated Press As Well
*Photos
Pre-Opening: ESPN Sneak Peek
USATF Mega Typo: ESPN Des Portes (In Reality, It's ESPN Deportes) To Broadcast Pan Am Games The track stuff goes Oct. 23-30.
UK News
Deepest 20km Race In World Takes Place Saturday Morning 2:30-4:00am - Watch Live Hakone Ekiden Qualifier
Haile Gebrselassie Eyeing The Tokyo Marathon In February To Qualify For The 2012 Olympics
Interesting Analysis On The Mind Of Ryan Hall Talks a little about the Hall-Hersh interaction and says, "We journalists live in a narrower, darker place than Hall. We are trained to be skeptical and hyper-objective. To sniff out details, and to question shallow answers. In cases of national security, such questions can change history."
Paula Speaks, And Other UK News
Running Times On Edward Cheserek's Sub-12 At Van Cortlandt Park
Haile G Will Give It Another Go Oct. 23rd
Haile Gebrselassie To Run Birmingham Half Marathon October 23rd *IAAF Article
Recommended Read: Profile On Stephen Machooka, Who Was The First Kenyan Distance Runner To Compete As A US Collegiate He won the Ivy League (Heptagonal) Championship for Cornell in 1961, setting a CR at VCP and becoming the first black All-Ivy XC runner.
Words From The UK:
*Recommended Read: Decathlete Daley Thompson Doesn't Have His Medals, He Has His Memories "I'm obsessive," he declares. "I want to know the answer to how good I am. Most people aren't. They kid themselves, 'If only I had done this or that.' I don't give myself that luxury. I do it and whatever the answer is, it is."
*Kelly Holmes Has Little Sympathy For Usain Bolt And His Issues With The False Start Rule She gives another perspective about the disruption to the meet schedule caused by multiple false starts in the 100m. While a major reason the rule was changed had to do with television broadcasting, she talks about how it affected the athletes who were racing after the 100 and had to time their warmup correctly.
More Olympic Stadium News:
*Coe Says That The Olympic Stadium Deal Falling Through Actually Helps GB's Chance At Hosting 2017 World Champs
*UK Writer Mocks London Mayor's Stadium Deal Defense
NCAA Cross-Country Starts To Heat Up This Week - Conference Is In Two Weeks
Occupy Wall Street Movement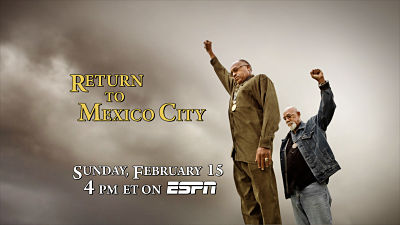 68 Olympic Hero John Carlos Joins Occupy Wall Street
*NY Times Profiles Carlos Carlos: "I didn't like the way the world was, and I believe that there need to be some changes about the way the world is." Carlos also takes time to totally dismiss Usain Bolt.
*MB: John Carlos thinks that Bolt is on drugs.
*Will Protesters Occupy Portland Marathon?
Pan Am Games Start Later This Week - The Americas' Version Of The Commonwealth Games
More Action From Over The Weekend
Recommended Read: Colorado Resident Chris Siemers Takes Hard Road - Skips Chicago - Runs Colorado Record 2:18:48 To Qualify For Olympic Trials
*RunningUSA.org On Race
Uh-Oh Ryan Gregson Has Another Stress Reaction In His Navicular When he first got the navicular problem last year, we were worried, as often they require surgery.
Remembering Hadd
John Walsh aka "Hadd" Has Died Hadd, only 56, died while on a run. John (we did not learn his real name until he died) was a huge contributor on the LRC message boards, sharing his tremendous training knowledge for years under the moniker "Hadd." His most famous thread was perhaps "2 kinds of runners. Which are you?" with Portuguese coach Antonio Cabral. Hadd also was the Malta Marathon founder, a husband and great friend to many. While Hadd avoided the limelight, his training knowledge was immense, and he influenced thousands of LRC readers. Our thoughts and prayers go to his wife and friends.
More: Heart Attack The Official Cause Of Hadd's Death Times of Malta
*Malta Marathon Director Remembers John (Hadd) Walsh
*Famous Hadd Thread: 2 kinds of runners. Which are you?
*Pay Your Respects To Hadd In This Thread
26:48.00 - If You Didn't See Highlights, Click Here
LRC Galen Rupp Talks After Setting The 10,000 American Record Of 26:48.00 In the midst of enjoying a much-deserved two-week break from running, Rupp talked about his successful 2011 season but was already focused on doing one thing for 2012 - getting better. Rupp is full of praise for Salazar and Farah, is looking forward to his marathon debut and has some bad news for prospective American Olympic 5,000 hopefuls.
Remembrances Pour In - 10 Years Ago Almost The Entire Men's XC Team At Wyoming Was Killed By A Drunk Driver
New York Gets Some Studs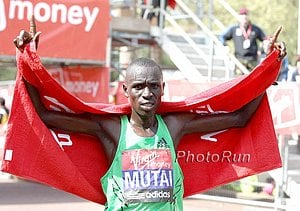 Emmanuel Mutai And Martin Lel Rematch In NYC! Emmanuel Mutai and Martin Lel put on a marathoning clinic at this spring's Virgin London Marathon. Mutai ran 2:01 pace for the 4th 10k of the race, what we called "unofficially the greatest fourth 10km stretch ever run in the history of the marathon" to destroy the London field. Lel, once the world's greatest marathoner, came back to the sport and surprised even himself by finishing second. They'll get a rematch in NY with 2-time World Champ Jaouad Gharib, plus the previously-announced Gebre2 and Meb. Britain's Jo Pavey is joining the women's field.
3 Recommended Reads
Doping News
Training Corner (More In The Training Forum)
UK News
Usain Bolt Races Jimmy Kimmel
BMW Berlin Marathon Photos! Makau Takes Geb's World Record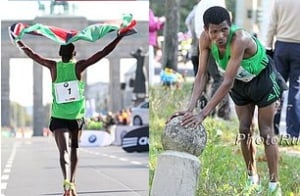 Great Deals

Galen Rupp 26:48!!!
Usain Bolt And Jamaica Get World Record (International Visitors Click Here, Post-Race Press Conf. Here)
Simpson Gets Gold (International Visitors Click Here)
Ezekiel Kemboi Wins And Has The Greatest Celebration Ever (International Visitors Click Here)
Men's 800 Final (International Visitors Click Here, Post-Race Interviews Here)
A Scintillating Men's 10,000 Finish (US Visitors Only)
Great Deals

Universal Sports Back To Top