BIG PAYDAY FOR NEW B.A.A DISTANCE MEDLEY Now the BAA's 5k, 10k and Half Marathon races are a series with an overall male and female prize of $100,000 each. Rather than a points system, it will be awarded to the finisher with the lowest overall combined time from all three races.
G.M. Pulls Ad Suggesting Cyclists Can't Get Girls Imagine the outrage if this was done for Cross-Country.
NYC Marathon Is November 6th
LA Times Q&A: Usain Bolt On Fashion
RIP: Northeastern University Loses A Coach And Mentor In Joe Donahue
Marathon Olympic Trials Are January 14th; Track Starts June 21st
More Marathon News
A Brief Chat With Ben True Talks about his eventual move to the half marathon/full marathon distance, but says that won't be until later on down the road. Also talks about his collegiate cross-country skiing career and on choosing running over skiing.
So Sad: Runners To Lose Popular Training Spot In Oklahoma City As City Plans To Pave 2-Mile Dirt Running Path
Ritz Returning To Action
Dathan Ritzenhein, Deena Kastor, Matt Tegenkamp, Sally Kipyego Running Inaugural NYRR Dash To The Finish Line It's the day before the ING NYC Marathon. Ritz (and Deena) will then have 2 months to get ready for the Olympic Trials. *Video Interview With Ritz
Kip Litton Outers Rejoice
British Bloke Drops Out Of Steve Cram's Marathon At 20-Mile Mark, Hops On Bus, Finishes Third Thankfully he was busted.
We Believe In Lifetime Bans & Believe Chambers 100% Should Be In Olympics And We Don't View That As Hypocritical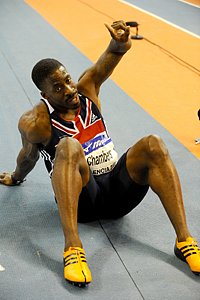 After LaShawn Merritt Ruling, Dwain Chambers Hopes To End Track Career At London Olympics
*Chambers: Teammates Want Me In Olympics
*International Olympic Committee's (IOC) Athletes' Forum Says They Want Lifetime Bans For Drug Cheats We 100% agree with the USADA head who said, "If we want lifetime bans - and that could be the right thing to do to protect clean athletes - let's do it via WADA so that it applies to every country."
Chicago Marathon Mom Generating Headlines
Writer Reflects On Having To Interview Chicago Marathon Mom "What prompted her to run a marathon at nearly 39 weeks pregnant? Speculation was rampant, but to me, it seemed like Miller ran because that's what she does. She runs. This was neither her first pregnancy, her first marathon, nor her first pregnant marathon. As a local physician told me later that day, 'I don't think she's crazy ... it sounds like she's an elite athlete to be able to run that many miles this late in pregnancy.'"
*Time Magazine Investigates: Is It A Bad Idea To Run A Marathon While Pregnant?
*MB: Amazing--woman gives birth after completing Chicago Marathon?!?
Olympic Stadium Gate? Depends On Who You Ask
Olympic 6th Placer Mara Yamauchi Will Run Bupa Great Birmingham Run On October 23
Post-Chicago News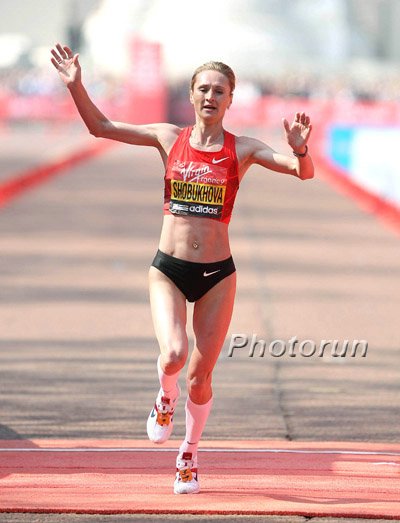 Next Up For Shobukhova: Conquering London In 2012 The only problem for the Chicago champ, who has won 4 of her career 6 marathons, is that her two losses have come in London. The good news - her husband long ago predicted she'd be Olympic champ.

Amazing! Horrifying? Woman Gives Birth After Completing Chicago Marathon?!? *LRB MB Talk On Chicago Mom
Link fixed *Doctor Told Her To Run Slow Enough So She Could Maintain Conversation
*Only Things Other Moms Can Agree On In Relation To This Story Is That Having A Baby Is Way Harder Than Finishing A Marathon
*Mom Was Expecting To Hear Angry Comments But Didn't Get Any

*Autopsy Inconclusive On Chicago Marathon Runner A 35-year-old died 500 yards from the finish.
Chicago Is In The Books - Time To Get Ready For New York?
LRC Moses Mosop A Superstar, Liliya Shobukhova Becomes Second-Fastest Woman Ever Updated Moses Mosop dominated the final miles in Chicago after Wesley Korir tried to make it interesting. Russian Liliya Shobukhova ran 2:18:20 to become the second-fastest woman ever. American Ryan Hall ran 2:08:04 for 5th. Great for any other American marathoner, so-so for him.

LRC: Wesley Korir Impresses With 2:06:15 Second Place In Chicago The former Louisville Cardinal broke the race up with a surge at 30km. Afterwards, he revealed what he was trying to do.

Ryan Hall Says He Needs More Time At Sea Level To Work On Turnover RW

LRC Non Quotes Of The Day From 2011 Bank Of America Chicago Marathon Hall talks about what 2:08 means, Canova talks about the world record.

Million Dollar Day? For Shobukhova In Chicago

LRC Quick Recap With Men's Splits: Moses Mosop Breaks Course Record At 2011 Bank Of America Chicago Marathon, Shobukhova Runs 2:18:20

Chicago Tribune: Men's Story, Women's
*Kenyan Reaction: Mosop's Big Tribute To Wanjiru
*Shobukhova: "I would give to this race a ten out of ten."
*Brit Claire Hallissey Runs 2:29:27 In Chicago
*35-Year-Old Firefighter Dies During Chicago Marathon

Chicago On The Boards: *Live Feed And "Official" Thread
*At mile 16 Moses and crew will throw 3 back to back 4:25 miles, what should Ryan Hall do about it?
*Ryan Hall Disappointing
*Credit to Wesley Korir ... 2nd in a big PR
*Ryan Hall Excuses

Pre Race: Chicago Tribune: It's Time For Hall To Make Move As good as Ryan Hall has been, he has only finished in the top 3 in a major marathon once (his 2:04:58 in Boston only got him 4th).
Get Caught Up On The Running World
LRC Weeks In Review: Catch-Up: 2011 Worlds, Makau's World Record, And A Look Ahead To London 2012 Our post-Daegu time change fatigue is a thing of the past and after 6+ weeks away, the famed LetsRun.com Week in Review makes a comeback as we provide some insight on the key action from the 2011 World Champs as well as the new men's marathon world record. Plus we tell US Olympic hopefuls to be thankful they don't live in Kenya and then we look ahead towards London 2012.
Marathon & Ultra Marathon-Related News
Recommended Read A Brief (But Great) Chat With Carey Pinkowski The BOA Chicago Marathon director reflects on the IAAF's new women's marathon record rule, the great but late Sammy Wanjiru and losing the state title as a senior even though he was one of three sub-9 guys on the team.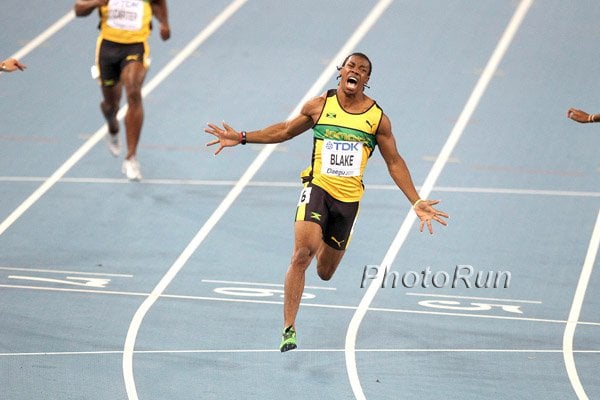 *Yohan Blake's Coach Issues Forewarning To Rest Of World As Blake Is Now A Beast Mills had ominous words for the rest of the world's sprinters: "Now he is thinking like a champion. It's one thing to aspire to, but it's another thing to achieve. Some say he's fortunate, but it doesn't matter how you achieve, once you do it legally. He got the opportunity and he made use of it, and he is running like he is a new person. He says he is a beast. Now he is not afraid to go out there and do his stuff. Now he is ready go."
*Jamaican Hurdler Talks Business & Encourages Athletes To Pay Attention To Details Of Contracts & Avoid Shady Agents Maurice Wignall says some agents hide the bonus sheets from the athletes.
Random But Interesting
It's Official: Geoffrey Mutai And Mary Keitany Added To 2011 ING NYC Marathon Field This is big, big news (but not new news if you've been paying attention on LRC), as NYC got the 2 biggest names in marathoning in 2011 (outside of Patrick Makau) in Mutai (2:03:02 in Boston) and Keitany (2:19:19 destruction versus the best field in the World in London), plus 2011 Boston champ Caroline Kilel.
Mr. World Record: *Patrick Makau Had Worked On His Tactics On His Way To World Record IAAF.org
*Paul Tergat Congratulates Patrick Makau On Bringing World Marathon Record Back To Kenya
*Despite Death Of Sammy Wanjiru, Kenyan Olympic Team To Be Stacked
Patrick Makau Smashes Marathon World Record, 2:03:38!!! Florence Kiplagat got the win on the women's side, Haile Geb dropped out when Makau took off, and Paula ran 2:23 in 3rd to book her ticket to London.
*IAAF: Patrick Makau Talks About His "Zig-Zag" Tactics Which Knocked Geb Out Of The Race "It is one of my tactics. I did some zig-zags, to confuse him. I had a lot of energy, and wanted to tire him. He was trying to use me, to maintain the pace, and I wanted to run alone, either behind him or to the side."
David Rudisha Loses *Race Video
In Rainy & Windy Conditions, David Rudisha Loses For 1st Time Since 2009 Worlds The weather was similar the last time Rudisha lost in Berlin in 2009 and Rudisha said he had trouble warming up. Ethiopian teen sensation Mohamed Aman got the win 1:43.50 to Rudisha's 1:43.57.
*AW: Rudisha's 34-meet winning streak is broken by a 17-year-old
*Milan Results
*LRC MB: Aman has beaten Rudisha
Recommended Read: Rupp & Salazar Reflect On Galen's Historic Run Galen's mindset and focus on improvement is 100% spot on. The article is a great read and full of interesting quotes, including this one from Salazar, who thinks the heat hurt Galen in Daegu: "Galen is not a big guy, he's still big compared to a Kenyan or an Ethiopian. It's a disadvantage if you are a Caucasian running in the heat versus an African, you just have more body mass and it's going to be harder."
*LRC MB: Discussion Of Rupp Article
*Writer Admits He Mistakenly Doubted Bekele: "Never again will I doubt Bekele's ability to do amazing things on the track."
2011 Diamond League Is Over *Results
LRC 2011 Brussels Recap: Usain Bolt Runs World Leader But Gets Overshadowed By His Training Partner Yohan Blake's 19.26!! (link fixed) In terms of sprint action, Yohan Blake and Usain Bolt may have done the fans a disservice by ducking each other, but at least they put on quite a show as Usain Bolt put up a world leader in the men's 100 before Yohan Blake stole the show by running 19.26. *IAAF Recap: Blake Upstages The World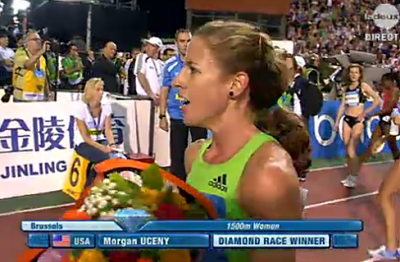 LRC Morgan Uceny Emphatically Shows She's The Best In The World The American who suffered a heartbreaking fall at the World Championships destroyed the field over the final 400 to win the Diamond League title in a world-leading 4:00.06 as she got her third DL victory on the year. World champ Jenny Barringer Simpson was way back in 13th.
*LRC MB Chatter: Pic of the Day, Uceny, really?
*Uceny just proved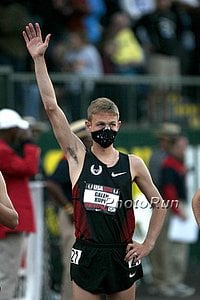 LRC Galen Rupp Shatters The American 10,000 Record By Running 26:48.00 Galen Rupp crushed the American record and became the 16th-fastest man in history, as Kenenisa Bekele won in a world-leading 26:43.16.
*LRC MB Chatter: CALLING IT RIGHT NOW, RUPP WILL RUN A 2:03 MARATHON
*Dear Galen Rupp: Time to Move up to the Marathon
*Remember when 13:26.6 and 13:23.4 would have ranked you in the top 5 in the US? Now they're 10k splits
*Galen Rupp's 10000m Is Not Superior To Chris Solinsky's
*Official Brussels 10k live update thread
LRC Men's 5,000 Gets Physical: Farah Wins But Lagat Says He Had It Deserving champ Mo Farah goes home with 5,000m gold, but were it not for a now-DQed Imane Merga getting physical with 3 top contenders in the span of 300m, including prime rival Bernard Lagat, Farah may have returned to Oregon with 2 narrow losses. We've got the story of the most controversial distance event at Worlds.
LRC Women's 800 Final: Semenya Goes Down Caster Semenya goes home with silver as Russian Mariya Savinova ran 1:55 to shock the huge favorite and herself to take home the gold, with Alysia Montano just missing out in 4th. Semenya, who was permitted to skip the press conference amid the 2009 controversy in Berlin, did a great job talking to the media in her first Worlds press conference.
*After 6th Place Finish In 800, Maggie Vessey Says She's Disappointed She concedes that having to run multiple fast 800s to make the final took a lot out of her.

Sunday AM: 2011 World Championships Marathon: Abel Kirui X 2 Kirui destroyed the field the second half to get his second world title. Despite being 2009 World Champ, Kirui switched coaches this year to LRC message board favorite Renato Canova. Kirui gave Canova a call after the race. The American men struggled.
Friday:
*LRC Day 7 Non-Distance: Dwight Phillips Gets Gold #5, US 4 X 400 Kicks By S. Africa, VCB Over Jeter And Felix, US Shotputters Shut Out The quotes, the interviews, the results ... plus the cover jinx barely survives, why Pistorius didn't run for South Africa's medal-winning 4 x 4, and more.
Worlds Thursday
LRC Day 6 Jenny Gets Gold Jenny Simpson powered home the final 100m to stun the world Thursday night to end America's 28-year drought of distance gold. Her run was unexpected, but in retrospect not totally shocking, as the American phenom showed in 2009 she can run with the world's best when fit and healthy. And she's definitely fit and healthy now and from now on will always be Jenny Simpson ... World Champion.
Previous Worlds
800m Final LRC David Rudisha Gets The World Title He Deserves, Nick Symmonds Comes Up Short Rudisha had been undefeated in every race since the last World Championships and on Tuesday he won the one race he hadn't won in two years - the World Championships. American Nick Symmonds was in medal contention but came home in fifth and the American medal drought continues at 800m.
More On The Boards: Mens 800 Final
*Nick Symmonds Post-Race Comments



Monday: LRC Lots Of Sprint Intrigue: WR Holder Dayron Robles Goes From Gold To Zilch, Allyson Felix Upended By Botswanan, Pistorius Has Chance But Fades Good thing there was no distance action Monday night, as we wouldn't have had time to recap all the sprint/field event action. A DQ in the hurdles that gave Jason Richardson the unexpected World title, Allyson Felix got a PR but lost, and Oscar P fizzled out. Plus an unexpected medal in the shot for an American, a thrilling pole vault and, oh yeah, the 100m women's final, where HSI got its 2nd gold of the night.


Men's 10,000m: LRC Ibrahim Jeilan, A Guy You've Never Heard Of, Stuns The World In Men's 10,000m The men's 10,000m was a total shocker as Ibrahim Jeilan, a former World Junior champion who was passed over by the Ethiopian team on two occasions and had to go to Japan to keep his running career alive, shocked the world's best distance runner Mo Farah in a great duel over the final 100m, as Farah apparently kicked too hard, too soon. Galen Rupp was 7th and the great Kenenisa Bekele dropped out, losing his first 10,000m ever.


LRC Kenya's Heavenly Day 1 Ends With Perfection! Vivian Cheruiyot Leads Kenyans To 1-2-3-4 Domination Of Women's 10,000 The much-anticipated battle between the undefeated Meseret Defar and Vivian Cheruiyot never materialized as Defar fell off and then dropped out, but Cheruiyot did come through as expected. The Oregon track club's Sally Kipyego got the silver as the Kenyan women's day went from incredible to heavenly, as they followed up near perfection in the marathon with total perfection in the 10,000. The American women struggled, as Shalane Flanagan was 7th and Kara Goucher was lapped. Jen Rhines was 9th.
*LRC Video Reaction From Cheruiyot, Kipyego, Flanagan And Goucher
Haile Gebrselassie Eyeing The Tokyo Marathon In February To Qualify For The 2012 Olympics
Interesting Analysis On The Mind Of Ryan Hall Talks a little about the Hall-Hersh interaction and says, "We journalists live in a narrower, darker place than Hall. We are trained to be skeptical and hyper-objective. To sniff out details, and to question shallow answers. In cases of national security, such questions can change history."
Paula Speaks, And Other UK News
Running Times On Edward Cheserek's Sub-12 At Van Cortlandt Park
Haile G Will Give It Another Go Oct. 23rd
Haile Gebrselassie To Run Birmingham Half Marathon October 23rd *IAAF Article
Recommended Read: Profile On Stephen Machooka, Who Was The First Kenyan Distance Runner To Compete As A US Collegiate He won the Ivy League (Heptagonal) Championship for Cornell in 1961, setting a CR at VCP and becoming the first black All-Ivy XC runner.
Words From The UK:
*Recommended Read: Decathlete Daley Thompson Doesn't Have His Medals, He Has His Memories "I'm obsessive," he declares. "I want to know the answer to how good I am. Most people aren't. They kid themselves, 'If only I had done this or that.' I don't give myself that luxury. I do it and whatever the answer is, it is."
*Kelly Holmes Has Little Sympathy For Usain Bolt And His Issues With The False Start Rule She gives another perspective about the disruption to the meet schedule caused by multiple false starts in the 100m. While a major reason the rule was changed had to do with television broadcasting, she talks about how it affected the athletes who were racing after the 100 and had to time their warmup correctly.
More Olympic Stadium News:
*Coe Says That The Olympic Stadium Deal Falling Through Actually Helps GB's Chance At Hosting 2017 World Champs
*UK Writer Mocks London Mayor's Stadium Deal Defense
NCAA Cross-Country Starts To Heat Up This Week - Conference Is In Two Weeks
*BYU's Miles Batty Is Undefeated On The Year But Focused On Peaking At NCAAs - Not Wisco Batty: "Last year I came into nationals feeling pretty worn down, on the down side of the peak."
*Running Times Looks At PattiSue Plumer's Return To Stanford "I love coaching - at any level," says Plumer, who only runs occasionally. "I would have stayed at the coaching job I had, because I loved that. This was probably the only job that could have made me leave that one."
*IU Paper Tries To Figure Out What Mindset Makes An Elite Distance Runner Andy Bayer: "You've got to be tough. No matter how talented you are, when you're running 10,000 meters, it's not going to feel good." Helmer: "You have to love to compete. Obviously, you have to be talented. You have to train at a very high level, but none of that matters if you don't have the ability to go into those high-pressure situations and be able to enjoy that challenge."
*MB: OFFICIAL Wisconsin Invite Thread
Occupy Wall Street Movement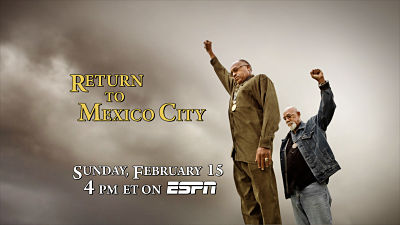 68 Olympic Hero John Carlos Joins Occupy Wall Street
*NY Times Profiles Carlos Carlos: "I didn't like the way the world was, and I believe that there need to be some changes about the way the world is." Carlos also takes time to totally dismiss Usain Bolt.
*MB: John Carlos thinks that Bolt is on drugs.
*Will Protesters Occupy Portland Marathon?
Pan Am Games Start Later This Week - The Americas' Version Of The Commonwealth Games
More Action From Over The Weekend
Recommended Read: Colorado Resident Chris Siemers Takes Hard Road - Skips Chicago - Runs Colorado Record 2:18:48 To Qualify For Olympic Trials
*RunningUSA.org On Race
Uh-Oh Ryan Gregson Has Another Stress Reaction In His Navicular When he first got the navicular problem last year, we were worried, as often they require surgery.
News From Britain
Pan Am Games People Claim Facilities Are Now Ready Thank goodness because the event starts later this week.
Chicago Was Not The Only Action Over The Weekend
Chicago Marathon ... Afghanistan In The Books
Air Force Captain William Boland Gets The Victory In 3:19:02 More coverage here.

Kara Goucher Says She's Not Ready To Talk About Bolt From Alberto "Alberto and I came to this conclusion a couple of weeks ago. I'm not ready to talk about it right now."
A Recommended Read And A Recommended Non-Read
Upcoming:
BBC: "IAAF Authorities Pleased With London Worlds Bid, Reassured By Olympic Track Guarantee"
Ciarán Ó Lionáird Packed Two Bags, Gave Away Everything Else (Including His Car) And Hopped A Flight To Oregon O Lionaird is the latest addition to the Oregon Project, and while he gets many benefits as a Nike athlete, you might be surprised that he has to pay some of his own way. For example, he has to help pay to seal his new apartment so it can be used as a "high altitude chamber."
International News
LetsRun.com National And Conference XC Polls Released
LRC Oklahoma State And Georgetown Ranked #1 In First 2011 LRC Cross-Country Polls The OSU Cowboys are going for a three-peat and the LRC faithful like their chances, although some believe Stanford can pull the upset. On the women's side, G'Town is planning on stopping Villanova from the three-peat. The first national and conference polls are out in advance of this weekend's big XC action. Error fixed and all 75 teams showing up now in rankings.
Remembering Hadd
John Walsh aka "Hadd" Has Died Hadd, only 56, died while on a run. John (we did not learn his real name until he died) was a huge contributor on the LRC message boards, sharing his tremendous training knowledge for years under the moniker "Hadd." His most famous thread was perhaps "2 kinds of runners. Which are you?" with Portuguese coach Antonio Cabral. Hadd also was the Malta Marathon founder, a husband and great friend to many. While Hadd avoided the limelight, his training knowledge was immense, and he influenced thousands of LRC readers. Our thoughts and prayers go to his wife and friends.
More: Heart Attack The Official Cause Of Hadd's Death Times of Malta
*Malta Marathon Director Remembers John (Hadd) Walsh
*Famous Hadd Thread: 2 kinds of runners. Which are you?
*Pay Your Respects To Hadd In This Thread
26:48.00 - If You Didn't See Highlights, Click Here
LRC Galen Rupp Talks After Setting The 10,000 American Record Of 26:48.00 In the midst of enjoying a much-deserved two-week break from running, Rupp talked about his successful 2011 season but was already focused on doing one thing for 2012 - getting better. Rupp is full of praise for Salazar and Farah, is looking forward to his marathon debut and has some bad news for prospective American Olympic 5,000 hopefuls.

More Rupp: Alan Abrahamson Looks At Galen Rupp's American 10,000m Record He even talks about LRC message boarders suggesting Rupp should move up to the marathon since he got outkicked in Brussels (and they were trying to get a rise out of everyone else).
*AP Article On Rupp's American Record
*AFP: Rupp Wants To Double At Olympics
Remembrances Pour In - 10 Years Ago Almost The Entire Men's XC Team At Wyoming Was Killed By A Drunk Driver
New York Gets Some Studs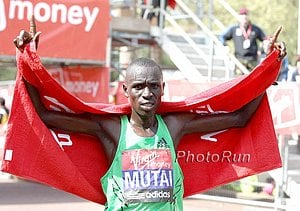 Emmanuel Mutai And Martin Lel Rematch In NYC! Emmanuel Mutai and Martin Lel put on a marathoning clinic at this spring's Virgin London Marathon. Mutai ran 2:01 pace for the 4th 10k of the race, what we called "unofficially the greatest fourth 10km stretch ever run in the history of the marathon" to destroy the London field. Lel, once the world's greatest marathoner, came back to the sport and surprised even himself by finishing second. They'll get a rematch in NY with 2-time World Champ Jaouad Gharib, plus the previously-announced Gebre2 and Meb. Britain's Jo Pavey is joining the women's field.
3 Recommended Reads
LRC Zürich Recap: Blake 9.82! Over Powell, Nixon Chepseba?! Wins Diamond League 1,500 Title, Kemboi Wins Again, Savinova Wins Stacked 800 It's called the best one day track meet in the World for a reason, it gets the stars. This year's meet had 18 events and in 17 of them it featured the recent World Champ (and in the women's 200 it had Jeter and Felix). Yohan Blake beat Asafa Powell in the 100, Vivian Cheruiyot faced a tough challenge from Sally Kipyego in the 5000, as Shalane Flanagan struggled. Nixon Chepseba and Jenny Meadows got surprise overall Diamond League titles and $40,000, as Dayron Robles crossed the finish line first again. LRC Recap and analysis, as we even take a look at Allyson Felix and Carmelita Jeter six years ago.
AFP: Blake Gets Zurich Win
*Shocking Final Eve: Bolt, Jamaica Set 4 X 100 WR SI.com Usain Bolt saw the 37.04, crossed the line, threw the baton 100 feet in the air, danced for 30 minutes on the track, and of course unlike any HS or college kid who might do that, was celebrated rather than DQed. *Best Video Of What Happened To US Team
*US Youngsters Carry Team - Christian Taylor's 17.96 TJ Stuns Field Taylor and Will Claye took gold and bronze in the TJ to overshadow men's 4 x 100 fall. Taylor's 17.96m jump is the 2nd-longest triple jump in World Champs history.
LRC: Matt Centrowitz Gets Bronze As Asbel Kiprop And Silas Kiplagat Go 1-2 Only 21, Centrowitz ran like a seasoned pro and got the first American-born track medal since 1987. Another 10 meters and his medal might have been a different color. Asbel Kiprop got Kenya its first World Championships 1,500m gold and Silas Kiplagat backed him up with silver. Ladies (and gentleman for the first time), we also tell you how to get onto Centro Nation. Recap and extensive post-race reaction.
*Matt Centrowitz Says Jenny Simpson's 1,500 Win "Set The Tone" And Made Him Believe He Could Medal
Worlds Friday
LRC Vivian Cheruiyot Completes 10k/5k Double American Lauren Fleshman finished a solid 7th in a race that saw Vivian Cheruiyot run away with her 2nd gold of the champs, closing in 58.6 to lead Kenya to their 8th and 9th medals of the championships.
*LRC: Women's 5,000m Analysis And Reaction
*More Cheruiyot Photos
Rec Read: How Cheruiyot Got The Double The Daily Nation Cheruiyot's manager Ricky Simms before the race: "If it is a slow race, Vivian will win. If it is a fast race, Vivian will win."
LRC Ezekiel Kemboi Gets Gold And Does The Mini Bolt Ezekiel Kemboi absolutely crushed the field the final 200m to arguably become the greatest championship steepler ever. He was so majestic the final 200 that he had time to celebrate in lane 7 before the silver medal was determined.
*Kemboi Explains To Kenyan Media Why His Celebration Was Extra Long "My friend Usain Bolt remember was not in the finals and he would have danced well. I had to do (it) for Usain Bolt and me."
*Kemboi Left Stadium "In Stitches And Awe In Equal Measure"
*Kenyan Media Happy With "Stylish" 1-2 Finish In Steeple - Proclaims Cheruiyot Winner Of Women's 5,000 Before Race Is Even Run
*Eldoret Erupts In Joy For Most Popular Runner In Town - Kemboi
On The Boards: Ezekiel Kemboi Appreciation Thread - That was the greatest final 200 (and celebration by a distance runner) ever
LRC: Day 4: Teenage King James Nips Merritt In 400m, Zaripova Takes Steeple Going Away, Uceny And Simpson Make 1,500m Final We recap all of Tuesday's pm action outside of the men's 800m final in this piece. We break down the 400m final, the women's steeple final (and where Jenny Simpson would have finished), look at the 1,500m semis and much more.



LRC: Day 4 Daegu Distance Previews: Men's 800 Final - Nick Symmonds Goes For A Medal, 1,500 1st Round Highlight Busy Day Great distance action, including the women's steeple final, men's 1,500m round 1 and women's 5,000m round 1 and of course the anticipated 800m final with Symmonds, Rudisha and Kaki.

LRC Usain Bolt False Starts ... Or Did He? Video Proof That Yohan Blake Flinches And Then Usain Bolt False Starts The video shows very clearly that Yohan Blake flinches and then Usain Bolt subconsciously reacted and bolted from the blocks. According to IAAF rules, at a minimum Blake should have been warned. Under no scenario should Bolt have been given the DQ.
*Telegraph Article Here Picking Up The LRC Cause On The Blake Flinch
LRC Bolt's DQ, Ashton Eaton's 1,500m And More

Usain Bolt DQed For FS, Yohan Blake Wins Title *Bolt: "Looking for tears? That's not going to happen."
*Dix (silver): "I couldn't believe it, it's kind of surreal. I didn't think they were going to kick him out. It's pretty hard to kick Usain out of the race."
*Bolt's Coach: "I think he would have run in the sixties (9.60s)."
Doping News
Training Corner (More In The Training Forum)
Financial Stuff
*Debit-Hit Agent Ian Ladbrooke Apologizes For Stealing Prize Money From Athletes England Athletics will cover Brits' missing prize money, but what about the Third World athletes who've been cheated?
*Unpaid Bills & Anger One Year After Commonwealth Games In New Delhi
UK News
Usain Bolt Races Jimmy Kimmel
International Stuff
*Ciaran Ó Lionaird Talks About Move To Oregon To Be Coached By Alberto Salazar Apparently Salazar recruited him in between races in Daegu.
*After His 2:10 Debut, UK's Scott Overall Thinks He Can Still Go Faster His US coach Robert Chapman says that he ran the 2nd half completely alone and could run maybe 2:08-09 with competition/pacers.
*Ethiopia's Koren Yal Looking For Sub-2:24 At Toronto Marathon
BMW Berlin Marathon Photos! Makau Takes Geb's World Record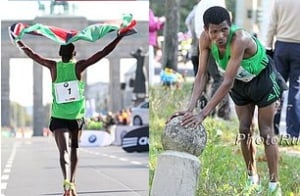 And The Real Winners From Worlds ...

LRC A Foot Locker Finalist, A Canuck, A DIII Guy And "I am Alan Webb" Win $200,011 World Prediction Contest Powered By Puma The on-the-track (and field) winners have been known for a couple of weeks, but today we announce the winners of our Worlds prediction contest. Ryan Grote, hide your eyes, as a Princeton freshman has taken home top honors. We are still looking for "I am Alan Webb" to come forward to see if he's possibly actually the American record holder. The winners get the new Puma FAAS 550 lightweight trainer and Road Runner Sports gift certificates. Click here to read about our winners who always represent the best of LetsRun.com. Updated for the Historic Princeton Repeat
Galen Rupp 26:48!!!
Morgan Uceny To Be World Ranked #1 At 1,500
Yohan Blake 19.26! (US Only)
Rudisha's 1:41.33 (Rieti Results Here)
Usain Bolt And Jamaica Get World Record (International Visitors Click Here, Post-Race Press Conf. Here)
Centro After His Bronze (Much More Here, Watch Race Here)
Simpson Gets Gold (International Visitors Click Here)
Ezekiel Kemboi Wins And Has The Greatest Celebration Ever (International Visitors Click Here)
Men's 800 Final (International Visitors Click Here, Post-Race Interviews Here)
A Scintillating Men's 10,000 Finish (US Visitors Only)
Great Deals

Universal Sports Back To Top