Monday: LRC Lots of Sprint Intrigue: WR-Holder Dayron Robles Goes From Gold to Zilch, Allyson Felix Upended by Botswanan, Pistorius Has Chance But Fades Good thing there was no distance action Monday night as we wouldn't have had time to recap all the sprint/field event action. A DQ in the hurdles that gave Jason Richardson the unexpected World title, Allyson Felix prd but lost, and Oscar P fizzled out. Plus an unexpected medal in the shot for an American, a thrilling pole vault and oh yeah the 100m women's final where HSI got its 2nd gold of the night.
More from Employee #1: *Liu Xiang Recounts Telling Dayon Robles He Was DQd
*Oscar P and Brett Favre and the Mechanical Arm
*American 400m Running at a Lowpoint?
*IAAF Day 3 Recap *Athletics Weekly

Bekele Pulls Out of Men's 5000: Jos Hermens his agent calls Daegu a "wake-up call " for Bekele who may run in Brussels on Sept. 16.


Men's 10,000m: LRC Ibrahim Jeilan, A Guy You've Never Heard Of, Stuns The World In Men's 10,000m LRC recap coming The Men's 10,000m was a total shocker as Ibrahim Jeilan, a former World Junior champion who was passed over by the Ethiopian team on two occasions and had to go to Japan to keep his running career alive, shocked the world's best distance runner Mo Farah in a great duel over the final 100m, as Farah apparently kicked too hard, too soon. Galen Rupp was 7th and the great Kenenisa Bekele dropped out, losing his first 10,000m ever. *Post-Race Interviews With Rupp, Bekele, Tegenkamp And Bauhs
*Quick Men's 10,000m Photos
*Japanese Coach Is Pleased With Jeilan's Victory
*Talk About Honesty Farah Thought He Had It: "To tell you the truth, with 300 metres to go I thought I had the race." On the ultimate winner, "I didn't have a clue about the guy."

On The Boards: *10,000M live update thread *W(ho)TF is Ibrahim Jeilan?!?! *What happened to Tegenkamp? *Usain Bolt false start
Excellent Analysis: Rojo Blogs From The Couch About Daegu - 6 Quick Thoughts About The Men's 10,000, Men's 100m And Men's 800

LRC David Rudisha, Abubaker Kaki And Nick Symmonds All Advance To 800m Final Kaki did it the hard way by getting in on time, but Rudisha looked great and Symmonds put on a performance that shows he is medal worthy. The final is Tuesday.
*Post-Race Interviews With Symmonds And KD

LRC Sunday 1,500m Round 1: All 3 American Advance As Fall Shakes Up Round 1 Morgan Uceny, Shannon Rowbury and Jenny Simpson all made the semifinal and Rowbury can thank a fall in the final 50 meters of her heat for advancing by .02 to the semi. Recap and post-race reaction from the Americans and Kiwi Niki Hamblin.
*Dobriskey Stunned As She Bombs Out

LRC Rojo Blogs From The Couch About Daegu - 6 Quick Thoughts About The Men's 10,000, Men's 100m And Men's 800

LRC While Waiting For Day 2 To Start: Rojo Blogs From The Couch About Daegu Not everyone at LRC headquarters is fortunate enough to get to go to Korea and Rojo gets started by taking his anger out by ranting on the TV production. He then introduces the world to Mohamed Aman and provides proof that Ashton Eaton is a fan of Sally Kipyego.
More From LRC:
*Men's 800 Semis - Who Got The Worst Draw?
*LetsRun Nation Is Picking Galen Rupp To Finish 5th - Give Your Final Predictions Here
*Wejo: Today's Sign Of The Apocalypse: My Wife Just Emailed Me: "keep me updated on the pistorius news."


LRC Kenya's Heavenly Day 1 Ends With Perfection! Vivian Cheruiyot Leads Kenyans To 1-2-3-4 Domination Of Women's 10,000 The much-anticipated battle between the undefeated Meseret Defar and Vivian Cheruiyot never materialized as Defar fell off and then dropped out, but Cheruiyot did come through as expected. The Oregon track club's Sally Kipyego got the silver as the Kenyan women's day went from incredible to heavenly, as they followed up near perfection in the marathon with total perfection in the 10,000. The American women struggled, as Shalane Flanagan was 7th and Kara Goucher was lapped. Jen Rhines was 9th.
*LRC Video Reaction From Cheruiyot, Kipyego, Flanagan And Goucher

LRC Recap Now Up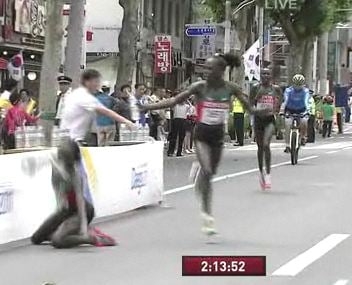 Saturday's Action Underway: Edna Kiplagat Survives Fall, Leads Kenya To 1-2-3 Sweep In Marathon To Start Worlds Kiplagat has shot to the top of the world marathon ranks in the last two years (New York champ last year, 2:20 for 3rd in London) and she backed it up with an impressive win despite falling at a water station in the final 10km. Priscah Jeptoo was second and Sharon Cherop third. Tera Moody - just months removed from 3 surgeries - was the first American (interview here) in 17th and Kathy Newberry was 30th (interview here).
*LRC Post-Race Comments From Kiplagat *IAAF: Patience and family support key to Kiplagat's Rise
On The Boards: women's marathon play by play

LRC Day 1 AM Recap: Men's 800 Nick Symmonds (interview here) won his heat and Khadevis Robinson (interview here) advanced in round 1 of the 800 (mb recap) and Emma Coburn advanced in the steeple (mb recap). *IAAF: Kaki fastest, Rudisha safely through
OTB: 800 Heats *Women's Steeple

*IAAF Day 1 Summary *Register-Guard Recap
Non-Distance News From Worlds
Thursday's Big News: Asafa Powell Out Of Worlds All we can say is this sucks, but thank goodness the sport has Usain Bolt. Change/Enter your picks in our $200,011 Worlds Contest here. *Message board thread on Powell here.
*NY Times: Last Man Running: Bolt's Top 4 Rivals Are All Out Bolt's top 4 challengers based on wind-legal times - Rodgers, Gay, Mullings and Powell - are all out.
*Walter Dix - Hey Don't Forget About Me, I'm Planning On Winning Triple Gold
*Last Man Standing? Yohan Blake Thinks He Could Beat Bolt
*Usain Bolt Denies He Has Achilles Injury & Says He's Ready
*Bolt Says Powell's Withdrawal Is "Really Sad" What's sad is that earlier in the week Powell said there was a 99% he'd win Worlds. Track needs a commissioner so he can be fined for lying to the press.
Other Non-Distance News
LRC Message Boards Having An Impact For A Cleaner Sport Chris Solinsky Volunteers For Blood Profiling Pool You can read his tweet here. We've always said allowing people on the boards to speculate on doping in the sport ultimately leads to a cleaner sport (it puts pressure on authorities, sponsors, and athletes to clean up the sport and/or show it is clean with better tests) and this proves it.
Distance News:
*Japanese Distance Fans Are Pumped For World's As They Two Japanese Based Kenyans and 1 Japanese Based Ethiopian Will Run World's 10,000 An interesting read for sure as it also talks about a Japanese thrower's love of Sammy Wanjiru.
*An In-Depth Look At the Japanese Men's Marathon Team The team is pretty darn good with 4 sub-2:10 guys. Only 2 US men have done that the last two years and neither is in Daegu.
*If Only US Journalists Were So Polite: After 24 Hour-Plus Journey, Kenyan Journalists Don't Harass Kenyan Team On Day 1 In Daegu
*Still Sick, Shy Or Just Being Coy? Uganda's Moses Kipsiro Has Been Quiet Before Worlds And Some Think He May Still Be Suffering From Typhoid And Malaria His wife says he might go not go to Worlds but others think he's just being coy.
LRC The LetsRun.com Focused 2011 World Track & Field Championships Schedule Watching Daegu is gonna be confusing, as Daegu is 13 hours ahead of New York (16 hours ahead of the West Coast), so we have altered the schedule to present it to you in "American" time so you can start planning in case you want to get up really early to watch a final live.

Distance News From Worlds
*Morgan Uceny Runs 2:34 1k In Practice With 55-Second Last Lap
*An In Depth Look At Japanese Long Distance Track Runners At Worlds
*Despite Stress Fracture in Femur, Kara Goucher Is Optimistic For Worlds The articles says Goucher had taken zero days off from running since a week after giving birth. We call that foolish.
*ESPN W: Currently Injured, Distance Runner Molly Huddle Takes Long View
*Kenyans Arrive In Daegu And Say Village Is Better Than Last Two Olympic Villages
Previous WChamps News
Men's 10,000m: Farah, Bekele, Rupp Just Days Away
Mo Farah Wary Of Brilliant Bekele Farah riding 10 straight wins, Bekele undefeated lifetime at the distance.

UK Telegraph: Mo Farah On Brink Of Double Gold In Daegu He'll face the double gauntlet of Bekele and Lagat.

Bekele's Manager Says He Is "Training Well"

Boards: Galen Rupp will leave Daegu with a medal
*MB: Game On: Kenenisa Is Going Try To Defend His Title
The 10,000 and 100 are both this upcoming weekend. 100m news below the PowerBar advertorial.
More Worlds First Weekend
Men's 100m: Can Bolt Find The Magic?
Asafa Powell Says It Is Time To Step Out Of Bolt's Shadow *Bolt Predicting Title Defense ... as long as he gets a good start.

Korean Press: Bolt Enjoying Rock Star Status In Daegu Earlier: *Usain Bolt Gets Record For Jamaican With "Most Fans On Facebook"

TrackFocus On Mullings And Masking Agents
Weekend News From The MBoard: CHRIS SOLINSKY OUT OF WORLDS The 10,000 American record holder's disappointing 2011 season just got a whole lot more disappointing as he announced (via twitter) that he's pulled out of the World Championships with a hamstring injury. A year after running 26:59, Solinsky has endured mainly heartache in 2011 as he dropped out of the 10,000 at Pre, a 5,000 in Monaco and is now a DNS at Worlds.
With Bryan Clay Out, Can Ashton Eaton Bring Home US Decathlon Gold?
Curtis Anderson On Eaton, Jesse Williams And Many Other Oregon-Based Americans At 23, indoor heptathlon WR holder Ashton Eaton is considered the gold favorite in the decathlon. Story reveals Eaton discovered flaw in his HJ technique from old Dick Fosbury vids. He then went out and nailed 2-inch PR at 6'10".
2011 Bank Of America Chicago Marathon Is October 9th
Football/Track Stars In The News
Woman Writes In New York Times About Being Passed By A Cow In A Half Marathon Over racing will certainly produce some bad performances.
London Bids For 2017 World Champs
Reid Coolsaet Needs Sub-2:15 And Top 3 Showing At Scotiabank Toronto Waterfront Marathon On Oct. 16th To Make Olympic Team
More World Champs Updates
2011 Worlds (Race Highlights Embedded On Right)
Day 3 Is In The Books *IAAF Day 3 Recap *Athletics Weekly
Tuesday's AM Action: LRC: Men's 1500 Wheating Out, Most All Favorites Through in Men's 1500 First Round Andrew Wheating's difficult 2011 campaign likely came to an end with a first round exit in the 1500 heats. The heats saw wire-to-wire running from a resurgant Dan Komen, a fall for Mehdi Baala, and Centro Jr looking good and Leo Manzano struggling but advancing on time.

Women' 5000: Women's 5000m Semis: Molly Huddle Goes Home, Meseret Defar and Linet Masai Both Run 2/3rs of the fields advanced and the American record Huddle did not advance which wasn ot a surprise considering her injury.

LRC: *Day 4 Daegu Distance Previews: Men's 800 Final, 1500 1st Round Highlight Busy Day
*NY Times Looks as Yohan Blake's Twitch
*Bolt: no problem with one-strike-and-out rule
What Friend of LRC Steve Ritchie is Writing: Ashton Eaton Gains a Measure of Mental Toughness Through Difficult Competition at Worlds


LRC: Day 4 Daegu Distance Previews: Men's 800 Final Nick Symmonds Goes for a Medal, 1500 1st Round Highlight Busy DayGreat distance action including the women's steeple final, men's 1500m round 1 and women's 5000mround 1 and of course the anticipated 800m final with Symmonds, Rudisha and Kaki.

More Monday: *Monday Recap from Athletics Weekly: Robles DQ, Montsho Gold, Carmelita Jeter and More
*Eurosport and Ato Boldon See the Yohan Blake Flinch
*Jessica Ennis Leads After Day 1 of Heptathlon But Faces Some Pressure
*Koji Murofushi Wins Surprise Hammer Title

LRC: 2011 Worlds Steeplechase Prelims: Favorites Advance and Americans Struggle Ezekiel Kemboiblasted an 8:10 steeple to lead the qualifiers as the American men bombed. Plus some interesting comments from Dan Huling:"I'm embarrassed, disappointed, a little bit relieved."

LRC Usain Bolt False Starts ... Or Did He? Video Proof That Yohan Blake Flinches and then Usain Bolt False StartsThe video shows very clearly that Yohan Blakeflinches and then Usain Boltsubconsciously reacted and bolted from the blocks. According to IAAF rules, at a minimum Blake should have been warned. Under no scenario should Bolt have been giventhe DQ.
*Telegraph article here pickig up the LRC cause on the Blake flinch
LRC Bolt's DQ, Ashton Eaton's 1,500m And More

Usain Bolt DQed For FS, Yohan Blake Wins Title*Bolt: "Looking for tears? That's not going to happen."
*Dix (silver): "I couldn't believe it, it's kind of surreal. I didn't think they were going to kick him out. It's pretty hard to kick Usain out of the race."
*Bolt's Coach: "I think he would have run in the sixties (9.60s),"

False-Start Rule - Fair Or Foul?
*AP Column: Bolt is human, his sport's rules are not
*Tim Layden: Heave The Rule As Well
*IAAF Stands Behind Rule ... Sort Of IAAF statement says rules must "be applied consistently and fairly for ALL athletes." But then they added, "in extraordinary cases, the IAAF Council has the right to make interim changes to Technical Rules, pending official approval by IAAF Congress."
*Rojo Says Don't Think About Changing Rule
*Don't Forget: Experienced Dwain Chambers Was DQed In Semis

LRC:Rojo Blogs From The Couch About Daegu: Post #2 - 6 Quick Thoughts About The Men's 10,000, Men's 100m And Men's 800/Thoughts On Human Nature's Attempt To Explain EverythingRojo laments that humans seemingly always try to have a nice and neat explanationfor everything like Bolt's DQor Farah's narrow lossand normally it ends up being wrong. Along the way, herefuses to throw Bekele under the busand hopes for his resurrection but seemignly has no problems with running all over Matt Tegenkamp. Heartless. Plus big praise for Maurice Greene, Nick Symmondsand even Khadevis Robinson.

M 100m: IAAF: Yohan Blake Always Wanted To Be A Cricketer, Now He's Fastest Man On Planet
M 400m - Heats: Merritt Blasts 44.35 World Leader
W LJ: American Brittney Reese Wins - Walking In The Footsteps Of Idol Joyner-Kersee
Uceny Talking Big: "I am definitely in a good position to win." We've gotta admit the article states her goal is any medal.

Only On LetsRun: Sarbi The Mascot Techno Street Dance Routine With Some Korean Babes Women He's not a match for Berlino.

Other Distance News
*Semenya Admits She'll Be Happy If She Medals At All At Worlds
*Bernard Lagat: "I'm an old man but I'm still running fast."
*Mo Farah Is Full Of Respect For Bekele: "Kenenisa Bekele is like the Usain Bolt of distance running." Bekele's agent had this nugget of info about the King of Distance: "He is quite fit but it is difficult to say what will happen, because he has not raced."
Non-World Championships News
Life After Death: Woman Claiming To Be Sammy Wanjiru's Wife Gives Birth
Previous Worlds News
More Distance News: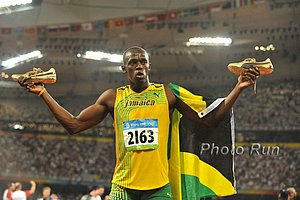 Our world-famous prediction contest is back and better than ever as it's up a week early. Pick the top 3 perfectly correctly in 35 events and win $200,011. Win the contest without being perfect and win 4 pairs of PUMA Faas 550s plus a $150 gift certificate. Don't know anything about the meet? Never fear - we've got a table for you that makes picking so easy that an 8th grade soccer player won one time. Now we know some of you think that our "perfect ballot" prize is a gimmick, but we really want to give away a ton of cash, so we've added in a $10,000 prize if you can just pick the 800 through 10,000 correctly for a single sex. *Enter Here
LRC Week That Was As we get ready for Worlds, we wonder if Kara Goucher's injury was preventable, wonder why anyone would talk trash about Kenenisa Bekele and mourn the passing of a rare US-born Boston marathon champ. Along the way, we give you quotes from Blanka Vlasic and Emil Zatopek before addressing Chris Solinsky doping allegations.
Non-Distance News From Worlds:
Administrative News
Non-Distance News
*Seb Coe Feels Current Generation Of British Athletes Is Finally Free Of Burden Of "Golden" Generation "I spent three days there just sitting with the team and it occurred to me that this is really the first generation that has been able to get rid of the albatross of the so-called golden era."
*Doomsday Scenario To Ponder: Could The US Men Leave Daegu Without A Single Gold? The answer is yes, but it's very unlikely.
*We Hate The Racewalk But ... This Is Close To Being A Recommended Read Portugese Racewalker Competing In Record 11th Straight World Championships
*Bolt: People Shouldn't Expect World Records But They Shouldn't Forget I'm Undefeated On The Year "I think it will be the same as Berlin. Some people ran well in the early season, but it is the championships that count."
*23 Years After Hosting Olympics, Things Have Developed As Planned For Korea, Which Is Viewed As A Legit Hoster Of Major Sporting Events
*USA Today Does Big Profile On Allyson Felix's Quest For 200/400 Fame
*Dwain Chambers' Olympic Ban Could Possibly Be Lifted If LaShawn Merritt's Gets Lifted
*Out - In - Out: World HJ Champ Yaroslav Rybakov Will Not Defend His Title After All Due To Injury
*Daegu Worlds Is 1st To Feaure Just 3 Rounds Of 100m And 200m Unless you don't have a qualifying time, and then you'll run a preliminary round. IAAF: "We are trying to make the programme more compact, more exciting."
*Christine Ohuruogu Is Upbeat Despite Recent Struggles
Bureaucratic News
Dumb, Dumber And Racist Quotes
Want To Know The Truth About Oscar P? Read This:
Recommended Read: The Scientific Interpretation Of The Oscar Pistorius Research
Recommended Read: Boston Globe: John J. Kelley, 80; Marathon champ carried hopes of the nation Kelley lived in a day and age when foreigners were dominating the Boston marathon, but he always showed up and gave it his best (he finished 2nd 5 times) and one magical day he emerged as the winner. He should be an inspiration to all modern day US marathoner hopes like Ryan Hall, as foreigners won Boston 11 years in a row before his win in 1957 and 10 years in a row after it.
New England Runner: Tribute To The Renaissance Man Kelley
The New London Day (Local Paper): John Kelley, running legend, dies at 80
NY Times: John J. Kelley, Marathon Champion, Dies At 80
And Then There Were 3
Budapest Pulls Out Early ... 3 Remain In Contention For 2017 Worlds London, Barcelona and Doha remain.
Sprinters Steal The Headlines
Track Town USA, Move Over. Should We Call China "Track Country" And Make It The Permanent Host Of The Olympics?
IAAF Recap Of Incredibly Successful World University Games - More Than 30,000 People Showed Up Every Night To Watch In terms of the action, the big story was the return of Olympic and world champion Nelson Evora in the triple jump. He got the gold in his first competition in 2 years since having screws inserted into his tibia.
Random Road Action From Last Weekend
*Wejo Rejoice: Weldon Wins America's Finest City Half Marathon
*Katie McGregor Runs 75:00 To Win Half Marathon In Minnesota
*Looking Ahead? Want To See The Famed Wildebeest Migration And Run A Marathon At The Same Time? Try The Kenya Airways Masai Mara Marathon
Daegu: Controversy And Intrigue
Daegu: Additions And Subtractions
Men's 110 Hurdle DQ (International Visitors Click here, Post Race interviews here)
Montsho Over Felix (International Visitors Click here, Post Race interviews here)
A Scintillating Men's 10,000 Finish (US Visitors Only)
Men's 100m Final
Women's 10,000 Highlights (US Visitors Only, International Visitors Click Here)
Women's Marathon Highlights & False Start (US Visitors Only)
Usain Bolt Crushes His 1st Race
The Olympics
*Look Who's Talking China Scolds West, Says London May Not Be Fit To Host Olympics After Riots Great comment from one reader: "It takes an oppressive police force, underaged athletes and serious air pollution to host a successful Olympics. Thanks for the feedback, China - Crash Fu."
*South Africa Will Not Bid For 2020 Olympics But say, "We will certainly go for 2024." So without SA, that leaves Istanbul, Madrid, Rome and Tokyo as the confirmed bidders, with Doha still deciding whether or not to bid.
Looking Way Ahead Post-Worlds
*Milcah Chemos Going For Steeplechase WR At Final Diamond League Meet In Brussels, Belgium Sept. 16th IAAF It will be Sept. 16th in Brussels, Belgium. Her PR is 9:08.57 and the WR is 8:58.81 set by Gulnara Samitova-Galkina at the 2008 Olympics. Chemos also says that she thinks Kenya can sweep the steeplechase at World Champs.
Our Sport's History Is A Selling Point
NCAA Star Kirani James Gets World Leader In 400 In London (More London Coverage Here)
Paula Speaks On Berlin (Story Here)
Poll: Vote Online For The Bowerman Award As of now, Washington State's Jeshua Anderson is winning for the men and Texas A&M's Jessica Beard for the women.
Monaco Photos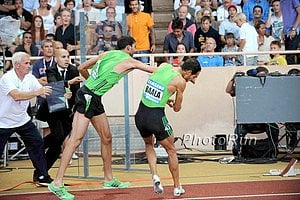 LRC Contest Recap - The Greatness Of You
LRC USA Nationals Contest Recap As usual we had a couple of ringers come out on top in our contest. Our winner is in the elite of the elite of LetsRun.com, as not only has he been to watch the World Championships and Olympic Trials, he has a @runner.org email address, and a real-life wife. Our runner-up was a state champion in high school and has started a post-collegiate group in Utah.
A Must-Watch (We're Not Sure How We Missed This) - Sammy Wanjiru's Mom Theatens Others With A Machete 2 Weeks Ago (More Here)
Women's World XC In Photos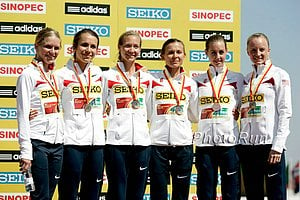 Men's World XC In Photos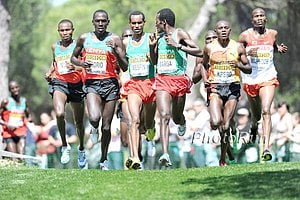 Great Deals

Universal Sports Back To Top