Monaco Diamond League Friday *Start Lists/Results *Meet Starts At 1pm/Running At 2pm EST
LRC Monaco Preview: A LRC Track Fan's Dream Meet Monaco is a LRC track fan's delight. You've got Usain Bolt and Allyson Felix to entertain and the distance races are absolutely stacked with the US's top talent taking on the best in the world. Men's 800m: KD and Symmonds vs. world record holder Rudisha, men's 1,500m: Centro, Wheating, (Willis and Gregson) versus Silas Kiplagat, men's 5,000m: Lagat, Solinsky, Rupp and Teg vs. Koech, Farah and T. Bekele, women's 1,500m: Uceny, Barringer and Rowbury vs. 8 of the top 10 in the world. Not to mention a World Championships final preview in the 400m hurdles and much more. We break down all the action. *Boring IAAF Preview
*Musings About The Magical Sub-12:50 Only 3 times has it been done in a race where Haile G, Bekele or Komen weren't leading the way.
*Confident And Balanced David Rudisha Speaks Talks About His 2009 World Championships Disaster Rudisha blames the cold weather and "and some things you can't control" for his semifinal flame-out. In Kenya, LRC co-founder Rojo was told what the "some things you can't control" was but is still deciding if he wants to post about it without a second confirmation.
*Bolt: "I'm a long way off 9.58sec." He then adds that there is no chance he'll get the world record this year as it's taking him longer than expected to return to form this year.
*Bolt Focused On Winning - Not Times "If the technique is right and I run 10 seconds flat, I'll be happy." *Usain Bolt Hits Beach In Monaco
*Hooker Not Focused On Quality Steve Hooker that is ... He just wants practice as he vaults for the first time in 9 months.
*Press Conference Highlights From Monaco Nothing from mid-d or distance people.
*Sally Pearson Wants 3rd Straight Diamond League Victory At 100H
*After Taking A Break After Losing In NY, SAfrican 400H Star Van Zyl Is Back And Ready For Monaco
*Good News For Usain Bolt: London Olympics Will Have World's Biggest McDonald's
Unusual Reads
Recommended Read Top 10 Olympic Disasters Read about the guy that won the Olympic marathon title after riding in a car for 11 miles or the woman who was discovered to be inter-sexed when she was shot on the street 20 years later.
Oscar P News - Will People Have The Guts To Do The Right Thing And Ban Him Or Let Him Run In A Non-Medalling Role?
Distance News Of Note
Miracle: Kaki And Rudisha To Square Off At 800m In London BEFORE Worlds

Recommended Read: US Marathoner Brad Poore Helping Caroline Kirui And Husband Weldon Get A Chance At Running In America Lengthy article on the struggles to make it as a pro runner.

Jeff See, Ryan Foster Running Ryan Shay Mile This Weekend
Tuesday's Lignano Italian Action *Results
Injury News
Random News Of Note
Want Some Bad Training Advice? Read This From The NY Times An exercise physiologist says there's no benefit to running on trails opposed to roads and that he "could not find any scientific evidence that a softer surface is beneficial to runners." We say try running a hard 8-mile tempo on the trails this week, then repeat the same workout on the road next week and see which one trashed your legs more. That's all the "scientific evidence" you need. Trail running has many benefits and Alberto Salazar would agree.
Doping In The Courts:
*NY Times: Lance Amstrong's Lawyers Accuse Government Of Damaging Lance's Reputation By Leaking Confidential Information To The Media New York Times
*CyclingNews.com Article
*Court Appeal Starts For Greek Sprinters Who Where Found Guilty Of Perjury After Faking Motorcycle Accident When They Missed A Doping Test
Looking Ahead To July 26th Giro Podistico Internazionale Di Castelbuono Some of Italy's best distance runners will go up against Ryan Hall, Boston Marathon Champ Geoffrey Mutai, London Marathon Champ Emmanuel Mutai and NYC Marathon Champ Gebre Gebremariam.
Post Kenyan Trials: The Trials Are Over And Now "The Hard Work Begins" For Kenya's World Champs Team
*Why The Kenyan Distance Runners Are The Best In The World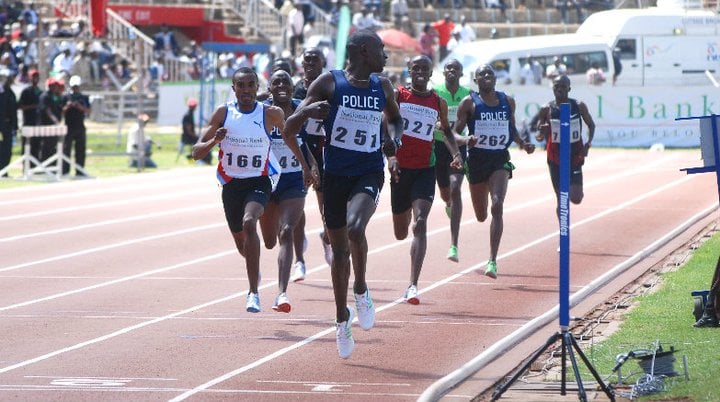 Silas Kiplagat Dominates 1,500 To Win In 3:31.39 Commonwealth Games champ Silas Kiplagat won in a blistering 3:31.39. He actually had time to turn and wag his finger at the Olympic champion Asbel Kiprop, who was 2nd in 3:32.26. Women's 5,000: The woman LetsRun spent a day with in Iten two weeks ago, Worlds silver medallist Sylvia Kibet, ran 15:38.5 to beat 10k world champ Linet Masai (15:40.5) (and destroy the belief in a LetsRun jinx in the process?), as world junior 3k champ Mercy Cherono was 3rd in 15:42.4. In the women's 1,500, Olympic champ Nancy Jebet Langat was upset as she was 3rd behind Helen Obiri and Joyce Chepkirui. 800: David Rudisha won with a "relaxed" 1:43.76 ahead of African bronze medallist Jackson Kivuva (1:44.40) and Olympic/Worlds silver medallist Alfred Kirwa Yego (1:44.76). Commonwealth Games champ Boaz Lalang was a disappointing 8th in 1:46.88. Olympic/Worlds silver medallist Janeth Jepkosgei won women's 800 in 1:59.34. Men's 5k: "Junior" phenom Isaiah Kiplangat Koech won in 13:21.31 with Beijing finalist Thomas Longosiwa a big surprise 2nd in 13:22.89. Olympic/Worlds silver medallist Eliud Kipchoge was 3rd (13:23.48) and given the wild card to his 5th successive Worlds. DL star Milcah Chemos won women's steeple. And showing the pure distance running focus in Kenya, no Kenyan field event athletes made the World Champs squad. More: *LRC Kibet Pre-Race Workout/Interview *LRC Kibet Photos
Surprise Winner Peter Kirui Beats Out Loaded Field In Kenyan Trials 10k Peter Kirui ran 27:32.1 to beat out half marathon champ Wilson Kiprop (27:32.9) and Osaka 2007 bronze winner Martin Mathahi (27:38.6). Boston Marathon champ Geoffrey Mutai was 4th in 27:38.9. *MB: 27:11 man Bidan Karoki had 100m lead at 9k, but fainted and collapsed
*MB: Silas Kiplagat runs incredible 3:31.39 at altitude with no pacers to win Kenyan Trials
*OlympicSteeplechase Champ Brimin Kipruto Wins Trials In 8:20.19 Commonwealth Games/Defending National Champ Richard Mateelong was 2nd in 8:21.39 as Abraham Chirchir was 3rd with 8:22.34 and former world junior champ Willy Komen 4th in 8:22.63.
*Olympic Champs Asbel Kiprop And Nancy Jebet Lagat Both Upset In Kenyan Trials 1,500, But Make WC Team
*Daily Nation: As Expected, Rudisha Easily Books Ticket
Day 2 Of Kenyan Trials And Preview Of Saturday's Action *Women's 10k/Recap Video
Vivian Cheruiyot Holds Off OTC's Sally Kipeygo To Win Kenyan Trials 10k Vivian Cheruiyot ran 31:55.8 to Sally Kipeygo's 31:57.8 for the win and says she plans on doing the 10k/5k double at World Champs. Prisca Jepleting was 3rd in 31:59.1, Pauline Korikwiang 4th (31:59.5), and Boston Marathon 3rd placer Sharon Cherop 5th (32:03.0), as Linet Masai ended up skipping the 10k to run the 5k on Saturday (as defending world champ, she qualifies anyway). *AP Article *MB: Sally Kipyego makes Kenyan team
LRC Kipyego Speaks To LRC From Kenya *Video Here
*IAAF Recap Day 2: Kipyego Says She Was Not Going To Miss Worlds Team "even if it means taking me to hospital after"

*Reuters: David Rudisha Wins His Semis Heat In 1:45.3 As Asbel Kiprop Wins His 1,500 Semi In 3:39.5 Ahead Of Daniel Komen (3:39.6)


LRC LRC Goes To Kenya - Post #3: A Workout With World Championships Silver Medallist Sylvia Kibet The 2009 World Championships silver medallist at 5,000 has only run 15:11 this year but is confident heading into the 5,000 at the Kenyan Trials, which come after the 10,000. We know why, as we caught up with the Renato Canova-coached athlete in Kenya and watched her do a 2,000-1,600-1,200-1,000-800-600-400-200-100 workout after rains prevented her from doing a 10km tempo run with an incredible assortment of marathoners and half marathoners coached by Gabriele Nicola. Hear from Kibet, learn how Kibet decided on what workout to do while Canova was absent, watch the 600 from the workout and even see pictures of the house that Kibet lives in and compare it to what US stars live in. *LRC Sylvia Kibet Photos
LRC *Video From Track
LRC News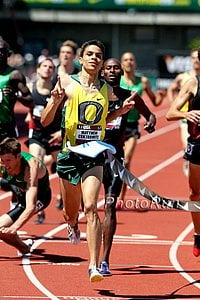 LRC The Week That Was In Running: Is Uceny #1? Will Centro EVER Run Faster, Alberto Debunks LRC Training? And More ... We analyze Morgan Uceny's win a little bit more, go deep into the statistical archive to present some crazy stats to ponder the unthinkable: Will Matt Centrowitz will ever run faster than he did last week?, praise Tyler Mulder, take a trip down memory lane and relive Alan Webb's Paris victory from 2007, and along the way in light of Alberto Salazar's comments about Mo Farah's training, we try to defend the LetsRun.com training approach. Plus we introduce you to the most amazing HS track and field coaching staff in the country - one that features 3 Olympic gold medallists.

LRC Rojo Goes To Kenya - Post #1: Sammy Wanjiru Was Not Murdered LetsRun.com co-founder Robert Johnson has returned from 2+ weeks in Kenya and will be recapping his trip over the next week or so. Today, he reveals what he learned about Sammy W's death and provides video proof as to how in Kenya one can easily get locked into their own bedroom.

LRC 2011 Monaco Diamond League Is Going To Be Special For US Distance Fans - Preliminary Start Lists Never before have more than 2 Americans broken 13:00 in the same race, but Bernard Lagat, Galen Rupp, Chris Solinsky and Matt Tegenkamp are all entered in the 5,000. Can 3 or 4 do it? Andrew Wheating is in the men's 1,500. Nick Symmonds and KD will face world record holder David Rudisha in the men's 800. Plus off-event entries like Abubaker Kaki in the 1,500 and Shalane Flanagan in the 1,500. *MB Discussion Here
2 Recommended Reads
RRCA Announces 2011 Roads Scholar Class Megan Hogan, Bobby Mack, Meghan Armstrong, Lex Williams, Megan Duwell and Tyler McCandless all get grants.
LRC Recap: American Men Get It Done In 1,500, Semenya Wins Bizarre 800, Flanagan Just Misses American Record, Bolt Entertains And Can A Frenchman Win Worlds In The Steeple? Usain Bolt showed up and entertained, there was a thriller in the men's hurdles between David Oliver and Dayron Robles, an upset in the women's 100m, and it's officially time for Jeremy Wariner to panic. That's probably what you're not most interested in. In the distances, the American men got the job done in the 1,500m, Shalane Flanagan just missed the American record at 5,000m, Caster Semenya won a bizarre 800m, and a Frenchman may be the favorite at Worlds in the steeplechase.
SI Where Is He Now? - Roger Bannister
Sports Illustrated Interview With Roger Bannister Talking Mostly About What He's Done Since Running The First Sub-4 Minute Mile Also interesting to hear what the two friends who paced him went on to do. Sir Christopher Chataway, now 80, set the WR in the 5k in 1954; Chris Brasher, who died in 2003, went on to win gold in the steeplechase in the '56 Games before becoming a founder of the London Marathon. *Podcast With Roger Bannister
Marion Jones Cut By WNBA's Tulsa Shock She was averaging less than a point per game. *MB: Marion Jones needs a job
Thursday's Action
Bored As It's Too Hot To Go Outside This Weekend? Here Are Two Things You Can Do After Watching The Monaco Meet:
1) Are You A Fan of White Sprinters?
Documentary On The Great White Hope Casey Combest's Comeback To Air On ESPN News This Weekend 2:45 am on Friday and 5:30 pm on Sunday are the air times for the film on the former sprint hope.

2) Do You Like To Read?
Running For The Buffaloes Hansons Rojo's former runner at Cornell, Sage Canaday (2:16:52 marathon PR), has written a book about what it's like to be a part of the Hansons.
LRC LRC Goes To Kenya - Post #4: A Thurday Fartlek Run The must-see event in Iten is the Thursday fartlek run where hundreds of runners give it their best in an attempt to rise to the top. Get inside access thanks to the family of 2010 ING NYC Marathon champ Edna Kiplagat and see a couple hundred studs whittled down to just 14, including 58:59/2:04:57er Wilson Kipsang. Learn about the unknown guy who "won" the workout and along the way meet the "Founder of the Marathon" in Kenya. Plus learn how Kiplagat went from 2:50 to 2:20 in the marathon in just 13 months. All of that plus the Kenyan studs do what the American studs often won't do - admit that they religiously check out our website. LRC is truly world famous as the Kenyan studs say that they visit LRC. *LRC Fartlek Photos + Photos of Lornah's Training Camp *Fartlek Video *MB Talk About Fartlek Run
News From UK/Ireland
Kenya News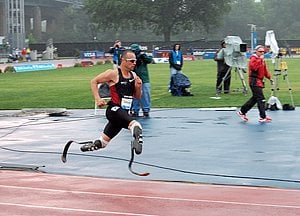 Blade Runner Reacts To Qualifying For Worlds BBC LRC will take the unpopular position and say it - "He shouldn't be allowed to run at Worlds." His lack of legs give him a huge advantage. But that doesn't matter because people write stuff like this: Guardian Writer: "The prosthetics are clunky, heavy, and appear almost homemade -crudely cut pieces of carbon fibre bolted on to wooden boards ..."
USATF News
A Slow News Day
Bizarre News/A Bad Day For Hurdlers
European Juniors Are Coming *Entrants
Assorted US News
Padova Italy Meet
2011 Padova Italy Results Looking at US distance races, Khavedis Robinson won the 800 in 1:46.74, as David Torrence was 3rd (1:47.63), Matt Centrowitz 4th (1:47.77) and Mark Wieczorek 7th (1:48.30). The women's 800 had Molly Beckwith in 3rd (2:00.07), Phoebe Wright 4th (2:00.20), Erica Moore 6th (2:01.09), Jenni Barringer Simpson 8th, Christin Wurth-Thomas 9th, Januszewski Hermansson 10th, and Shannon Rowbury 11th (2:06.57). Alice Schmidt won the women's 1500 in 4:08.09, as Clement Moser Treniere was 2nd (4:09.04), Gabrielle Anderson was 4th (4:10.15), Brianna Felnagle 5th (4:10.48), Katie Follet 7th (4:11.95), Ether Kampe 8th (4:12.09), and Maggie Vessey 11th (4:17.87). *MB: Centro 1:47.77 *MB: PADOVA MEET
*IAAF Recap Padova: Jamaica's Nesta Carter Wins 100m In 10.10; Olympic Champ/WR Holder Dayron Robles Wins 110 Hurdles Olympic champ/WR holder Dayron Robles wins 110 hurdles. Cuba's Yusneysi Santiusi wins 800 in 1:58.92.
*"Blade Runner" Misses World Champs "A" Standard Again, Will Have Only One More Chance To Get It His best time is 45.61 and he ran 46.65 here, but the "A" standard is 45.25.
Heusden Heat We Missed: Huesden 1,500 B Heat University of Minnesota's Ben Blankenship won in 3:37.76 ahead of AJ Acosta (3:38.77) in 2nd, John Jefferson 3rd (3:39.39), and Garrett Heath 7th (3:41.06). *Results
*2011 Heusden Track & Field Results Highlights from a North American perspective are as follows: 800: Tyler Mulder 1:46.05 for 2nd; 1,500: Will Leer 3:37.42 finishing ahead of Lopez Lomong as Nate Brannen runs 3:42; Men's steeple: Ben Bruce wins over Kyle Alcorn in 8:26; 5,000: Andrew Bumbalough 13:21.55 and Adrien Blincoe 13:24.82; Women's 5,000: Amy Hastings misses A standard yet again by hardly anything (15:15.56), meaning Angela Bizzarri won't be going to Worlds as of today, and Kim Smith runs 15:14.02 and Sara Hall 15:45.69. *Race Videos From 1,500, 5k & Steeple *MB Talk: Heusden stream tomorrow?
*Yelena Isinbayeva Wins Heusden Pole Vault In 4.60m In Her First Outdoor Meet Since 2009 IAAF
Euro Under-23 Champs, CAC Games & Other Results *Euro U23 Full Results
Teddy Tamgho Injured At European U-23 Champs/Other Results
LRC LRC Goes To Kenya - Post #2: Tuesday Track Workout In Iten + Sally Kipyego And Jake Robertson Unplugged We try to bring you insight into the running culture of Iten, Kenya where maybe 1,000 aspiring pros are trying to make it as a runner. At the crowded dirt track, we caught up with the most decorated female athlete in NCAA history - Sally Kipyego - who has returned to Kenya to give herself the best odds of making it to Daegu. Kipyego herself was stunned by the scene in Iten as there are so many aspiring pros. One of them is Kiwi Jake Robertson, who hopes to run 13:05 later this month, and we caught up with him as well. During the day, we saw school children running to school and full-time runners running in shoes with holes in them that cost $16. *Photos From Kamariny Stadium In Iten, Kenya June 28, 2011
LRC Recap: Morgan Uceny (& Mo Farah) Do It Again As Rupp Takes Merga's Scalp!!! The Birmingham Diamond League meet did not disappoint, as Morgan Uceny did something an American hadn't done in 25+ years and training partners Mo Farah and Galen Rupp impressed at 5,000, both outkicking the reigning World Cross-Country champion, with Rupp also getting a PR in the process, as Farah's 54-second last lap got him the win. Plus wins from Abubaker Kaki, Asafa Powell and Phillips Idowu. American fans, repeat after us. It's okay, we swear: "American Morgan Uceny is currently the best women's 1,500-meter runner on the planet."

LRC Women's 800m: Alysia Goes Wire-To-Wire updated Montano dominated the strong field, as she won wire-to-wire, with 5 women going sub-2:00. Maggie Vessey was sub-1:59 in second and former US champ Alice Schmidt was third. Recap, anlaysis, race video, results, and post-race comments from athletes.

LRC Women's 1,500m: The Thrill Of Victory And The Agony Of Defeat Christin Wurth-Thomas missed the World Championships by .01 in the most agonizing way possible. She led for 1,400m and then completely ran out of steam in the last 100m, as Morgan Uceny dominated the star-studded field for the win with Jenny Simpson and an emotional Shannon Rowbury booking their tickets to Daegu. Recap, results, video, and interview.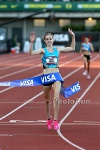 LRC Women's 5,000m: Molly Huddle Impresses, Hastings And Bizzarri Continue The Mammoth Mojo Molly Huddle performed like an American record-holding heavy favorite by putting on an exhibition the last two laps to win her first outdoor title. Training partners Amy Hastings (2:27 marathon in March) and Angela Bizzarri both set PRs and continued their huge improvement at 5,000m. Recap, results, interviews, race video.


LRC Women's 10,000m: Shalane Flanagan Goes Wire-To-Wire Over Kara Goucher And Field Shalane Flanagan wasted no time in showing the field who was boss, as she opened up a lead on lap 1 she would never relinquish, although Kara Goucher stayed close throughout. Goucher had another impressive run post-pregnancy and is super-excited to be away from the marathon and running track. Jen Rhines got another WC team spot, while Desiree Davila continued her fine 2011 with a huge PR in 4th and Magdalena Boulet also had a big PR. Recap, analysis, interviews, results.
*WP: Kara Goucher Admits That The Marathon Might Not Be Her Event Right Now
Wind Or No Wind - 2:03:06 Is His Slowest Marathon
Moses Mosop And His 2:03:06 To Run 2011 Bank Of America Chicago Marathon Moses and famed coach Renato Canova toured the Chicago course and liked what they saw.
Time To Learn Some T&F History - 40 Years Ago, Jim Ryun & Marty Liquori Ran A Dream Mile In Philly & It More Than Lived Up To The Hype
"The Road Of Death"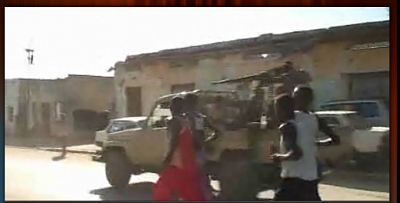 Feature On Somali Runners Training Each Day On "Road Of Death" For London 2012 (Video) The video shows how some Somali athletes avoid gunfire each day to realize their dream of competing and winning at the 2012 Games. *LRC MB: Top Video on MSNBC Is Feature on Somali Runners Training Each Day on 'Road of Death' For London 2012
Tokyo Marathon: A Legend Is Born *Photos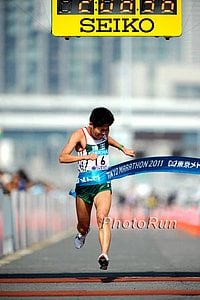 Hailu Mekonnen Wins, Japanese Amateur Yuki Kawauchi Runs Amazing 2:08:37 For 3rd And Faints At Finish Yuki Kawauchi's story is amazing. A 13:59 5ker and 29:02 10ker, he has a full-time job and has stayed away from the Japanese collegiate and professional system, yet he stunned all of Japan with a 2:08:37 run. Dreams do become reality.
*On The Boards: 13:59 5k, 29:02 10k Japanese AMATEUR Runs 2:08:37 at Tokyo Marathon and Passes Out