LRC Men's 5,000m: Bernard Lagat's 3:57.80 Close Wins A Thriller Over Chris Solinsky And Galen Rupp Track fans got a treat Friday night as Bernard Lagat, Galen Rupp and Chris Solinsky squared off and the race exceeded the pre-race hype. Chris Solinsky closed the last mile (1,600) in 3:58.5 and was beaten by an incredible Bernard Lagat. Afterwards, all 3 guys indicated they may get a rematch July 22th in Monaco, plus Chris Solinsky addressed the message board doubters, and Lagat talked about the 1,500m final and going sub-12:50.
*LRC Friday's 800m Semis: All the Favorites Advance And KD Asks For Some Energy From His Fans In The Final KD looked great in his semifinal, but his style points will not carry over into the final.

Tyson Gay Out Of 100m:
Thursday's Action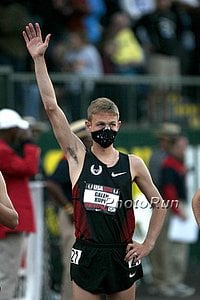 LRC Men's 10,000m: Galen Rupp Closes Out Matt Tegenkamp With 1:52.5 Final 800m The men's 10,000m may have become a men's 1,000m on Thursday night, but we're not sure how the outcome could have been any different as Galen Rupp, sporting a black mask for much of the race, closed in an incredible 1:52.5 to defeat Matt Tegenkamp - yes, that Matt Tegenkamp, who doesn't run the 10k. American record holder Chris Solinsky did not run and he'll face Bernard Lagat AND Galen Rupp today in a stellar 5,000m. Recap, analysis, video interviews.
*Nike Might Need A Slogan For Galen Rupp's Mask Oregonian
*Rupp On Walking Around Eugene Mask: "Whenever I went into a store it looked like I was going to rob them." *Apparently he wears it traveling to and around before the race as well; not just during it.

More Thursday Coverage:
LRC Thursday's 1,500m Heats: 2011 US Leader Russell Brown Bows Out Erin Donohue went out on the women's side, but the big news was US leader Russell Brown going out on the men's side. Everyone associated with Oregon looked great, including a super-psyched Andrew Wheating. Recap, interviews, and more for men's and women's 1,500 and men's steeple.

LRC: 800m Round 1 Goes According To Form KD gave the interview of the afternoon, talking about running rounds, the Dallas Mavericks, Miami Heat, Dirk Nowitzki and choo-choo trains all in four-and-a-half minutes.
LRC Legend Yuki Kawauchi Pushes Too Hard, Does He Have Congenital Analgesia?
Yuki Kawauchi Taken To Hospital After Suffering Heat Stroke Just Before Finish Of 50k Ultra He led the whole way before getting to the last km, where he "fell repeatedly before finally losing consciousness with 600m to go." Most people can't push themselves to the absolute limit like this, but Yuki Kawauchi always does, as he says he usually ends up in the medical tent after marathons.
David Rudisha Will Run A Tuneup 800 In Nancy, France This Friday Getting Ready For June 30th Lausanne DL Meet
News In The US
Does Moses Mosop's 30K WR Bring The 2:02 Marathon Any Nearer? www.sportsscientists.com
2 Weeks In Review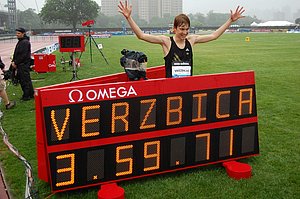 LRC Week That Was: adidas, NCAAs, (And Pre) And Some Thoughts On USATFs We're a little late with our week in review, but it's worth the wait as we have some early thoughts on next week's USATF championships, we ponder whether Lukas Verzbicas' sub-four was the top high school performance last weekend, we have 5 thoughts on the adidas and NCAAs meets, and we call out the Prefontaine Classic meet for letting Justin Gatlin run but banning his ex-masseur. Plus quotes of the week and a photo of the week. Updated with 2011 Worlds qualifying info.
Tragic News: Tim Danielson (Sub-4 Runner In HS) Allegedly Kills Wife/Survives Suicide Attempt LetsRun.com has learned that Tim Danielson, the 2nd US high school runner to go sub-4 in the mile, has allegedly killed his wife as part of a murder-suicide attempt that wasn't completed, as the authorities got to Danielson before he had killed himself. *Update: Danielson Arrested On Suspicion Of Murder
Saturday: Chelanga Ends His Career In Style, Centro Outkicks Ulrey, Reid Wins Again, Coburn Comes Through & Both Meets Come Down To The 4 X 400, As Texas A&M Three-Peats (Times 2) The final day of the 2011 NCAA outdoor track and field championships was simply incredible. Teamwise, Texas A&M used thrilling victories in the 4 x 400 to capture the men's and women's titles for an unprecedented third year in a row by the narrowest of margins. As for the individual action, the triple jumpers got a standing ovation, as Christian Taylor and Will Claye waged an epic battle that saw Claye jump 57'9.75" and lose, there was a 19.99w in the 200, and Jessica Beard had the fastest split in NCAA women's history (49.14). But we know the LRC nation cares most about the mid-d and distance action, where Matt Centrowitz blitzed a 53.38 last 400 to win the 1,500 over Dorian Ulrey before celebrating with a throat slit, Sheila Reid reigned supreme again over Jordan Hasay, who struggled home 8th, Emma Coburn came through as expected, and then Sammy Chelanga proved the doubters (including us) wrong with a sensational victory in the 5,000 to cap a magnificent career with style. We recap that all plus talk to Centro about starting a Centro nation.

Friday: Robby Andrews Wins Epic Men's 800m In 1:44.71 We don't want to ruin the men's 800m for you if you have don't know the results. If you don't know the results, click on that link, as you can watch the race in the article.
*The Science Of Sport Takes A Look At The Different Pacing Strategies During The Men's 800 Final And Which Was Optimal They also talk about Caster Semenya and ask an interesting/crazy question: Is she losing on purpose?
LRC Day 3 Recap: What A Day!!! An Unreal Men's 800, 3 Titans Clash At 10k, A Repeat Champion In The Seeple And Sheila Reid Vs. Jordan Hasay Round 1 Friday night certainly was one to remember for a long, long time, as an incredible men's 800 field more than lived up to the hype and delivered a truly epic final and three titans clashed in the men's 10,000. Also, Sheila Reid vs. Jordan Hasay Round 1 in a great and fast women's 5,000 final and a repeat champion in the men's steeple. Plus, let us introduce you to Abbey D'Agostino.
More Day 3: *A Must Read: Charles Jock Overcomes Father's Death & Journey From Africa To 800m Stardom As a 3-year-old, Jock had to walk hundreds of miles to get out of Africa. Then his beloved father passed away in 2005. See how those experiences have made him into the stud that he is today.
*AP Recap Of Day 3
*Move Over, King Carl?: Ngoni Makusha Runs 9.89 NCAA Record In 100m And Wins Long Jump At NCAA Meet Makusha is the long jumper who earlier this year ran 9.97 in his first 100m in 4 years at the ACC meet. A star is in the making.

LRC Day 2 Of 2011 NCAA Champs: Reid And Hasay Lay Low As Wallace Struggles In Women's 1,500, Favorites Minus Foster Shine In Men's 1,500, And Lightning Delays Men's 10,000 In the 1,500 semis, Lucy van Dalen got knocked down but got up, while Jordan Hasay and Sheila Reid decided not to battle until Friday (5k) and Saturday (1,500), but it looks like the expected 3-way battle might only be a 2-person affair, as Lea Wallace struggled. An epic men's 1,500 final might also be in store on Saturday as the LetsRun.com favorites impressed, as the collegiate career of 2010 NCAA runner-up AJ Acosta and his fans (the AJ Nation) came to an end. All of that plus a Penn State mid-d runner once again showed great emotion in the media zone. The women's steeple prelims also took place, but not the men's 10,000 final, which was delayed until Friday due to a late thunderstorm.

LRC Day 1 2011 NCAA Champs: LetsRun.com Dark Horse Bottorff Wins 10k, Hot Men's 800m Semis, And Jeff Demps Out Of 100 The women's 10,000 featured an exciting finish with 8 women battling it out for the win over the final 1k before the LetsRun.com dark horse obliterated the field with a stunning last lap that was a thing of beauty. The men's 800 was simply amazing, as 22 guys broke 1:49 and 7 guys ran 1:47 but didn't advance. We recap it as best we can and get great insight from Elijah Greer, great class from Fred Samoei, and lots and lots of passion from a PSU 800-meter runner (maybe too much, malmo?)
LRC Moses Mosop Smashes 30k World Record And He And Renato Canova Say He Can Run 2:02 For The Marathon Moses Mosop put on an exhibition to smash the world record at the Prefontaine 30,000m. Not only did he run a 63-second lap on his 45th lap of the race, but he aferwards talked of a 2:02 marathon in Chicago and his coach Renato Canova said a 2:02 is possible next year.


LRC Pre 5,000m And 10,000m: Rupp Doesn't Start, Solinsky Stops, Mo Farah Shocks, Vivian Cheruiyot Wins Again The men's 10,000m was the most shocking race of the night. The much-hyped American showdown between Chris Solinsky and Galen Rupp did not take place, as Galen Rupp did not toe the line despite warming up. Chris Solinsky then dropped out before two miles and before it was all done, Mo Farah, who had had been near last place early on, pulled a huge upset and defeated the strongest 10,000m field since the World Champs. Interesting post-race comments from Solinsky, Alberto, and Mo. In the women's 5,000m, Vivian Cheruiyot showed she's the top female track distance runner on the planet. *Chris Solinsky, Mo Farah, Shalane Flanagan And Alberto Salazar Reaction At 2011 Pre Classic Distance Night In Eugene
It's Time We Revisit The Yuppie Vs. Blue Collar Runner Debate - Blue Collar People Rejoice; You Have A New Leader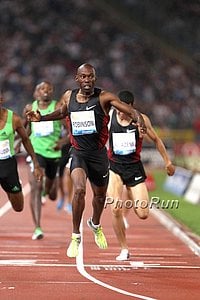 LRC 34-Year-Old "Regular Guy," Working Dad Khadevis Robinson Talks To LetsRun.com About Beating The World's Best In Rome KD has always been one of the best interviews in the sport, and now we feature him when he's on top of the world after his shock win in Rome. Robinson, who went to Rome in part last week as he wasn't sure he could even get a lane at the upcoming two US Golden League meets, has almost always worked in addition to running.
Tokyo Marathon: A Legend Is Born *Photos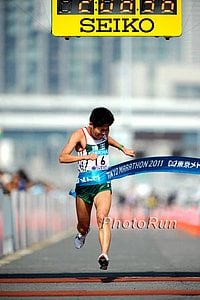 Hailu Mekonnen Wins, Japanese Amateur Yuki Kawauchi Runs Amazing 2:08:37 For 3rd And Faints At Finish Yuki Kawauchi's story is amazing. A 13:59 5ker and 29:02 10ker, he has a full-time job and has stayed away from the Japanese collegiate and professional system, yet he stunned all of Japan with a 2:08:37 run. Dreams do become reality.
*On The Boards: 13:59 5k, 29:02 10k Japanese AMATEUR Runs 2:08:37 at Tokyo Marathon and Passes Out
One For The Ages In Boston: Desiree And The Fastest Marathon Ever Run "Unbelievable" is probably the best way to describe the 2011 Boston Marathon. First, American Desiree Davila, off the back of the lead pack multiple times, was gutsy as hell, battling for the win with Caroline Kilel down the final straight. There were 4 lead changes on the final straight before Kilel came out on top. In the men's race, American Ryan Hall ran 2:04:57 and lost by nearly 2 minutes. Yes, ladies and gentleman, Geoffrey Mutai and Moses Mosop ran faster than anyone else ever before the in the marathon, 2:03:02 and 2:03:06 respectively, thanks in part to 20 mph tailwinds. Mutai cemented his status as the strongest runner on the planet with the win. We give you some post-race comments below but purposely are holding off discussing the wind.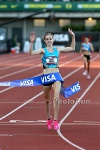 LRC Women's 5,000m: Molly Huddle Impresses, Hastings And Bizzarri Continue The Mammoth Mojo Molly Huddle performed like an American record-holding heavy favorite by putting on an exhibition the last two laps to win her first outdoor title. Training partners Amy Hastings (2:27 marathon in March) and Angela Bizzarri both set PRs and continued their huge improvement at 5,000m.

Covering the Field Events Like No One Else:
Ashton Eaton Sets PR With Decathlon Win, Olympic Gold Medallist Bryan Clay Falls In 110 Hurdles And Doesn't Finish The Meet Eaton's PR put him 5th all-time US and was the best score in the world since 2009. Clay may still be able to go to Worlds on an appeal if 2nd, 3rd, and 4th place finishers don't get the "A" standard, as Clay does have it.
*IAAF: Michelle Carter Wins Epic Shot Put Battle By 1 Centimeter
America Isn't the Only Country In The World
Thursday USAs
LRC Women's 10,000m: Shalane Flanagan Goes Wire-To-Wire Over Kara Goucher And Field Shalane Flanagan wasted no time in showing the field who was boss, as she opened up a lead on lap 1 she would never relinquish, although Kara Goucher stayed close throughout. Goucher had another impressive run post-pregnancy and is super-excited to be away from the marathon and running track. Jen Rhines got another WC team spot, while Desiree Davila continued her fine 2011 with a huge PR in 4th and Magdalena Boulet also had a big PR. Recap, analysis, interviews, results.
*WP: Kara Goucher Admits That The Marathon Might Not Be Her Event Right Now
Non-USATF News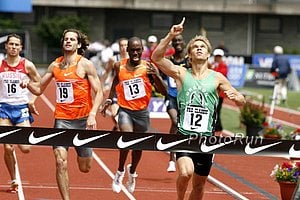 LRC 2011 USATF Men's 1,500m Preview: The "Unbeatable" Andrew Wheating Takes On A Stellar Field Wheating will have his hands full with a field that has 4 sub-3:50 milers (equivalent). Can Leo Manzano and/or Lopez Lomong turn it around? Does Russell Brown or Centro Jr. have a shot? We're not allowed to mention David Torrence. Plus brief men's steeple preview.

Your USATF Nationals Predictions We've got your top 3 in each event from our world-famous $20,011 Prediction Contest.
Administrative News
Good News: USATF Says No Board Members Are Candidates For CEO Position And That Was The Situation At The Beginning Of The Search It wasn't the case in the middle of the search.
*Philip Hersh Takes A Look At Scenarios In USATF Board's Incompetence Thoroughness To Find A CEO
May 23rd Flashback: Steve Miller, USATF Search Head: "Very Possible" That Stephanie Hightower Could Become CEO

Agent Ray Flynn To Be Director Of Meet Formerly Known As Millrose Games When Millrose as we know it was was cancelled, we were surprised by Ray's comments in the official Millrose press release: "I am excited that the Millrose Games will be moving to the Armory."Those comments are no longer surprising. PS - The meet wants you to believe that pushing the meet back two weeks will help athletes prepare better for the London Olympics, which will be nearly 7 months away.
Previous USATF News
LRC: USATF Declarations: Wheating In 1,500 Only, Lagat Doing Double, The Rupp-Solinsky Rivalry We take a look at who's running what and discuss the Chris Solinsky-Galen Rupp rivalry and wonder whether Solinsky is actually running the 10,000m or just trying to get some payback on Galen and Alberto. We'll have our previews starting tomorrow. Latest USATF news of note:
Wind Or No Wind - 2:03:06 Is His Slowest Marathon
Moses Mosop And His 2:03:06 To Run 2011 Bank Of America Chicago Marathon Moses and famed coach Renato Canova toured the Chicago course and liked what they saw.
Non-USATF News
Webb Coaching Search Over
Alan Webb Moving Back To Virginia To Be Coached By Jason Vigilante We posted this on our home page two months ago when Steve Nearman wrote an article disclosing this information. However, both Webb's wife and agent denied that this was true, so Nearman deserves credit for sticking to his article, saying, "I stand by my story and I stand by my sources." *MB: Webb to be coached by Vig
Coaching Issues, Lack Of Support Have Led To Olympic 800m Champ Pamela Jelimo's Fall In one season, she won the US$1 million IAAF Golden League jackpot, set the world junior record (1:54:01), remained unbeaten in 13 races and became the first Kenyan female athlete to win Olympic gold in Beijing. Now 3 years later, she is getting last place in the Pre Classic 800 and no one knows if she will get back to the top. Some of have speculated her case may be similar to Caster Semenya's.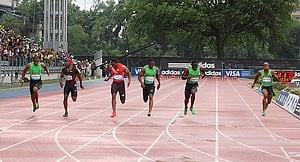 Steve Mullings Edges Tyson Gay, Bernard Lagat Outkicked In 5k, Allyson Felix Wins 200 In the 100, Tyson Gay was slow out of the blocks, made up the ground, but then mistimed his lean, losing to Steve Mullings, who clocked an identical 10.26 time with a strong headwind. In the 5k, Dejen Gebremeskel held off a late surge from Bernard Lagat to win in 13:05.22, only .24 ahead of Lagat. Tariku Bekele was 3rd in 13:06.06. The 800 saw late entry Alfred Yego winning in 1:46.57 with World Champ Mbulaeni Mulaudzi in 2nd (1:46.68) and Boaz Lalang in 3rd (1:46.75). Abubaker Kaki dropped out with a hamstring issue. Jeremy Wariner wins close 400. Blanka Vlašić's 9-meet Diamond League winning streak ends. American David Torrence won the 1500m over Nick Willis as Olympians Lopez Lomong and Leo Manzano struggled.

*LRC Lukas Verzbicas Breaks Four The Dream Mile saw 4 high schoolers at 4:03 or better, as LV became only the 5th HSer to ever break 4 in the mile. LV: "At 600 meters to go, I thought sub-4 was off the table, but I still had a race to win. I wasn't about to give up." MB: LV 3:59.72!!!!!! *Lukas V Photo Gallery #1, Photo Gallery #2
Sammy Wanjiru Can Finally Rest In Peace *Funeral In Photos
*Wanjiru Gets 21 Gun Salute At Funeral
*1000s Attend Funeral As Wanjiru Is Burried In Kenya Many top Kenyan runners attended, including 3k WR holder Daniel Komen, former women's marathon World Champ Catherine Ndereba and former 5k World Champ Benjamin Limo. However, conspicuously absent was Hannah Wanjiru, his mother.
*Samuel Wanjiru's Final Journey
*Sammy Wanjiru's Death Turned Into Tabloid Fodder
Usain Bolt Blasts 19.86 In Rain, Asbel Kiprop Shows He's The Top Miler In The World, And Caster Semenya Beaten Again This is how our sport works - wherever Usain Bolt goes, he is the story. Bolt did not disappoint on Thursday in Oslo, as he ran 19.87, beating second place by .57. In the Dream Mile, Asbel Kiprop showed he's the top miler in the world, as he got revenge on Prefontaine winner Haron Keitany. Kiprop had horrible tactics at Pre, but here he was near the front and got the win on the homestretch. On the women's side, Halima Hachlaf, who burst on the season with an early season 1:58 last year, did it again this year to win the 800 over Caster Semenya. Meseret Defar won the women's 5,000m with another stellar kick, showing her speed is still there.
*Usain Bolt Storms To 200m Victory In Oslo
*Athletics Weekly Recap
*Video Highlights: US Visitors Watch The 200, 800 And Dream Mile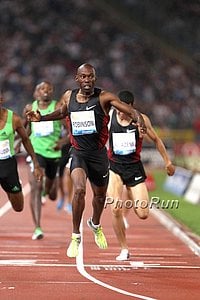 LRC: Usain Bolt Nips Powell, Khadevis Robinson Storms From Last To First To Shock The World In 800 47,000 fans and a worldwide television audience were focused on the Usain Bolt-Asafa Powell showdown and it did not disappoint, as Usain Bolt - who said he was nervous for the first time ever - overtook Asafa Powell in the final meters. The surprise of the evening was the men's 800m, where 8 time US champion, 34-year-old Khadevis Robinson put on a stunning display the final 250m, going from last to first to win (video here). Last year, KD was rabbiting Golden League races, now he's winning them. In other action, Allyson Felix went sub-50 to defeat Sanya Richards-Ross in the 400 and world XC Champ Imane Merga showed his great finish in the 5,000m, running 12:54 and throwing down the gauntlet to Bernard Lagat, whom he'll race in 25 weeks in NYC. Sara Hall had a 9-second PR to get a Worlds and Olympic qualifier in the steeple and Christin Wurth Thomas led the women's 1,500 at the bell before finishing 6th in a qualifying 4:03.72.
More Rome:
Time To Learn Some T&F History - 40 Years Ago, Jim Ryun & Marty Liquori Ran A Dream Mile In Philly & It More Than Lived Up To The Hype
"The Road Of Death"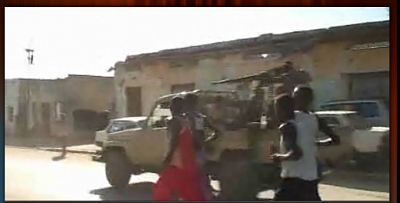 Feature On Somali Runners Training Each Day On "Road Of Death" For London 2012 (Video) The video shows how some Somali athletes avoid gunfire each day to realize their dream of competing and winning at the 2012 Games. *LRC MB: Top Video on MSNBC Is Feature on Somali Runners Training Each Day on 'Road of Death' For London 2012
Molly Huddle Gets US Title #1 (More Here)
Lagat On The Epic 5,000m And Today's 1,500m Final (More Here)
Chris Solinsky Talks To The Message Board Doubters
We Ask Walter Dix Whether He Believes Justin Gatlin Doped Intentionally
Soon You All Will Be Wearing Masks, Too
Tegenkamp Admits To Running The 10,000m Just To Ruin The LRC Prediction Contest
She May Not Have Won, But She's Back
In 4:30, KD Discusses His 800m Heat, Choo-Choo Trains, Being A Father, The Dallas Mavericks, Dirk Nowitzki And The Miami Heat
A Must-Watch (We're Not Sure How We Missed This) - Sammy Wanjiru's Mom Theatens Others With A Machete 2 Weeks Ago (More Here)
New adidas GP Photo Gallery
Remembering Sammy Wanjiru (News On Events Surrounding His Death In Left-Hand Column)

LRC RIP Sammy Wanjiru: The World's Greatest Marathoner Has Died Yesterday in the article above, we paid tribute to Sammy's incredible career and now athletes, journalists, and industry insiders are all paying their respects to the incredible marathoner Sammy Wanjiru.
Desiree Davila Pure Guts
Women's World XC In Photos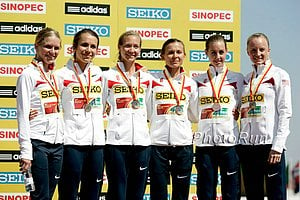 Men's World XC In Photos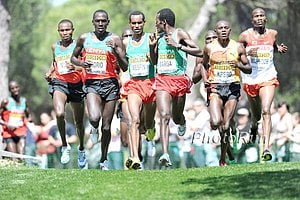 Great Deals

Universal Sports Back To Top