Non-Diamond League Weekend Results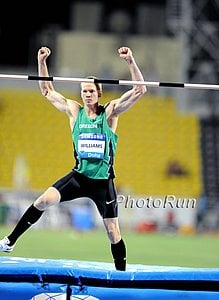 Yenew Alamirew's 7:27 3k Highlights 10 World Leaders To Start Diamond League Season In Qatar The meet saw Allyson Felix continue her winning ways in the 400m, Olympic 1,500m champ Asbel Kiprop get the win in the 800, Walter Dix burst back on the scene with an impressive 20.06 200m and American Jesse Williams win the high jump with a gutsy performance. The highlight for distance fans, however, was the men's 3,000m, where the young 20-year-old Ethiopian Yenew Alamirew (who burst on the scene last year out of nowhere, running 7:28 in Milan) opened up his 2011 outdoor campaign with a strong final 200m to pull away from former world champ Eliud Kipchoge to get the win in a fast 7:27.26 win and PR, as the first 6 men all set personal bests and 12 men ran under 7:35.
More Doha:
Healthy Kidney 10k Is Next Saturday
World's Two Fastest 10k Road Runners In History, Leonard Patrick Komon And Micah Kogo, Will Clash Next Weekend In Central Park At UAE Healthy Kidney Bobby Curtis will lead the American charge in a totally stacked race that also includes Moses Masai, Abdi, Tim Nelson, Ben St. Lawrence, Lelisa Desisa and Shawn Forrest.
Introducing PowerBar's High Performance Sustained Release Beta-Alanine Supplement (Sponsored Post)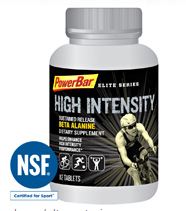 Learn How PowerBar's High Performance Beta-Alanine Supplement May Help You Run Faster Beta-alanine supplementation is scientifically proven to increase muscle carnosine levels. Carnosine helps with the buffering in lactic acid. Scientific studies indicated that beta-alanine supplementation may lead to increased athletic performance. PowerBar's new High Intensity Beta-Alanine product takes the guess work out of beta-alanine supplementaion. Click here for more on this new product that may help you run faster.
Post-Stanford 10,000 News
Week In Review
LRC The Good, The Bad, And Everything Else From the hot relay action at Penn to the excellent distance action at Stanford and even the sprints (and mile) at Drake, we've got it covered. Along the way we go ga-ga for Colorado coach Mark Wetmore and his new recruit Ammar Moussa as well as Jordan Hasay and Kenia Sinclair before we talk about how weak the men's DMR was at Penn this year. Plus, most importantly, our analysis of Desiree Davila's first pitch at the Tigers Game and how it compares to Carl Lewis.
Races To Look Forward To
World Champs/Olympics - Geoffrey Mutai Will Not Run In Daegu!
Some Politics & Other News
Sad News
*Canadian Running Community Deeply Saddened By Loss Of Member Of "Our Family" In Danny Kassap
*2:14 Marathoner Danny Kassap Dies At Age 28 Danny Kassap, a former world-class runner who fled to Canada from Congo, passed away a day after withdrawing from a local 10k race because he was not feeling well.
LRC Another Great Stanford Meet Is In The Books The 2011 Payton Jordan meet did not disappoint, as 22 runners got under the Olympic A standard in the men's and women's 10,000, as the "star" Americans in Matt Tegenkamp and Shalane Flanagan got beaten. In the men's 10k, the winner was 20-year-old Bedan Karoki, whose breathtaking move with more than seven laps to go instantly ended the race, which was the first one in American history where three Americans broke 27:30 (led by Bobby Curtis). In the men's 1,500, German Fernandez's struggles continued in the B heat (is it officially time to panic?), while Lopez Lomong and Evan Jager returned to action in the A heat that was won by Ben Blankenship. In the ladies' 1,500, Jordan Hasay got a PR and collegiate leader but only finished 5th. The story of the steeple was that Mark Wetmore-coached athletes shined and got the Olympic A standards, as Emma Coburn impressed from the opening moment of the race while Billy Nelson waited until late to unleash an incredibly impressive kick. In the men's 5k, Elliott Heath's unreal kick wasn't quite enough to get him the win, as seven broke 13:30. Read all about as we recap the top action for you.
*HS Senior Ammar Moussa Runs 14:05 To Win Heat In Payton Jordan 5k
*Athletics Weekly Recap Of Stanford 10k: Brit Chris Thompson Runs Fastest UK Time In 13 Years With 27:27
*IAAF Recap Of Payton Jordan 10k
*Register Guard Recap Of Payton Jordan Meet
*MB: Teg, Nelson 27:28, 13 under 'A' standard!
*Bobby Curtis 27:24, you all saw that right?
*Jordan Hasay 4:10
*Photos
Saturday At Penn (Reuters Recap) The carnival that is Penn is always crazy (and hard to recap). Saturday saw Jamaica's Kenia Sinclair run a 1:57.06 split to nearly set the world record in the sprint medley relay, Robby Andrews getting revenge for his loss to Casimir Loxsom at World Juniors by outkicking him to win the 4 x 800, Princeton gets its first Championship of America title in 71 years by winning the 4 x mile, a great pro DMR where Bernard Lagat (2:48.30) and Ryan Gregson (Aussie who turned 21 this week, in his first race back from a navicular stress fracture) had great first legs, and things came down to a 4-way battle on the anchor and Amine Laalou came from behind for the win, plus Allyson Felix winning 2 relays, Asafa Powell leading Jamaica, and even the return of Justin Gatlin. Individual coverage of these stories below:
News From Europe
Meb Running New York 69 Days Before Olympic Trials

LRC: Meb Attempting New York / Olympic Trials Double Meb Keflezighi joined the live NYRR 2011 ING New York City Marathon "Opening Day" show from Columbus Circle to announce he was running this year's marathon, 69 days before the US Olympic Trials in Houston (in 2004, Meb did the Olympic and New York double 70 days apart). Meb will take on defending champ Gebre Gebremariam, while defending women's champ Edna Kiplagat will face Jen Rhines. Athletes Apolo Anton Ohno and Curtis Granderson were on hand for the marathon kickoff along with celebrities Al Roker and Ed Norton.
*NYRR Article
*USA Today Article Meb also reveals that he is recovered from knee injury he sustained right before NYC Half that occurred during an "altercation with a dog in Central Park."
*IAAF Article
Craziness At The ACC Meet: Florida State NCAA Long Jump Champion Ngoni Makusha Runs Legal 9.97 In His First 100m In 4 Years, Florida State Storms Back For 7th Straight Title Makashua had never run a 100m in college until the ACC meet, and he ran 9.97 for the win. Simply amazing. Florida State pulled out all the stops to storm back from 40 points down to win the title. Makusha wasn't even the meet MVP, as Maurice Mitchell got it after his 20.17 in the 200m and runner-up in the 100m. *Thread here. However, distance fans will be most impressed by Irishman Ciaran O'Lionaird (see below).
LRC John Kellogg Explains How He "Predicted" The Unpredictable - A Sub-2:03:59 In Boston LetsRun.com's coaching guru explains the rationale behind his non-prediction that is making waves around the globe. Years of timed out-and-back and straight-shot tempos with the wind in Waco, Texas (and other windy Texas venues) proved invaluable to his understanding the effects of the wind. JK took a stab at converting the Boston performances by Mutai and Hall to London and Berlin and even reveals what would happen if the Boston Mutai raced the London Mutai.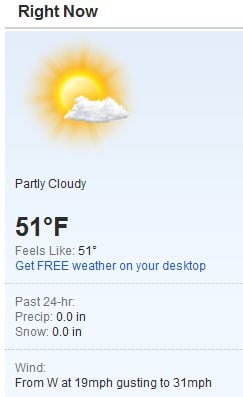 LRC Week In Review: 13 Thoughts About The 2011 Virgin London And Boston Marathons We try to give out some thoughts about a glorious two days of marathoning. From it not being a good two days for North American-based debutants or US Olympic women, to Ryan Hall never runs a bad marathon, to stats showing how the wind helped the mid-packers, to you couldn't find two more deserving winners than the Mutais. All of that plus we give out our top contenders for the 2012 Olympic medals and praise Caroline Kilel while talking about kissing Dave Bedford's ***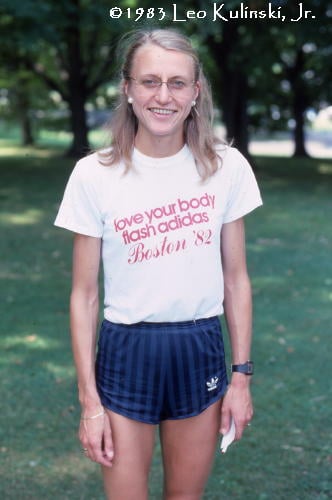 Grete Waitz Loses Battle With Cancer Waitz is best known for being a 9-time New York City Marathon champion, a class act, and a pioneer in the sport, but she also was a 4:00 1,500m runner and an 8:31 3,000m runner. As a kid, watching her on ABC win NYC every year was one of the site founders' earliest running memories. She will be missed. Thanks to Leo Kulinski for the photo. Another one here.
*Pay Your Respects In This Thread
*Grete Waitz: In The Long Run, A Legacy Of Triumph For Women And Sport
*IAAF: Grete Waitz, Distance Running Legend, Passes Away
*The Independent: Norwegian Marathon Legend Grete Waitz Dies Of Cancer At Age 57
*Runner's World: Remembering Grete Waitz
*Runner's World: 2005: When We First Learned Of Grete Waitz's Battle With Cancer
LRC Emmanuel Mutai Runs The Best 10km Ever In A Marathon To Destroy The Field & Arrive As One Of The World's Best A lead pack that was a who's who of marathoning went through 30km together, but soon the race would be nothing but a coronation for Emmanuel Mutai, who destroyed the field with a 28:44 4th 10k and ended up with a 2:04:40 course record. Almost as big of a story as Mutai's incredible run was the fact that the 2nd placer ended up being one of the all-time greats - Martin Lel - who shocked even himself in his first marathon since Beijing 2008. American Jason Lehmkuhle was the only elite American finisher as the three rookie American marathoners went out too fast and blew up - none worse than Mo Trafeh, who ran with the lead pack for 15 km.


LRC Women's Marathoning Has A New Star Named Mary Keitany Keitany knocked nearly 10 minutes off her personal best and knocked Liliya Shobukhova off her pedestal as the best in the world, as Keitany ran the first sub-2:20 since 2008 and made mincemeat of "undoubtedly" of the strongest women's field in London history. All together, a record 22 women broke 2:30 - but that didn't include US Olympian Magdalena Lewy-Boulet.
April Fools News
LetsRun's 2011 April Fools Edition
Sad News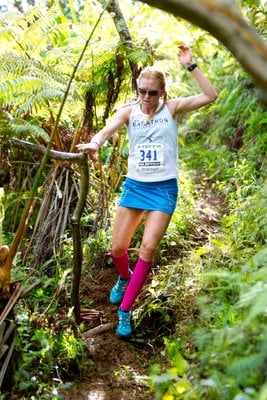 Sad News: Sally Meyerhoff Killed In Cycling Accident The two-time All-American and US Olympic Trials qualifier as well former US champion at 25km was killed on Tuesday in a cycling accident at the young age of 27 while she trained for the Ironman World Championship. *LRC MB: Sad News: Sally Meyerhoff Killed in Accident
*Abc15.com Article With Video On Meyerhoff's Death
*Ahwatukee.com Article On Meyerhoff's Death
*AZcentral.com Article
*USATF Article
*New York Road Runners Article
*More Sad News: Florida High School Track Athlete Sarah Landauer Dies After Collapsing At Practice
Heps *Live Results
*Hepstrack.com is the best place to go for meet coverage and results.
*Women's Heptagonal Championships Report, Day 1
*Princeton Men Hold Day One Lead Of Ivy League Champs
*Cornell Strikes In 10k; Brown Holds Women's Lead At Ivy League Champs

PAC-10 (Decathlon/Heptathlon only) *Decathlon Results *Heptathlon Results
*Washington's Jeremy Taiwo Wins Decathlon, Oregon's David Klech Is 2nd

Big East *Results *Meet Central *Live Stream *Men Results *Women Results
*Louisville Men And Women Both On Top After 2nd Day Of Big East Champs On 2nd of three days, Syracuse's Tito Medrano won the 10k in 29:34. Lousiville's Matt Hughes won the steeplechase in 8:44.
*Day 1 Recap

American East *Meet Central *Men Day 1 *Women Day 1
*Albany Men And New Hampshire Women On Top After Day One Of American East Championships

Patriot League *Results
*Bucknell Men & Women Both Win Patriot League For Second Year In A Row
*Bucknell's Team Page Article
*Day 1 Recap
International News
Oregon Twilight OTC Defeats U Of Oregon DMR The highlight of the meet was the frat 4 x 100, men's DMR. We're big fans of AJ Acosta, but he was no match for Andrew Wheating on the anchor. This was Wheating's first race since last summer (he had a calf injury this winter).
*Good Recap Of Oregon Twilight DMR From Register Gaurd (Incldues All Split Times)
*Ashton Eaton Sets Oregon Twlight 110 Hurdles Record; OTC Elite Win DMR With 9:26.07 Over OU's School Record Of 9:28.01
*The Oregonian Recaps Some Events From Oregon Twilight Meet Oregon women ran into some trouble in their 4 x 1 as they came almost to a complete stop during an exchange. 3rd leg English Gardner said, "It's a little nerve-wracking when you have to run away from Amber Purvis (school 200 record-holder) ... I did leave a little bit early, I guess. I got nervous. ... She yelled at me, 'Stop!' I was like, 'OK. Sorry.'"
*Oregon's Anne Kesselring Has The NCAA And European Lead In The 800 (2:02.44) And Could Represent Germany At The Euro U23 Championships

Saturday's Action: Shelly-Ann Fraser-Pryce, Veronica Campbell Brown, Asafa Powell, Sanya Richards All Running Kingston Meet
US Distance News
A Different Kind Of Marathon: Inaugural Gaza Marathon
First Gaza Marathon Held The race had a bunch of kids running relays, but only 9 people in the full marathon. How about this quote, "The people find it strange - if they see someone running, they think they are crazy. Usually Palestinians only run when there are air strikes or when they are frightened."
*Gaza Marathon Photos *More Photos
3 Newsworthy Events
3 Articles That Might Be Worth Reading
Drake Steeple Winner Shayla Houlihan Says She'll Never Go Back, As She Wasn't Allowed To Do Victory Lap Since She's A Pro/Not A Collegian Drake needs to either let non-collegians into a race as full-fledged members or not let them race at all.
Interesting Distance News
Dathan Ritzenhein Talks About His Comeback From Surgery He's running 70 miles a week on the Alter-G treadmill and hasn't given up hope of running the US track champs. And we liked this exchange with his wife after Boston. Wife: "It's okay if you're in a bad mood today." Dathan: "Why would I be in a bad mood because everybody ran well?" Wife: "Because you weren't there to be able to do it."

Kevin Hanson And Desiree Davila Talking Boston At Ceremony Honoring Her In Michigan
LRC 2011 Drake Relays Recap: Boaz Lalang Wins 2011 Drake Relays Mile Over Alan Webb, Who Is Fourth Webb, the American record holder, got the short end of the stick in the final sprint between Kenyan Olympian Lalang, NCAA breakout star Chris O'Hare and World Champs semi-finalist Peter Van Der Westhuizen. In other action, Jenny Barringer went wire-to-wire in the 1,500, Jeremy Wariner won the 400m and Adam Nelson went over 70 feet for the first time in 3 years to show he could be a factor in 2011.
On The Boards: Alan Webb Gets 4th At Drake, Boaz Lalang Wins

*Lolo Jones Upstaged For 3rd Straight Year At Drake
*IAAF: Adam Nelson's 21.39 Heave One Of The Highlights Of Drake Relays
*University Of Mississippi's Ellis Moore Wins Drake Relays 400m Hurdles Title For 2nd Year In A Row
More Drake From Des Moines Register: Men's Recap: Jeremy Wariner Cruises, Boaz Lalang Defeats Alan Webb
*Lolo Jones Gets Support From Home Crowd But Comes Up Short
*50 Years Ago, Wilma Rudolph And Others Were First Women To Compete At Drake
Men: Kenya's Simon Ndirangu Outkicks Countryman Allan Kiprono For $7,000 Title

Women: Misiker Mekonnin Upsets Fellow Ethiopian Wude Ayalew Over 56,000 runners ran this year, making Bloomsday a tremendous success. We should do a series on America's great road races. Josh Moen and new American citizen Janet Cherobon-Bawcom (who beat 2:27 marathoner Amy Hastings) were the first Americans, picking up an extra $5,000.
S. Africa
One For The Ages In Boston: Desiree And The Fastest Marathon Ever Run "Unbelievable" is probably the best way to describe the 2011 Boston Marathon. First, American Desiree Davila, off the back of the lead pack multiple times, was gutsy as hell, battling for the win with Caroline Kilel down the final straight. There were 4 lead changes on the final straight before Kilel came out on top. In the men's race, American Ryan Hall ran 2:04:57 and lost by nearly 2 minutes. Yes, ladies and gentleman, Geoffrey Mutai and Moses Mosop ran faster than anyone else ever before the in the marathon, 2:03:02 and 2:03:06 respectively, thanks in part to 20 mph tailwinds. Mutai cemented his status as the strongest runner on the planet with the win. We give you some post-race comments below but purposely are holding off discussing the wind.
LRC: Wejo Speaks: Desiree Davila Inspires Us All At The 2011 Boston Marathon She had the entire press room and Alberto Salazar yelling for her.
LRC: Men's Post-Race Reaction The top 4 were all pleased with their blazing fast times. Ryan Hall summed up the magical day: "I am running 2:04 pace and I can't even see the leaders."
LRC: 2011 Boston Marathon Post-Race Reaction From Desiree, Caroline And Kara

*Video Highlights *Men's Post-Race Reaction/Interviews *Women's Post-Race Comments/Interviews
*Photos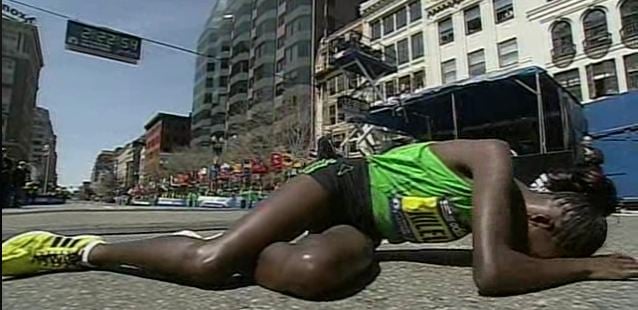 Webb Coaching Search
Not So Fast: LRC Julia Webb: Alan Webb HAS NOT FINALIZED PLANS To Head Back To Virginia To Be Coached By Jason Vigilante
Steve Nearman Stands Behind His Story
Steve Nearman, the former Washington Times reporter who first broke the story about Webb's pro contract in 2002, reported Wednesday night that sources (plural) close to Webb confirmed that Alan was going to be coached by UVA's Jason Vigilante and we said, "Nearman can be trusted." Well, Nearman is trusted in the industry, but Alan's wife Julia Webb has written and said, "Just wanted to give you a heads up that the story is definitely not true ... we are still looking at the options. No decisions made although Vig (is) still a good option." We contacted Nearman and relayed him Julia's comments and he said, "I stand by my story and I stand by my sources."
*RRW: Alan Webb's Agent Ray Flynn Calls Webb Story "Totally Bogus" In reality, Flynn said the story is "at this stage totally bogus."
*LRC MB: *Julia Webb (Alan's wife) Has Written and Said Webb to UVA Story is Not Accurate *Thread On Webb-Vig
LRC: Desiree Davila Looking For Respect In Boston Davila finished one spot behind Kara Goucher at the last World Championships in the marathon, and she's hoping to finally get out of Kara's shadow at Monday's Boston Marathon. LetsRun.com has spent the last six years getting a mole into the Hansons-Brooks team, and now thanks to him we have this inside look at Desiree's preparations for Boston, which has included a 123-mile week. Article and video interview plus some video of the Hansons-Brooks training runs.

South African Champs *Results (Scroll Down)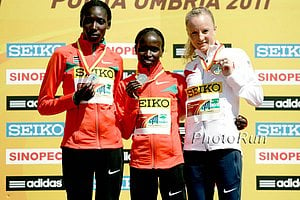 LRC: Shalane Flanagan Gets Bronze The Olympic bronze medallist and ING NYC Marathon runner-up ran a stellar race to snatch the bronze versus a star-studded field. Flanagan appeared to be dropped with 2km to go, but dug deep to stay in contention and battle back for the bronze. World 5,000m champ Vivian Cheruiyot pulled away from World 10,000m champ Linet Masai for gold. The American women did very well to get a repeat bronze medal.

Men: Imane Merga Blasts Away From Four Kenyans In Sprint To Win The Kenyan men dominated the team competition and had 4 of the top 5 guys in the pack for the sprint the final 400m. However, the lone Ethiopian - Imane Merga, the Diamond League 5,000m champion - got the win the Kenyan nation wants most every year. Ben True was the first American in 36th, as he and fellow Ivy Leaguer Max King were America's two best.
*Merga: "Before I used to think of myself as a track runner but this winter I have got to like cross-country races more."
*Craig Mottram Finishes As Top Non-Afrrican Born Male In 21st As Two Guys Ahead Of Him Are DQed For Fighting In Race To Line Eritrea's Samuel Tsegay and Ethiopia's Abera Kuma were given the DQ.

Junior Boys: Geoffrey Kipsang Leads Kenya To 13th Straight Title Kipsang was only 4th at the Kenyan Trials but dominated. High schooler Craig Lutz was the first American in 29th.

Junior Girls: Faith Kipyegon Of Kenya Wins, But Ethiopia Edges Them For Team Title High schooler Aisling Cuffe was the first American in 17th.
HS: Lukas V. Runs Away From The Top Milers To Complete Historic High School Nationals Triple His double on Sunday was super-impressive, but we had completely forgotten about German Fernandez's 4:00, 8:34 double at the California state meet.
*IAAF Article On Verzbicas

We Wrote This Article Too Soon:
Gerry Lindgren's Legendary 47-Year-Old High School National Record Survives Scare From Lukas Verzbicas And Edward Cheserek Verzbicas hammered home over the final lap to pull away from Cheserek, but in the end, Lindgren's 8:40.0 lived to see another day, as Verzbicas ran 8:40.70 and Cheserek shattered the indoor and overall sophomore class records with his 8:42.66. More: Gerry Lindgren 8:40 Indoors *LRC MB Lukas V. 8:40.7!! *LRC MB So close *Running Times Q&A With Lindgren About His 8:40.0 Note: This article incorrectly implies the record was set in a 16-lap race.
*Lucas Verzbicas (14:06.78) & (Waverly Neer) 16:35.15 Set National HS 5,000 Records
Tokyo Marathon: A Legend Is Born *Photos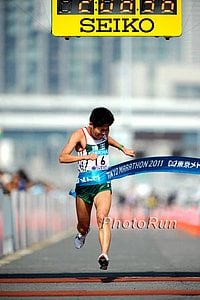 Hailu Mekonnen Wins, Japanese Amateur Yuki Kawauchi Runs Amazing 2:08:37 For 3rd And Faints At Finish Yuki Kawauchi's story is amazing. A 13:59 5ker and 29:02 10ker, he has a full-time job and has stayed away from the Japanese collegiate and professional system, yet he stunned all of Japan with a 2:08:37 run. Dreams do become reality.
*On The Boards: 13:59 5k, 29:02 10k Japanese AMATEUR Runs 2:08:37 at Tokyo Marathon and Passes Out
Galen Rupp & Mo Farah Set National 5k Records! (13:11.44 and 13:10.60) The two Alberto Salazar-coached athletes put on a brave battle, with Farah coming out on top on the last lap, as Rupp regained his American record from Bernard Lagat by .06. Rupp and Farah will be training together through 2012 and their partnership is off to a strong start. Rupp is scheduled to go for the American 10k record next week in New Zealand. The meet also saw a cool 400m hurdles race (video here or on the right), an 8:30 3k and American Morgan Uceny going sub-2:00 in the 800.
*Mo Farah Breaks British 5,000m Record With His New Coach Alberto Salazar One Of The 8,000 In Attendance Telegraph.co.uk
*Farah Credits Salazar's Coaching
*Rupp/Farah 5k Video
The 10 Best High School XC Runners Ever
LRC Week That Was: The 10 Best High School XC Runners Of All Time, Verzbicas, Tribute To Gary Reed, The NY Times & The NE Patriots And More We've got the entire running world covered from San Diego to Japan, from the high school ranks to the pros, and even talk about the NE Patriots and the NY Times.
Yenew Alamirew Kicks Some Butt In Doha 3,000m (Final Lap Or Highlight Of Race)
Allyson Felix Wins Doha 400
Highlights Of Exciting High Jump In Doha, Won By American Jesse Williams
Walter Dix 20.06 In Doha
Stanford Photo Gallery
Upcoming Action
Week In Review
London 2011 Photos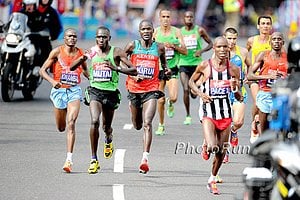 Recommended Read
2:03:02 In Boston: Men's Highlights From Boston (More Here)
Desiree Davila Pure Guts
Emmanual Mutai Becomes A Star, Legend Martin Lel Outkicks Makau (You Can Watch The Full Race Here)
Mary Keitany Crushes London (Highlights And Post Race Comments)
Question Of The Day?
Women's World XC In Photos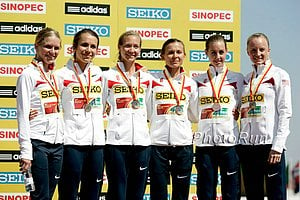 Men's World XC In Photos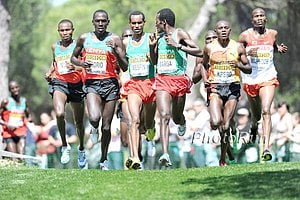 Save Some Cash

Relive Men's NCAAs: *Recap *Results *Photos *New (2nd Photo Album Added Here)
Save Some Cash

Train Smarter
Great Deals

Universal Sports Back To Top