New Balance Boston Saturday, On TV Sunday On ESPN2
LRC Lukas Verzbicas Talks To LetsRun.com It takes a true phenom to get LetsRun.com excited about a high schooler, but we're now officially leading the bandwagon, as we caught up with America's greatest high school phenom (since the Hall-Webb-Ritz era) two days before he tries to join Webb in the sub-4-indoors-as-a-HS-runner club. A natural showman of sorts, Lukas talked about his goals for Saturday, his training, his decision to go Oregon, whether he contemplated going pro straight out of HS, and much more. A must read.
This Week: "North American Dream Mile"
LRC Preview Alan Webb Re-Enters New Balance Boston Indoor Games As "North American Dream Mile" Highlights Great Night Of Distance Action LetsRun.com has learned that Alan Webb is back in the race and, as a result, the highlight of NB Boston will almost certainly be a dream mile of nearly all the top North American-based milers, including Webb, Nick Willis, Leo Manzano and the high school phenom Lukas Verzbicas. Distance fans will go bonkers all night long, as the event features a strong women's 800 with Phoebe Wright, Morgan Uceny and Maggie Vessey, a great women's 3k with Kalkedan Gezahegne battling Jenny Simpson, plus a men's 3k with Mo Farah, Dejene Gebremeskel and Sam Chelanga, and high school miles.
Mid-Week Action
Great Upcoming Action
Next Week: NYRR Deuce Record Challenge
LRC Preview Bernard Lagat To Go For US Two-Mile Record On February 12th At The Armory It's worth noting that Doug Padilla didn't even know he still had the record (8:15.02). It's also worth noting that Robby Andrews is expected to rabbit - so it looks like he's rebounding from his plantar injury.

In Two Weeks: World Dream Mile
Fastest 1,500m Runner Of 2010, Silas Kiplagat, To Race Reigning World Indoor 1,500m Champion Derese Mekonnen At Birmingham On Feb. 19th Mekonnen is fresh off his victory over Bernard Lagat at the Wanamaker Mile and Silas Kiplagat (3:29.27 1,500 last year) just recently said he thinks he's in shape to break El Guerrouj's 1,500 World Record, so this should be a great matchup.

End Of Month: Galen Rupp To Attempt 10k AR On Feb 26 In New Zealand

Early March: Bernard Lagat Added To Melbourne 5K! For those not keeping score at home, that's Lagat, Chris Solinsky, Matt Tegenkamp and Craig Mottram all in one very fast 5k. *IAAF Preview (Doesn't Talk About Lagat)
Thomas Dold Sets Record For 6th Straight Win In Empire State Building Run-Up He ran up 86 flights of stairs in 10 minutes and 10 seconds.
Random But Interesting
Oops - BYU Doesn't Have A Track Conference To Compete In The Cougars decided to go for the money and go independent in football, leaving their track teams out to dry as the conference they joined for other sports doesn't even have track.

Unbelievable - Australia's 800m Record Is 42 Years Old There is some hope with David Rudisha racing down under that he'll inspire an Aussie to break the record.
Looking Ahead To Some Hot Track Action In The Next 6 Weeks
Dream Matchup Of Alan Webb, Nick Willis & Lukas V. Loses Alan W.


Alan Webb Out But Leo Manzano Is In New Balance Mile This Saturday In Boston

Also NCAA XC champ Sheila Reid, who just ran 8:56 for 3k last weekend, is in the ladies mile and will be going for the 'Nova record of 4:28.31. In the 3k, Mo Farah will now face double NCAA XC champ Sam Chelanga. Bershawn "Batman" Jackson also is running.
Penn State's Ryan Foster Is First Tasmanian To Break 4-Minute Mile & He's Pumped About It As Well Foster: "People back home and particularly my family might not understand some of the things in the USA, like being an All American or competing at Big Ten titles, but a four-minute mile, to all my family, will make them pretty excited."
The IAAF Profiles Two Of Its Biggest Stars
Records Crushed By Future Studs
Ryan Crouser Destroys Indoor HS 16lb Shot Record By 3 Feet Crouser started using the spin technique for the first time in competition, throwing a US #2 all-time 73-1 with the 12-pound high school shot, and then set the US high school indoor record with the 16-pound implement, throwing 63-11. That makes him No. 2 all-time, behind Michael Carter, who threw 67-9 outdoors 32 years ago and if he was in college he would have hit the NCAA auto mark.
Jodie Williams Sets European Age-17 Best In 60m The World Junior 100m champ ran 7.28, which would rank her 7th in the NCAA so far this year.
18 Things You Didn't Know About Steve Prefontaine
Some Countries Actually Put Track On TV! France will broadcast at least 20 hours of live footage from 2011 European Indoor Championships.
Marrakech International Marathon Recap 2:10:22, 2:37:00 get the job done.
Houston: Bekana Daba Nearly Goes Sub-2:07, Strong Day For Americans Daba, a 12:58 5ker on the track last year, had the credentials, but his first marathon wasn't great (2:14 in Amsterdam). He put that behind him, running a stunning 1:02:47 on the second half of the course to finish in 2:07:04 despite a bathroom break near the finish. American marathoning is definitely on the upswing; at the fast halfway split, there were 2 Americans in the pack (Nick Arciniaga and Brett Gotcher). Arciniaga would grab second and a 2:11:30 PR. Last year's surprise Gotcher blew up. On the distaff side, Mamitu Daska of Ethiopia prevailed in a duel with Ashu Kasim, as American Stephanie Rothstein surprised with a huge 10-minute PR and sub-2:30 clocking.
*Nice Recap From Houston Chronicle No wonder Gotcher blew up; the lead pack did a 4:29 mile for mile 14 (which is Gotcher's 10k PR pace and way faster than Nick Arciniaga's 10k pace) and then 3 sub-4:40 miles from 16-18.
*RRW: Americans Nick Arciniaga, Stephanie Rothstein Impress Nick was only slated to pace Gotcher through 25k, but he was open to the idea of finishing.

Osaka: Yukiko Akaba (Japan's Top Marathoner In 2010) Wins Osaka Marathon On Cold And Windy Day To Get Her First Marathon Win

Miami: Dude Wins ING Miami Marathon By Nearly 6 Minutes In 2:12 (He Was So Far Ahead Until Mile 23 That 2nd And 3rd Place Thought They Were Winning)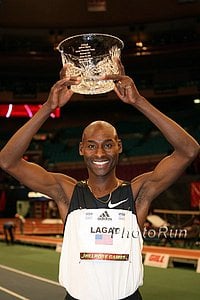 LRC Analysis
Millrose Behind The Scenes: Lagat Goes Down, Millrose Entertains Employee #1 and his able assistant went into the bowels of Millrose to tell you what really happened at the grand-daddy of track and field meets in the world. High schoolers flashing U of O symbols, overlooked 3:34 1,500m runners, and pros addicted to LetsRun.com, we've got it covered.

Unlucky 7: Deresse Mekonnen Snaps Bernard Lagat's Winning Streak At 6 The 23-year-old 2010 world indoor champ defeated the 36-year-old President of the Boards (or did Father Time win?) in a fantastic Wanamaker mile, but not without Lagat putting up a fantastic fight that saw him at least three times try to retake the lead in the final two laps.
*Samantha Nadel Wins High School Girls Millrose Mile In 4:50.58
*NY's Chad Noelle Wins Boys Millrose Mile In 4:16.71
*Register-Guard: World Pentathlon Record Holder Ashton Eaton PRs In Two Out Of Three Events To Beat Olympic Champion Bryan Clay And World Champion Trey Hardee Eaton set a new shot put PR at 46-8 and lowered his 60m hurdles time to 7.64.
*Jamaicans Lose Sprint Showdown With USA Jamaicans Veronica Campbell-Brown and Nesta Carter won the sprints, but US sprinters claimed victory on points in the US-Jamaica challenge.
*IAAF Recap: Mekonnen Ends Lagat's Streak
*Millrose Games: Nadel, Noelle Win HS Miles!
*UVA Wins College 4 x 800 Without Robby Andrews
International Track News
Oregon News
Injury-Prone Dathan Ritzenhein Will Now Shift Focus To 10k At World Champs *LRC MB: RITZ! ENOUGH WITH THE MARATHON!

Lukas V Commits To Oregon For Real It's now official; two time Foot Locker XC national champ Lukas Verzbicas has an oral commitment to Oregon. The news was out unofficially last week. Letsrun.com has learned Lukas considered turning pro but the money he wanted wasn't there. Why would Nike pay big bucks for him when they can get him much cheaper in the U of O singlet?
*Message Board Thread
Get Inspired
LRC Quotes Of The Year We've got the top 20 quotes of the year on LetsRun.com narrowed down. Now you can not only get inspired by seeing them, but you can vote for your favorite.
Read This To Your Kids Edwin Moses Receives World Fairplay Award In Recognition Of His Efforts Promoting Drug Free Sport The Act of Fair Play Award was also given to three other athletes: Amin Zadeh, an Iranian soccer player who kicked the ball out of play rather than score on an open goal when the goalie was injured, Darius Draudvila, a Lithuanian decathlete who cost himself a chance for a medal at Euros when he leant his pole to the eventual bronze medallist who broke his and couldn't find another, and Chinese wrestler Gao Feng, who carried an injured opponent from the arena to receive treatment even though the rival had been sanctioned for biting him during the contest.
60th Anniversary Of Pre's Birthday Keeps Generating News
World Paralympic 100m
Blade Runner Loses To American Jerome Singleton For First Loss In 7 Years Singleton is a rocket scientist of sorts (math & applied physics major who has interned for NASA) and very fast. The finish was very close and worth a watch. We won't tell you exactly what happens in case you have 12 seconds to watch it.
*Video Of Race (and embedded on right)
*Excellent Profile On Singleton From 3wiresports.com
Ritz And Webb
Ritz Out Of London Just 16 days after it was announced America's top finisher at the last Olympic marathon was running London, he has pulled out with an injury. The injury bug continues to follow the American star. The way the schedule is, Ritz will likely not run a marathon before next year's Olympic Trials.
Discuss: *Ritz Out Of London

Video Of Alan Webb Showing Up At School To Give Lukas V His Gatorade XC Athlete Of Year Award
Thumbs Up
IAAF Secures Over-The-Air TV Deal In France The IAAF is making it a priority to get the sport on TV channels people actually watch instead of obscure cable channels for a few $.
Craig Mottram & Benita Willis To Lead Australia At World XC Championships Mottram will run for the first time since 2008 and will lead a squad that includes former NAU star David McNeill. *Australian XC Trials Results
News From Europe
Film Depicting The Life Story Of Double Olympic Marathon Gold Medalist Abebe Bikila To Be Screened In Portland On Feb. 17th And 18th
Another Edition Of The Famed Kenyan Armed Forces XC Champs Is In The Books (The 3rd-Toughest Race On The Planet)
Update On Nike's Golden Boys - Rupp & Lance
It's Official - Angela Bizzari To Mammoth Track Club Agree or disagree with the decision? It's a hot topic on the message board.
News From Japan
David Barmasai And Asselefech Mergia Each Pocket $250,000
David Barmasai earned his $250,000 the hard way. Barmasai had only run marathons in Kenya before. There were 12 guys who went through halfway in 1:02:46. At 30k, according to message board reports, the leaders were only 25 seconds off of Haile G's world record split. Then however, the wheels came off. The final 5k was run in 16:47 and that gave Barmasai the win by nearly a minute over Evans Cheruiyot (2008 Chicago champ), who won $100,000 for 2nd place. Shows how hard Haile G's record is. On the women's side, Asselefech Mergia of Ethiopia was much more credentialed coming in (bronze at 2009 Worlds) and she was the only one to dip under 2:23 but missed the course record at the world's richest marathon in terms of prize money - $1,000,000 combined between men and women; not the $2 million we said yesterday.
*Top Results And Prize Money
Pretty Shocking
The Action Is About To Heat Up
New Balance Boston To Feature LRC Fans' Dream Mile
*Willis, Webb (And Verzbicas) To Battle In Mile In Boston *LRC MB: Webb vs Willis vs Verzbicas at New Balance Indoor

A Great Mile Matchup In Europe: 2010 Outdoor Sensation Silas Kiplagat To Race World Indoor Champ In Lievin, France On February 8th; Kaki Also Running

Tokyo Marathon: 27:01, 59:50 Guy Gideon Ngatuny To Make His Marathon Debut In Tokyo, Taking On Gebrselassie The marathon is March 9th February 27th. We like the clever website name: www.tokyo42195.org.
Interesting (But Not Quite Recommended) Reads:
Distance News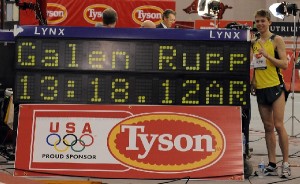 Galen Rupp Racing Paul Koech Over 5,000m In Düsseldorf, Germany On February 11 Rupp no doubt will be trying to regain his American record from Bernard Lagat (13:11). Koech ran 13:02 last year in Düsseldorf to become the 4th fastest ever indoors.
*Message Board Thread
London & Boston 2011
Incredible 2011 Virgin London Marathon Field Announced: Wanjiru Vs. Kebede Vs. Makau On Men's Side Director Dave Bedford is calling the women's field "undoubtedly our strongest ever," but we once again are amazed with his men's field. London's got the top 3 men's marathoners in the world Sammy Wanjiru, Tsegaye Kebede and Patrick Makau going head to head to head. This year's Chicago marathon with Wanjiru vs. Kebede duelling to the finish was incredible and left Sammy Wanjiru exhausted (photo above). Now throw Makau (Amsterdam and Berlin champ) into the mix. *Message Board Thread On London
*European XC Champ Jessica Augusto And Hayley Yelling To Make Marathon Debuts In London

American Hopefuls Kara Goucher And Desiree Davila To Run Boston 2011 Davila has come a long way in her career, as she got equal billing with Goucher in the press release. Last week it was announced Ryan Hall is running Boston.
On The Boards: Desi will kick Kara's butt this April
US XC Champs Saturday In San Diego *Entries
Shalane Flangan And Matt Tegenkamp Headline US Cross Champs In San Diego On Saturday We're glad to see strong fields assembled in the last year before World XC takes a year hiatus. The US women got a bronze last year at Worlds and teammates Shalane Flanagan and Lisa Koll headline the women's race, and supposedly Kara Goucher as well. On the men's side, sub-13:00 guy Matt Tegenkamp headlines, but Abdi Abdirahman sounds very fit (4 x 3,000 in 8:30 on hills), plus Jorge Torres, Scott Bauhs and more.
*Abdi, Shalane Flanagan, Jorge Torres And Lisa Koll Share Their Thoughts On US Cross Runnersworld
*Shalane Flanagan And Lisa Koll Enjoying Training Together RRW
*5 Team Minnesota Runners Running US Cross
Ridiculous: NYT: US Citizen And Soldier Joseph Chirlee Barred From US XC Champs We say let him compete. It's the US Champs and he's a citizen. We can see keeping someone out of the Olympic Trials if they can't go to the Olympics, but that's about it.
Great Half Marathon This Weekend
Stellar Half Marathon Sunday In Marugame Japan: Elvan Abeylegesse (1:07:07) Vs. Kayoko Fukushi (1:07:26) Vs. Nikki Chapple (1:08:37) Fukushi ran sub-31 for 10k 8 years ago as a 20-year-old, but has not gotten faster.
Track Action This Weekend
David Oliver Takes On All Comers And That's Why We Like Him
Week In Review
LRC Ritz's Injuries, Should Chris Solinsky Get Nervous?, Runner A Vs. Runner B, The Houston Course, Millrose Announcing And The Most Overlooked Performance Of The Weekend Once a week, we go beyond the headlines to cover the running scene like no one else. So before you turn your attention to the Super Bowl, give us 5 minutes and learn what's going on in the running world. Updated at noon with more on Houston course, praise for Tim Hutchings on ESPN broadcast.
Usain Bolt's London Uniform Will Be Designed By Bob Marley's Daughter Hopefully it's not contaminated with second-hand smoke.
Russia's 800m Runner Yuliya Rusanova Is First Woman Under 2 Minutes In 2011 1:59.44 in Belgorod on Saturday.
Oregon Fans, Eat Your Heart Out
Interview With Haile Gebrselassie: His Ideal Dinner Party Would Include Nelson Mandela, Obama, And Pasta
Najee Glass Will Take Another Stab At The 500m Record A special 500-meter race has been added to the New Balance Collegiate Invite at the Armory so he can take another shot at it after he was DQed for running out of his lane at the New Balance Games.
Top 5: Excuses Used For Failing A PED Test You know these are the guys who used the "My dog ate my homework" excuse back in grade school.
Review Of Ryan Hall's Book: Running With Joy
Aisling Cuffe: Gatorade 2010 National Girls XC Runner Of The Year Gets Surprised By Allyson Felix We're not sure what a sprinter and distance runner have in common - it's sort of like the national quarterback of the year getting an award from Clay Matthews (we just wanted a random Super Bowl reference on the homepage today).
USATF News
Lananna Says He's Not A Finalist For USATF Job Eugene Register-Guard The article says USATF is down to 3 finalists. The article doesn't name the finalists, but only names three people (Lananna and Mary Wittenberg, who both have publicly said they aren't interested, and Rich Kenah (former World Championships bronze medallist)).

*Comparing Houston's Olympic Trials Preview Course To Last Year's Houston Course Runner's World
*New Executive Director Of Houston Marathon Pleased With Marathon Preparation For Olympic Trials Houston Chronicle
British News
British Athletics Clubs Group Comes Out Against Keeping Olympic Track In Stadium They say a 60,000-seat stadium for track isn't necessary and will be ripped out anyways in a few years.

American Coaching Genius Dan Pfaff Helping Charles Van Commenee Keep Brits Healthy

David Oliver Likes Andy Turner's Chances This Year And At European Indoors
Good Read: Jerry Schumacher Profile In Portland Paper Got to be a quote of the day in here somewhere.

Good News: Spanish Steeplechaser Jose Luis Blanco Gets EPO Ban
Looking Back At Houston
Greg McMillan And Crew Reflect On 2011 Chevron Houston Marathon Nick Arciniaga & Stephanie Rothstein impressed in a big way while Brett Gotcher had a "tough day at the office."
2012 Olympic News
Kenyans In The News
Men: LRC Mo Trafeh Outkicks Ryan Hall Ryan Hall, Mo Trafeh and Patrick Smyth battled together on the streets of Houston for 11 miles. In the twelfth mile, Hall tried to push ahead. Smyth was the first to crack, but Trafeh stayed on Hall's heels. With 200m to go, Trafeh gave it one final surge and passed Hall to get the win.
*Photos
*Video Of Men's Finish *Men's Post-Race Interviews


Women: LRC Jen Rhines' Return Trumps Burla's After a 4-year absence, Jen Rhines made a return to the longer distances with a win and a PR. However, her comeback was the least impressive of the day, as that award definitely goes to Serena Burla. Burla was second just as she was last year. However, in the last year, she had been diagnosed and beaten cancer. Pretty amazing. Mother of three, Nan Kennard, who trains with Colleen De Reuck, was a surprise third.
*Photos
*Video Of Women's Finish *Women's Post-Race Press Conference
NCAA/US Track Action Really Heats Up
LRC Week That Was: Delaware Gets The Ax, Wanjiru Crashes, Dubai Makes Some Marathoners Rich, And The US Indoor Season Gets Going As usual, we recap the week in running like nobody else. Now that the holidays are behind us, the running world is starting to heat up again.
Caster Semenya Sits Down & Gives The BBC Her 1st Extended Interview Since Gender Controversy Arose Semenya said she doesn't want to dwell on the gender issues; she only wants to focus on running, but she did get irritated when asked if she was given hormonal treatment.
Pre's 60th Birthday Would Have Been Tuesday
If Pre Were Still Alive, Where Would He Be And What Would He Have Done? What would he look like? Where would he live? Would we have gone to the 1980 Olympics? We'll never know for sure, but some people have ideas.
*Prefontaine: Why Does He Matter? Why Do We Still Talk About Him Today?
*Linda Prefontaine Speaks About Her Brother
*Legacy.com Looks At Pre's Life & Legacy
She Must Have The Same PR Agent As Lance
Marta Domínguez Remains Defiant In 1st TV Appearance Since Doping Raid She flat-out said she didn't use PEDs and admitted to only giving aspirin, vitamin C and iron to teammates.
*Lengthier Article On Domínguez Translated From Spanish Dominguez appears to say the charges may have a political connection and says she's clean because she's had a 16-year-long career.
*2nd Article Translated From Spanish

More Doping News:
Asian Games Silver Medallist Ahemed Dheeb Stripped Of Medal
Boston Globe Feature Article
Have Athletes Reached Their Limits? The author seems to think they have because so many world records have stagnated since the 1980s. He does acknowledge drugs played a role in many records from the '80s. However, he is perplexed by one athlete - Usain Bolt - and says Bolt's breakthroughs today are why he is so newsworthy. Track and field, by focusing on the competition and not the records, can stay relevant in our opinion.
Duke Senior Kate Van Buskirk Sets Collegiate Record In 1,000 She had an incredible weekend as she ran 2:41.00 after splitting 2:04.15 on a 4 x 800.
More Men's Track & XC Programs Bite The Dust
Sports Illustrated Columnist Joins LRC Faithful In Ripping Delaware For Cutting Its Men's Track & Field / XC Teams Jeff Pearlman is a little biased as he used to run for them, but that doesn't mean he's not right on the money. UD Track is 100 years old this year.
*LRC MBoarders Express Their Outrage
*A Blogger Is Irate
*Delaware's Cowardly Release

Bemidji State's Men's Indoor & Outdoor Programs Get The Ax Not quite as old as Delaware, which is celebrating its 100th anniversary, Bemidji track has been around since 1928.
Week In Review
LRC: Week That Was Last week, we had to use sex to sell our Week That Was and this week, except for talking about LaShawn Merritt's penis, everything is clean. We actually are full of praise for some American stars helping the sport, some of the shoe companies, and more. Plus, we cover some XC, India's #1 marathoner, and some Oregon football.
TIA/Unbelievable: Two Of Kenya's Brightest Junior Prospects For World XC May Not Be Able To Race, As They Allegedly Were Beaten By Their Teacher For Not Passing Tests Apparently, in Kenya there is some sort of automatic passing going on that made the teacher irate and he supposedly beat one of the students unconscious.
Updates For Past & Current NCAA Greats
Recommended Click: The Fastest People To Never Be World Ranked By T&FN
Imagine running 9.88 for 100m or 12:51 for 5,000 or 2:05:25 for 26.2 and not being ranked top 10 in the world.
Alberto On Galen
LRC: Update On Galen Rupp's Training: Two Distinct Seasons For Rupp In 2011, More Mileage Alberto Salazar has done a tremendous job crafting Galen Rupp's career despite the critics (we specifically remember pro athletes who saw Galen train as a high schooler saying he'd burn out). Alberto says 2011 will be a bit different for Galen than 2009 and 2010, with 2 distinct peaks (and time off in between) and that there is still a lot of room for improvement in terms of training mileage. Plus, we take a look back at Galen's incredibly long and consistent 2009 and 2010 seasons.
LRC Team Race: Mo Farah Over Galen Rupp Mo Farah prevailed over Galen Rupp on an officially non-Rupp-certified snow course. We recap the action, have photos, and talked to Galen, Mo, Alberto, and some of the American studs, including Scott Bauhs, who puts an end to "Rupp certification" once and for all.
*Video Of Farah's 2:00 Win Worth a look to see hill and snow.
*LRC Interviews With Alberto, Galen, Scott Bauhs, Stephen Furst, Bobby Mack And Matt Gabrielson
*LRC Race Photos
*BBC: Video Highlights Of Farah's Dominant Win A post-race interview of Farah is included as well.
It's Not This Easy In America
Olympic Marathon Champ And Accused Attempted Murderer Sammy Wanjiru And His Wife Supposedly Reconcile Press reports are indicating that the families of Wanjiru and his wife got involved and urged a reconciliation which may result in charges being dropped, although his wife was a bit coy in her responses to the press (as we're sure $$$ is still being negotiated). *Updated LRC MBoard Talk: "He is now officially qualified to be a professional American athlete. Can some of the women on this board tell me why abused women stay with their abuser. Often, until they are beaten to death?"
*Sammy Wanjiru Arrested For Attempting To Kill His Wife And A Domestic Worker
Worth Reading
All That Is Great About LetsRun.com
LRC NCAA And Foot Locker Contest Recaps: The Greatness Of You Recapping our contests always reminds us what is greatest about LetsRun.com - that is you, our incredibly loyal, smart and interesting readers. This time our contest winners impress as usual. Not only do we have acts of sportsmanship, but we have a runner with MS who can no longer run anymore but it still super-dedicated to the sport, a college coach who nearly pulled off the NCAA D1, D2 prediction double (and btw went to high school with the rocket scientist who has won two of our previous contests), a guy who watched malmo win an NCAA XC race, and a guy who issued a challenge to Aaron Braun before he won last week's club XC champs.
The 10 Best High School XC Runners Ever
LRC Week That Was: The 10 Best High School XC Runners Of All Time, Verzbicas, Tribute To Gary Reed, The NY Times & The NE Patriots And More We've got the entire running world covered from San Diego to Japan, from the high school ranks to the pros, and even talk about the NE Patriots and the NY Times.