The Week That Was In Running - August 16 - 23, 2010
By LetsRun.com
August 24, 2010
To read last week's LRC Week That Was, click Here.
To read any 2010 LRC Week That Was, click Here.
Rudisha Does It
The big news of last week was obviously David Rudisha's world record in the men's 800. Obviously, when a human is running a world record, nearly everything has to be perfect. Here are a few interesting tidbits in comparing Rudisha's 1:41.09 and Kipketer's 1:41.11:
As our friends at sportscientist.com have pointed out, the splits were nearly identical. Both ran the first lap in 49-low. That being said, Rudisha's performance is a bit more impressive because in addition to running .02 faster, he also did way more of it by himself, as the rabbit didn't last as long and no one in the race was close to him.
In Kipketer's race, the rest of the field was at least close to him for most of the first lap and 2nd place was 1:42.98, as the first 6 all broke 1:44 (the man finishing 2nd in that race was Patrick Konchellah, who still stands as the 24th-fastest man in history thanks to that clocking). In Rudisha's race, he was clear of the field after just 200 and he won by a staggering 3.25 seconds and no one else broke 1:44.
The rabbit in Kipketer's race helped him out a lot longer as he kept the lead for about 68 seconds, which certainly helped a bit more than in Rudisha's race, where the rabbit only had the lead for 55 seconds. Of course, Kipketer had to pass the rabbit in his race, which probably cost him at least .02 (whereas in Rudisha's race, the rabbit stepped off on the outside).
No matter how you look at it, those were two great performances which we encourage you to watch side by side. Enjoy our Videos Of The Week.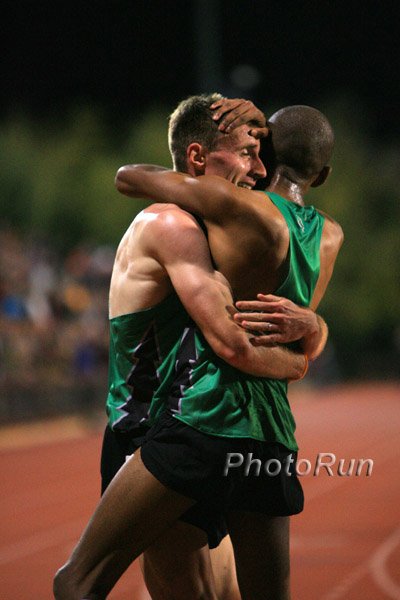 Zürich - How Times Have Changed
Last week, there was a Diamond League meet in Zürich (even though Rudisha's world record in Berlin stole the show). In Zürich, a lot of things went on (click here for an in-depth recap of that meet), but we'll mention a few things:
American Galen Rupp ran 13:07.35. If he'd run that time on August 19, 2009 instead of August 19, 2010, he'd have been the #4 American in history behind Bob Kennedy, Bernard Lagat and Sydney Maree. On the American-born list, he'd be #2 behind Bob Kennedy. Instead, he runs 13:07.35 and he's only #3 on the US list for 2010 and only #4 in terms of US-born performers in the last calendar year. The good news for Rupp is that every American-born athlete that has broken 13:10 has gone on to break 13:00.
Also in Zürich, Chris Solinsky ran sub-13:00 for the third time this year, which is incredibly impressive. He's now joins Bernard Lagat with three sub-13:00s in a US vest. Bob Kennedy did it twice. There now have been 10 sub-13:00s in US history. Most impressively for Solinsky was he competed for the win for the first time. Down the final stretch, he was ahead of and still battling with Diamond League champion Imane Merga for second place. Don't think for a second Merga didn't care who got second. Merga HAD to get second to win the Diamond League title and $40,000. Third place meant $0. In the end maybe that was the motivation he needed as he beat Solinsky by .11.
People are still raving about Solinsky's 26:59 earlier in the year, but his run in Zürich was more impressive in our book (the Stanford run was way more of a shock). Solinsky showed he could run fast under uneven pacing, but more importantly compete with the world's best. At Stanford, Sam Chelanga ran 27:08. What do you think that means a guy like Merga or K. Bekele could run? The conditions were absolutely perfect.
All-Time US Sub-13:00 List
| | | | | |
| --- | --- | --- | --- | --- |
| 12:54.12 | | Bernard Lagat | | 06/04/10 |
| 12:55.53 | | Chris Solinsky | | 08/06/10 |
| 12:56.27 | | Dathan Ritzenhein | | 08/28/09 |
| 12:56.27 | | Chris Solinsky | | 08/19/10 |
| 12:56.66 | | Chris Solinsky | | 06/04/10 |
| 12:58.21 | | Bob Kennedy | | 08/14/96 |
| 12:58.56 | | Matt Tegenkamp | | 09/04/09 |
| 12:58.75 | | Bob Kennedy | | 07/08/96 |
| 12:59.22 | | Bernard Lagat | | 07/28/06 |
| 12:59.29 | | Bernard Lagat | | 09/04/05 |
Also in Zürich, Nancy Langat won yet again and yet again failed to break 4:00. For the year, Langat is nine for ten at 1,500. Yet she's only the 7th-fastest performer on the year in the event. Similarly, Allyson Felix remained undefeated on the year at 400 meters in Zürich and she's only the 8th-fastest on the year in the event and hasn't broken 50.00 this year.
World Youth Olympics: Fast 1,000s For Boys
Last week, we didn't mention much about the World Youth Olympics because quite honestly we think it's a waste of money and not necessarily good for the athletes, as putting undue pressure on 15- and 16-year-old runners seems bizarre to us. Plus with rampant age cheating, how old are they really? Additionally, we already have the World Jr. Championships, so why do we need a Youth Championships and Youth Olympics? And lastly, what are you proving at that age other than who matures the fastest. Don't believe us? Well then please tell us the last time at a major global championships male sprinters from China and Japan went 1-2 in the 200 meters as they did at the World Youth Olympics.
Anyway, that being said, we will point out one performance that we know isn't the result of age cheating. Brit Charlie Grice got the bronze medal in the men's 1,000 at the age of 16 years and 9-plus months with a time of 2:21.85 in the men's 1,000. That's quite good for a 16-year-old, as it equates to about 1:48-high for 800. Even better was the winning time of 2:19.54 by Ethiopia's Mohammed Geleto. If you are into following the exploits of the juniors, you can find World Youth Olympics coverage here.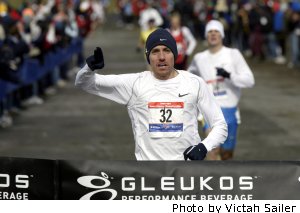 Adam Goucher Nears Retirement?
One aspect of running that is universal for nearly everyone is that basically no one is ever satisfied 100% with what they accomplish. Probably every runner on the planet, even Kenenisa Bekele or Haile Gebrselassie, thinks they could have accomplished more. That being said, it was a tiny bit shocking to read what Adam Goucher had to say about his career last week on trackfocus.com. As Goucher nears retirement, he said the following:
"I've essentially failed because I haven't achieved the things I set out to achieve, so it's a tough one."
Before we comment on Goucher's statement, let's give him a Thumbs Up for speaking honestly with a reporter. So many athletes nowadays don't say anything interesting because they don't like to be criticized or talked about in substantive ways.
Now here comes some soft criticism. While Goucher's single-minded focus on winning and losing and on times in the absolute sense are probably a huge part of what made him great, we think he'd benefit if he took a step back and realized that life is a journey and not a destination. Yes, someone that talented probably is naturally going to wish he was a sub-13 guy and more of a player on the international scene as a pro.
But Goucher should realize he's accomplished an awful lot. A Foot Locker title in high school, three NCAA track titles, four NCAA top-10 XC finishes, including one title, a 13:10 5k, an appearance in an Olympic final and two World Championships finals at 5k, and a top-10 showing in a World Cross-Country event (albeit the short course) are accomplishments worthy of praise.
It would be great to see Goucher make some noise one last time - maybe at the 2012 Trials - but if he's truly done, he will be missed by us. Who else is going to come up with great quotes like this? "I always told myself I'll never be that guy, that's 35 years old and can't see the writing on the wall. I'm sure the vast majority of people out there are saying (I) can't see the writing on the wall."
More: Adam Goucher May Be Close To Retirement? *LRC MB: Adam Goucher is coming to grips with retirement
Feel Guilty About Not Stretching?
Don't feel guilty and instead read this: USATF: Stretching Doesn't Help Reduce Injuries 16% of runners are going to get hurt every 3 months whether they stretch or not. The article does say to do whatever you've been doing. *AP Recap Of Study *LRC MBoard Talk
Track And Field Loses A Few Legends
The world of track and field lost a few legends - both known and unknown - last week, as there were a number of prominent deaths.
We here at LetsRun.com will certainly miss hearing Scott Davis.
Now we don't want to talk poorly on someone who has passed, as it's rude, but did anyone else find it kind of bizarre to see Harold Connolly's trans-continental and trans-Cold War romance with Olga Fikotova hyped in the articles of his passing since that marriage ended in divorce? We guess the marriage of the two Olympic champs in the middle of the Cold War was maybe what he was most famous for, but it did have a weird feel to it. It also shows we're probably a little too young to understand all the Cold War tension.
As for Connolly, he was a beloved man. We don't think we pointed out these links before, but you can see others' reflections of him on his website: http://www.hammerthrow.com/memorial/ or read the testimonial of Martin Bingisser, a man who says Connolly turned his life around when he met him as a high schooler. Now Bingisser (who went to the University of Washington) is the Swiss national hammer champ. Read Bingisser's testimonial on his own website.
Weekly Drug Update: Harold Connolly Is Honest And The NFL Is Dishonest
The passing of Harold Connolly brings us to our weekly drug update. We've got to give the dude some mega Thumbs Up for being 100% totally honest about his steroid use. To the uninformed, it might be a little shocking to learn that 1956 Olympic hammer champ Harold Connolly used steroids back in the day. Many people probably didn't realize that athletes were using them way back in the 1950s when it wasn't illegal to do so. Connolly says he was using by 1960.
But Connolly used them and - to his credit - he was always 100% honest about his drug usage, unlike virtually every prominent sports star today (insert name - Marion Jones, Justin Gatlin, Roger Clemens, etc). Check out some of the quotes Connolly gave the New York Times.
Quote Of The Week #1 (That Wasn't Quote Of The Day)
"Pro athletes who can pay for medical guidance should take steroids. They can give fans a better performance, a nice luxury. The argument against it is that they are role models and kids will find the black market."
We disagree with the sentiment but love the honesty. Connolly, who was still a throws coach, talked about what he'd do if one of his athletes reached the 2016 Olympic Games.
Quote Of The Week #2 (That Wasn't Quote Of The Day)
"I'll be 85, and if I'm creaky and feeling down. I'll get a steroids prescription. I'll juice up for the Games."

Lastly, it was revealed last week that when the NFL lets its players know they have been randomly selected for a drug test that the players aren't then followed until they give a specimen. What a joke. A big Thumbs Down to the NFL. With a few hours notice, people can easily manipulate a specimen.
We don't understand why the NFL and all of the major US pro sports leagues aren't subject to Olympic-style testing. They should be, and the major sports leagues, which receive millions in government subsidies for stadiums, should pay for all of the testing, as they can afford it.
LetsRun.com Rule #1 of Drug Testing - Every sport in the US should be under the auspices of USADA and the rich pro sports leagues should fund it.

More: *NY Times: Harold Connolly Was An Unapologetic Fan Of Steroids *On Twitter, A Key Flaw In NFL Drug Tests
Semenya Returns To Big-Time Action And Her Competition Isn't Happy About It
Caster Semenya's return to Berlin garnered a ton of attention last year. She won again and broke 2:00 and it really does look like she's going to be unbeatable in the years to come. While we feel for Semenya, we must admit we feel even worse for her competitors. We agree 100% with Brit Jenna Simpson, who told the New York Times:
Quote Of The Week #3 (That Wasn't Quote Of The Day)
"It's obviously a human rights issue, but human rights affect everyone in the race, not just one person. And for the rest of the field, it gets ignored."
Everyone is worried about Semenya's rights but no one is talking about she impacts her competitors. The fact of the matter is they have a right in our minds to know the results of Semenya's tests, as she was forced to sit out for 11 months, so clearly something wasn't totally normal. At the very least, release the results and let everyone know what the deal is.
Canadian Diane Cummins has been ripped for her comments criticizing Semenya, but we personally loved her quote to The Telegraph:
Quote Of The Week #4 (That Wasn't Quote Of The Day)
"There are guys who can challenge Usain Bolt but nobody can challenge Caster Semenya. She is four or five seconds better than any of us and that's incredible."
Now some are saying there is a double standard when it comes to Semenya. We 100% certainly agree - there is a double standard. Of that there is no doubt, as the fact of the matter is David Rudisha destroyed a world class field in Berlin by 3.25 seconds and Semenya only won by .50 seconds.
But there is a reason for the double standard just as there is a reason why men's sports are more popular than women's sports. In addition to an absolute higher level of performance, you don't have to deal with these sticky gender issues.
More: *NY Times Goes To Berlin To Cover Caster Semenya's Return And Finds That Her Competitors Are Irate She's Back *Semenya Wins And Her Competitors Aren't Happy About It
Recommended Reads
*NY Times Goes To Berlin To Cover Caster Semenya's Return And Finds That Her Competitors Are Irate She's Back We must say that while we feel bad for Semenya, we feel worse for her competitors. *Thread #1 *Thread #2
*NY Times: Harold Connolly Was An Unapologetic Fan Of Steroids
*Eugene Register Guard's Eulogy To Scott Davis - The Legendary Voice Of The Pre Classic
*Profile On Nike Ceo Mark Parker The former collegiate runner only has one flaw - he's friends with Lance Armstrong. *MBoard Talk About Parker
*Farah And Solinsky Now Know They Can Hang With The Best Every Time They Race
Quotes Of The Day From Last Week
Monday: "Today I knew it is my day. I trained very hard, the weather was good. I told the pacemaker to run the first lap under 49 seconds. He did a great job. The last 200 metres I had to push very hard. But I saw the clock - 1:41.09 at the end - fantastic. I am very happy to be the fastest 800 metres runner in the world."
- David Rudisha, after breaking Wilson Kipketer's nearly 13-year-old world record in the men's 800 by running 1:41.09. Take 5 minutes of your time and watch the video of Kipketer's old record as well as Rudisha's new one. Both are things of beauty.
Sunday: "I hope he can go through the 600m fast and let me take over from there. It will depend on the weather, the crowd and my body. But for now I feel good and ready for any challenge."
- David Rudisha, who wants to run fast in Berlin on Sunday. Will it be fast enough to beat this? Kipketer did tell us last year Kaki wouldn't be breaking his record soon.
Saturday: "Be a sponge. Curiosity is life. Assumption is death. Look around."
- Maxim #6 of 9 at Nike. The maxims were designed by their CEO Mark Parker, who is profiled in a great piece available on Fastcompany.com. Talk about the former PSU runner in our message board here.
Friday: "The times are irrelevant. Competing is number one. The thing I'm number one mad about this race is the spot I've been thinking about all year of taking the lead and pushing it completely opened up for me to do it. I started going and I backed off because I got scared ..."
- Chris Solinsky on his best 5k of the year, his 12:56 3rd-place finish in Zürich, where he contended for the lead over the final 2 laps.
Thursday: "(Today's 5k) could be a very good indication of which direction I go in. If I can get myself down to the low 12:50 range I think my desire to stay in the 5k will be a little bit more warranted. But I think as of now 26:59 has a little bit more weight than 12:55."
- Chris Solinsky talking about what today's 5,000 in Zürich might mean for his future Olympic prospects. The quote comes from a great IAAF piece on his and Mo Farah's expectations for the race today in Zürich - the same site where Dathan Ritzenhein stunned the world with his 12:56 last year.

Wednesday: "When Sen. Edward Kennedy of Massachusetts died last year, the paper's headline was 'Senate Stalwart Dies.' When Sen. Robert C. Byrd of West Virginia died two months ago, the headline referred to him as 'Respected Voice of the Senate.' In both instances, you had to read through hundreds and hundreds of words to get to two of the darkest periods in those great Americans' lives, Chappaquiddick and the Ku Klux Klan, respectively.

That's as it should have been, because both those men showed an ability to change, grow and outlive their 'checkered' pasts.

So did (Antonio) Pettigrew."
- Barry Saunders in a Raleigh Durham News and Observer editorial on Antonio Pettigrew. There is now a fund set up for Pettigrew's family here.

Tuesday: "I could give up cycling. But I could never give up running."
- Jen Davis in a New York Times article on athletes who want to keep running despite numerous injuries.
Last Week's Homepages
*Mon (Aug. 23) *Sun (Aug. 22) *Sat (Aug. 21) *Fri (Aug. 20) *Thur (Aug. 19) *Wed (Aug. 18) *Tue (Aug. 17)
---
Runner's World &
Running Times



Combined Only $22
a Year
Save $87

---

Running & Track and Field Posters
---


More Nice Offers: Nike Lunar Glide Savings Super popular shoe from Nike featuring Flywire and Lunar Foam

*Nike Air Max Moto Sale $69.99 for this shoe from our partner.
---