Commonwealth Games Track Action Starts Wednesday *Schedule/Results
Men's Distance Preview: CWG Kick Off Wednesday With Men's 5k Final link fixed The matchup features world 2010 leader and former World Champ Eliud Kipchoge, World Championships medalist Moses Kipsiro (from Uganda) and the incredible Mark Kiptoo, the 34-year-old who won Stockholm in 12:53 and started running at the age of 30.

Women's Distance Previews Caster Semenya and Janeth Jepkosgei may be out, but Olympic champ Nancy Langat is running the 1,500m and World Champ Vivian Cheiruiyot and runner-up Sylvia Kibet are running the 5,000m.

IAAF Preview Of Commonwealths The top ten sprint stars in the Commonwealth may be missing on the men's side, but there are still some great distance matchups starting with Wednesday's men's 5k final. A big question is will the track be ready? Parts of it were missing after it got damaged in the opening ceremonies.

*Nick Willis Delays His Arrival To New Delhi After One Round Of 1,500m Is Removed The 1,500m final is not until next Tuesday. Semis are Saturday.

Non-Track CWG News: Low Attendance At Commonwealth Games So Far
*Economist Editorial On Commonwealth Games Preparations
European News:
Chicago Marathon Is Coming 10-10-10
In Anticipation Of Hopefully A Great Chicago Finish, The Science Of Sport Blog Looks At Fantastic Marathon Fnishes Of Late
Someone Call Phil Knight Oregon Athletic Department Facing Budget Crunch
Peter Kamais Gets Ready For Marathon Debut In New York With Comfortable 1:01:55 Win Overseas
Sunday's Action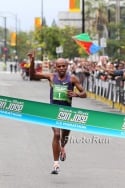 San Jose: Meb Tunes Up For New York With 1:01:45 Win In San Jose This was a glorified training run for Meb, as he had training partner Patrick Smyth with him for 10k and then was all alone. Up next for Meb - defending his ING NYC Marathon crown. Blake Russell won the women's crown and 49-year-old Linda Somers-Smith ran 1:13:31 for 2nd.
On The Boards: 1 Meb Keflezighi 1:01:45

Europe: Gilbert Chepkwony Runs 2:08:33 To Win Kosice Marathon, The Oldest In Europe At 87 Years

It's All About The Name: Coolboy Ngamole Wins S. African Marathon Champs In 2:16:19
Commonwealths Open Successfully *Track Starts Wed. *Photos
Past Champs Martin Lel, Dos Santos, Tulu Seek More Glory In NY Before missing his last three marathons due to injury, Lel might have been the best marathoner on the planet. This is big, big news (which we forgot to put up yesterday).
Latest Commonwealths News
The New Head Of USATF?
Bill Schmidt, Former VP Of Gatorade, Javelin Bronze Medallist In 1972, Would Accept USATF Job The board wants someone who knows something about the sport and has sports marketing experience. Schmidt meets the criteria.
3 Recommended Reads
Mary Wittenberg Talks To Runner's World The interview is full of lots of great info.
i. She hints that another international and a US star will drop out of a fall marathon soon. We wonder who it will be?
ii. She reveals she's wining and dining the potential NY stars of the future, as Lisa Koll, Molly Huddle, Chris Solinsky, Matt Tegenkamp and Evan Jager will watch NY this year.
iii. She reveals Galen Rupp has been banned by Alberto from attending.
iv. She talks about Doug Logan. *Wittenberg Photo Gallery
The Fastest Running Couple In The World?
The WSJ Profiles New York Contenders Gebre Gebremariam And Werknesh Kidane The WSJ is suddenly full of running articles. We loved this quote from Kidane on her start in the sport: "I run to get the sheep, to get the goat, to follow with them very fast, but I don't know the meaning of running."
Is Meb In Shape? We'll Start To Find Out Sunday As He Defends His San Jose Title
Financial/TV News
Fifth Avenue Mile Behind The Scenes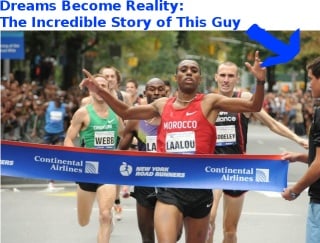 Story Of The Week!!! 4 college cross-country teammates from UMBC went up to NY to watch the 5th Avenue Mile. Before the day was over, they were holding the finishing tape and hanging out with some of their heroes. How did it happen? A GREAT read.

More Post-5th Avenue News:
*US Olympic Committee Profiles Shannon Rowbury
*Bernard Lagat Looking Forward To Big Marathon Payday In 2013
Say It Ain't So
Ryan Hall Pulls Out Of Chicago Marathon Philip Hersh of the Chicago Tribune broke this story. Hall isn't injuried; he's just had some subpar training and is out after his subpar race in Philly. We're surprised.
Pat Butcher: Patrick Makau Is Now The Man To Beat In The Marathon He's certainly the #1 in the world in our minds so far for 2010.
LetsRun.com's Endorses This Guy As Doug Logan's Replacement
South African Olympic Head Says He's Willing To Personally Clean Toilets To Insure India's Commonwealth Games Go On This guy clearly isn't afraid of getting his hands dirty and doing the grunt work. Certainly much better than what could be said of the old AAU guys.
*USOC Might Intervene If USATF Appoints Board Member CEO
In Case You Don't Want To Know The Results
The Last Minute Of The 2010 Berlin Marathon:

***** **** Wins Berlin Marathon In Sprint Finish In 2:05:06 (Warning: We're about to reveal the winner's name) Despite rain, Patrick Makau won the race in a sprint finish in 2:05:06 over Geoffrey Mutai as Bazu Worku was close behind. The rain prevented a world record attempt, but Makau has established himself as a marathon star. Aberu Kebede won the women's race by over a minute in a slow 2.23.58.

Toronto Waterfront Marathon: Kenneth Mungara (2:07:57) And Sharon Cherop (2:22:42) Both Break Kenyan All-Comers Record At Scotiabank Toronto Waterfront Marathon Canadian Reid Coolsaet ran 2:11:23 to make the Canadian Olympic standard by 6 seconds. Sharon Cherop got the women's winby 1 second over Tirfi Beyene with 2:22:43, which was faster than the winning time in Berlin.
*Message Board Discussion

Stop The Presses: Say it Ain't So: Menjo Loses At Lisbon Half Marathon, Mary Keitany Romps Races need to do a better job of promoting Menjo. We had no idea the LetsRun.com superhero was running. In case you have no idea what we're talking about, Menjo earlier this year soloed a 3:53 mile, a 12:55 5k, and the world-leading 10k.
Big Family News
Kara Goucher Gives Birth To Colton Mirko Goucher Congrats to Kara and Adam. Mom and baby are doing well after the baby was face up during delivery. The baby was 5 days early, which means Paula Radcliffe's second child is due in 5 days.

Galen Rupp Gets Married. Congrats to Galen and Keara.
Unbelievable
USATF Board Gave Logan $140,000-A-Year Pay Raise 9 Days Before Starting Termination Process If you're thinking of terminating someone, it's probably not a good idea to bump their base pay which their severance is calculated off of. The AP article above is excellent and has the 3 criteria the board wanted to see more from Logan on.
"The only amateurs left in the Olympic movement are the people running it." That's what Philip Hersh, the pre-eminent Olympic writer in the US, commented after hearing about the Logan raise.
Update: USATF Communications Director Jill Geer Writes To Clarify Our Comments Above
Previous Berlin News: From Bored With Running As A Child To Berlin Marathon Contender This IAAF piece has an interesting look at Germany's top contender for Sunday's Berlin Marathon, Sabrina Mockenhaupt.
*Patrick Makau And Geoffery Mutai Hope To Take Up Where Haile G Left Off The two 2:04 guys certainly should like Berlin's super-fast course.
*Joe Battaglia Preview
*Mzungo.org Has Lots Of Berlin Info
Doug Logan Doesn't Go Quietly
Week In Review
LRC Week That Was: Haile G, Ryan Hall, Dathan Ritzenhein, Shalane Flanagan, Andrew Wheating, Bernard Lagat's Brother And 79-Year-Old Chris Chataway It was a busy week on the roads and the board rooms (Doug Logan's sacking) and we give you our insight. Is something wrong with Ryan Hall? How amazing is Haile G?
The Son Of Teachers, World Record Holder David Rudisha Once Thought He'd Be A Geography Teacher
The Bank Of America Chicago Marathon Isn't The Only Great Race This Weekend
World Record Battle This Weekend In Berlin: Leonard Komon And Micah Kogo To Square Off At 10k Komon just got the 10k world record and Kogo is the guy whose record he took. They square off over 10k on the streets of Berlin.

Also This Weekend: Pro Fields For This Weekend's 10th BAA Half Marathon Announced
Good News
NYC Marathon Eve Experience To Be First Event At Tavern On The Green Since It Closed Tavern on the Green, formerly one of the top 5 grossing restaurants in the US, has become a bunch of food carts and toilets. Thankfully, the NYRR was able to get through the NYC bureaucracy and get the first event put on there since it closed. And whoever came up with calling it the NYC Marathon Eve Experience instead of the NYC Marathon Pasta Dinner deserves a promotion.
UK News
Recommended Read Ben Johnson's Autobiography Seoul To Soul Is Coming Out Next Month And It's Going To Drop Some Bombshells Johnson hints that he thinks a rival shoe company spiked his drink in Seoul and says the sport is still dirty. link fixed
Lopez Lomong Back In Flagstaff Working On College Degree & His Own Biopic Film That Is Coming Out In 2012
Much Is Being Made About Fact Usain Bolt Was Supposed To Start Training On Monday *Meanwhile, He Starred In A Cricket Match On Saturday
1991 World Championships Marathon Gold Medalist Hiromi Taniguchi Resigns As Coach Of Elite Japanese Team As He wants To Work With Amateurs
US Men's Marathon Champs: Sergio Reyes Runs 2:14:02 To Win Twin Cities And US Marathon Title Over Jeffrey Eggleston By 7 Seconds It was Reyes' first US crown and the 7 seconds for the win were worth at least an extra $10,000. Debra Buzenesh won the women's title in 2:27:23, winning by nearly 8 minutes as she got the win here to go with her win in Grandma's.
*Minnesota Newspaper Recap
*Results
*USATF Recap

US Women's 10-Miler Also In Twin Cities: Katie McGregor Wins 2010 US Title McGregor won $10,000. If she had run 1:20 slower, she would have received $9,750 less, as the first 9 women were all within 1:20 of each other. *Results
Beppu-Oita Marathon Officially Accepting Female Applicants Women only participated in the race by special invitation in the past.
Post Ryan Hall Dropout News
Other News
Congrats, Ladies!
Paula Radcliffe Has Her 2nd Baby *Photos Of Kara Goucher's Baby
4:45 Marathons In The News
Random Distance News
It's Time To Start Paying Attention To NCAA D1 XC Action
3 Big Meets This Weekend: *Paul Short *Notre Dame *Wisconsin
*Oregon XC Teams Head To Notre Dame
Latest Commonwealth Games News
Caster Semenya Out Of Commonwealth Games With Back Injury, World Champ Mbulaeni Mulaudzi Likely Out As Well, As He's Battling Back Injury The games have lost a ton of high-profile athletes for various reasons, but these 2 appear to have legitimate injuries.
*Indian Government May Snub Prince Charles From Opening Games Because Queen Didn't Come For First Time Since 1966 The Queen is 84 and decided not to come and the Indians feel slighted.
53-Year-Old Joan Benoit Samuelson Hoping To Qualify For Olympic Trials In Chicago 2:47 is going to be very hard for her and her #1 goal is to break 2:50 for the third time as a 50-year-old.
Catching Up With Four Top Milers
It's Official - European Marathon Champ Viktor Röthlin Is Running ING New York City Marathon We reported that Röthlin was running two weeks ago but it's official now. He leads the European charge, which also includes French national record holder Christelle Daunay.
3 Good Pre-Race 5th Avenue Mile Profiles:
*Alan Webb In The NY Times
*Recommended: Great NY Times Profile On Leo Manzano Leo talks about turning around his 2010 season and growing up very poor (his parents didn't really understand what it meant to go to college).
*Lengthy Profile On Nick Willis, His Upbringing In New Zealand And This Sunday's 5th Avenue Mile Written by a Kiwi who saw Nick run a race at age 7 (the article talks about Nick's family and how his mother died when he was 5).
New World Road 10k Record
Leonard Komon Runs 26:44 WR He smashed the old record but famed coach Renato Canova tried to put it in perspective, as the 10k on the track and roads has become much less of a priority recently.
*Message Board Thread On Record
Newsweek: The Case Against College Athletic Recruiting We must admit we don't get why totally obscure sports get supported at the Ivy League level, but then again, some might say track is obscure. No mention though of how athletes might succeed better after college.
US Distance News
Doping News
International News
Max King & Lauren Fleshman Win 2010 XTERRA Trail Run National Championship
Marathons For The Masses
British News
Philly Half & US 5k
Philly: LRC Matthew Kisorio Slays Gebre Gebremariam As Ryan Hall Struggles 5k man Matthew Kisorio showed that Gebremariam is beatable after all, but it takes a 4:24 3rd mile to do it. Ryan Hall was never a factor and struggled mightily (63:55) as Brett Gotcher (62:50) was the top American, but he was beaten by former NCAA runners Simon Bairu, Alistair Cragg, Wesley Korir and Shawn Forrest.
Pre-Race: Hall Very Confident: "I wasn't totally in top-notch shape last year, but I think I'm in better shape this year."
LRC Meseret Defar Wins As Shalane Flanagan Runs 68:36 2004 Olympic 5,000-meter champ Meseret Defar's move up to the half marathon was a successful one as she defeated the hottest road racer on the planet in a sprint finish to get the win, as Shalane Flanagan became the 4th-fastest American in history.
More: Defar Wins As Heat Bothers Flanagan
Pre-Race: *defar VS flanagan....who ya got?

Providence/USA 5k: LRC Molly Huddle And Robert Cheseret Win 5k Titles American record holder Molly Huddle got a comfortable win on the women's side but on the men's side, it was newly-naturalized US citizen Robert Cheseret who got a surprise win. Don't know Cheseret? He's Bernard Lagat's brother as well as the guy who was able to beat Dathan Ritzenhein for the NCAA title even though he fell down in the middle of the race.
A Brief Chat With Shannon Rowbury The 1,500 star will end her season in New York on Sunday.
Weird: Pro Meet In Kawasaki, Japan Has No Distance Races You'd think given the Japanese love of distance running that would be the highlight. Instead, it was highlighted by Christophe Lemaitre in the 100m.
Sprint News
Villanova And The Ducks Go To Washington