$20,010 LRC Paris Prediction Contest The Bolt-Powell showdown is here and so is our Paris Diamond League Prediction Contest. A perfect ballot gets $20,010. If that's too hard, the winner gets a true one-of-a-kind autographed Usain Bolt spike from Puma (who, if you can't tell, is advertising on LetsRun.com big time this week in conjunction of the launch of the Bolt collection). Get your picks in by 2 pm Friday.
Caster Semenya Returns Victoriously *Race Video
Day 3: Back From 3 Month Pseudoephedrine Ban, Anna Alminova Dominates Russian 1,500 Final She ran 4:00.84 and 2nd place was 4:04.56. Even more interesting than that is the fact she is scheduled to run her 3rd 1,500 in 3 days in Paris on Friday. *IAAF Recap Of Final Day Of Russian Champs
Day 2: Yuriy Borzakovskiy Wins 5th National Title As Lyudmila Kolchanova Becomes Third Woman To Break 7 Meters In LJ In 2010 Borzakovskiy won a tactical 800 in 1:48.
Day 1: Russian Championships Are Underway In Hot Weather Surprisingly, Yuriy Borzakovskiy has never won an outdoor European 800m title.
Sad News: Legendary CT HS Coach Irv Black Passes Away He led New Britain HS to 28 state titles during his career.
Interesting Read: Citing Edwin Moses, Columnist Says "The secret to being a sporting great is not realy trying."
Nancy Lagat And Alfred Kirwa Yego Return Home To Kenya Training Camp For African Champs It's a shame Lagat isn't running the 1,500 in Paris.
Nick's Silver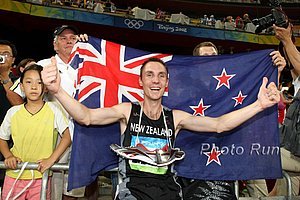 Nick Willis Is Still Awaiting New Olympic Silver Medal The IOC had previously sent him a second-hand medal that was totally scratched. When New Zealand requested a new one, the IOC needed to have one made.
More Sprint News
LRC The Week That Was This week, celebrate the fact that the near 13-year-old wait for a 1:41 is over, as is the eternal wait for a white man to break 10-flat. We also tell you how Leo Manzano improved by 16 seconds in a week in the mile, we take a trip down memory lane and remember when Galen Rupp outkicked Chris Solinsky to win a 5k in 13:30 and then ponder what Rupp will run in the marathon now that he has his mentor Alberto Salazar beat at both 5k and 10k, we take a look at Alysia Johnson's first big European win and we rip Caremelita Jeter and praise Tyson Gay/rip Asafa Powell.
Defending European LJ Champ Andrew Howe Is Past Injuries And Ready To Repeat
Feds Circling In On Lance Armstrong Even If Media Outlets Don't Agree Exactly How
European News
Study Finds Belly Buttons Are the Key To Different Races' Geographic Regions' Success In Various Sports Like they say, 97% of all statistics ... *2nd Story On Belly Buttons
More Action We Didn't Cover Monday
France: Christophe Lemaitre Follows Up 9.98 With 20.16 200m

Brasschat: Results: Molly Huddle 4:09 1,500m Win, Jeff See 3:40 Win, Shannon Rowbury 2:03 800m Chris Solinsky remains the world leader at 10k, as the 10k was won in 27:30.
1:41.51!!!!!!!!!!
LRC 2010 KBC Nacht Recap: David Rudisha Runs 1:41.51 To Become 2nd-Fastest 800 Man In History!!! The Kenyan blitzed a 1:41.51 in the Belgium on Saturday night to become the fourth under the 1:42 barrier. You can watch the race video in our recap. In mid-d and distance action, Erin Donohue PRed in the 1,500 (4:03.91) as AJ Acosta backed up his 3:53 mile with a 3:36 1,500 and beat Lopez Lomong in the process. Plus, Tim Nelson ran well in the 5k (13:20) as Brian Olinger struggled in the steeple and Craig Mottram ran 13:36.
*Video Of Rudisha's 1:41.51
First White Man Breaks 10.00 France's Christophe Lemaitre became the first white man to break 10.00 as the lanky 20-year-old ran 9.98 on Thursday. We've got to give Reuters credit for mentioning his race in their headline. *Reuters Article *LRC MB: Lemaitre 9.98 *Full Speed Race Video Here *Funny Slo-Mo Video Here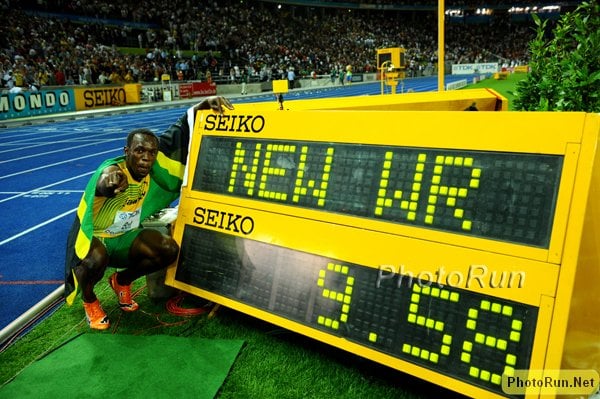 LRC A Quick Fan's Guide To Paris Take off two hours from work on Friday and watch this meet as it should be a real dandy. You have the Usain Bolt - Asafa Powell matchup at 100, which includes Christophe Lemaitre, a great men's 800 featuring Abubaker Kaki's quest for 1:41 and all of the top Americans, including Andrew Wheating in his European debut, a fantastic women's 1,500, which includes the American 2009 World Championships team plus a possible AR attempt in the men's steeple by Dan Huling. All of that and much, much more, including David Oliver, Jeremy Wariner, Allyson Felix and French stars in the men's pole vault and triple jump. *LRC Predictions From The Prediction Contest
African Champs Are Coming Soon
More Sprint News
Tyson Gay Diary: "I can beat anyone and on any given day." Gay talks about the World Cup, beating Asafa Powell, losing to Walter Dix and even gives a thumbs up to Lebron for going to Miami. Gay is not running Paris.

UK Athletics Calls For Tax Changes After Bolt's Withdrawal

Britain's Stupid Tax Laws Cost Them Usain Bolt: He Pulls Out Of Matchup Versus Asafa Powell And Tyson Gay
Britain tries to tax endorsement income from athletes in addition to appearance fees. So Bolt could lose money while racing in London if the UK tries to tax say 1/8th of his endorsement income.
*Bolt To Get $250,000 To Run In Paris This Friday
*Usain Bolt Tax Issue Gets Mention In NY Times
Usain Bolt Heading To Australia In September To Party, Enjoy The Australian Women, DJ, Oversee A Race Between Footballers & See A Kangaroo Plus, he may get $1,000,000 from Gatorade regardless if he races the footballers. The dude likes to party. At Worlds last year, we left a party where Bolt was DJing and dancing with Asafa Powell with his shirt off at 3 am. Not sure if we posted this last year, but video of Bolt-Powell dancing here.
Random/Unimportant News
Good Idea
Pat Butcher: Should Saudi Arabia Be Barred From The Olympics Until They Permit Women To Compete? We think it's a good idea. Fortunately, much of the world was outraged when South Africa treated non-whites like crap 20 years ago. Somehow however, 20 years later it's okay to treat women as second class citizens.
LRC Recap Gay Over Powell, Alysia Johnson Wins 800, Manzano Nipped By Kiprop Gateshead featured the first showdown between any of the big 3 in the sprinting world and the matchup did not disappoint, as Tyson Gay got a come-from-behind win. In the distance races, the Americans did well. Alysia Johnson won the 800 convincingly over a 1:58.4 runner and Leo Manzano, who last week lost to Asbel Kiprop by over 100m, was battling with him for the win. Ben Bruce set a PR, as did Galen Rupp (13:10) and Mo Farah. And we want to remind you a Brit ran 13:00 28 years ago.

More: Rusty Tyson Gay Defeats Asafa Powell Guardian
*New LRC Photos