*Wheating Wins 800 At Oregon Relays After a 3:37 win on Friday night, Andrew Wheating came back for a 1:47 win on Saturday.

*Trojans Sweep USC-UCLA Dual Bryshon Nellum's comeback from gunshot wounds continues as USC men win dual at UCLA's Drake Stadium for 1st time in 33 years.
*Recommended Read: USC's Ahmad Rashad Fulfilling Promise To Mother And Town

*Notre Dame Men Win 3rd Straight Big East In Squeaker Over Louisville
Big Easts *Men's Results *Women's Results
Louisville women edged Villanova thanks to 70 points from discus, shot and hammer.

*Bucknell Men And Women Sweep Patriot League Meet At Home Rob Arent scored 3rd in the 110s, won the 400 and 400 hurdles and anchored the 2nd-place 4 x 4 team to lead the Bison to a 3 point victory, their first since 1991. *Patriot Results
Jamaica - Stars Running Fast
Bolt 19.56, Gay 45.05 Bolt is so good now that he runs 19.56 into the wind and more people are talking about Gay running 45.05.
Road Racing Recap - Lineth Chepkurui On Fire
Chepkurui Continues Hot Streak With Course Record Win In Spokane's Lilac Bloomsday

33-Year-Old Moldovian Wins Dusseldorf In 2:08, Women's Race Won In 2:30
*LRC Photos

*Boards: Pittsburgh Marathon disrupted by bomb scare
Friday News
Oregon Relays Friday Distance Recap
Andrew Wheating erased some of the disappointment of Penn with a come-from-behind 3:37.8 win over Lee Emanuel with Will Leer in 2nd. OTC's Lauren Fleshman and Jemma Simpson picked up wins in the women's 5k and 1,500. The men's 10,000? Moved to Saturday 10am.
*Wheating Photo And More Quotes Vin Lananna on tactics: "I would have gotten furious" if Wheating led early.
*Tired Hasay Falls To Simpson And Bowman
On The Boards: Wheating runs last 100m in 11.5

*Boards: Weather not Rupp-certified
Texas Governor Carries Laser-Sighted Pistol While Running Gov. Rick Perry, who is running for re-election, says the pistol is for snakes, and reportedly killed a coyote. If you've ever run with a gun, email us at letsrun@letsrun.com.
*LetsRun Boards Interested: TX Governor runs with pistol
LetsRun.com The Week That Was In Running
This week, we crown the new king and queen of marathoning, heap praise on Andrew Wheating and the men of Oregon, talk about LaShawn Merritt's package, praise Ryan Hall's amazing consistency and wonder whether Deena Kastor will ever break 2:25 again.
London And UK
Kenyan News - Remember, The Best Runners In The World Come From This Country
News From Track & Field World
Fabrice Lapierre Jumps Only 17cm Short Of Mike Powell's WR On the other side of the world, Aussie Fabrice Lapierre jumped a wind-aided 8.78m several days ago to become one of the top 6 jumpers of all-time. We wanted to let you know before all of a sudden he breaks Mike Powell's 8.95m world record.
Jersey Shore Paper Runs Feature On Robby Andrews Andrews looked like he was out of it on the 4 x 8 anchor before blowing past Wheating on the final straight. The next time the two 800 standouts face off will likely be NCAAs in June ... in Eugene. If you want to watch the Penn 4 x 8 or read our recap of Saturday's biggest moments, click here.

It's True: Usain Bolt Brought Penn Relays To A Halt At a meet always run like clockwork, Bolt's celebratory lap took precedence over tradition, schedule. Even his warmup strides caused races to be held up due to crowd noise.

Bolt Talks With Sydney's Mike Hurst About His 2010 Plans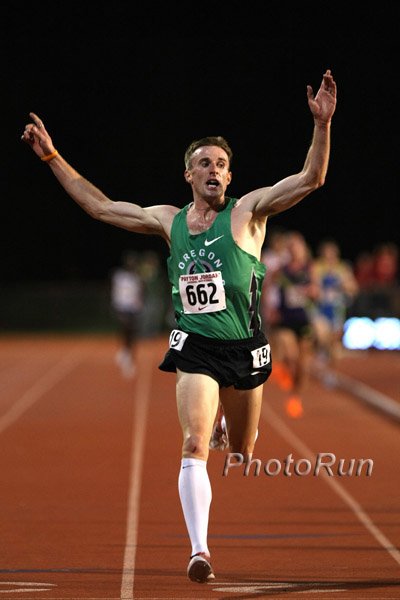 Sub-27 American Record For Chris Solinsky
The race was billed as a Galen Rupp American record attempt, but Chris Solinsky had something up his sleeve in his 10k debut. Solinsky went to the front with 900m to go and powered home the last 800 in 1:56 to smash the American record and break the magical 27-minute barrier. Rupp? He did get under the old record, running 27:10 for 4th. Sam Chelanga beat Rupp in 27:08 to get the collegiate record by 20 seconds.
*Splits, Discussion, Play-By-Play: Men's 10,000 Splits
*LRC Photos
*Video Evidence

The Most Unexpected American Distance Performance In ____ Years?
2 Weeks Ago: Solinsky Running the 10K at Stanford Read what people were predicting for Solinsky 12 days ago when he announced his planned "glorified tempo" at Stanford that had more people interested in whether teammate Matt Tegenkamp would run.

*Chris Thompson Now #3 All Time On Great Britain List After 27:29 Debut
*Simon Bairu Sets Canadian Record Great night for Schumacher's men.
*More Stanford Photos

In the women's 5k, Shalane Flanagan was way in front but well off of 5k record pace until the final lap when she fell apart and was passed by Shannon Rowbury, who ran a 15:00.51 PR for the win.

LRC Fans' Guide To Stanford's Payton Jordan Invitational: Will The Men's 10k AR Fall? What About The Women's 5k?
We preview Saturday's top distance events. Everyone is talking about Galen Rupp's attempt at the 10k American record, but the women's 5k is pretty hot as well and another possible American record attempt by Shalane Flanagan (it's got Shalane Flanagan, Shannon Rowbury, Amy Begley and Lisa Koll).

*Boards: Weather not Rupp-certified
*Rupp 10,000 meter prediction thread
*Rupp 100% Running Stanford: Weather Update
Training, Racing, Sport News
Thursday's Collegiate Action
VMI's Felix Kitur Almost Outkicks Robby Andrews At Liberty Twilight Qualifier Using a rabbited twilight meet as an opportunity to get an NCAA time, Robby Andrews ran under 1:48 in an open race for the first time and fought off a determined sprint challenge from 1:46 runner Felix Kitur of VMI. *Download Video *Results
Good Read: Jeshua Anderson Gunning For 3 Straight NCAA 400 Hurdles Titles Washington State's Anderson gave up football to focus on becoming the best 400 hurdler in NCAA history.
Sprinter News
Drew Silverman Offers Excellent Account Of Usain Bolt Day At Penn Relays
Malawi National Team Arrives For African Championships 3 Months Early Unfortunately, this is not a joke. Malawi leaders failed to get the notice that the African champs were in July, not April.
Spokane: Lilac Bloomsday Run Highlighted By Women's Battle
Lineth Chepkurui Hopes To Stay Hot On American Roads At Lilac Bloomsday Red-hot Lineth Chepkurui will go for her 3rd win at Lilac but will have World XC champ Emily Chebet as top competition. Ridaoune Harroufi is the top male in the men's elite field.

*World XC Champ Emily Chebet Signs With adidas
Liu Xiang Saving Himself For Robles Clash In Shanghai
Gebrselassie Talks About Running 2:02 LOL.
Alminova Busted - Gets Off Easy
Top Russian Anna Alminova Given 3 Month Ban For Psuedoephedrine Positive At Indoor Worlds In other reports, mid-d star calls positive result a "good lesson," blaming the accident on taking Dynafed Plus.
Boards: Anna Alminova - BUSTED

LaShawn Merritt Tests Positive His side of the story is that he was taking an over-the-counter male enhancement product.
*Discuss His Positive Test Here
Virgin London Marathon *Top Results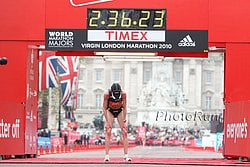 Deena Kastor Explains Her 2:36 In London Cramps, pains, allergies and "just a bad day" left Deena shuffling towards the finish line.

LRC Photos From Virgin London Marathon

Big Message Board Discussion: Deena --PLEASE RETIRE
Non-Marathon-Related: Joseph Ebuya Wins French 8.8km XC In 23:57 World Cross-Country champion Joseph Ebuya hit the turf running in France to top a quality field in what seems like an incredibly fast time.