Oregon Relays Distance Recap
Andrew Wheating erased some of the disappointment of Penn with a come-from-behind 3:37.8 win over Lee Emanuel with Will Leer in 2nd. OTC's Lauren Fleshman and Jemma Simpson picked up wins in the women's 5k and 1,500. The men's 10,000? Moved to Saturday 10am.
*Wheating Photo And More Quotes Vin Lananna on tactics: "I would have gotten furious" if Wheating led early.
*Tired Hasay Falls To Simpson And Bowman

Outdoor Conference Championships
*Patriot League Day 1 Results Army, Navy 4x8's go 7:24, 7:26
*Big East Results Running prelims start Saturday.
*USTFCCCA.org Conference Championship Central

Friday Update: Galen Rupp Switches Course - He'll Race At Stanford On Saturday


LRC Fans' Guide To Stanford's Payton Jordan Invitational: Will the Men's 10k AR fall? What about the Women's 5k?
We preview Saturday's top distance events. Everyone is talking about Galen Rupp's attempt at the 10k Anerican record, but the women's 5k is pretty hot as well and another possible American record attempt (it's got Shalane Flanagan, Shannon Rowbury, Amy Begley and Lisa Koll).

LRC Fans' Guide To The 2010 Oregon Relays
We preview the two day meet. The race of the day for Friday is the men's 1,500, which is absolutely loaded as it features 6 guys who have run 3:38 or better. Will the collegiate record survive? On Saturday, will the American record in the men's 10k survive? The men's 1,500 record attempt can be watched live at 10:15 PM (7:15 Pacific) for a 9.95 fee. In terms of ladies action, Sarah Bowman and Jordan Hasay square off with an Olympian in the women's 1,500 and Lauren Fleshman might return to action.

*Boards: Weather not Rupp-certified
Texas Governor Carries Laser-Sighted Pistol While Running Gov. Rick Perry, who is running for re-election, says the pistol is for snakes, and reportedly killed a coyote. If you've ever run with a gun, email us at letsrun@letsrun.com.
*LetsRun Boards Interested: TX Governor runs with pistol
LetsRun.com The Week That Was In Running
This week, we crown the new king and queen of marathoning, heap praise on Andrew Wheating and the men of Oregon, talk about LaShawn Merritt's package, praise Ryan Hall's amazing consistency and wonder whether Deena Kastor will ever break 2:25 again.
London And UK - "Look How Charitable We Are!"
Kenyan News - Remember, The Best Runners In The World Come From This Country
News From Track & Field World
Fabrice Lapierre Jumps Only 17cm Short Of Mike Powell's WR On the other side of the world, Aussie Fabrice Lapierre jumped a wind-aided 8.78m several days ago to become one of the top 6 jumpers of all-time. We wanted to let you know before all of a sudden he breaks Mike Powell's 8.95m world record.
Jersey Shore Paper Runs Feature On Robby Andrews Andrews looked like he was out of it on the 4 x 8 anchor before blowing past Wheating on the final straight. The next time the two 800 standouts face off will likely be NCAAs in June ... in Eugene. If you want to watch the Penn 4 x 8 or read our recap of Saturday's biggest moments, click here.

It's True: Usain Bolt Brought Penn Relays To A Halt At a meet always run like clockwork, Bolt's celebratory lap took precedence over tradition, schedule. Even his warmup strides caused races to be held up due to crowd noise.

Bolt Talks With Sydney's Mike Hurst About His 2010 Plans

American Sprinters Blame Handoffs For Loss To Jamaican Club The US 4 x 100 is falling behind Jamaica big-time.

LRC Penn Relays Saturday Recap - 54,000+ Watch Bolt, Andrews, Wright And More Read about the Robby Andrews/Andrew Wheating anchor battle, Phoebe Wright's gutsy weekend, David Torrence shining in the DMR and all the other splits, security guard tackles and gems you don't want to miss from an action-packed weekend at Penn Relays, including a HS 4 x 1 faster than most countries' national teams.

Men's 4 x 100: Bolt Leads Jamaica: *Recap *On The Boards: Bolt 8.79 Split

Men's 4 x 800: Virginia Over Oregon: *Recap *Results Andrew Wheating and Robby Andrews were both running their first race of the day and Andrews came out on top again to stop the Oregon Ducks from sweeping the distance relays at Penn.
On The Boards: Andrews OOWWWWNNSSSS Wheating

Women's 4 x 800: Tennessee Sweeps: Results Tennessee got the win thanks to a tough 2:00.5 anchor from Phoebe Wright to give the Vols a distance relay sweep.

More From Penn
LRC Saturday Preview - 4 x 400s, Usain Bolt, A Sub-16 Attempt?, A Great Pro DMR And Hopefully An Oregon-PSU 4 x 800 Need we say more? Saturday will be amazing.


LRC Friday Distance Recap - Jackie Areson Keys 2 Tennessee Wins, Oregon Men Unrivaled Oregon men say they will go for the 4 x Mile at 1pm Saturday before deciding on the 4 x 8.

4 Big Distance Races From Friday Championship

*Domination - Kemoy Campbell First Jamaican To Win Boys 3,000 Alex Hatz had a great kick, but 3:42 1,500 runner Campbell built a huge lead with bold running, giving the Jamaican fans a distance runner to cheer for.

*Pat Schellberg New Penn Relays Mile Record 4:08-Flat
Great 400m Matchup In Jamaica On Saturday
Tyson Gay To Take On World 400m Bronze Medallist Renny Quow Gay is the favorite in our minds after his sub-45 clocking.
Training, Racing, Sport News
Thursday's Collegiate Action
VMI's Felix Kitur Almost Outkicks Robby Andrews At Liberty Twilight Qualifier Using a rabbited twilight meet as an opportunity to get an NCAA time, Robby Andrews ran under 1:48 in an open race for the first time and fought off a determined sprint challenge from 1:46 runner Felix Kitur of VMI. *Download Video *Results
Good Read: Jeshua Anderson Gunning For 3 Straight NCAA 400 Hurdles Titles Washington State's Anderson gave up football to focus on becoming the best 400 hurdler in NCAA history.
News From Oregon: Record Attempts Out West, Webb Update
*Andrew Wheating Hopes To Run 3:36 Tonight - May Go For Double At NCAAs
*Galen Rupp Going For American 10,000m This Weekend Depending on weather, reports indicate Galen Rupp will attempt Meb Keflezighi's 27:13.98 American 10,000m record on Friday in Eugene or Saturday at Stanford.

*Wheating Calls His Tactics In Penn 4 x 800 "Dumb," Will Go For Collegiate 1,500m Record Friday In Stacked Race Double NCAA indoor champ Lee Emanuel, Andrew Wheating, Matt Centro and other collegiates will join OTC pros like Russell Brown, Ben True and Christian Smith in attempt at Sydnee Maree's 3:35 NCAA record Friday in Eugene.

*Salazar: Webb Loses 8 Pounds Thanks To Diet And Less Heavy Lifting Alan Webb is recovering from Achilles surgery and according to coach is much leaner.
Boards: Webb lost 8 pounds
Sprinter News
Drew Silverman Offers Excellent Account Of Usain Bolt Day At Penn Relays
Malawi National Team Arrives For African Championships 3 Months Early Unfortunately, this is not a joke. Malawi leaders failed to get the notice that the African champs were in July, not April.
Spokane: Lilac Bloomsday Run Highlighted By Women's Battle
Lineth Chepkurui Hopes To Stay Hot On American Roads At Lilac Bloomsday Red-hot Lineth Chepkurui will go for her 3rd win at Lilac but will have World XC champ Emily Chebet as top competition. Ridaoune Harroufi is the top male in the men's elite field.

*World XC Champ Emily Chebet Signs With adidas
Liu Xiang Saving Himself For Robles Clash In Shanghai
Gebrselassie Talks About Running 2:02 LOL.
Alminova Busted - Gets Off Easy
Top Russian Anna Alminova Given 3 Month Ban For Psuedoephedrine Positive At Indoor Worlds In other reports, mid-d star calls positive result a "good lesson," blaming the accident on taking Dynafed Plus.
Boards: Anna Alminova - BUSTED

LaShawn Merritt Tests Positive His side of the story is that he was taking an over-the-counter male enhancement product.
*Discuss His Positive Test Here
Virgin London Marathon *Top Results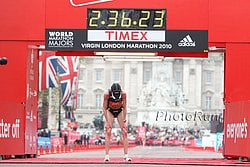 Deena Kastor Explains Her 2:36 In London Cramps, pains, allergies and "just a bad day" left Deena shuffling towards the finish line.

LRC Photos From Virgin London Marathon

Big Message Board Discussion: Deena --PLEASE RETIRE
Non-Marathon-Related: Joseph Ebuya Wins French 8.8km XC In 23:57 World Cross-Country champion Joseph Ebuya hit the turf running in France to top a quality field in what seems like an incredibly fast time.
More Marathon News
Gebrselassie Talks From Nairobi - Hints At Chicago Marathon, WR
*Boards: Geb says he will break his marathon wr again

LRC Photo Of Robert Cheruiyot's 4-Second Jaunt On Sidewalk That Caused Boston's WBZ-TV To Alert Boston Officials To Possible Cheating. BAA officials of course dismissed any talk of cheating or discounting Cheruiyot's 2:05:52 course record.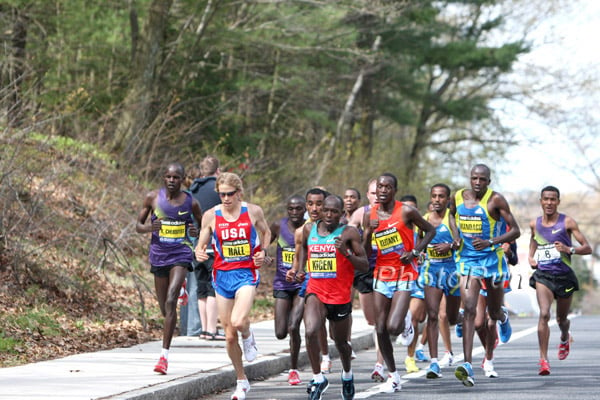 More London Coverage
LRC Kebede And Shobukhova Shine Move over Sammy Wanjiru; Tsegaye Kebede is now the top marathoner in the world, as he powered away from one of the greatest men's fields ever assembled to run 2:05:19 in London. The men's field went through halfway in a conservative 1:03:06 and then Kebede and World Champ Abel Kirui asserted themselves running sub-29 minutes from 20k to 30k. Kirui would pay the price and fade, but Kebede was on his way to a dominating victory. He was so dominant it was a bit anticlimatic. On the women's side, Liliya Shobukhova backed up her Chicago win with the win in London, giving her a commanding lead in the World Marathon Majors. American Deena Kastor could not even stay with the leaders through 10k, and finished in 2:36. America's Golden Girl has not run under 2:28 in a marathon in 4 years, but already has an appearance fee to run this year's ING NYC marathon.
Oregon Relays 1,500 - Wheating Comes From Way Back