LetsRun.com Training Talk With F-M Coach Bill Aris
Weekend's Racing News Gets More Interesting
Pro Track News
Paris And Rotterdam Kick Off Spring Season With Impressive Marks
2010 Rotterdam Marathon Early Sunday Morning
Training Talk Returns With Bill Aris
3 Interesting Stories
Americans Look To Win Boston On Patriot's Day
World Marathon Results - Madrid to North Pole
D.C.'s Credit Union Cherry Blossom 10-Mile *Results And Recap
Chepkurui And Tum Take Wins In Blazing-Fast Credit Union Cherry Blossom 10-Mile Lineth Chepkurui's 51:51 is one of the fastest-ever official 10-mile runs and follows her 30:45 road 10km from last week at the Crescent City Classic in New Orleans. Stephen Tum won the men's race, which was also very fast, in a tight finish in 45:43.
Carlsbad 5,000
Good Recap: Kipchoge And Defar Win Windy Carlsbad 5k The first mile was run head-on into a headwind so stiff the men's rabbit couldn't even get to the mile in 4:05. Eliud Kipchoge won in 13:11 and Meseret Defar in 15:04. Also, Bill Walton was on one of the lead bicycles.
Oregon Wins Pepsi Invite Over A&M
Recap Of Hasay's 5,000m Debut
*Oregon Takes It To Texas A&M In Team Battle
Boards: Jordan Hasay 5000m debut : what you expected or not? Some people expected Hasay to solo a 15:30 less than a week before Mt. SAC.
Russians Hire Former USOC Executive To Help Olympic Program Produce More Medals Huge move. Russians say they need to adopt American training methods.
Polish Plane Crash Tragedy: Olympic Committee President Killed
Yelena Isinbayeva To Take Indefinite Break From Pole Vault Competitions
Lineth Chepkurui Looks To Follow Crescent City With Cherry Blossom 10 Miler Win Chepkurui flew to a 30:45 10k win last weekend. Tilahun Regassa is the biggest men's name along with 2 former champs.
Paula's Pregnant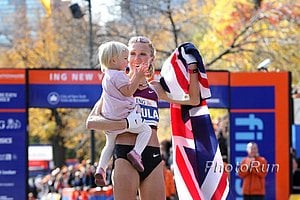 Paula Announces Baby #2 On The Way The world's fastest marathoner, Paula Radcliffe, and her 3:34 1,500m husband, Gary Lough, announced Paula is pregnant with baby #2. The plan is to take more time to recover from this pregnancy and be ready for London 2012.
On The Boards: Goodbye 2012? Radcliffe is pregnant...again! We don't agree with the headline, since Paula all along planned to get pregnant this year.
LRC Archives: Paula Talks About Training During Pregnancy #1 She trained twice a day through 7 months.
Ndereba Out Of Boston - 2:07 Ukranian Dmytro Baranovsky Added To Men's Field 4-time champion Catherine Ndereba has picked up an injury. Dmytro Baranovsky is a big-time marathoner who may add to the race quality.
Great Weekend Of Road Races
The Big Lead - Why Is Marion Jones Getting A Free Pass Without Admitting Guilt? Because she's going to the WNBA.
Team USA Minnesota Signs 3-Year Contract Good news.