LRC Men's Day 2: Deja Vu For Wheating, Andrews And Emanuel Saturday was a day for the history buffs, as Andrew Wheating's indoor frustration continued, Robby Andrews' unbeaten streak continued, Lee Emanuel again dominated the mile ... and then there was Dorian Ulrey making history with his first NCAA title. Hats off to the team champions, the speedy Florida Gators who won fairly easily over Oregon.
More: Virginia Frosh Robby Andrews Upsets Andrew Wheating and Remains Undefeated

LRC Women's Day 2: Favorites & Big Names Shine As Bizzarri And Koll Battle In Epic 3k The favorites earned dominant victories in the 800 and 1,500, but the most anticipated matchup of the night was in the 3k, where Lisa Koll and Angela Bizzarri put on a great show. Oregon's dominant team victory and an American record in the 400 shouldn't be forgotten either.

LRC Day 2: Ashton Eaton Sets World Record In Heptathlon Eaton put on a show for the ages and one that totally amazed us even as distance running fans. We try to put his unreal performance in perspective for you by stating that Eaton by himself is better than most college track and field teams. More: *Eaton Impresses Dan O'Brien By Breaking His World Record
Mo Trafeh Smashes Gate River Competition By 54 Seconds After 4:22 Opening Mile
*Results
*Boards: Mo Trafeh, Katie McGregor Win Gate River Run According to the boards, Mo Trafeh took the first mile out in 4:16 (USATF says 4:22) and never looked back en route to a studly sub-43 clocking on the 15km course in Jacksonville. Tim Nelson was runner-up for 2nd year in a row while Jen Rhines was #2 on the women's side.
*Video Of Gate River Run Finish - US 15km Road Championships
More Meet Coverage
LRC Men's Day 1 Recap: Wheating Beats Ulrey In DMR Duel Andrew Wheating got the baton in 10th(?) place, yet he anchored Oregon to the DMR win and a crucial 10 points at the NCAA championships. In the process, he kicked down Dorian Ulrey, supposedly the best miler in the NCAAs. Wheating's split was a modest 4:01.23 thanks to the leaders slowing down and letting him get back in it. In the 5k, David McNeill got the win over Sam Chelanga, both running sub-13:40.

LRC Women's Day 1 Recap - Tennessee DMR Heroics Steal Show On the women's side, Jordan Hasay ran a sick 4:32.5 anchor, but she started way back and could only finish 2nd to Tennessee. Lisa Koll cruised to the win in the women's 5k.

Oregon's Ashton Eaton Would Be Leading IAAF World Indoor Heptathlon After Day 1 Eaton ran 6.71 in the 60 (NCAA meet record), long-jumped 25'4" (also a meet record), had a decent shot put, but then high jumped 6'11" (another meet record). Eaton's Day 1 score would be leading the IAAF World Indoor Champs after Day 1 (Olympic champion Bryan Clay has the lead there). Duke's HS world-beater Curtis Beach is in 13th.
More Coverage:
*AP Day 1 Recap
*A Nice Analysis Of Where Oregon Stands in Team Battle After Day 1
*Eugene Registar Guard's Recap of Oregon's Strong 1st Day
*Oregon Senior Eaton Has Incredible First Day In Men's Heptathlon
Pre-NCAA
LRC LetsRun.com Previews The Men's NCAA Indoor Championships
We wanted to pick true freshman Robby Andrews over Olympian Andrew Wheating in the 800 but we came to our senses. See who we're picking in the distance races and in the team race on the men's side.

LRC Preview Of Women's NCAA Indoor Distance Races
Find out what we're looking for in the women's races, where Jordan Hasay debuts on the big stage on the track, Lisa Koll goes for the 5k/3k double, and the quiet girl Angela Bizzarri looks for another NCAA crown. Or, could the Villanova women steal the show like they did in cross-country?

Team Titles On The Line: Oregon Will Go All Out For Title If Meet Is Going Well Heptathlete Ashton Eaton may have to finish 7-event event and then run the 4 x 4.

Calvin Smith Hopes To Lead Gators To NCAA Title

LRC Video Of Last Lap Of All 2009 NCAA Indoor Men's Distance Races Rupp became a legend when he won the 3,000, 5,000, DMR, and Andrew Wheating dueled to the line with Jacob Hernandez.

Great Read: Angela Bizzarri Is Named #4 Illini Athlete Of The Decade Surprise 2009 NCAA cross country champion Angela Bizzarri is running the 3,000 on Saturday.

Vin Lananna Staying Behind With Medical Concerns
Before Vin Lananna came to Eugene, the best Oregon's women had ever finished indoors was double digits. This year they might win it all, but the man behind the curtain will be watching from home.
Usain Bolt Wins Laureus World Sportsman Of The Year For 2nd Consecutive Year Bolt is the Tiger Woods of track and field. That comparison used to work so well.
News From The World Of Performance-Enhancing Drugs
Isaiah Kiplangat Talks About Inclusion On Kenyan World XC Team
LetsRun.com The Week That Was This week we dish out Weekly training advice from coach Jama Aden and our Stat of the Week from Down Under, praise Doug Logan, and give a Thumbs Down to athletes skipping Worlds, especially Qatari Saif Saaeed Shaheen. Plus we set the over/under on US mid-d/distance medals in Doha and have updates on Alan Webb and Serena Burla.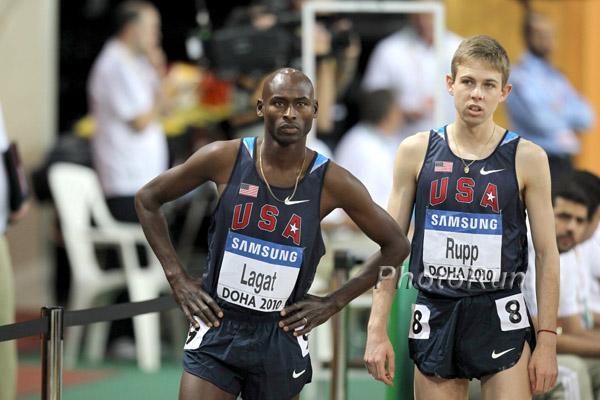 LRC Lagat Is Utterly Brilliant in Men's 3k as Johnson Earns Bronze in Women's 800- Day 3 Recap Bernard Lagat put on a clinic in the men's 3000. No one came close to touching him thanks to a sub-4 final 1600 and 2:25 final 1k. In other action, Alysia Johnson earned a surprise bronze in the 800, Abubaker Kaki defended his crown and an 18-year old may have ended Jordan Hasay and Steph Twell mania for eternity by winning the women's 1,500.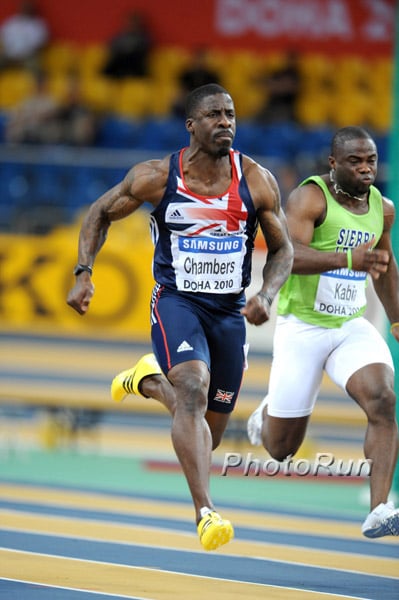 LRC Dwain Wins World Title - Wild Day 2 Recap Day 2 of the 2010 World Indoor Champs was a complete thrill to watch, as Meseret Defar unleashed one of the best kicks of her career to split the field in the women's 3,000, Christian Cantwell won the best-ever indoor shot put competition on his last throw with a huge put, and Americans Bryan Clay and Trey Hardee went 1-2 in the Heptathlon. But the men's 1,500 took the cake as the race of the day decade indoors, as the pros ran like high schoolers in a wild event that thrilled the announcers and the cheap seats in Doha filled with Ethiopian fanatics. Not to mention a former fallen drug cheat won the 60, calamity Jane Lolo finally won a championship race, and more ...
*Full Results

LRC Day 1 Men's Distance Recap - Symmonds DQd The US distance men had a great day except for the disqualification of Nick Symmonds, who ran the 2nd-fastest time in the first round of the men's 800. The race judges determined Symmonds ran out of his lane in the first lap. In other action, Bernard Lagat won his heat of the 3,000, while Galen Rupp got a bit lucky to move forward after finishing 5th in the sprint finish.
*Boards: Symmonds DQ From Worlds 800 - What Happened?
*Boards: Rupp's Out The commentators originally thought Rupp was out, too.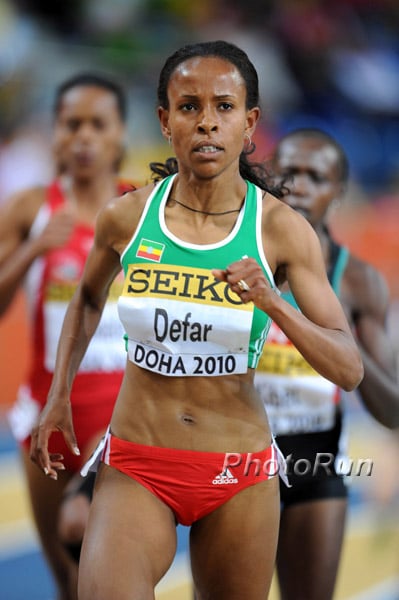 LRC Day 1 Women's Distance Events - 5 Out Of 6 Advance To Final Hats off to the American distance and mid-distance runners, as 5 out of the 6 Americans advanced to the final. Anna Pierce won her heat of the 800 and marathoner Desiree Davila ran a shocking 8:51 to make the final of the 3,000.

*IAAF Day 1 Recap Of All Events In Doha Americans are off to a good start with sprint, multi and field events.
*New Technology: Video Distance Measurement Being Used In Long And Triple Jump
Non-Worlds/NCAA News
Meb K Withdraws From Upcoming Star-Studded NYC Half Marathon Haile G and Marilson Gomes dos Santos are still in the field along with a number of top Americans.
Usain Bolt Talks About His Hectic Schedule and Quest To Become A Legend
Results We Missed: Eugene-Based Chris Thompson Wins British 10k By 1 Minute In 28:02
US Champ And World Leader Ivory Williams Tests Positive For Marijuana Days Before Worlds Williams had been one of the pleasant surprises of the US indoor season.

More On Ivory Williams
*Wednesday AM: US World-Leading Sprinter Ivory Williams Pulls Out Of Doha For "Personal Reasons" Personal reasons eventually = tested positive for marijuana. Still awaiting word from Williams on whether this was a case of 2nd-hand smoke or spiked brownies.
*48 Hours Ago: US Champion Ivory Williams Now Mentally Ready For The Spotlight After False Starting In '09 The man worried about false starting tests positive for weed.

Non-Distance Events
*Liu Xiang's Coach Says His Chances Of Defending Title Are Almost Impossible
*Indoor Pentathlon Will Determine World's Best All-Around Women's Athlete American Hyleas Fountain is back in the picture, but is Jessica Ennis just too good?


3-Time World Indoor Medalist Mulaudzi Is Skipping Doha Reigning outdoor world champ Mbulaeni Mulaudzi joins other 800m studs Yuriy Borzakovskiy and David Rudisha in skipping the meet.

Kalkedan Gezhagne Profile One we hadn't heard before: Her coach tells her to watch Rambo movies to make her a better athlete.
Feeling Intellectual?
30 Years Ago, Craig Virgin Won The USA's 1st World XC Title 30 years later, he is still the only American senior male World Cross-Country champion (he repeated in 1981). Read all about Virgin and his great feat in an absolute must-read by Randy Sharer.
Almost There: Celebrating 10 Years Of LetsRun Perfection
An Instant Classic
Men's 1,500 At Worlds
Ashton Eaton - World Record Holder
Angela Bizzarri - NCAA XC, Outdoor And Indoor Champ
Andrew Wheating - 800m Disappointment
Men's 3k Champ Dorian Ulrey On Getting A Haircut From Dad Leroy To Wash Away DMR Memories

Recommended Reads - You Can Buy The Books Online
One for the Mind: Running Within
One for the Soul: Best Efforts
More Great Deals