LetsRun.com The Week That Was In Running This week we praise Bernard Lagat, Galen Rupp and Nick Willis but give out a Thumbs Down to Jenny Barringer. Along the way, we introduce you to Adam Kszczot, give you a math lesson, tell WADA who they need to drug test, share some depressing news for Curtis Beach fans and reveal that LetsRun.com has been banned by the US military.
Inspiring Runners And Coaches
Drugs And Injury

LRC Bernard Lagat 13:11.50 AR, Rupp 4th 13:14 US 5,000m running is at an all-time high as Lagat won and smashed Galen Rupp's former American record of 13:18 and Rupp was well under it as well in fouth. In other action, Nick Willis returned to pro-racing with a win in the mile, Tirunesh Dibaba ran 14:44.53 to win the women's 5,000m exhibition race, Terrence Trammell ran a 7.49 meet record in the hurdles and Kenia Sinclair upset Anna Willard Pierce in the women's 1,000.

10 Fastest US 5k Indoor Times Ever Before Rupp and Lagat, it had been 24 years since an American ran 13:26 or faster indoors.
LRC Reebok Photos From Pole Vault To 5,000m

More: RRW: Lagat Rocks The Reggie With American 5k Record

Lagat Photos

On The Boards:*Official Reebok Mens 5,000M Thread
*Official Will Leer Bandwagon
*Reebok Games - Men's Masters Mile - Does Anyone Care?
Meseret Defar 8:24 3k Just Misses WR
Non-Reebok News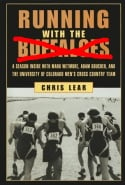 Jenny Barringer Leaves Mark Wetmore
Yet again, another Buff leaves the man who helped make them incredibly successful. First Goucher, then Ritz, then Jorge, now Jenny. Who's next? The luckiest person on the planet is Barringer's new coach - Juli Henner Benson, assistant coach at Air Force.

Barringer On The Decision To Leave Wetmore: "He's an incredible college coach. He's proved that over and over again. Coaching a post-collegiate is a different job and takes a lot of time and a lot of energy. We've decided it's best for me to find a professional's coach."

Coach Wetmore has had two books written about his program, the critically acclaimed Running with the Buffaloes and the recently released An Honorable Run.

On The Boards: Barringer Switching Coaches One of our favorite posts: "It is kind of ironic that she's leaving a college coach because it's too much work for a college coach to handle coaching Pros ... for another college coach."
*Usain Bolt And Many Jamaican Athletics Stars Auctioning Off Dates To Raise $$ For Haiti
We don't show you most of it, but the amount of news about Usain Bolt has to be about 50 times more than any other track & field athlete.
*Bolt To Start Of 2010 With 400m Run BBC
Quick Glance At High School - Want To Be A Duck? Here's Who They're Signing
Brian Schrader, 5th at Foot Locker, 1:52 as a junior.
Parker Stinson, 8:54 3,200 as a junior.
Cole Watson, 1:52 as a junior.
Colby Alexander, 1:53, FL finalist.
Track & Field News Updates List Of Every American Sub-4:00 A record 15 Americans joined the sub-4:00 club in 2008, then a record 17 in 2009. Already in 2010, we've got 4 new Americans in the club, bringing the total number to 333.
*LRC Boards: Paul McMullen the biggest 4-minute miler??
New: Episode #3 - Training Talk With Brett Gotcher & Greg McMillan
Training Talk made its first appearance of 2010 on Wednesday night and the featured guests were Brett Gotcher and his coach Greg McMillan. The show was so good we went on for an extra 30 minutes. Along the way, we talked about greats such as Arthur Lydiard, Rod Dixon, Steve Jones, Galen Rupp, Vin Lananna, Dathan Ritzenhein, Ryan Hall, and Alberto Salazar. In terms of training advice, McMillan tells you how much you need to run to be great and whether or not he thinks the Africans are beatable. Text highlights of the podcast appear at the link above or you can download here. *LRC MBoard Thread On Greg McMillan Here.
US Cross-Country Nationals/Worlds Qualifier - Saturday In Spokane, WA
Oregon TC Elite Going For US Indoor DMR Record In Seattle Nick Symmonds and Will Leer will lead the squad with NCAA champ Tyler Mulder on the 800. Texas set the record of 9:25 in '08 with Leo Manzano. 9:25 won't be an easy task even with Olympic-caliber pros.
LSU No One Wins 2007 NCAA Track Title 3 Years Later
Florida State Coch Bob Braman's Statement On Loss Of The Title The academic fraud "ring" involved students cheating on an online music course. Braman points out the track and field athlete did not need the class to stay eligible but understands that students need to understand actions can come with serious consequences.

FSU's "Tomahawk Nation" Reports Track Stripped Of 2007 NCAA Track Title As we recap in our Week That Was, we believe no one replaces Florida State as the champs. They just lose their title.
FSU Damage: FROM MEN'S OUTDOOR TRACK AND FIELD:
- 2007 ACC Championship - Maintain Championship
- 2007 NCAA Regional - Maintain 1st Place
- 2007 NCAA Championship - 1ST Place To 2nd Place
*YouTube Recap Of 2007 Championship FSU won with had Walter Dix and only 5 other athletes entered in the meet. Well, some of the people involved weren't exactly playing by the rules and thanks to a spat between the president of the school and the AD (... the most interesting part of the story), the NCAA got involved.
England's Tough Guy Challenge
<----- Let's Make Cross-Country More Like This
This looks like an amazing event and the photos are incredibly high-quality.

Inspiring:
61-Year-Old Yoshihisa Osaka Runs 2:38 Marathon
This is no surprise, as he ran 2:34 at 59, 2:36 at 60 and now 2:38 at 61.
LRC Vote:


Who Were The American Distance Athletes Of The Year In 2009?
What Was The LetsRun.com Quote Of The Year In 2009?
We ask the most knowledgeable distance fans in the world to pick from Jenny Barringer, Shannon Rowbury, Anna Willard and Kara Goucher on the women's side and Dathan Ritzenhein, Meb Keflezighi and Bernard Lagat on the men's side. The quote of the year nominations come from the highest vote-getting quote from each month. No registration required, we want to see what you think!
Nothing Like Covering 83 Events In 1 Weekend
"Racing Weight" - What Is The Healthiest Way To Reach Your Race Weight? A Taboo Subject, But We Think It's Good To Get It Out There
It's Official: Barefoot Running/Minimalism Has Gone Over "The Tipping Point"
Usain Bolt Coming To adidas New York City - Get Tickets Soon The one, the only, Usain Bolt announces he'll be coming in for the new Diamond League meet in Icahn Stadium (now called adidas NYC). There is unconfirmed speculation that a Bolt vs. Tyson Gay vs. Asafa Powell matchup is likely.
LRC Co-Founder Wejo Interviewed - Talks Running And LetsRun.com
Best way to get on the homepage is to let us talk about ourselves. Perhaps the best part is that the transcript refers to Rojo as Ronald.