LRC The Week That Was We start our weekly recap by breaking down Bernart Lagat's historic win for you. Then we move on and hand out a double thumbs up to Alan Webb as our spies in Fairfax have some very good news for Webb fans. We also give out praise to the Penn State men, the Indiana men, and the Villanova women. But too much praise makes us sick and thus we have to rip some people. Amongst the villians - the Millrose Games organizers for disrespecting Asbel Kiprop and WADA for manipulating a very important drug test that you probably haven't heard about. We also try to stop a London Marathon controversy before it even starts as we rally to the defense of the greatest single race on the planet. Plus we try to introduce anyone born after 1980 to one of the greatest music videos in history - the Super Bowl shuffle. All that and more.
Research Shows Distance Running Keeps Cells Young The "largest research on runners" provides some of the most clear evidence that we've ever seen of how consistent, long-term endurance exercise affects the body at the cellular level.
1. Aussie Ryan Foster (Penn State) Sets 2nd National Indoor Record In 2 Weeks (1,000m And 800m) Is Penn State going to win the NCAA DMR?


2. Oregon Duck Ashton Eaton Breaks World Champion Decathlete Trey Hardee's NCAA Heptathlon Record

3. Top NCAA Lists After Busy Weekend - 6 7 Collegians Go Sub-4. That's a lot of NCAA guys cracking 4 in January.

4. DII Jessica Pixler Goes 4:33 For Mile At UW, Wins By Over 10 Seconds DII Adams St. guy almost took down Rupp in UW 3k, too.

*UNM's Britons Rory Fraser And Lee Emmanuel Run 7:56 And 3:57 Fraser says Dorian Ulrey should be the NCAA favorite. Ulrey won at Texas A&M this weekend in 7:55. Emmanuel is going for German Fernandez's indoor NCAA record but says he needs the right race.

*Binghamton's Eric van Ingen Runs His First Sub-4 With 3:59.58 Win At Penn State 2 other things caught our eye from this meet: #1) 3 Penn State guys ran 1:48 or better, including 2 ran 1:47, and 1 was true frosh Cas Loxsom from CT #2) Sam Bair, Jr. needs a few beers, as he AGAIN just missed cracking 4:00 at Penn State to join his dad in the sub-4 club (4 times he has run between 4:00.14 and 4:00.87 on that track).
*Oregon Women Run 5th-Fastest Indoor DMR In NCAA History With 10:59 In College Station
Latest International Results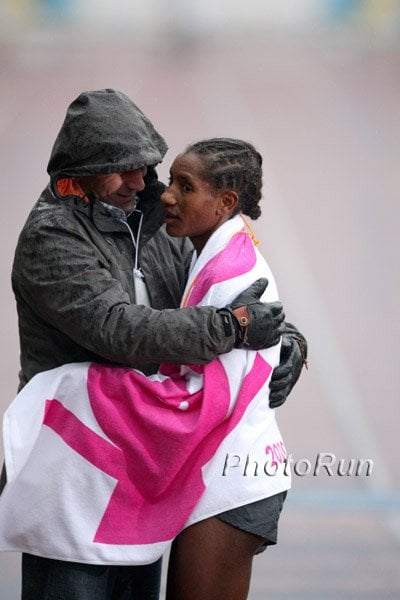 *Kenyan Civilians Earn Jobs With Police By Winning XC Race
*Amane Gobena (Left) Wins Osaka Women's Marathon In 2:25
*4:03 1,500 For Gelete Burka and 1:45 800 For Borzakovskiy In Fast Karlsruhe Indoor Meet
*Gladys Chemweno Continues Strong XC Running In Kenya - Possible Worlds Threat?
Great Britain Beats The US In Aviva International Team Challenge In Glasgow, Scotland
Heptathlon Star Jessica Ennis Might Soon Break The World Record Ennis tied Chaunte Howard at 1.94m in the high jump and beat Lolo Jones in the 60m hurdles. Heidi Dahl beat world medallist Lisa Dobriskey to take a nice win for the otherwise lackluster American team.
*Results From Aviva International In Glasgow
New: Episode #3 - Training Talk With Brett Gotcher & Greg McMillan
Training Talk made its first appearance of 2010 on Wednesday night and the featured guests were Brett Gotcher and his coach Greg McMillan. The show was so good we went on for an extra 30 minutes. Along the way, we talked about greats such as Arthur Lydiard, Rod Dixon, Steve Jones, Galen Rupp, Vin Lananna, Dathan Ritzenhein, Ryan Hall, and Alberto Salazar. In terms of training advice, McMillan tells you how much you need to run to be great and whether or not he thinks the Africans are beatable. Text highlights of the podcast appear at the link above or you can download here. *LRC MBoard Thread On Greg McMillan Here.
Hall Backs Out While Wanjiru Signs Up For Mardi Gras Half Marathon Disappointed after his Phoenix 64-minute half, Ryan Hall told New Orleans he's out. But along comes the half marathon world record holder Sammy Wanjiru, who is returning from a back injury sustained in Chicago.
London Marathon Being Investigated For Its Relationship From Charities Our previous headline on this was wrong. There is nothing about any of this being illegal. The Marathon, a charity, raises some of its money by charging other charities fees for guaranteed entries into the race. The charities then raise money from runners in the race.
LRC The Week That Was After a Christmas break hiatus, The Week That Was is back in full force. This week we praise two US debutante marathoners before telling you why one of them will never PR again, we introduce you to a film about the great Brother Colm O'Connell, before giving you scientific evidence that "elite athletes are different from the general population, especially on desire to win." We even give you a test to see if you have the psychological makeup of an elite. Along the way we talk about Frank Gagliano, Jenny Barriner, Lukas Verzbicas, Craig Virgin, Haile G, Chris Derrick and others.
Barefoot Running/Minimalism Reaching "The Tipping Point"?
*Harvard Researchers Launch Website For Those Interested In Barefoot/Minimalist Running LetsRun.com received an email from one of the report's authors who thought our readers would be interested in their research and findings. We agree and are glad that LetsRun is being visited by Harvard Researchers.
*LRC Very Lively Thread On Mark Plaatjes' Article On Barefooting
*Brooks CEO Jim Weber Canded On Barefoot Running Perhaps the most straightforward take, we appreciate his honesty.
*LA Times Discusses Study On Barefoot Running
*WebMD On The Latest Research On Barefoot Running
Sign Of The Exciting Times!
John Hancock Financial CELEBRATES 25 Years Of Boston Marathon Sponsorship By Announcing TWITTER Page Party like it's 2010!
*Recent Study: US Youth Spend 7.5 Hours AVERAGE PER DAY On Internet, TV Or Texting
News From The Top - Wanjiru And Haile
Wanjiru Says Haile Won't Race Top Kenyans And Shut Him Out Of Berlin Last Year
Wanjiru is saying what we've been saying all along about Haile in his marathon career: race the world's best marathoners in a real race! We're going to find out if real,-Berlin actually had a contract with Haile that allowed him and his agent to hand pick the field for a World Marathon Major.

We Missed This: Watching TV In Hotel Room Caused Haile's Back Injury
According to The Emperor, watching TV the night before his marathon in Dubai caused him to sleep on his back and suffer to a 2:06:09 win.
LRC Vote:
Who Were The American Distance Athletes Of The Year In 2009?
What Was The LetsRun.com Quote Of The Year In 2009?
We ask the most knowledgeable distance fans in the world to pick from Jenny Barringer, Shannon Rowbury, Anna Willard and Kara Goucher on the women's side and Dathan Ritzenhein, Meb Keflezighi and Bernard Lagat on the men's side. The quote of the year nominations come from the highest vote-getting quote from each month. No registration required, we want to see what you think!
US/Great Britain Relations - Hey, They're Taking Our Medals
*Veteran British Sprinter Donna Fraser Hoping To Get Upgraded To 1st Olympic Medal After Losing To American Cheat(s?) In 2004
*Way To Go USADA! Crystal Cox Given Retroactive DQ As She Tearfully Signs Admission We of course hope USADA got this right, but if they did, we give them credit for not giving up on catching and proving the cheats from our own country from several years ago. Many countries refuse to investigate and punish their own cheats.


*Jessica Ennis Rival - American Heptathlete Hyleas Fountain Sets Big PR And WL At Penn State The British press and public love Jessica Ennis. We're not sure we know a single person who follows Hyleas Fountain, but they should have a close indoor Worlds rivalry.
*Jessica Ennis Sets National Record In 60 Hurdles In Glasgow

*GBR Team Of Men And Women Defeat US Team At Aviva Intl.
The Charles van Commenee effect? The US did not send a top team, but still it has to feel good to beat the big dogs.
USADA Hands Down Retroactive Drugs Bans After BALCO Investigations
*Crystal Cox Says She Tearfully Signed 4 Year Ban Though She Never Did Drugs Cox was selected to run on the US 2004 Olympic final relay team that won the gold medal. She also gained notoriety on the show Survivor.

USADA Bans Garfield Ellenwood 2 Years For Non-Analytical Positive Ellenwood's quick file is interesting: was fired in 2009 from coaching Bethune-Cookman, coached the Liberian Olympic track team in 2008, was a low-level elite sprinter who testified in the Balco case against Trevor Graham, and coached an NCAA champion, Ronnie Ash, in 2009.

Big Drug Reversal From Europe
*Dutch 8:04 Steeplechaser Declared Fully Innocent In Major Drug Doping Case
*Dutch Article On Vroemen Translated
Millrose Games And Wanamaker Mile
*Results: Men Pro, Women Pro, Other
Lagat Gets #8 3:56.34 runaway win over Olympic champ Asbel Kiprop was the highlight of the Millrose Games.
*LRC Recap Of Distance Events And Other Action From Millrose We made sure we were there to take in one of the best indoor meets in the world. It was well worth it to see the Kiprop/Lagat duel come down to the last lap.
Recommened Read: Irish Times On Eamonn Coghlan Writer Ian O'Riordan recalls being a runner at Brown when Coghlan was a hero running 4:00 miles at the age of 40.
3 Interesting Weekend Articles
Research Shows Exercise Like Running Keeps Cells Young Some of the most clear evidence that we've ever seen of how exercise affects the body at the cellular level.

Kara Goucher Talks To The Press About April Deadline For Pregnancy Goucher has announced through the media that if she isn't pregnant by April, she will postpone having a baby until after 2012.

Sara Hall Says They Got 10 Feet Of Snow In Mammoth This Week These Brief Chats with Hall and Millrose women's mile winner Hannah England took place right after their races in MSG.
More From Millrose
*Good Recap: Pat Schellberg's Win Over Anthony Kostelac In Millrose HS Boys Mile nj.com
*NYTimes Devotes Its Lead To Christian Cantwell's Third Win In Shot Put All 4 throws of his were over 70 feet and would have won.
*USATF Winner's Quotes
*Dyestat Recap: Trevor Barron New HS Record In Boyd Racewalk (6:03!) - Just Kidding; Pat Schellberg Runs 4:14 In Boys Mile Tim Seaman ran/walked 5:52 for the mile.
Pre-Millrose LRC Buildup
*Olympic Champ Asbel Kiprop Added To The Mile Field A GREAT addition. Olympic champ is probably Lagat's best-ever competition. He was planning on making his indoor opener an 800 next month but when Mekkonnen couldn't get a visa, he was called in. Kiprop: "I feel good about tomorrow."
*Bernard Lagat Goes For Record In Perhaps Final Wanamaker Mile The thing to note for fans is that Lagat, who's getting well into his 30s, is thinking this will be one of his last big mile races before focusing on the 5,000m.
*Millrose High School Mile Fields Announced Last year, Robby Andrews made our jaws drop as a rare, rare talent. Not long after, he broke Alan Webb's American HS record for 1,000m.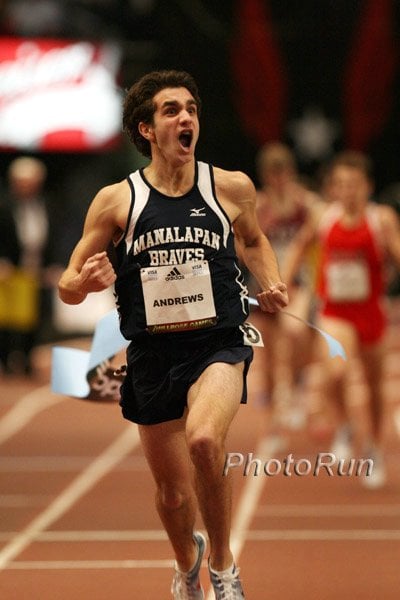 *LRC 2009 Millrose Photos

*Washed Up Football Players In Millrose 60m Dash Make NY Times Editor's Cut While there is hardly a hint in the mainstream media about Millrose or the Wanamaker Mile, the NY Times has an article about mostly washed-up former NFL Super Bowl players running a 60m dash during the event.
*USATF CEO Talks About "Super 60" Gimmick Event At Millrose Purists are rolling over in their graves (if dead) or chairs at this event. We think it's fine and says the truth about the sport - we (except for Usain Bolt) are a drop in the bucket of American sport compared to the NFL. We're actually more excited for the football sprint than we are for basically what amount to pre-season 60m dashes.
*Britain Too: Aviva Grand Prix To Have "Extreme High Jump"

*Women's Mile: Sally Kipyego and Sarah Bowman Headline
*Anna Willard, Blanka Vlašić, Jenn S., Deresse Mekonnen Out
*Brief Chat With Bernard Lagat
*Brief Chat With Andy Baddeley
Inspiring News For Runners
*Nolan Shaheed Becomes First 60-Year-Old To Break 5:00 For Mile That's one hell of an accomplishment.
*"Honda LA Marathon" - Honda Becomes Main Sponsor Of LA Marathon And they make good cars.
*Rochester NY's St. John Fisher College To Add Track, XC Thanks To Private Donations We heard about these two track additions from readers of the site. Keep the good news coming and keep supporting the sport!
*Carroll College Adds Track and Field This news comes from Montana (yes, we have readers in Montana).