LRC: A Fan's Guide To the 2009 Reebok Grand Prix in NYC

Our Preview May Not Be As Amazingly Comprehensive As Normal But This Meet Is Too Good To Ignore

May 29, 2009 - Ok our preview is not as comprehensive as normal but goodness this meet is loaded with events and talent. You do realize if you spend 20 minutes per event that it would take all day to preview this sick meet which has the following names: Micah Kogo, Gebre Gebremarian, Bernard Lagat, Alan Webb, Tirunesh Dibaba, Kim Smith, Liet Masai, Jeremy Wariner, Asafa Powell, LaShawn Merritt, Kerron Clement, Tyson Gay, the XMan, Spearmon, Veronica Campbell Brown, Allyson Felix, Shelly Ann Fraser, Khadevis Robinson, Boaz Lalang, Nate Brannen, and others including HS'er Chelsey Sveinsson.
Below you will see our preview of all the events we expect to see on tv from 4:30 to 6pm on NBC as well as the additional distance events not coming in that time frame (Editor's Additon: We just learned there will be a bonus hour of coverage on universal tv from 6-7pm. We think the bonus hour may also be on-line at 5:50 pm here).

Men's 400m Hurdles 4:12 pm

We're imagining NBC will use this event as a filler as it starts at 4:20 pm, just before the start of the NBC broadcast. A great field as it features two-time Olympic champ Angelo Taylor as well as 2008 bronze medallist and 2005 world champ Bershawn Jackson. Taylor was beaten in the hurdle fiasco at the adidas meet.
Prediction: 1) Taylor 2) Jackson

Women's Pole Vault (4:30 pm)

The two women's pole vaulters that should be in a major US pole-vaulting event are here: Jenn Stuczynski and Stacy Dragila.
Prediction: Stuczynski
Men's 400m (4:32 pm)
Look for a solid race in the men's 400m thanks to the presence of LaShawn Merritt and Kerron Clement. Clement is better known for his intermediate hurdle success, but he is a fantastic flat 400m runner as well as he set the indoor 400m world record while he was at the U of Florida in 44.57. Merritt has been on fire every weekend he races so we hope to see another 44.xx out of him, with the potential for the season's first sub-44. Clement's pr is 44.48 from 2007, while Merritt opened his outdoor season with a 44.50 this year.
Other major players for second place behind Merritt:
44.35 pr for Andrew Rock (USA)
44.40 pr for Chris Brown (BAH)
44.62 pr for Ricardo Chambers (JAM)
Prediction: 1) Merritt 2) Clement??
Women's 1500m (4:40 pm)

This race in interesting as it features a lot of the top US North American based talent in Malindi Elmore, Lindsey Gallo, Roisin McGettigan, Christine Wurth-Thomas, Amy Moritmer, Sally Kipyego and others. But to us the race's big story line is how will 3-time US Champ Treniere Clement look in her first 1,500 of the year and how will high schooler Chelsey Sveinsson perform. The female version of Alan Webb, Clement had a disastrous 2008 after 3-straight US titles. Chelsey Sveinsson is 16 years old and has a 4:23 converted best. She's a Dallas, TX native so we are big fans. (Editor's Additon: She'll be going after Jordan Hasay's sophomore record of 4:16.98).
There also is some good foreign talent in the race. Vivian Cheruiyot won the World's Best 10k in 31:12 in San Juan this year. She ran 4:07 at the Doha meet for 4th. Kalkidan Gezahegn is 18 years old and was 5th this year at the Great Edinburgh Cross Country meeting. She ran 4:10 as a 17-year-old in Monaco. Mestawot Tadesse was 2nd in the Reebok indoor mile and beat Mortimer and Elmore in LA at the adidas meet a few weeks ago.
Predictions: We have no idea really. Too hard to predict. At the adidas meet, the top 6 all ran 4:13.
1) Cheruiyot.
2) we have no idea


Women' 100 (4:50 pm)

The field is stacked as it includes 2008 US Olympian at 200 Marshevet Hooker, 2005 world outdoor champ Lauryn Williams, 2008 US Olympic Trials champ Muna Lee, 2003 world champ and 2008 Olympian Torri Edwards, 2007 Wchamp bronze medallist Carmelita Jeter, 2008 NCAA Indoor 200 champ Bianca Knight and others. However, the class of the field is 5-time Olympic medallist and 2004 and 2008 200 meter Olympic champ Veronica Campbell-Brown. Brown is no slouch at 100 as she was the 2007 world champ in the 100.
Predictions: We don't know much about women's sprinting but the cream always rises to the top. 1) Campbell-Brown

Men's 1500m (4:57 pm)


The men's 1500m has many of the decent milers who fill the fields in 1,500 mile races in the USA in the race. They're not necessarily Americans, but they run the American miling circuit. You have Sherer, Myers, Solares (Mexico, Milne (Canadian who ran 3:36 last year), Lukezic, Van Der Westhuizen (RSA), but there's this other guy that instantly makes an otherwise somewhat boring race interesting: Alan Webb. Throw in Leonel Manzano in there and you suddenly have a very interesting race.
Manzano opened in a disaster 3:57 that he shook off (that's 3:57 for the 1500m). He ran a 3:55 mile last week. Webb, well we have no idea what to expect from him. But this is a big opportunity for Alan to see where he stacks up against some AAA competition* before he presumably steps back up to the majors in Europe this summer. Warning: if you are confused, the AAA and majors thing is a baseball analogy. Ask your meat-head (American or Dominican) friends for an explanation.
Webb has won his two outdoor races this year, having beaten Van Der Westhuizen in the mile at both Drake and Kansas Relays. But a 3:58.90 seasonal best is not giving us confidence that he's on track for a big 2009 even if Van Der Westhuizen has run 3:37.22 so far this year.
So this race will tell us a ton about Webb. It also will tell us a ton about how Lukezic, who ran 3:37 at Stanford, and Manzano will fare this year. If Webb or Manzano or Lukezic win this race in 3:35 or better, they will be on their way to a stellar 2009. Anything less than that and we say, don't expect much from them this year.
We think Lagat is a lock for the world champs for the US if he chooses to run the 1,500. The question is will Webb, Manzano or Lukezic also end up on there? We'd be surprised if Manzano didn't make it but honestly if we had to be honest would be surprised if Lukezic ever made another world team. As for Webb, ask us after the race.
Oh yaeh, Juan Van Deventer is also racing. He's South African and has run 3:36 his year and 3:34 last year.
LetsRun.com Predictions: This race is impossible to predict. no one in the field has really impressed us this year.We want to pick Webb but can't tell if we truly believe he'll win or hope he'll win. How can we pick Manzano though? He bombed out of adidas.
1) Webb 2) Manzano 3) Van Der Westhuizen
*We know you might be saying: "He's racing Olympians! Lukezic is a really good miler!" But wait a second. Slow down. Lukezic and Manzano are not Kiprop, Bekele, Keitany, Lagat, and Kaki. No matter how you slice it. Webb ran the fastest time in the world two years ago and we'll get to see if he's going to get closer to doing that again this year.
Message Board: I think that Alan Webb is due for a major comeback.

Women's 5k (5:13 pm)

Ok the story of this race is simple. It's the 2009 debut for double Olympic champ Tirunesh Dibaba. It's hard to imagine her losing but she does face some very stiff challengers led by New Zealand's Kim Smith and Kenya's Linet Masai. Masai was the silver medallist at World XC this year and is only 19. But 5k is probably a little short for her given her pb is 14:47 (Click here for the IAAF profile of Masai.) Smith ran her pb of 14:39 indoors this year which is smoking fast but remember Dibaba's world record is 14:11.
Given the fact that it will be pretty hot and pretty windy (75 degrees and 11 mph), the world record is out of the question but we wonder if Dibaba could get the US All-Comers record of 14:24.53 which was set by Meseret Defar at this meet in 2006 (which was the world record at the time). But unlike Larry Rawson, we don't think the focus should be on time as we don't want people to be disappointed if the time isn't fast as the conditions will be awful for a 5k. (Editor's Additon: After going to the NCAA East regional and seeing the 5ks run there in 70 degrees, we don't think 75 is ridiculously hot so if the wind isn't too bad, fast times still may happen. However, we've just learned the pace makers are going at 14:40 pace for 3k).

We're assuming that former Villanova runner Marina Muncan - who was 2nd in the adidas Track Classic in the 1,500 - is rabbiting as she's in the field and has only run maybe a handful of 5k's in her life. She's in great form but it takes an unreal rabbit to set the pace for Dibaba and Smith.
LetsRun.com's Take: We say just enjoy seeing three of the world's best distance runners running on US soil. 1) Dibaba 2) Smith 3) Masai


Men's 200m (5:35 pm)
The men's 200m will pit some of the world's top sprinters against each other. Tyson Gay (19.62pr, 2007) makes his much-anticipated return to action in the USA in one of his top events. He'll have competition from Jeremy Wariner in his second-best event (20.19pr, 2006). We'll see the X-Man Xavier Carter (19.63pr, 2006) in what is historically his best event. The next two biggest names are Wallace Spearmon (19.65pr, 2006) and 4x400m olympic champion David Neville.
Wariner is back with Clyde Hart so we automatically like his chances better though he has never run super fast in the 200m. X-Man managed a wind-aided 20.33 this year, though his other 200m performances have been back in the 20.60 range. Spearmon has only run 20.60 this year. Tyson Gay purposely skipped the adidas meet in Carson because he wasn't ready yet. We think he will be ready and will get the win over Wariner with Carter and Spearmon fighting for third.
And one more thing is worth pointing out: Wariner is not in the 400m with LaShawn Merritt. Tyson Gay is not in the 100m with Asafa Powell. They both chose the 200m for a reason: they're not looking to get crushed in what was previously "their" event. They are going to hunt the big boys (Merritt and Powell and Bolt) with a big performance on a big stage (Golden League or WC's in Berlin) and they aren't ready to put it on the line yet, risking defeat and demoralization.
Prediction: 1) Gay easily wins 2) Spearmon 3) Wariner 4) Xman

Women's 400 (5:42 pm)

This race is all about Allyson Felix. That being said, it's not a total slam dunk for Felix here. Former Florida Gator and two-time Olympian Novlene Williams-Mills of Jamaica is in the field and she beat Sanya Richards at 400 in Jamaica earlier this month. Two weeks ago at the adidas meet, Williams-Mills was 2nd to American Natasha Hastings who also is in the field.
Predictions: 1) Felix (Is she on her way to being the best 400 meter runner in the world?) 2) Williams-Mills 3) Hastings

Men's 100m (5:52 pm)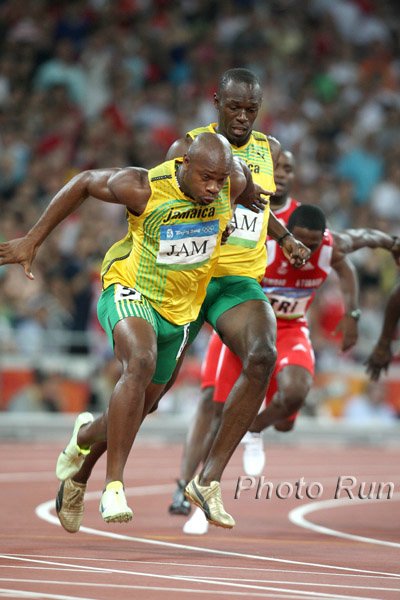 In an ironic twist, Asafa Powell headlines a race where in 2008 Usain Bolt set the world record in 9.72 seconds, stealing it by 0.01 seconds from Powell. Now clearly Jamaica's second-best 100m guy (though he has run under 10.00 about 100 times), Powell has dealt with an injury to his ankle this year, so it will be interesting to see if he can handle a solid field.
He'll hopefully face some excellent competition from an impressive list of names: Beijing silver medallist Richard Thompson, Travis Padgett, Nesta Carter, Michael Frater, Darvis Patton and a bunch of other 10.00-10.20 types.
We're disappointed not to see Walter Dix in this race. We see him as one of the top-3 100m runners in the world right now (behind Usain Bolt and perhaps ahead of Asafa Powell). We hope he's not injured, but we don't know. If you know anything about Dix's situation, email us at [email protected] (Editor's Additon: LetsRun.com co-founder Robert Johnson says Dix is in a contract dispute with his agent and can't run any meets with appearance fees).

Men's 800 (6:12 pm)
If you want to know why track isn't more popular in the world, look no farther than this race. We have no idea why this race isn't on the NBC broadcast. In our mind, the 800 at every meet should be televised. 800's always make great television because they only take about 2 minutes and the races always are very close and unpredictable. The Kentucky Derby also is popular on NBC because it takes about 2 minutes and it's close and unpredictable.
Plus the field for this race is INSANELY good. You have three guys with PBs in the 1:43s and four guys with pbs in the 1:44s. And then the two other guys in the field besides the rabbit are Olympians at 1,500 in Lopez Lomong (1:45.58 pb, 1:48.42 sb) and Nate Brannen (1:46.00 pb, 1:49.86 sb).
But to us this race comes down to three people. LRC interview favorite Khadevis Robinson is the favorite in our mind as he ran a 1:45.67 outdoor opener in Jamaica on May 2nd. His two principal rivals in our mind are Canadian Gary Reed who at this stage in his career may be a little bit better than Robinson but not in this race since it's Reed's 2009 debut and 2008 Kenyan Olympian Boaz Lalang who ran 1:45.15 indoors.
The field:
1:43 Guys: Khadevis Robinson (1:43.68 pb, 1:45.67 outdoor opener on May 2nd), Gary Reed (1:43.68 sb, 2009 opener), and David Krummenacker (1:43.92 pb, 1:48.55 sb but hasn't run under 1:46 since 2006).
1:44 Guys: Boaz Lalang (1:44.68pb, 1:45.15 sb indoors), 2004 Olympian Jonathan Johnson (1:44.69 pb/1:46.80 sb), Gilbert Kipchoge (1:44.52 pb, only 1:47.78 in Morocco last week), Christian Smith (1:44.86 pb, 1:48.61 sb).
Others: Lopez Lomong (1:45.58 pb, 1:48.42 sb), Nate Brannen (1:46.00 pb, 1:49.86 sb).
Predictions: 1) Lalang 2) Robinson 3) Reed

Women's 800 (6:20 pm)

A good field that should come down to Jamaica national record holder Kenia Sinclair who won the 1,500 at the adidas meet and the winner of the 800 at the adidas meet in Hazel Clark. Alysia Johnson and Katie Watts will be looking to make up for disappointing showings at adidas where they ran 2:03.85 and 2:02.36 respectively .
Predictions: 1) Sinclair
Men's 5000m (6:40 pm)
The men's 5k has raised the eyebrows of many track fans for several intriguing reasons. (See: LRC 5k Thread. LRC American Record Thread.) We could set a dreary tone for this race because it looks like the weather is not going to cooperate in terms of producing really fast times. The weather at 6:40 PM in NYC looks to be breezy and about 70 degrees. Unless you're at the Olympic games, you're not going to see really fast times in those conditions. (Editor's Additon: After going to the NCAA East regional and seeing the 5ks run there in 70 degrees, we don't think 70 is ridiculously hot so if the wind isn't too bad, fast times still may happen).
But don't despair, the weather might produce something even better than a 12:57 AR for Bernard Lagat: an interesting, tactical race. The ingredients are there: a geographical and chronological mix of athletes, most of whom are racing an "off-event" for them.. The NCAA's second-best distance runner behind Galen Rupp, Liberty University's NCAA record-holding 27:28 10,000m runner Samuel Chelanga will be in the race (note: we talked to Chelanga at IC4A's, where he ran the 5k, and he said he's not "tough enough to double", so he's just going to focus on the 10,000m at NCAA's. Good news for Liberty fans, bad news for Oregon fans, great news for NCAA distance fans either way. And of course this explains why he is not running the NCAA regional 5000m). Chelanga may challenge Henry Rono's 1978 NCAA record of 13:08.4 (hand-time) as he goes for NCAA record number 2 in 2009.
Along with 2007 1500m and 5000m world champion Bernard Lagat, Gebre Gebremariam (ETH) and Micah Kogo (KEN) are the most accomplished runners in the field. Kogo ran 27:01 this year to break the road 10km world record. Gebre was the IAAF World XC champion in Amman in March and has run under 13:00 four times, including a 12:52 pb. Lagat almost always seems able to produce top times. He ran 7:35 indoors in February and ran 3:36 in Carson two weekends ago in very windy conditions.
But if one of the big 3 (well, big 4 with Chelanga) falters, we might have an unexpected winner steal the show. 19-year-old Dejene Gebremeskel of Ethiopia is a world junior medalist at 5000m and just 2 weeks ago ran 13:16 in Carson for the win (in the wind). Last year he was second in Carson in 13:08. He'll have the opportunity to take a step up by beating some of the big boys.
Other interesting entrants include 26-year-old Aron Rono, who runs for NAIA Azusa Pacific. The 4-time NCAA NAIA 10,000m champion hopes to improve his 13:33 pr set at Mt. SAC earlier this year.
Former Arkansas runner Josphat Boit ran 13:17 in Oslo back in 2001 (he was 17). Now he's 25 and has run 13:28 this year at Stanford.
Our picks: We find it hard to imagine a scenario where Bernard Lagat is not near the front near the end of the race. And if Lagat is there and he's having a good day, we see him winning 2 out of 3 times. So we'll go Lagat first, Kogo second, then Chelanga, Gebremeskel, and Gebremariam. We think Chelanga is going to run between 13:07 and 13:15 so Rono's record is pretty safe.
Other events
Women's Discus
American and LetsRun.com hero Stephanie Brown-Trafton has been invited to throw in New York. A surprise 2008 Beijing discus gold medal winner, Brown-Trafton will begin throwing at 2:30 PM against a mostly American field. We imagine they'll show her winning throw on NBC.