Shadrack Kiptoo Biwott Talks About His Brother - The New Kenyan National Record Holder - 2:04:27er Duncan Kibet
Kiptoo Biwott (28:28 10k PR and 3-time All-American): "I'm nothing in the family in terms of running."

By: Robert Johnson
April 7, 2009
At LetsRun.com headquarters, you never know where the day will take you. Early in the week, we often spend our time wading through our inbox, which is flooded with rumors, tips, gossip and who knows what.
Today we were pleasantly surprised to get the following email:

"My name is Shadrack Kiptoo Biwott. I am student athlete at the University of Oregon. I just want to thank you guys for supporting my brother Duncan Kibet this past weekend on his race at the Rotterdam marathon on the letsrun.com website. It was nice to read about it on your guys website. Thanks, Shadrack."
Yes, that's right. The newest big distance star - the 2:04:27 winner in Rotterdam, Duncan Kibet - is the brother of the University of Oregon's Shadrack Kiptoo Biwott. I emailed Shadrack back to confirm that he indeed was Kibet's brother (although I could have just looked at Kiptoo Biwott's Oregon bio to have it confirmed). Instead of getting an email back, I received a call from Shadrack and our 25-minute phone conversation (which was interrupted a few times by cries from Shadrack's son in the background) was fascinating and full of a plethora of information which I thought the readers of LetsRun.com would enjoy hearing about.
Shadrack and Duncan indeed are 100% pure blood brothers. They have the same mother and father and are in a family that has four boys and one girl. The different last names arise from the fact that when a Kenyan boy is circumcised between the ages of 15 and 18 (ouch, ouch, ouch!!), they get a new name.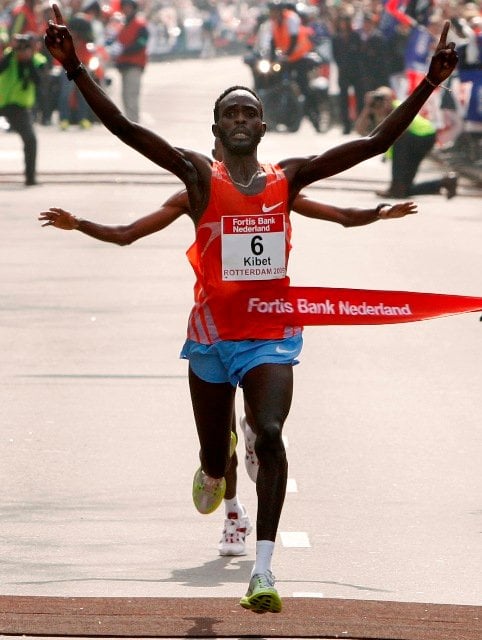 Unbelievable Race
Watch It/Highlights Here
Anyway, Shadrack said that both he and his brother Duncan had similar introductions to running. They got involved in the sport thanks to their older brother Luke Metto (who is now 34), who was a runner of some note (half marathon PR of 61:21 and marathon PR of 2:10:57). About 10 years ago, Luke gave a pair of shoes to Duncan (who turns 31 on April 25th and is almost 7 years older than Shadrack) and took him out for a killer training run. Duncan didn't like it and didn't run for a while after that but after pouting for a while, he started up again and progressed from there.
A few years later, Shadrack got a similar trial-by-fire introduction to running. His older brothers got him a pair of training shoes and took him out for a run. Now in America, one might start with a few miles. Not in Kenya. Shadrack says they took him out for a 20km hard session where he was hammered into the ground.
When Shadrack told me his first run was 20km, naturally I thought I misheard the distance. However, I realize now that it indeed was 20km. He said that the family grew up about 10 to 15 miles outside of Eldoret. While their upbringing wasn't in a really remote part of Kenya, it certainly wasn't a city upbringing as I thought was the case when I read Duncan Kibet was from the city. Shadrack said the school he attended starting in first grade was probably 5 miles away from their home and he'd run there and back four times a day (had to come home for lunch). Even if the distance was half as far as Shadrack remembers, it would still be 10 miles each day, so clearly the boys were on their feet much of their lives. They just didn't consider themselves to be "runners" until they got shoes and started to formally train instead of running as a means of transportation.
Shadrack summed up his first training session very clearly: "(Like Duncan), I was so mad. I was like, 'Forget this.'"
However a few days later, he was back out running with his brothers, but it certainly didn't get a whole lot easier for Shadrack. "They used to to punish me and make me run every day. Sometimes I'd be crying on the run but they didn't care."
The tough love of the elder brothers did pay dividends for Shadrack as he won a Kenyan national high school 1,500 meter title before moving to the US, where he got 3rd at Foot Locker and has been a 3-time All-American in cross-country and helped the Oregon Ducks to two straight NCAA titles.
Duncan Kibet's Colorful Pre-Race Interview

Kibet talks about his 2 iphones,
life in the city and more
Ironically, despite the fact that Duncan Kibet had run the 2nd fastest half marathon on US soil back in 2006, when he ran 60:22 in San Jose and had run what at the time was an Italian all-comers marathon record of 2:07:53 in Milan in November, the Oregon Duck Shadrack Kiptoo Biwott was probably the better known of the brothers in the US until last Sunday.
However, a 2:04:27 Kenyan national record suddenly has vaulted Duncan Kibet into running stardom.
Shadrack said he knew his brother was confident he could run a big PR heading into Rotterdam. He said Duncan thought he could have run faster in Milan had the weather not been cold and windy and if the rabbits had gone out faster. Additionally, he said Duncan had recently done a 38km training run at 7,000 feet of altitude where Duncan ran the last 3km at 2:50 per km pace. That's gotta help one's confidence!
Shadrack said his brother was "very confident about the last part of the race" and that his goal was to stay with the leaders until 38km. If he did that, he thought the victory would be his, as he is very confident in his finish.
The race apparently played out a little bit differently than we described in our Week That Was recap. Duncan Kibet did lead before the final few steps. After the rabbits dropped out, Kibet, whom Shadrack said like to "run in the front," pushed the pace for a while. He pushed it from 1:36 to 1:41 on the clock. This may have been done in part of get rid of Abel Kirui, who has a different coach and agent than Kibet and James Kwambai, who train together. It was at this point that Kirui was dropped.
However, just five minutes later, Kibet's training partner James Kwambai took the lead and opened up a 3-4 second gap on Kibet roughly at the 1:45:30 mark. At this point, it looked like the race might be over.
Shadrack Kiptoo Biwott, who had stayed up late into the night in Oregon to watch the race on Universalsports.com, admitted he was worried at this point. "I was nervous. I thought 'Oh my god. He might have gone too early.'"
But Kibet hadn't gone too early. He wasn't finished. Somehow he rallied and got back onto Kwambai's shoulder where he would stay until the final 1km. With about 600 meters to go, Kwambai pushed again and opened up a two-second lead or so by the 500 meter mark. However, Kibet refused to give in. Even though the announcers seemed to think Kibet was finished, Shadrack Kiptoo Biwott watching in Oregon said he remained confident at this point.
"I knew if he could keep it close - to within 4 or 5 seconds with 300 to go, he could still do it," said Biwott. "When it comes down to the sprint, he can kick."
Indeed he can kick, as the last 200 belonged to Kibet and 2:04:27 after the start, Kibet was immortalized as the champion and new Kenyan record holder.
Duncan Kibet Post Race Interview

We don't blame him:
"I'm really happy, I'm really happy... I'm happy"
I asked Shadrack if he had any insights into his brother's training and if he could maybe compare it to the type of training he does in the US. Shadrack, who is a 3-time All-American and just ran 28:28 a few weeks ago at Stanford for the 10km and is a teammate of US Olympian Galen Rupp, acted like the difference between the ttraining his brother does and what he does is night and day.
"The thing is they train so hard. They just kill themselves in training," said Shadrack Kiptoo Biwott, who has struggled with injuries throughout his college career. "Those guys are just at a different level."
To support his point, Shadrack said he was home in Kenya in December and that he'd tried to go running with his brother. Even though he was coming off a 9th place finish at NCAAs, Kiptoo Biwott was no match for Duncan. "He would be nice to me for half the run. Then he'd finish way, way ahead by the end. Once in a while, he'd let me stay with him until the final 10 minutes," said Shadrack of their training runs, which almost always started over 4 minutes per km but finshed at a under 5 minutes per mile pace.
I asked Shadrack what his brother thought of his new 28:28 PR from Stanford.
"He told me, 'You're on the right track. Keep working hard.' But when he ran that fast (on Sunday), I felt embarrassed (to have only run 28:28)."
"I'm nothing in the family in terms of running. I need to go home and start training harder. I think when I came to America, I became soft. I need a wakeup call."
Shadrack concluded our talk by saying that he's spoken to his brother a day after the race and that he was totally shot. "(He and Kwambai) were dead meat. They couldn't even sleep."
At least that proves they are somewhat mortal. Apparently a 2:04:27 takes everything out of you.