LRC US Distance Rankings
And The Winner Is ...
LRC US Rankings 2009 was a banner year for US distance runners and for LetsRun.com and we thought of no better way to celebrate the end of the year than with the first-ever LetsRun.com US year-end distance rankings. Instead of the 12 days of Xmas, it's the 12 days of LetsRun.com during the final 12 days of 2009. We give you the top 10 in each distance event.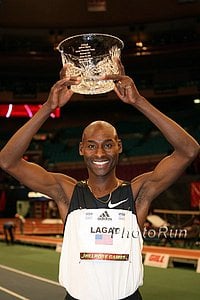 Men's 5,000m: Lagat Leads Stellar American Year One American got a silver medal at Worlds and two more Americans went sub-13 minutes. Dathan Ritzenhein's electrifying run left him with the American record. Was it good enough to rank him #2 ahead of WC finalist Matt Tegenkamp? Yes.

Women's 5,000m: Shalane Flanagan Leads The Way Jen Rhines may have been 9th at the Worlds this year, but she is only #3 in the US rankings, as Flanagan and Jenny Barringer get the top 2 spots.
Women's Steeple: Jenny B Reigns Supreme Barringer was sensational in 2009 at many distances and smashed her American steeplechase record. A measured race at Worlds, however, left her just short of the medals.

Men's Steeple: Huling's 8:14 Earns Him #1 Ranking In Down Year For US
Women's 1,500: Rowbury Is The Class Of Most Amazing 1,500 Quartet In American History Coming into the year, only two Americans had ever broke 4:00 outdoors. Well, this year, three Americans broke four and none of them were our #1-ranked metric miler for the year.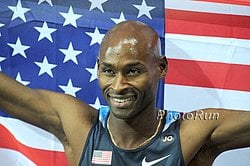 Men's 1,500: Lagat Leads Strong American Contingent The USA put 3 guys into the 1,500m final at the World Champs and Bernard Lagat came home with a bronze in a very strong year for US 1,500m runners. Outside of the World Champs, frosh sensation German Fernandez went undefeated in the NCAA ranks and took down Tony Waldrop's 35-year-old NCAA indoor record.
Monday
Women's 800m: Maggie Vessey And Anna Willard Turn Heads These two women who started 2009 as no-names in the world 800m ranks turned quite a few heads with their Golden League and IAAF Grand Prix wins. However, only one of them could be ranked #1 and that is ... You'll have to click through to find out.


Men's 800m: The Nick Symmonds Show Symmonds was clearly the top dog in the US in 2009 as he was the first US Worlds finalist in over a decade. We break down the top 10 and recap the year for the men's half milers.
Recommended Reads:
1. Profile On Pole Vault Great Yelena Isinbayeva
UK's Daily Mail writes a lengthy profile of Russian pole vault diva Yelena Isinbayeva. She talks about growing up poor and wanting to be rich and glamorous. A former star gymnast who grew too tall, by 1998 she was a world youth champion in the pole vault and now she has re-set the world record 27 times. Isinbayeva, like a Michael Jordan or Tiger Woods, seems to have that same insane drive to win that's 5 steps above even the average pro.

2. Big News Outside US - Star Welsh Rugby Player Publicly Announces He Is Gay
Some really fascinating quotes in the this article.

3. Last Big Swim Meet Before Swimsuit Ban Pushes World Record Total Over 250
In just over 20 months, the swimming record books have been re-written by the performance-enhancing swimsuits. Since February of 2008, over 250 new world records have been set in swimming. Michael Phelps, wearing a normal suit, was beaten again by a scrub in the super suit.
Trends Of The Year And Decade
NY Times' Christopher Clarey Looks At Sports' Controversy And Shifts In The "Aughts"
We agree that BALCO, Marion Jones, sports gambling and other controversies were balanced by an increase in oversight by WADA and governing bodies.
Speaking of Marion: Marion Jones May Re-Start Basketball Career In Australia

Running Times Article On Increased Depth In American Marathoning
Writer argues Americans are running faster at the front and in the middle of the pack in 2009.
LRC Training Talk Thursday Episode II
Access to the best minds in the sport. Free and easy. You won't find more useful training talk anywhere. Only from LetsRun.com.

Click Play Below To Hear Our Conversation With Author Matt Fitzgerald.


Matt talked for more than an hour about his new book: "Racing Weight - How To Get Lean For Peak Performance." At last, someone has the guts to write what everyone knows - runners want to lose weight so they can run faster. We think the book is very practical for the beginner to the pro. Also we wanted to promote Matt's revolutionary book with a foreword by legend Dr. Tim Noakes, called "Brain Training For Runners." LRC Coaching Guru John Kellogg is a fan of Brain Training and says his training is based significantly on principles that also appear in Noakes' and Fitzgeralds' work.
LRC What Was The LRC Quote Of The Year In 2009? We're letting our loyal site visitors determine the quote of the year for 2009. No need to log in. All you have to do is pick your favorite quote of the day from the ones we give you for each month.
Weekend Headlines:
1. Semenya Counsel Set To Sue IAAF For Mega-Fortune $120,000,000

2. Friend Of Carl Lewis' Admits To Spiking Ben Johnson's Drink With 'Roids
Lots of Other News For Monday Morning Readers...
Women Track Stars In The Papers
Jumps Star Jeomi Maduka Named Ithaca Female Athlete Of The Year
Maduka became a multi-time All-American at Cornell and was an NCAA Honorable Mention All-American basketball player as an Ivy Leaguer (this never happens)

Good Read - 800m Extraordinaire Chanelle Price Is Lehigh Valley Athlete Of The Decade
Price led the US Olympic Trials as a 17-year-old but has found stardom at the college and pro levels to be a bit of a challenge.
Distance News
Competent Write-up on Seattle Marathon Winner Charlie Sunderlage
Some will wonder why we are highlighting a 2:32 marathoner. Because his dreams are becoming reality!

Awesome News For Boston Runners - New Balance Pledges Funds To Keep Charles River Running Paths Clear

Washington Times Runs Piece Highlighting Success Of US Distance Runners
Year-End Awards Coming In From All Corners Of The Globe
Usain Bolt and Yargelis Savigne Win Latin American and Carribean Athletes Of The Year
Bolt had to outrank Argentinian/Barcelona FC soccer wizard Leonel Messi. Savigne is a modish star Cuban triple jumper.

Ireland's Independent Argues Bolt Should Have Been Athlete Of The Decade
Tiger Woods got that honor. Comparing Woods to Bolt as athletes is kind of pointless.

Yelena Isinbayeva Finishes 2nd To Race Walker For Russian Athlete Of The Year
Race-walker might have been the only Russian to make it through the year without being busted for EPO.
Sick Of Looking Back? Here's What's Up Next?
The Sporting Event of 2010? After Doubts, Pacquiao vs. Mayweather Bout Is ON!
We're glad drug testing squabbles didn't derail this match-up of über-smashers Manny Pacquiao and Floyd Mayweather, Jr.

In Case You're Wondering: 2010 Vancouver Winter Olympics Start Feb 12
Until then we're going to be treated to tales of ski-jumpers, lugers, figure skaters, curlers and all sorts of other wacky sportspeople.

Tomas Abyu Excited To Race His Idol Haile Gebrselassie In Jan 22 Dubai Marathon
Hard to believe it but The Little Emperor is going for another world record attempt in t-minus 4 weeks
Bolt Has Made Track & Field Relevant For All The Right Reasons
NY Times - Usain Bolt Changed Track and Field In 9.69 Seconds
Tyson Gay on Bolt after his shocking 9.72 in NYC in '08: "I didn't realize his stride was so big. I honestly think we were running on the same rhythm, except his stride pattern was so much bigger. He covered more ground than I did."

Good For A Laugh: The Secret: Scottish Coach Says Scots Need To Adopt Usain Bolt's Winning Mentality
Yes, that's what's holding the Scottish athlete back from beating Bolt.
News That's None Of Our Business...
Jana Rawlinson Set To Remarry Ex-Husband As Soon As Divorce Papers Go Through
Aussie hurdler Jana Rawlinson is sort of a wild public figure down under. Her quote: "I was miserable without him, and our heartache hit me harder than losing at the Olympics"
IAAF End of Year Review - Track Long Distance
IAAF Year-End Road Racing Review
How many men ran under 2:10 in 2009? Triple digits.
Semenya Counsel Set To Sue IAAF For Mega-Fortune $120,000,000
Caster Semenya and her high-powered legal counsel have announced their intentions to sue track's global governing body IAAF for an absurd sum of money. They also plan to sue Athletics South Africa, but apparently since they don't have money, they're only going to sue Chuene and company for $20 million.
*NY Times Article On Semenya Calls Hers One Of The Stories Of 2009
Bekele Has Sights Set On Komen's Indoor 7:24.90
The Ethiopian juggernaut plans to attack the formidable mark in February in Birmingham. Bekele has already set the 2,000, 2-mile and 5,000m marks on the same track. Bekele's best-ever indoor 3k is 7:30.
Friend Of Carl Lewis' Admits To Spiking Ben Johnson's Drink With 'Roids
This revelation from Johnson's soon-to-be-released autobiography Seoul to Soul is certainly not proof that the disgraced sprinter was clean (he admits to using a designer steroid at the time). But it does explain why stanozolol was in his system at the time of the test, an occurrence Johnson has claimed must have been the result of tampering.
Hiroshima And Nagasaki 2020 Olympic Bid Scrapped - IOC Hint That Africa Has Strong Chance Of Hosting
Good Read: Science Of Sports Guys Record Their Top 10 Stories Of 2009
Theirs is one of the best sites on the web for running fans.
Interesting Interview With Former GBR Shot Putter Geoff Capes
Youngsters, Read This Quote: "There is no comparison with how athletes today get provided for, be it coaching, expenses, travel, equipment, medical attention or sponsorship. My only sponsor was my local butcher who supplied me with extra meat ... I worked nights as a policeman at the time and you had to try and fit preparation for major championships in and around that. I would work a beat on the Friday night, compete on the Saturday and be back for the next shift on the Sunday."
Sports Illustrated Writers Do Their Homework - 5 Track Athletes In Decade's Top 20 Female Athletes
#3 Yelena Isinbayeva was first, followed by #12 Paula Radcliffe, #14 Carolina Klüft, #18 Cathy Freeman and #20 Tirunesh Dibaba. 27 world records for Isinbayeva, 2:15:25 for Radcliffe, 22 straight wins in heptathlon for Klüft, Sydney tear-jerker for Freeman and utter dominance by Dibaba.

The men's rankings were way more US-biased dominated by athletes in major US sports like basketball, football and baseball. Only Usain Bolt (#5) made the top 20 and only 3 tracksters made the top 30.
LRC Boards Bekele not on SI's top 20 athletes of the decade.
IAAF.org redesigns their homepage.
LRC The Week That Was Let's be honest; last week, not a whole lot actually happened in the running world. The majority of the running news was about what is likely to happen in 2010. We were busy finalizing our top 10 rankings for the year and thought about bagging The Week That Was, but then remembered that our New Year's resolution for 2009 was to do it every week for 2009, so here it is - in somewhat abbreviated form.
New Feature: Products We Use And Recommend: ING Bank (Checking And Savings)
ING Orange Checking And Savings Bank Review A message board thread on outrageous overdraft fees got us to write a review of ING's banking products. ING has no fees including no fees for overdrafts. We have used them at least since 2004, and have never been disappointed. Read our review and seriously consider switching banks. Not only is their product great but they support world class marathoning throughout the world.