Fukuoka Marathon Sunday (Saturday late-nite for Americans)
Top entrants:
1. Olympic and World Champ ('08 and '09) Marathon Bronze Medalist Tsegaye Kebede is the reigning Fukuoka champion and course record holder.
2. Mekubo Mogusu is based in Japan and is a sub-60 half-marathoner making his full debut.
3. Evans Cheruiyot is the 2008 Chicago Marathon Champion with a 59:00 HM pb.
Fukuoka's Outstanding Meet Website We hope other top marathons notice this site and make something that is as useful and pleasant as the Fukuoka site.
Interesting LRC Thread On Japanese Marathoner Takeyuki Nakayama In 1987 the almost unheard of Nakayama ran the first half in 61:55 (ahead of current world record pace) en route to a 2:08:18 at Fukuoka.
Jamaica - The New Capitol Of The Sprinting World
Ludacris Flown to Usain Bolt's 9.58 Party in Jamaica

Michael Johnson - Let's See Jamaica vs. USA Sprint Clash The idea of a duel meet where the top American and Jamaican sprinters match up has been thrown around for the past year or so.

Doug Logan On US-Jamaica Duel - "We're Close"
A little more money and a title sponsor. We're thinking a cruise line would be perfect.
International Running Scene
Dublin To Host European XC Championships - Ireland Has Had Rainiest Monthin Decades
As usual, the hotly contested European XC Championships will be a mud fest.

35 Grand Goes To The Winner In Singapore - 5 Sub-2:10 Kenyans In The Field
2010 Virgin London Marathon Announces Stellar Elite Fields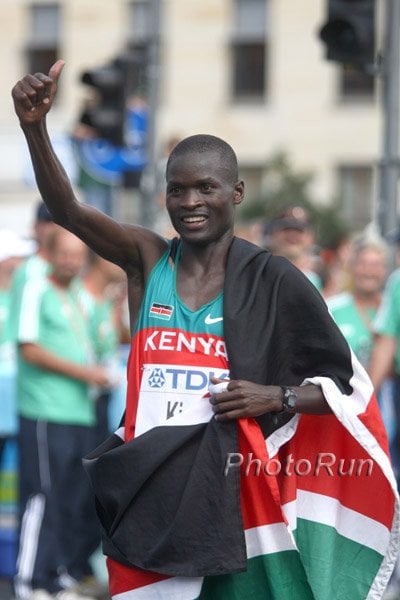 Reigning London and World Marathon Major champions Sammy Wanjiru and Irina Mikitenko will defend their titles in what looks to be again the world's toughest marathon fields. Two top challengers on the women's side are '09 Bank of America Chicago winner Liliya Shobukhova of Russia and '09 world champ Bai Xue of China along with a ton of either aging or rising stars. On the men's side, it's a stacked deck with world champ Abel Kirui (left), half Marathon sensation Zersenay Tadese, Kenyan record holder Duncan Kibet and once-unbeatable Martin Lel. Top Americans at this point are Deena Kastor, returning to the course where she set her 2:19 American record in 2006, and Abdi Abdirahman.
Thursday Press Releases - Barringer Signs With Agent Ray Flynn
Jenny Barringer Signs With Flynn Sports Management The bigger announcement in the release is the American and NCAA record holder's intention to stay in Boulder with Colorado coach Mark Wetmore as her coach.

Colleen De Reuck Named USATF Masters Runner Of 2009 De Reuck had a time-warping year for a 45-year-old. She led most of the way in the Boston Marathon before finishing 8th, won a US title for the road 20k, and ran a 2:32 marathon at Twin Cities.

Inaugural Eugene Women's Half Marathon Directed By Olympian Nicole Teter According to the press release and Teter, it appears the mission of this female-only race is to pamper the entrant as much as possible with "schwag" and perhaps free pedicures. Ladies, mark your calendars for Labor Day weekend 2010.

Important Financial Force Jim Elias Steps Down From USATF Post Elias brought the books in order at USATF.

And The Biggest News Of All ... New York City Half Marathon Moves To Spring
LetsRun.com's The Week That Was Last week was a hodgepodge type of week in the running world but thankfully we have you covered. Our observations are short and all over the place, but nearly all running fans will have at least something that interests them. We talk about a wide range of characters including Sammy Wanjiru, Günther Weidlinger, Angela Bizzarri, Usain Bolt, Tyson Gay, Alberto Salazar, German Fernandez, Ryan Vail, Tim Montgomery, Caster Semenya, Aisling Cuffe, Lukas Verzbikas, Joe Rosa and others.
More News On Sammy Wanjiru
Michael Johnson Blabs From Jamaica *Link Fixed
*Link Fixed Michael Johnson Says Bolt Should Shoot For Simultaneous 100, 200, 400 WRs; Says He Would Easily Beat Wariner (MJ Is Wariner's Agent)

Former 200m and current 400m world record holder MJ is in Jamaica with BBC producers to make a Usain Bolt documentary. Easy for him to say - MJ pronounces Bolt could beat Americans LaShawn Merritt and Jeremy Wariner at 400m this year without much training.
*More On Usain Bolt: Swedish And IAAF Doping Expert, Former High Jump Great Arne Ljungvist Says Usain Bolt Is Absolutely Clean

Johnson Joins Chorus In Saying USA Track And Field Is On Major Decline

Johnson did stop short of calling track and field "dead" in America, probably an astute decision given US athletes won more medals than any other country in '08 and '09. And how about this for proof of track's immense popularity in the US? Turkey Trot Participation Surged Again In 2009
Brief Chat With Philadelphia Marathon Champion, NC State Alum John Crews

Crews, 25, has run 3 marathons and won all 3, including his latest, a negative-split PR 2:17 win in Philly to become the first American winner since Cornellian Brian Clas in 2000. LetsRun's Employee #1 finished 7 minutes behind Crews in 2nd.
UNC Miling Star Brie Felnagle On Her Return - Video Interview

Former NCAA 1,500m champion, American record-holding DMR anchor and 4th-placer at NCAA cross-country Brie Felnagle fell off the radar last spring when she skipped the NCAA outdoor track season. She tells FloTrack she took time away due to burnout and is excited for her final outdoor season coming up.
Profile Of Australian Nikki Chapple Chapple had the best race of her career on Sunday when she won the Great Australian 15km.
Concise Recap Of Latest Pro XC Contests In Europe
Monday's Top 4 Distance Reads
1. Recommended Read: Brett Larner Answers LetsRun.com Message Board User - Compares US And Japan 18-22 y/o Distance Runners

JapanRunningNews' Brett Larner started a thread after 2009 Pre-Nationals comparing the NCAA runners to the comparably-aged Japanese runners who ran the Hakone Ekiden 20k trial. After receiving a lot of response from the LRC message boards who felt the honor and ability of American college runners was being questioned, Larner dug deeper to find stats on the best American and Japanese performances from 5,000m to the marathon by runners aged 18-22.
Watch Nike Cross Nationals (NXN) Live, Saturday 1pm Eastern, 10am Pacific At This Link
*3-second LRC Preview:
1. Predictions For 2009: The best running prediction site in the world - Tullyrunners.com - says FM women win and the boys meet is too close to call as half the teams literally could win.
2. We want to see how much New Jersey junior Joe Rosa (4th last year as a soph, 14:56 at Holmdel) wins by.
3. The meet website is incredible.
Big Loss For Track and Field
LetsRun.com Track Writer Dick Patrick Let Go By USA Today After 23+ Years
Patrick wrote to us Thursday with the disappointing news. For a sample of his writing, earlier this year Patrick broke the news on American mile record holder Alan Webb leaving longtime coach Scott Raczko to join Alberto Salazar's group in Oregon.

LA Times: Informative Piece On BALCO Criminal Victor Conte's Comeback and Who He's Working With
Conte, who says his goal is to be absolutely 100% clean, has clientele including Dwain Chambers and several boxers and fighters.

British Heptathlete Jessica Ennis Wins BBC Sports Personality of the Year Award
Rock 'n' Roll Vegas Marathon Is Sunday
Justin Young top American In Lucrative Rock n Roll Las Vegas Marathon
Like all the Rock 'n' Roll events, you can watch the leaders on a live camera webcam.

Photo Speaking of Vegas - Check Out This Photo of the Amazing Hoover Dam Bypass Bridge
RIP David Hinz
Obituary For Marathoner David Hinz
Hinz, who ran 2:12 in Boston in 1983, died in a car wreck this week. He was 56.
LetsRun.com: Interesting Argument In UK Over Britain's European Cross-Country Spots
A LRC reader from GBR wrote us an email about the selection process for Great Britain's Euro XC team. We share the email with you and use it as proof that the best way to select championship team members is by selecting based on their performance in a single qualifier rather than having subjective bids.
You Can Vote For The US Sports Academy's 2009 Athlete Of The Year 4 female tracksters and Usain Bolt made the final 12 voting. It's interesting to see who the finalists are, as Linet Masai, a chubby Argentinian golfer and Santonio Holmes are on the same ballot. Or you could vote for an inspiring athlete from another sport such as NASCAR driver Jimmie Johnson.
State Of The Sport - Thumbs Up Or Down?
Three Running-Related Articles
America - 30,000 Troops To Afghanistan? Who Cares, Let's Hear More About Tiger!
Tiger Jokes And Prop Bets
"What's the difference between and car and a golf ball? Tiger can drive a golf ball 400 yards."

Other Athletes React To Tiger-Gate
"We made ourselves too accessible to you. It backfires on the athlete. We don't get to write a story about y'all. An athlete makes a mistake, everybody wants to write about it. It's a one-way street, like it has always been." - NFL All-Pro linebacker Joey Porter commenting on the Tiger Woods saga.

Tiger Issues A More Juicy Statement
In this latest statement immediately distributed all over the internet, Tiger admits to transgressions and pleads for privacy.

Lesson In Honesty: Ron Artest Admits To Drinking Hennessey At Halftime
Not at all humorous NBA league spokesman comment: "We have no comment and we hope Ron has a successful season."
Important, Non-Humorous World Running News
Patrick Konchellah Dies At Age 44
The younger brother of 2x world champion Billy Konchellah and uncle to world champion Yusuf Saad Kamel, Patrick Konchellah was a Commonwealth Games 800m champion and finished 4th at the 1997 World Championships. As brother Billy pointed out, "The guy was a great athlete and ran faster than I did (1:42.98 personal best) and the country has lost one of its most gifted runners."

Autopsies For Three Deaths In Detroit Half Marathon Deem Natural Heart Failure Probable Cause
British 800m Runner Marilyn Okoro Gives Thoughtful Quotes On Caster Semenya
Okoro talks about what it was like to witness the Caster Semenya uproar unfold as the women prepared to enter the track for the Berlin WC 800m final.
Comedian Robin Williams Makes Joke About Rio's Tactics In Winning 2016 Olympic Bid - Sparks City's Ire News stations are replaying the clip in Rio de Janeiro and getting people riled up.
2 Days After Global Tim Montgomery Story ... Marion Jones Is Playing Basketball
Marion Jones Is Out Of Prison And Training For The WNBA

London Times Columnist Tells The Story Of Arranging The Prison Interview With Tim Montgomery
Another good read that follows two excellent stories on Montgomery (see below).
Previously: From World's Fastest Man To Prison - Two Of The Most Interesting Reads You'll Find All Year
Recommended Read Tim Montgomery Talks About His Relationship With Marion Jones

Montgomery pulls no punches in describing the real Marion Jones (not the cute, crying Marion Jones on Oprah). Really a fascinating read.

Recommended Read Tim Montgomery Talks About Why He Cheated, Life In Jail, His Regrets And Lessons

Montgomery describes dealing heroin and crack on the streets as a kid, being completely jealous of Maurice Greene (who he then claims was using drugs), and the rough stuff he went through as he moved from prison to prison.
Halls Gave Away Their NY Prize Money To Their New Charity
USATF Give 2009 Visa Humanitarian Award To Ryan And Sara Hall
LRC Foot Locker Special:
Take 25% off No Minimum, use code LKS1FF9C. Valid 12.3 - 12.6.
Best Race Of The Year? Maggie Vessey At Pre
LRC: The NCAAs That Were The Week That Was focuses on one thing for the most part, as last week the world of US distance running was dominated by one thing: NCAA cross-country. We break it all down for you and tell you who flopped (a ton of teams/individuals), who excelled (very few), and what to expect in 2010. Along the way, we talk about mid-d runners Andrew Wheating and Dorian Ulrey, give major props to Gina Procaccio and to the one team that seemingly did well on Monday (Villanova) and tell you why close to 75% of women All-Americans and 60% of men All-Americans had better start getting nervous.
Amazing Day-After Interview With Jenny Barringer
2009 NCAA D1 XC Championship Results
*Men's Team Results
*Men's Individual Results
*Women's Team Results
*Women's Individual Results

D2: *DII Men Complete Results
*DII Women Complete Results

D3: *WTeam *WIndiv
*MTeam *MIndiv

NAIA: Results
Vin Lananna Post-NCAAs
NCAA Champ Angela Bizzarri
Usain Bolt's ESPN Commercial Released
New LRC Readers' Book Reviews
From Last To First, A Race Like No Other, And See Dane Run From Last To First is the autobiography on English marathon record holder Charlie Spedding, A Race Like No Other is NY Times Writer Liz Robbins' take on the NYC Marathon, and See Dane Run recounts a guy who ran a marathon a week for a year.
Recommended Reads - You Can Buy The Books Online
One for the Mind: Running Within
One for the Soul: Best Efforts
More Great Deals