2009 NCAA D1 XC Selections Are Announced The screwy NCAA XC selection system didn't produce screwy results, as only 1 nationally ranked team didn't advance (#26 Butler) on the men's side. On the women's side, the 4 lowest-ranked teams (#27 Cal, #28 Arkansas, #29 Tennesee and #30 Iowa) didn't advance. More: *Oregonian Recap Of West Regional *Jordan Hasay & Trevor Dunbar Have Made Their Marks As Freshmen
Scandal Berlino The Bear Is Unveiled The man behind the mascot of the year is 33-year-old actor Oliver Seiffert.
Ryan Gregson Wins 3k In Australia It was a tactical affair and Gregson blasted the field to win in 8:00 to capture his first open state title. He'll have one more race as a junior before he turns his attention to making the Australian Commonwealth Games team.
Sprint News
Usain Bolt To Have 9.58 SuperParty On December 4/5 & It Looks Like Everyone Is Invited He's already invited Tiger Woods, Emmit Smith, Deion Sanders and Michael Jordan. *Official SuperParty Website
*Dwain Chambers Writes About What It's Like To Compete Against Usain Bolt And Says He Knew Bolt Was Something Special Back In 2006
*Daniel Bailey Says Move To Jamaica & Glen Mills Was Key To His Success
Steph Twell Wins XC Race & Then Looks For Funds To Pay Her Coach Her coach was sacked in a recent UK Athletics restructuring.
Japan Does Well As Asian Games Conclude And a bunch of ex-Kenyans dominated the 10km. *Day 4 Recap *Full Results
Stanford Men Crush West Regional, Going 1, 2, 3 Cardinal scores 1/4 of Oregon's points as Ducks collapse. *Men's Results Oregon loses to Portland. *Women's Results Jordan Hasay 2nd place, UW wins.
*Recap From Oregon Athletics With Athlete, Coach Quotes

Dave Smith Genius? 6 Ok St Guys Finish Tempo Together In 31:03 Hassan Mead wins in 30:21.

Wild Great Lakes Team Results Indiana falls flat - 8th at home, Indiana St. 4th. *Men's Results Miler Jeff See wins. *Women's Results 11 points separate top 4 teams.

South Central *Men's Results Dorian Ulrey (individual winner) and Arkansas qualify, so does Texas. *Women's Results Silje Fjortoft and SMU win.

Southeast 5th-Place UVA Might Be Out Of NCAAs *Men's Results Sam Chelanga wins by over 30 seconds. *Women's Results Catherine White of UVA wins.

South *Men Results Alabama 1, FSU 2, Auburn 3 *Women Results Florida/FSU advance auto, Susan Kuijken doesn't run.

Mid-Atlantic *Sheila Reid And Villanova Crush NCAA #5 Princeton Princeton went 1-5 at the Heps, yet today 'Nova put 4 in front of Princeton's 1st, Liz Costello. *Men's Results

Mountain Regional *We Told You So: NAU Men Fall To BYU, Colorado And New Mexico, As David McNeill Wins *Colorado Women Turn Tables On Texas Tech

Northeast Regional *Men's Individual *Team *Women's Individual *Team Syracuse wins both genders. Syracuse men have won adidas Wisconsin, Big East and Northeast Regional in '09.
Non-NCAA USA Races
NCAA Regional Saturday!
LRC 10 Things To Watch On Regional Weekend Employee #1 gets the storylines set for a big day of action Saturday. We'll have all the results and of course all the talk heading into the greatest championships in sport: the NCAA XC Championships on Nov 23 in Terre Haute, Indiana.

LRC Results Of The Pre-Regional LetsRun.com NCAA XC Polls Stanford has almost double Oklahoma State's #1 votes on the men's side, while Washington still dominates the voting on the women's side despite barely beating Oregon at PAC-10s.

Article On Jordan Hasay And Her Positive Effect On Oregon XC Hasay is having a great cross-country season even though coach Vin Lananna says all the focus is ultimately on track.
Underappreciated: WADA Celebrates 10 Years Of Cleaning Up Sports
LRC NCAA D1 Regionals Are This Weekend - Vote In Our Pre-Regional Polls The regional system may be insanely complicated and most of the major coaches might hate it, but let's see if the most informed readers on the planet can figure out which teams should be in and which should be out. *Funny Read: Try To Understand the NCAA At-Large Selection Process Without Giving Yourself A Migraine
IAAF Year-End Award Nominees
Tuesday's Distance News
Max King Wins USATF Trail Marathon Championship 6 Days After 2:19 In New York Max doesn't give a hoot about running what or how "the man" tells him to ... and we love it. Max King LRC Video Interview After New York City Marathon Blowup

Brief Chat With Most Overlooked US Marathoner Nick Arciniaga While most bonked, Hansons runner Nick Arciniaga PRed by over 2 minutes in finishing in the top 10 in New York. N/A also was the top American finisher in Boston in 2008.

November 22nd - Bad Boy 8k XC Information And Entry Contacts Always a fun race ...
LRC Boards: Dude wins SC State XC Championship wearing high-top Air Jordans (great picture)
Asian Track Championships Coming Up - Liu Xiang Headlines Asia - where track season never ends.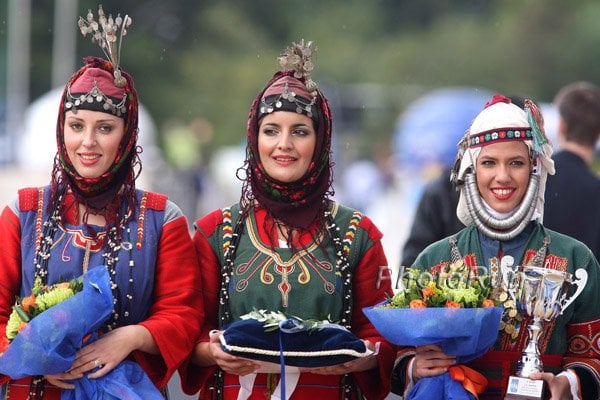 Athens Marathon Classic Made Even Tougher By Steady Downpour *LRC As Always, Beautiful Photos From PhotoRun One of track's best writers, Pat Butcher, was on the scene and writes an informative recap of one of the toughest major marathons. 23-year-old Kenyan Josephat Kipkirui Ngetich won in a stellar 2:13:44 given the hilliness and the rain, while Japanese Akemi Ozaki, 32, won in 2:39:56. Ozaki is coached by the same coach (a woman, to boot) as the unfortunate Yuri Kano, who fell in New York last weekend, so a nice consolation for their training group.
Weekend Road Action
Zevenheuvelenloop 15Km
Tirunesh Dibaba Shatters 15km World Record In only the 2nd road race of her life, the double Olympic champ Dibaba ran 46:28 to chop 27 seconds off the old record. Her husband Sileshi Sihine won the men's race for the 3rd time in a sprint over Uganda's Nicholas Kiprono, who set a new national record of 42:14. *LRC MB: Tirunesh Dibaba 46:30 WR In Dutch 15km *Video Highlights Of Race *Pre-Race Press Conference Video

Inaugural Yokohama Women's Marathon
Inga Abitova Wins (2:27:18) As Catherine Ndereba And Constantina Dita Falter Ndereba ran okay and was 3rd in 2:29, but Dita was only 11th in 2:36. The race replaced the old Tokyo Women's marathon and consisted of three 13km loops. Abitova went to the lead at the start of the last loop.

Rock N Roll San Antonio Marathon
Gilbert Koech Wins (2:14) As Kenyans Go 1-5 Russian women took 3 of the top 5. In the half marathon, Josh Cox ran 66:44 as Wesley Keating edged Shadrack Songok in 65:24.

*Tegla Loroupe Peace Race Recap
A Look At The Ridiculous Amounts That Many Of The Gulf States Are Spending On Sports Paying off Kenyans to switch nationalities is nothing compared to what it costs to have Tiger Woods design his first golf course.
Recommended Read: Chris Lukezic On Frustrating 2008 And 2009 And Why He Announced Retirement At Age 25 Chris Lukezic, who ran 3:33 as a 22 y/o, talked with Runner's World's Peter Gambaccini and spelled out why his last couple years of total dedication to running have been frustrating. He also talks about his new business called AirBnB, which sounds like it could be a big thing for travelers.
Recap Of Tegla Loroupe's Courageous Run For Peace In Kenya
Fan Voting Now Open For Bowerman Award - Best NCAA Track & Field Athlete Of 2009 Ashton Eaton, Galen Rupp and German Fernandez are your men's options while Porscha Lucas, Destinee Hooker and Jenny Barringer are the female triumvirate.
News From Literally Around The World *New Slogan? LetsRun.com - Where Your Kid Can Come To Learn Geography
Australia Aussie Ryan Gregson Hopes To Lower His 7:57 3,000m Best Today Coincidence that Gregson and German Fernandez race on the same day? No way.

Jamaica Big-Time Jamaican Sprint Coach Steve Francis Says Jamaica Loves To Take Athletes' Tax Dollars But Doesn't Give Back To The Stars Steve Francis: officially the most popular coach in Jamaica now.

Canada "Is The Deer Ok?" - Emma Ashby, A Cross-Country Runner, After Breaking Her Collarbone Getting Hit By A Deer In A Race Hunters, please get revenge for little Emma.

The Netherlands Married Tirunesh Dibaba And Sileshi Sihine Set To Race In The Netherlands Both Dibaba and Sihine, the fastest couple on the planet, were injured for many of the big races this summer.

China Liu Xiang Wows Crowd With Rain-Slowed 13.50 Hurdles Win In Asian Championships It has been a tough stretch for the Chinese, with both Yao Ming and Liu Xiang injured. Good to see one of them is back.

South Africa Semenya: "I'm Supposed To Be Famous But I Don't Think I Like It So Much." Throughout this whole ordeal, Semenya has given the most endearing quotes.
Professional Races This Weekend
Pro News
LRC: The Week That Was Last week was one which, in terms of actual running action, maybe should have been thought of as "The Week That Wasn't." As a result, we analyze the 2009 ING New York City marathon some more for you and take a look at the biggest blowups and best-paced performances by Americans. We also let others who are way better writers than we are give you insight into New York. Along the way, we enjoy piling on Athletics South Africa, tell you how to qualify for USA's in October and name Chad Hampton as our Performer of the Week.
LRC: Like An Airline: A Behind-The-Scenes Look Into What It Takes To Set An Elite Marathon Field We try to tell you how an elite marathon field gets set. Check out this great quote from ING NYC Marathon elite athlete coordinator David Monti: "A marathon is like an airline - it sells more spots on a plane than are seats. If you do it right, get lucky, the plane is exactly full when it takes off."
Women In Running
Non-Running Sports News
Update On The New Facilities Built Among Original Foundation Of Historic Franklin Field In Philadelphia Franklin Field hosts America's most famous track meet, Penn Relays.
Sprint News And Other Insanity
*Sanya Richards Says Usain Bolt Helped Her Relax And Run Faster In Pressurized Moments
*Antigua's Daniel Bailey Looking To Follow Up Big Year Daniel Bailey trains with superman Usain Bolt and super-coach Glen Mills.

British Athletes Urged To Learn From Military Experience

100% Guaranteed To Generate Hate Mail:
2004 Greek Gods Of Sprint Turned Drug Cheats Have Trials Postponed Again The trial was postponed for the 5th time until September of 2010. How hard is it to say: "You're out of the sport"? Oh, this is the same country that allows their drug cheats to carry the Olympic torch (not that America hasn't forgiven and forgotten its share of cheats).
Conference XC Champs Speak
Interview With Tirunesh Dibaba
Interview With Sileshi Sihine
Usain Bolt Arrives, Dances Like A Masai Warrior In Kenya
Meb On Letterman
NYC Stats Of The Day
13: Number Of NYC Marathons American Men Won In A Row Starting With The First One
7: Number Of NYC Marathons American Women Won In A Row Starting With The 2nd One
0 1: Number Of NYC Marathons American Men Or Women Have Won Since
1: Number of Men Who Appeared on the LetsRun.com NYC Marathon Preview Show
1: Number of Men On the Show Who Won the 2009 ING NYC Marathon (listen to Meb talk about his chances here)
Latest Relevant Links
*NCAA XC Coaches Polls
*Read Any 2009 LRC Week That Was *Latest WTW
*LRC's Pre-Nats Coverage
New LRC Readers' Book Reviews
From Last To First, A Race Like No Other, And See Dane Run From Last To First is the autobiography on English marathon record holder Charlie Spedding, A Race Like No Other is NY Times Writer Liz Robbins' take on the NYC Marathon, and See Dane Run recounts a guy who ran a marathon a week for a year.
Latest Photo Albums From PhotoRun.net
Recommended Reads - You Can Buy The Books Online
One for the Mind: Running Within
One for the Soul: Best Efforts
More Great Deals