No Plans For Saturday Night? Watch Hokkaido Marathon Live Saturday Night For Free At 11 pm EST
*Race To Feature Talented Men's & Women's Fields, Including 2:06er Daniel Njenga
Post-Zürich News
1st Post-Race Video Interview Of Ritz Surfaces
*Hard To Believe - Anna Willard #3 All-Time On US Outdoor 1,500-Meter List Not listed is Jacobs' 1,500 indoor time.
*Kenyans Show Form In Zürich
*A Look at How Jamaicans Fared In Zürich New 110 hurdles record was set, but Stewart exited $1 million race.
Athletics Kenya Head And Paul Tergat React Negatively To Decision To Make World XC Every Other Year Event Their reaction to the fact that Kenyans and Ethiopians dominate is a great one - other countries should train harder.
Ian O'Riordan Column: "Berlin restored a lot of people's faith and interest in the sport ..." But will it all go to waste?
LRC: Dathan Ritzenhein Breaks Bob Kennedy's American 5,000m Record In Zürich Amazed? So are we.
More:
USA Today On Dathan Ritzenhein With Quotes From Salazar And Praise For Brad Hudson

*Oregonian Article With Quotes From Ritz And Salazar And Praise For Hudson From Salazar Salazar said, "Brad Hudson made the cake. I'm just putting the frosting on it." We agree, as fitness doesn't change that quickly on its own, although Ritz has been sleeping at 12,000 feet in an altitude tent. Ritz: "I don't know if I believed I could do it. I thought maybe three or four years from now. This is definitely the biggest moment of my career so far. I got in a race. By the end I was closing on everybody ... even Bekele."

RRW: "I never thought of myself as a 5-K runner, I've always thought of myself as a 10-K and marathon runner ... I might stick around the track for a while ... I still can't believe it. I never thought it would be the 5-K. Marathon, 10-K, maybe, anything but the 5-K."

More from Zürich: IAAF Recap Anna Willard picked the wrong meet to go sub-4 for 1,500m, as it baretly gets noticed with Ritz mania.

Isinbayeva Chases Berlin Nightmares Away With World Record 5.06m

*Bolt 9.81 - Ho Hum
World's Best 1-Day Meet: Zürich Weltklasse Golden League Is Friday *Will Bolt Break The 100m WR? *Watch Here At 1:50 Eastern *Timetable *Entry Lists/Results
Great LetsRun.com Offer 10% Off AND Free Shipping From RoadRunner Sports Click Here
Semenya News
LRC The Week That Was This week we got scared when we realized that Jamaica's success at Worlds is the equivalent of the US winning 1,413 medals. Beyond that, we officially name Berlino as the greatest mascot in the world, give props to Jenny Meadows and Caster Semenya, wonder if Usain Bolt is the most dominant and charismatic athlete in the world, and hand out medals to relay squads from Texas A&M and Florida State.
Post-Worlds News Really Worth A Look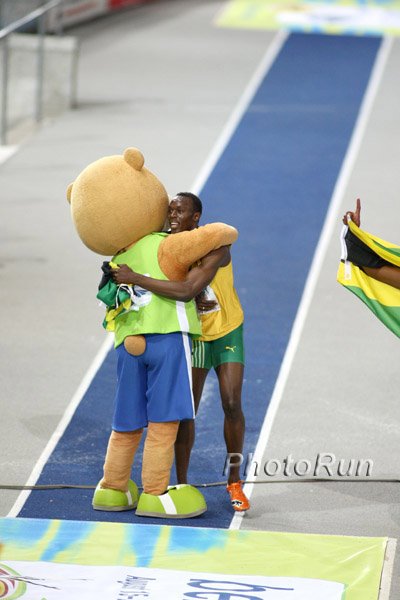 Recommened Read: Irish Writer Cliona Foley Wonders Why Next Worlds Were Given To ... Daegu? Our title would be: "IAAF shoots track and field in the foot." The crowds in Berlin were rowdy thanks mostly to Bolt and amazing German medal performances. South Korea's top competitor was 14th. Writer wonders if IAAF's decision to host next Worlds in Daegu is a big mistake considering rising enthusiasm for track in the Western world.
Most Popular WChampionships Ever?
*IAAF Berlin Web Page Saw 1,000,000 Unique Visitors On Day 6 IAAF's Berlin page, on its worst day, had twice as much traffic as its best day from Osaka in 2007.
*All-Athletics Lists The Top 20 Male and Female Performances Via Form Charts Which was better: Bolt's 100m or 200m? Jamaica had almost all of the top 5 performances in both genders.
*Lisa Dobriskey Happy To Medal After Near Miss In Beijing If Burka and Rodriguez had not gone out, Dobriskey may have missed the medals by 0.01.
*Richard Thompson Just Happy To Be Back After Car Accident Olympic medalist from LSU couldn't medal in tough 100m but did lead Trinidad & Tobago to silver in men's 4 x 100m in new national record.
Drugs, Science And Gender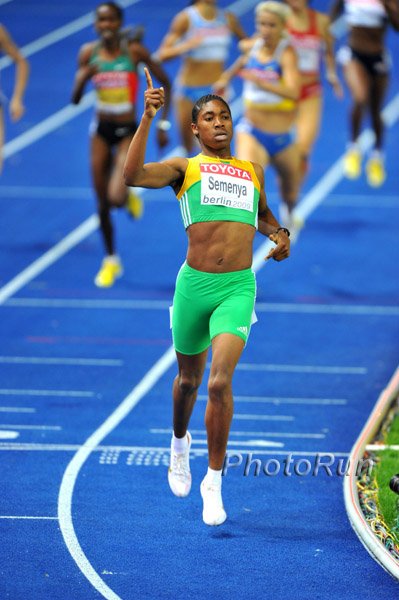 Science Yet Again Tells Us: Go For A Run Gaining Weight May Cause Brain Atrophy - Also, Exercise Promotes Brain Health Some scientists are not convinced which causes the other, brain loss or weight gain. Our highly-valued common-sense opinion is that weight gain causes brain loss, because kids aren't gaining weight and getting Type II diabetes because of brain loss.
*Drugs Osaka 4th-placer In 1,500 Didn't Run In Berlin Because Of Failed Test Guess where she's from? Morocco!
*Semenya Happy Moment: Semenya Greeted By Thousands At SA Airport As Sport's Leaders Squabble Over Her Treatment By Press And Officials
*South African President Jacob Zuma Says Semenya Was Undeservedly "Humiliated" Semenya's situation was the perfect storm that not many people were prepared for. Unfortunate, yes, but not any one organization's fault.
*Garbage UK Mirror Article Suggests Semenya Should Take Up Razor Ads And Reality TV We really shouldn't put this up, but it just shows what kind of junk people will write to get attention and appeal to the lowest of the low.
*Semenya Reportedly Has 3 Times The Testosterone As Average Female That fact apparently led IAAF to do extensive gender testing.
Upcoming Meets: Zürich Friday, Gateshead Monday
Caster Semenya Update
News From Europe
LRC Women's Marathon: Bai Xue Leads Chinese Red Army China's Bai Xue pulled away in the final kilometer from Yoshimi Ozaki of Japan to get the world title, as China took 3 of the top 5. American Kara Goucher was in contention but finished 10th after throwing up her fluids from the second water stop on and fellow American Desireé Davila was 11th.
*Yoshimi Battles The Robots And Wins Japanese Marathon Silver
LRC Malaudzi Completes South African Sweep Of 800m Races The wild men's 800m finished in style - with an unexpected winner in a tactical, physical race that saw defending champion Alfred Kirwa Yego come up just short of defending his title and American Nick Symmonds running 750m of perfection. Yusuf Saad Kamel grabbed his second medal, a bronze, to match his father Billy Konchellah's medal haul from Worlds back in the '90s.
*Mulaudzi Quotes After His 800m Win

Americans Finish Strongly *Brittney Reese (LJ) And 4 x 400m Win Gold On Final Day Usain Bolt was dominant, but the American 4 x 400m relays were perhaps just as far ahead of the rest of the world, as Jeremy Wariner and Allyson Felix ran ridiculously good second legs to put the race out of reach early. The US finished with 22 medals and the #1 spot with 10 golds ahead of Jamaica's 7. Reese jumped a world-leading 7.10 to win the long jump.

Kenya News
*Vivian Cheruiyot On Her Winning Plan To Take Down Defar
*IAAF Head Tells Nairobi Paper That Kenyans And Ethiopians Are Killing Cross-Country This article has some really interesting quotes.
Men's Marathon:
Abel Kirui On Top Of The World The unheralded Kenyan nearly ran sub-2:05 his last time out but was only third in the Rotterdam Marathon. Now he's the world champion and his life is changed forever. As he said afterwards, "My life is now high exposure." Emmanuel Mutai of Kenya was second and Tsegay Kebede got his third straight global bronze. Dan Browne was the first American in 24th.
*Great Quotes From Ethiopians And Kenyans After Dual In Marathon Goes To Kenyans
*Ethiopian Complains About Corners And Heat After Training In Cool Ethiopian Winter
*Kenyans Pleased With "B Team" Spanking Of Ethiopia's Best
*Kenyans Wonder What Happened To Kiprop And Choge In 1,500m Final
*Ezekiel Kemboi A Real Character: More Quotes In Kenyan Paper After His Steeple Win
*Amazing Men's Long Jump 73 Years After Jesse Owens, American Dwight Phillips Wins Long Jump Gold For US In Berlin, the former Olympic and world champion, who almost quit the sport, had his gold medal presented by relatives of Jesse Owens and Luz Long, who were friends long ago.
Men's 800m Semis Friday PM: LRC Absolutely Wild 800m Semis See Favorites Kiprop, Kaki And Ismail Fail To Advance We knew the 800m semis were going to be crazy, but we couldn't have expected such mayhem. Nick Symmonds advanced, as did 1,500m champ Kamel, reigning world champ Yego, Laalou and Olympic champ Borzakovskiy.
Women's 1,500m Semis Friday PM: LRC 3 Americans Run Perfectly To Advance While Kenyans And Russians Make Surprise Exit Favorites Burka and Jamal won the heats but behind them were some big surprises from the Americans and Kenyans. 2008 Olympic champ Nancy Lagat took a dive across the line right on her face but missed the final.
Caster Semenya Returns Home To Big Celebration
Video Of Caster Semenya's Homecoming It's also embedded to the right.
*ESPN's Mary Buckheit: "Caster Semenya is being treated unfairly."
*Guardian: "Caster Semenya is a hero - but in South Africa being different can be deadly for a woman."
*AP: "South African villagers praise world champion."
*South African Column: Finding The Words For Caster Semenya
*South Africa To Name Stadium After Semenya
Good For Her: New Zealander Liza Hunter-Galvan Admits She Was A Doper "There's not a lot more to say. It's an awful mistake and I deeply regret it."
*2nd Article On Doping With Quotes From Peter Snell
Recommended Read: Amazing ESPN "Outside The Lines" Article On Flo Jo, Husband Al Joyner And Their Daughter Mary Unless you're a speed reader, it might take you an hour to read, but it is a powerful story.
Get Your Waffles Out Of The Attic: Cross-Country Season Starts Soon
Recommended Read: Interview With York High School Coach Joe Newton Newton touches 'em all in this fascinating read, including Abraham Lincoln and his former houseguest Arthur Lydiard. He says he never uses a computer and the key to coaching is saying each of his 225 runners' nicknames every day at practice. If you're a coach, you should read this article.
*More From Dyestat: Eastern XC Runners Need To Know: How Is The Van Cortlandt Park Construction Coming? The question we're asking is will the HEPS be at VCP or not? Construction seems to be moving at the pace of the tortoise, not the hare.
*Dyestat's Top 25 HS XC Programs On Men's And Women's Side Are you ready for some football high school cross-country!?
Running Survey For Running Community
An Oregon runner working on his master's thesis needs runners to take his survey. The requirements are that you are over 13 years of age and run with a group or team. We figured our readers could help him out and he'll share the results. To take the survey click here.
NRR: Can't Make This Up: Company Offers Insurance For Fantasy League Injuries Apparently Tom Brady's injury last year shifted $150,000,000 in Fantasy League winnings.
More Post-World News
Four Ethiopian Sprinters Go AWOL In Scotland
Oregon Runners Return From Berlin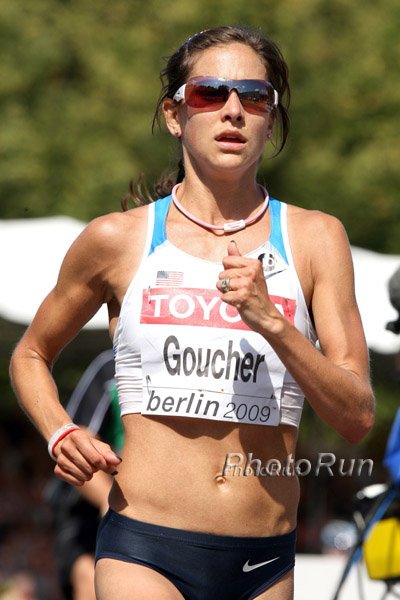 David Monti Provided First Quotes From Nick Symmonds, And He's Pretty Ticked There Were 10 In The Final We agree with Symmonds, who wonders how the hell there were 2 extra men added to the final, neither of whom was Abubaker Kaki.
*Kara Goucher Discusses Her Marathon In Greater Detail
*Alberto Salazar "Not Happy" With His 4 Runners' Overall Performance At Worlds That headline is not totally accurate, as Salazar was really pleased with Dathan Ritz and Amy Yoder-Begley. But his bigger stars, Goucher and Rupp, didn't run up to their best.
*Goucher And Salazar Bewildered By Fluid Problems In Berlin
Kenyans Sum Up Their Worlds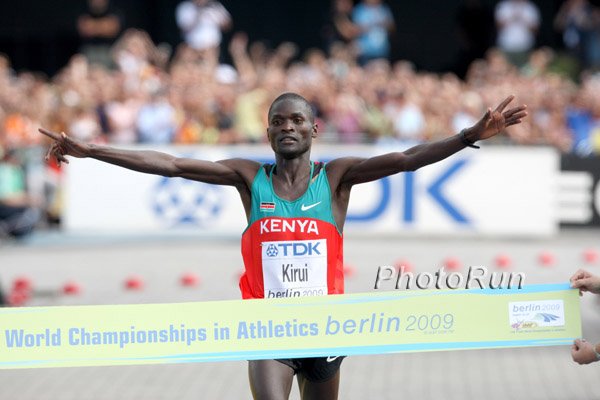 *Milk And Food Plentiful As Kenyans Put Aside Hunger Concerns To Celebrate Athletes' Return The nation of 37 million won 11 medals in Berlin and definitely got the better of the Ethiopians not named Bekele.
*Video Of Kenyans Returning
*Kenyans Summarize Their Medal Haul And Record-Breaking Wins
Ethiopians Also Had Up-And-Down Champs
Aussies Had A Great Meet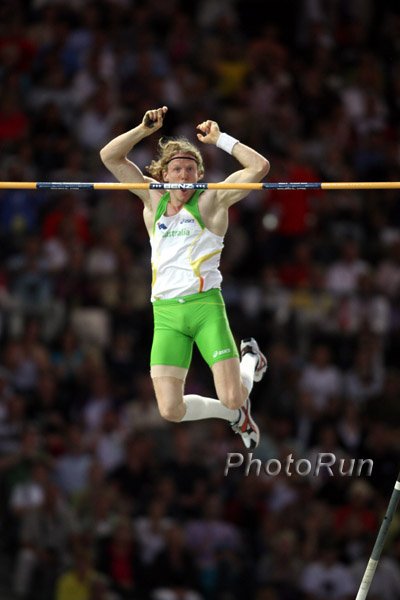 *Aussies Had Their Best-Ever Worlds 2 golds (Steve Hooker in PV and Dani Samuels in DT) and 2 bronzes (Mitchell Watt in LJ and men's 4 x 400).
*Steve Hooker Called "Usain Bolt" Of Pole Vaulting By Rivals We doubt Bolt could have won with a thigh tear as Steve Hooker did. Hooker has his sights set on the world record in the coming year. *A Great Steve Hooker Article
*Law Student Mitchell Watt's Long Jump Medal For Australia Was Highlight Watt, like champion Dwight Phillips, had all but given up on the sport less than a year ago.
*Watt Was Avoiding His Jumping Coach A Year Ago
*Aussies Were Pumped To Get 4 x 400m Men's Bronze Their performance was inspiring.
Non-Worlds News
2 Cuban, 1 American and 3 Bahamian Athletes Arrested After Post-Worlds Night Club Scuffle
None Of The Following Usain Bolt News Is Made Up - We Swear
As If Moving Up To The 400 Wasn't Enough To Make Him A Legend
Usain Bolt Wants To Try The Long Jump Before He Retires World record holder (8.95m) Mike Powell is ready to coach him. "I can show him how to jump nine metres. We are dealing with a freak-of-nature athlete. He is off the charts."
We Agree: Berlino The Bear Was The Star Of The World Champs Come back tomorrow, as we're going to start a petition to make him the official mascot of all World Champs.
The Critics Come Out
*Rousing Welcome For Kenya's Medallists - Abel Kirui wants Geb's marathon world record now.
LRC Bekele Holds Off Lagat & Completes Historic Double To Stamp Himself As The Greatest Of All Time Kenenisa Bekele and Bernard Lagat had a stretch run for the ages, but in the end, Bekele had claimed a 10th global track crown. Now can we all agree he's the G-O-A-T? LRC Message Board: TEG - 1st 5K guy not born in Africa!
LRC Tumult Mars Women's 1,500 As Rowbury Wins Bronze Natalia Rodriguez and Gelete Burka got tangled up with 200m to go, causing Burka to fall and Rodriguez (the winner) to be DQed for running inside the track. With that, Maryam Jamal retained her world title despite getting steamrolled by Rodriguez in the final 100, while Shannon Rowbury was moved from 4th to 3rd for America's first medal in the event since Regina Jacobs. LRC Message Board: The Spanish athlete had enough room to pass, then the fading Ethiopian moved back on her
*Dobriskey Celebrates Silver
So, How'd It Go? We Say It Was Pretty Awesome!
*Doug Logan Does A Great Job Of Summing Up The American Team Performance At Worlds He's got a really sensible outlook.
*Unreal: Usain Bolt Given 2-Ton Section Of Berlin Wall With His Image Painted On It This is unbelievable.
*Kenyans Have Wild Championship Week Ending With 3rd-Most Medals Behind Jamaica And US The Kenyans seemed to miss out on a lot of medals but they also had a ton of bright moments including 1-2 in the women's 5k, men's marathon and men's steeple (and 1-3 in the men's 1,500, except those Kenyans had different jerseys on).
*Bolt Hopes His Exploits Can Help Change Track For The Better They already have.
Women's 5k Final: LRC Kenyan 1-2 Sweep Caps Greatest World Champs For Kenyan Women On The Track Just like in 2007, the last lap was in 58.6 and the winning time 14:57.9. This time, however, the winner was not Meseret Defar, but Vivian Cheruiyot, the 2007 runner-up. Defar let up right before the line for the second time in a week, giving the silver to Kenya's "Forgotten Lady" Sylvia Kibet. American Jen Rhines was 9th. The two medals gave the Kenyan women a record 6 medals on the track (they had 7 total ever combined prior to 2007).
*Amazing Men's Pole Vault Aussie Steve Hooker Overcomes Injury To Clear 5.90m On First Attempt! At first when he was injured, Hooker gave himself no shot at even competing. Then he was 50-50. Then in the prelims, he took one jump to get to the final. He said he had no chance at winning. Then in the final, Hooker soared over 5.85 but hit it on the way down. His second jump won him the gold as he got 5.90 on his first attempt. He is an amazing competitor.

World Record (And $100k) For Polish Hammer Thrower As Germans Get Another Medal!!! The Germans have been incredible. They won 0 medals in Beijing and now have 9 in Berlin after their women's 4 x 100m dove for bronze. The new WR holder twisted her ankle celebrating and sat out 4 throws. Germans have won a medal in every throwing discipline and the fans are loving it.
*Latest Medal Table Looking Interesting

Butterfingers? Despite Extra Practice, American Men And Women Fail To Make 4 x 100m Final The women's team really had it rough, as Muna Lee pulled something and couldn't finish her leg. The men exchanged out of the zone by about 1 inch and Great Britain protested to get them tossed.

*4 x 100m Finals: Bolt And Powell Blast Away From T&T To Give Jamaica Another Gold In 4 x 100m GBR got another medal in 3rd while Carribeans locked up gold and silver in both 4 x 100s. It was Bolt's first final without a WR since 2007, though their 37.31 is the 2nd-fastest ever run and a championships record. Despite the #2 performance of all-time, Steve Ovett was giving them advice on how to really run a fast time.
*Jamaica and Bahamas Go 1-2 In 4 x 100m Women's Final
*Veronica Campbell-Brown Kicked Off Jamaican 4 x 100m Team They won without the world champ.
Semenya Man-ia/Hysteria - Day 2
*LA Times: Semenya Has Heard The Gender Comments Her Whole Life
We Agree 100%: Caster Semenya's Poise Under Spotlight Earning Respect
*Man, Woman Or Both? Analyzing Gender Is Difficult.
*Sports Illustrated: IAAF Has No Right To DQ Semenya
*LRC Video Shows Up In Britain's Daily Telegraph
*LRC Video Up To 320,000 Views *Semenya Video #2 *Semenya Video #3
"Underdog" US Sprint Teams Rally Back Before Men's 4 x 100 Gets Dairy Queened (thanks, Brits) - Allyson Felix got the US women their first home-grown sprint gold before J Wariner and L Merritt won silver and gold, respectively. Felix is the most elegant sprinter. We said earlier in the year that Merritt is the king of the 400, despite Wariner being the 2-time world champion (and some of you wrote in calling us idiots). Well, despite Wariner's efforts, he can not beat Merritt.
*Felix And Merritt Dedicate Victories To Memory Of Jesse Owens
*Correct Analysis: Merritt Crushes Wariner Again
*NY Times: Jamaican Rise Starts - But Doesn't End With - Bolt
*Carribean "Magic" Continues 32-Year-Old Bahamian Debbie Ferguson Setting Lifetime Bests In Sprint Events She beat American Muna Lee for bronze.

Aussie News
*Aussie Long Jump Duo Look To Make History In Final
*Steve Hooker Jumping On Torn Adductor, Going For All Or Nothing
Semenya Returns Home To A Celebration
From The Boards: Bolt's WR Progression
Bolt On Cover Of Sports Illustrated

*Reward SI And Subscribe Here (Less Than $1 An Issue)
*View Cover Article Here
Berlino - GMOAT - (Greatest Mascot Of All-Time) In His Finest Berlin Moment
Usain Bolt Absolutely Obliterates 200m WR
Men's 800m Semis Friday PM: LRC Absolutely Wild 800m Semis See Favorites Kiprop, Kaki And Ismail Fail To Advance We knew the 800m semis were going to be crazy, but we couldn't have expected such mayhem. Nick Symmonds advanced, as did 1,500m champ Kamel, reigning world champ Yego, Laalou and Olympic champ Borzakovskiy.

Women's 1,500m Semis Friday PM: LRC 3 Americans Run Perfectly To Advance While Kenyans And Russians Make Surprise Exit Favorites Burka and Jamal won the heats but behind them were some big surprises from the Americans and Kenyans. 2008 Olympic champ Nancy Lagat took a dive across the line right on her face but missed the final.

Semenya Man-ia/Hysteria - Day 2
*LA Times: Semenya Has Heard The Gender Comments Her Whole Life
We Agree 100%: Caster Semenya's poise under spotlight earning respect
*Man, Woman Or Both? Analyzing Gender Is Difficult
*Sports Illustrated: IAAF Has No Right To DQ Semenya
19.19!!!Bolt Does It!!!
*"It will be a great thing for the Queen to dub me, 'Sir Usain Bolt.'" Maybe after you run sub-42 in 2012, Usain.
*Michael Johnson: "A ridiculous race. The bend is unbelievable. No one has ever run a bend like this and probably never will." Johnson awed crowds with record winning margins of 0.33. Bolt? In horse racing he won by 20 lengths, in human racing 0.61 seconds.
*Bolt Entered Stadium With T-Shirt Reading "Ich Bin Ein Berlino" Then he ran 19.19 and got a 20-minute standing ovation love-fest. If he needed another career he could be a PR specialist (PR = public relations).
*Jamaicans Celebrate Back Home - Why Not?
*Better Than Saying The Alternative ... Bolt Says: "I'm Clean."

Women's 400m Hurdles Shocker Walker Blasts World Leader Demus In 2nd-Fastest 400m Hurdles Time Ever Run
LRC Men's 1,500m Recap: Kamel Follows In His Dad's Golden Footsteps

LRC Caster Semenya Dominates Women's 800, But Is She "Entirely Female"? For the 2nd straight year, an 18-year-old African dominated the women's 800, but this year the winner is garnering worldwide headlines as people wonder, "Is she entirely female?" Behind Semenya, there was a great 3-way battle for the final two medals. *Semenya's Mom: "She is my little girl. I raised her and I have never doubted her gender."*Good Morning American Story On Semenya That Uses LRC Footage *Phil Hersh Article On Semenya
LRC Men's Steeplechase Kemboi And Mateelong Go 1-2 In Amazing Men's Steeple

*Men's 400m Hurdles Torch Officially Passed As Clement Wins 2 In A Row - Felix Sanchez Last - 17-Year-Old 4th Clement looked amazing and Batman Jackson charged hard for third running on an injured hamstring. 17-year-old Jehue Gordon's time of 48.26 moves him to #2 all-time for juniors.

*Women's 400: Sanya Gets Monkey Off Her Back, US On A Roll Jamaican-born Sanya Richards (the most prolific producer of sub-50 times in history) ran a world leader in the final in a brilliant tactical race to get her first individual WC or Olympic title. She executed her and coach Clyde Hart's strategy with a big move in the 3rd 100m to run away from a talented field. Brit Christine Ohuruogu couldn't get up for a medal.
*NY Times: Richards Can Finally Celebrate Title
LRC Men's 10k: A Day After Bolt's Electric 100m Run, Bekele Reminds Us He's Even More Dominant Than Bolt Kenenisa Bekele remained undefeated at the 10,000 meter distance for his life as he won in a championship record 26:46 thanks to a 13:05 2nd 5k. Eritrean Zersenay Tadese got a well-deserved silver after he put on a spirited frontrunning effort that would have broken anyone on the planet but Bekele. American Dathan Ritzenhein ran the race of his pro career to move up to 6th in 27:22 as Galen Rupp faded to 8th and had to be helped from the track.

LRC Women's Steeple Final - Barringer Just Misses Medals Spain's Marta Dominguez got the win while Jenny Barringer's 9:12 American record was short of the medals in a come-from-behind bid.

LRC Men's 1,500 And Women's 800 Semis Recap It was polar opposites for the Americans as three made the 1,500 final and none made the 800 final. Pamela Jelimo dropped out, while Leo Manzano almost outkicked Asbel Kiprop. We're recapping the event as we speak ...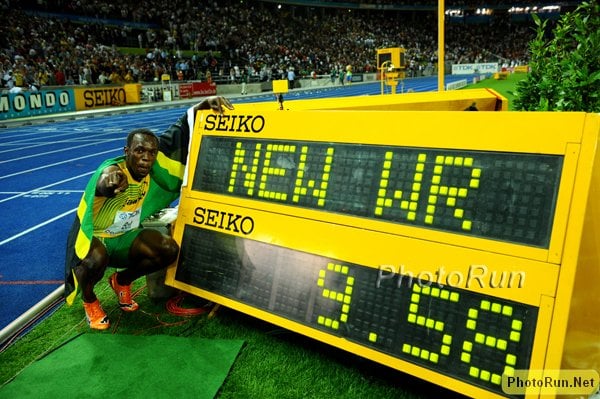 9.58 WR!!! Usain Bolt Does The Unthinkable!
*Bolt Runs Mind-Blowing 9.58
*Bolt Predicted 9.5 Back In July
*USATF: "Thank You, Tyson Gay." Gay set the AR at 9.71.
*Vili Becomes Double World Champion - Dominant Kiwi shot putter overcame stiff competition.
*Ennis, First Brit Heptathlon World Champion, Gives Country More Hope For 2012 Glory If the Brits perform like the Germans are performing at this WC, they'll get tons of medals.