LRC Exclusive: Greg Brock Explains The Logic Behind Maggie Vessey's 1:57.84 LetsRun.com caught up with Greg Brock, the coach behind the #1 story in US distance running in 2009, Maggie Vessey. Brock, a former 5th placer at the US Olympic Marathon Trials and longtime HS coach, didn't hold anything back as he shares all including key workouts and even the last workout Vessey will do prior to Berlin. Brock may be the one man in America not totally stunned by Vessey's season as in his mind, it's long overdue in some ways as he always expected Vessey to be an 800 meter star. What Brock said may surprise you but his insight is very educational and this is an absolute must read for coaches and/or true students of the sport. Part 1 of 2 appears today.
Educate Yourself
LRC: Event-By-Event World Championships Previews After hundreds of hours of preparation, we present to you our true fan's guide to almost every event to be contested in Berlin. We're proud to present our previews, stats and predictions for the world's greatest track meet.
LRC: Worlds Events By Day Get an idea of the schedule of Worlds and don't miss your favorite events. We've got all our event previews here as well as television and internet coverage schedules.
USA Today Sports Cover Story: World's Fastest Humans Gay And Bolt On Collision Course The most anticipated 100m in a long time starts Saturday and ends Sunday and USA Today (thanks to Dick Patrick) once again proves it covers track way better than just about any other major paper. *USA Today Also Has Feature On Jeff Demps - The US junior record holder at 100m seems focused on football and is hoping for a big 1,000-yard season.
IAAF Announces Over 1000 Tests Will Be Done At Worlds As Victor Conte would say, this is an enormous waste of money unless you're testing the athletes randomly year round, saving the samples, and using the most advanced tests. In 2007 they did 1000 tests and zero athletes came up positive. The good news is they'll be saving and documenting the samples to start "biological passports" for the world's elite.
Non-Worlds Stuff You Shouldn't Miss
*Study Shows Running May Actually Help Knees "No major new internal damage in the knee joints of marathon runners was found after a 10-year interval." Despite studies showing running benefits knees, our Grandfather still wants us to quit running.
*97-55 Vote ... False Start Rule Changed! Starting in 2010, the IAAF false start rule will match the NCAA rule. Many more sprinters are going to be tossed out of races. Poll: how long until the rule is changed again: a) never b) by 2011 c) as soon as Usain Bolt gets tossed from a big meet

*Ryan Hall To Run ING Philadelphia Half On September 20th NYC Half on August 16, Philly Half on Sept. 20 and then he'll run New York in October.
*Tilahun Regassa Thread Read more about this young Ethiopian star who has risen from no-hope orphan to running phenom in just a few years More: *2:00 Video Of Regassa's Falmouth Beatdown

Interview With Canadian 10k Champ Turned Team Physiologist Scott Simpson

LRC: Spring/Summer Pro Meet Coverage We've had by far our best year of covering the professional track circuit with full recaps of most of the top pro meets from around the world. If you missed any of the action, you can read about it on this page. Or look back for reminders of some of the wacky stuff that goes on during the season.
1st Set Of Provisional Entries For Berlin Are Out
Jamaican Update
*Amazing News: Olympic Champions Fraser And Walker Plus ASAFA POWELL May Be Banned From Berlin For Skipping Camp That's correct - as of now, Asafa Powell and 4 other WC or Olympic medalists from MVP training group will be banned for not showing at camp.
One Jamaican Paper Says All Jamaicans Cleared Of Doping Allegations LRC told you back on July 27th that "we think it's going to be a non-story" and yet again it looks like we were right.
*Officially The Results May Come Out Monday
*Interesting Read: Performance analysis: A weapon against doping?
Falmouth 2009 (aka Ethiopian Fun Run)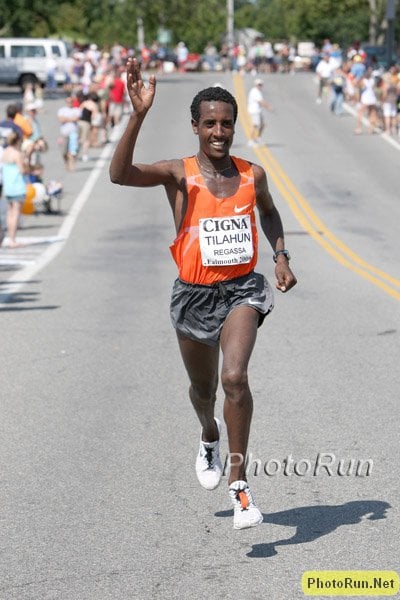 *Men: Teen Phenom Tilahun Regassa Dominates *Victah Sailer Photos Of Regassa Smiling And Waving During Amazing Effort The 19-year-old who put on a show at Bolder Boulder did it again in Falmouth. He ran a 4:22 1st mile and the others let him go, thinking it was a rookie mistake. By 3 miles, Regassa was already celebrating. American Meb Keflezighi was 5th.
*Women: Mamitu Daska Wins Women's As Rebecca Donaghue Is Surprise 2nd
*Race Preview: Meb Wanted To Win
*Falmouth Miles: 2009 Falmouth Mile Recap: Erin Donohue And Will Leer Win
Primarily Sprint-Related World Championships News
Tyson Gay: "You have got to run 9.59 to beat (Bolt) ... I have the mechanics. I have the coaching. It's all there."
*Lamine Diack: Bolt Can Become An Icon Like Jesse Owens
*Lee Evans Not Promising Miracles For Nigeria, But We're Sure He's Happy To Be Coaching In Africa Where There is Real Freedom Not "Fake Freedom" Like In America The fake freedom quote comes from his Wikipedia page.
*Allyson Felix Confident Heading Into Berlin
*Women Offer Weakened British Squad Best Chances For Berlin Success Injuries have ravaged the Brits.
*Kenyan Sprinter Excited To Be Going To Worlds The 400-meter runner will be going outside of Africa for the first time. She made the squad after another sprinter tested positive.
*400h World Record Holder Yuliya Pechenkina Pulls Out With Sinusitis She missed the Olympics for the same reason last year.
Saturday's Action: Cottbus: *Results
Cottbus Recap: Tyson Gay Rests, US Women Run 8th Fastest 4 x 100 (41.58), US Men 37.85 That pretty much is it in terms of track action until next week's World Champs which start on Saturday.
*Cottbus Results (Jenny Barringer 2:02.56 PR, US Women 41.58, US Men 37.85)
Great LetsRun.com Offer 10% Off AND Free Shipping From RoadRunner Sports Click Here
Sprint News
LRC $1,000,000 World Championships Prediction Contest The World Champs are here and now that we've got you covered with our detailed event by event previews, you can enter our world famous prediction contest. All you do is pick from our list the top 3 in each running event and a couple of field events. It's very easy and even if you don't know too much, we give you a guide on the competitors. You've got until Saturday early in the AM to get your first picks in.
Exciting Distance News Related To Worlds
*Radcliffe To Run NYC Half Marathon This Weekend, Then Decide On Worlds All eyes will be on New York this Sunday as Ryan Hall will be racing and Radcliffe will test out the wheels before Berlin.
*Must-Read For LRC Prediction Contest: Bernard Lagat Talks About His Chances In Berlin Bernard definitively fires some warning shots across the bow saying nobody, no matter their age, is tougher than him. Before we put up the Greg Brock article, we had the following quote from Lagat as our QOD: "These are young guys and I am still out there thinking, 'If you are strong enough, come and beat me. I am tough, and if you are not tough enough you know you aren't going to beat Bernard Lagat.'"
*Encouraging Profile Of Kenyan Racewalker David Kimutai Kimutai's story is definitely an inspiring one. Kenya's best racewalker says he tries to convince young Kenyans to do the racewalk but they say it's way too hard on the body.
*Article On The Next Tall Australian 5k Stud Collis Birmingham Read quotes from Aussie coach Nic Bideau, former coach of the last great 5ker from down under - Craig Mottram, who has been injured.
*Interview With Aussie Ryan Gregson - Youngest 1,500m Starter In Berlin The Aussie distance team really rocks this year with young guys like Gregson, Jeff Riseley and Birmingham.
JAAA Is A Mess - But At Least The IAAF Has Some Sense
*IAAF Slaps Sense Into JAAA - Let Your Country's Stars Compete
*MVP Stars Check In - Will They Be Shunned Or Pardoned? Turns out the IAAF had enough of the stupid power games.
*Mike Hurst: Jamaica In Drugs Backflip Remember "The Clear"? The drug responsible for the 5 positives the Jamaicans have been so quick to dismiss as "Nothing Major" was designed by the same guy who designed BALCO's.
*Jamaica Decides To Let Their World Record Setters And Olympic Gold Winners Compete More like "IAAF Decides ..."
New Ethiopian Site Pronounces Tirunesh Dibaba And Sileshi Sihine "Doubtful" For Worlds Possible injuries for multi-time medalists ...
Selected LRC Previews
LRC: Women's 800m Preview Get our take on Maggie Vessey's chances against a fascinating field including Pamela Jelimo, the Russians, and Caster Semenya.

LRC: Men's Shot Put Preview The Men's Shot happens on the first day. The last call for Adam Nelson? Can American Big 4 take down Olympic champ Majewski?

LRC: Women's 1,500m Preview Anna Willard and Americans get a big opportunity for a medal.
Luz Long & Jesse Owens Showed In Berlin What Humanity (And Sports) Can Be The German Long died in the war, but not before he wrote a letter urging someone to introduce his son to Owens. His son and Owens' granddaughter will hand out medals in 2009.
Another Amazing Tale Of Jesse Owens
British And Kenyan News - Kenya's Gonna Get Tons More Medals
*Kenyans Sure Not To Miss Last Chance To Talk Big Talk They are going to have a tough battle on their hands in every event for medals.
*Amazing Story Of First International Kenyan Sprinter Since 1984 Joyce Zakary, Kenyan 400m runner: "It was my first time outside Kenya. I had never raced against such heavily built athletes; they frightened me. Now that I'm in the Kenya team to the World Championship, I feel so happy."
*Praise For Britain's Blossoming Star Heptathlete Jessica Ennis Van Commenee's Gold Medal Hope #1.
*Phillips Idowu Keeping Medal Pressure Off Himself Van Commenee's Gold Medal Hope #2. And that's basically it for Britain.
*Robert Mwafrika Cheruiyot Talks Like He's Ready For Berlin 4-time Boston champ Cheruiyot is back from injury and hoping to regain his old form in Berlin.
American Team News - Amazingly Balanced Team Heading To Berlin
*J-Bear Ran 2:02 While American 4 x 100m Sprinters Cheered Her On Jenny Barringer is one of several US distance runners with a chance at a medal.
*Bobby Kersee Has Allyson Felix Feeling Great Heading To Worlds 21.88 in Stockholm has Felix feeling golden like she was when she got 3 in 2007.
*Bad News! Jenn S Out Of Worlds We've been wondering what's up with Jenn S, but turns out an Achilles injury has brought her down. Too bad, because Isinbayeva is beatable this year.
*Smart: Gay Sat Out Cottbus Relay Practice Read our 200m preview and watch Tyson Gay smoking Usain Bolt 2 years ago.
Jamaican Team News - Talk About Distractions
*Jamaican Press Release On The Not-Guilty Verdict On 5 Positive Drug Tests Some good news for Jamaicans: the Jamaican panel let their sprinters off with no punishment. Good news for everyone else?
*Amazing News: Olympic Champions Fraser and Walker Plus ASAFA POWELL May Be Banned From Berlin For Skipping Camp Uh oh. Asafa Powell has been racing like he would rather be at home, but the women that would be banned are Olympic gold and world medal winners.
*Bolt: "The 100m should be all right, but the 200m will be more challenging if I don't get into the shape I want to be." So he ran 19.59 into a headwind in the rain while he was not in shape.
Non-Worlds Track And Field News Click Here Worlds are officially taking over the home page.
Distance-Related World Championship Profiles
Recommend Read: With Russian Drug Cheats On Sidelines For Worlds, Britain's Lisa Dobriskey Has Chance To Medal "Ah, the dark clouds of the Russian drug cheats coming in from the middle distance."
*Anna Willard Excited To Be Focused On 1,500 At Worlds
*After Falling In Beijing, Spain's Marta Domínguez Enters Worlds As World Leader In Steeple She is a 2-time silver medallist at 5k.
*Ezekiel Kemboi Is Tired Of Silver At Worlds The 2004 Olympic champ has been the runner-up the last 3 times at Worlds. After running a PR of 7:58 in May, his 2009 season has been less than stellar and he may struggle just to medal. He's the one that famously said he wouldn't return to Kenya if he didn't win gold last year.
Wanna Have Dinner With Ryan Hall & Deena Kastor Next Sunday? Bid here.
From Wisconsin To Worlds - Watch Solinsky, Teg And Jager Train And Sit Around In St. Moritz
Tilahun Regassa's Fun Run At Falmouth - The Next Superstar?
LetsRun.com's Week That Was We start off with news regarding the world's best milers (Alan Webb, Asbel Kiprop and German Fernandez's new rival), head to some Kenyan semantics and finish with a look at the drug fiasco currently unfolding in Jamaica. It's our last "Week That Was" before the World Championships, so enjoy it while you ponder Bolt vs. Gay and the rest of the upcoming WC rivalries.
Last Week: LRC: The Week That Was This week's version of The Week That Was is officially dedicated to the 800 meters and Maggie Vessey. We look at 800 greats past, present and possibly future as we say goodbye to one legend and introduce another. Along the way, we also give you proof as to why German Fernandez shouldn't contemplate going pro and try to avoid ignoring Lopez Lomong. We also give out free of charge the LetsRun.com Proposal To Save All Sports.
Men's 800m Race From Osaka Worlds
Maggie Vessey 1:57.84!