LRC: Worlds Previews After hundreds of hours of preparation we present to you our true fan's guide to almost every event to be contested in Berlin. We're proud to present our previews, stats and predictions for the world's greatest track meet. Get the edge on your competitors in the prediction contest and get excited for 9 full days of the best track and field competitors in the world starting Saturday. *Coming soon: LRC World-Famous Prediction Contest


LRC: Worlds Events By Day Get an idea of the schedule of worlds and don't miss your favorite events. We've got all our event previews here as well as tv and internet coverage schedules. Hope you find it useful.
LRC: Spring/Summer Pro Meet Coverage We've had by far our best year of covering the professional track circuit with full recaps of most of the top pro meets from around the world. If you missed any of the action, you can read about it on this page. Or look back for reminders of some of the wacky stuff that goes on during the season.
1st Set Of Provisional Entries For Berlin Are Out
Jamaican Update
*Amazing News: Olympic Champions Fraser and Walker Plus ASAFA POWELL May Be Banned From Berlin For Skipping Camp That's correct, as of now Asafa Powell and 4 other world or olympic medalists from MVP training group will be banned for not showing at camp
One Jamaican Paper Says All Jamaicans Cleared Of Doping Allegations LRC told you back on July 27th that "we think it's going to be a non-story" and yet again it looks like we were right.
*Officially The Results May Come Out Monday
*Interesting Read: Performance analysis: A weapon against doping?
Falmouth 2009 aka Ethiopian Fun Run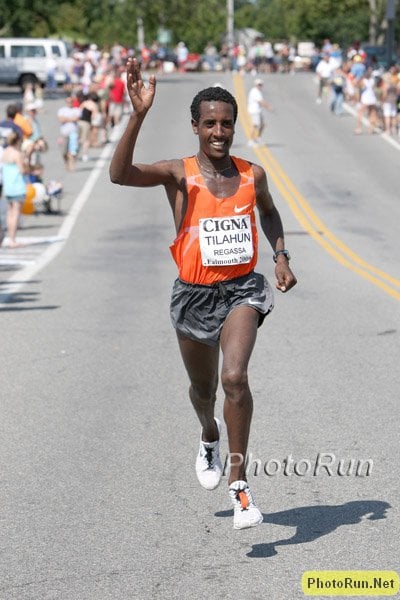 *Men: Teen Phenom Tilahun Regassa Dominates *Victah Sailer Photos Of Regassa Smiling And Waving During Amazing Effort The 19-year-old who put on a show at Bolder Boulder did it again in Falmouth. He ran a 4:22 1st mile and the others let him go, thinking it was a rookie mistake. By 3 miles, Regassa was already celebrating. American Meb Keflezighi was 5th.
*Women: Mamitu Daska Wins Women's As Rebecca Donaghue Is Surprise 2nd
*Race Preview: Meb Wanted To Win
*Falmouth Miles: 2009 Falmouth Mile Recap: Erin Donohue And Will Leer Win
Primarily Sprint Related World Championship News
Tyson Gay: "You have got to run 9.59 to beat (Bolt) ... I have the mechanics. I have the coaching. It's all there."
*Lamine Diack: Bolt Can Become An Icon Like Jesse Owens
*Lee Evans Not Promising Miracles For Nigeria But We're Sure He's Happy To Be Coaching In Africa Where There is Real Freedom Not "Fake Freedom" Like In America The fake freedom quote comes from his Wikipedia page.
*Allyson Felix Confident Heading Into Berlin
*Women Offer Weakened British Squad Best Chances For Berlin Success Injuries have ravaged the Brits.
*Kenyan Sprinter Excited To Be Going To Worlds The 400 meter runner will be going outside of Africa for the first time. She made the squad after another sprinter tested positive.
*400h World Record Holder Yuliya Pechonkina Pulls Out With Sinusitis She missed the Olympics for the same reason last year.
Saturday's Action: Cottbus: *Results
Cottbus Recap: Tyson Gay Rests, US Women Run 8th Fastest 4 x 100 (41.58), US Men 37.85 That pretty much is it in terms of track action until next week's World Champs which start on Saturday.
*Cottbus Results (Jenny Barringer 2:02.56 PR, US Women 41.58, US Men 37.85)
Great LetsRun.com Offer 10% Off AND Free Shipping From RoadRunner Sports Click Here
Sprint News
New Sensations
Good News
Oregon Isn't Listening To LetsRun.com
Oregon Bidding To Host NCAAs From 2013 To 2017 No one puts on a meet like Eugene but having every big meet there is going to kill Eugene enthusiasm's for track. The only positive will be it will help Oregon's recruiting.
Non-Worlds Track and Field News Click Here Worlds are officially taking over the home page.
New Ethiopian Site Pronounces Tirunesh Dibaba and Sileshi Sihine "Doubtful" For Worlds Possible injuries for multi-time medalists...
Luz Long & Jesse Owens Showed In Berlin What Humanity (And Sports) Can Be The German Long died in the war, but not before he wrote a letter urging someone to introduce his son to Owens. His son and Owens' granddaughter will hand out medals in 2009.
Another Amazing Tale Of Jesse Owens
British And Kenyan News - Kenya's Gonna Get Tons More Medals
*Kenyans Sure Not To Miss Last Chance To Talk Big Talk They are going to have a tough battle on their hands in every event for medals.
*Amazing Story Of First International Kenyan Sprinter Since 1984 Joyce Zakary, Kenyan 400m runner: "It was my first time outside Kenya. I had never raced against such heavily built athletes; they frightened me. Now that I'm in the Kenya team to the World Championship, I feel so happy."
*Praise For Britain's Blossoming Star Heptathlete Jessica Ennis Van Commenee's Gold Medal Hope #1
*Phillips Idowu Keeping Medal Pressure Off Himself Van Commenee's Gold Medal Hope #2. And that's basically it for Britian.
*Robert Mwafrika Cheruiyot Talks Like He's Ready For Berlin 4-Time Boston Champ, Cheruiyot is back from injury and hoping to regain his old form in Beijing.
American Team News - Amazingly Balanced Team Heading To Berlin
*J-Bear Ran 2:02 While American 4x100m Sprinters Cheered Her On Jenny Barringer is one of several US distance runners with a chance at a medal.
*Bobby Kersee Has Allyson Felix Feeling Great Heading To Worlds 21.88 in Stockholm has Felix feeling golden like she was when she got 3 in 2007
*Bad News! Jenn S Out Of Worlds We've been wondering what's up with Jenn S, but turns out an achilles injury has brought her down. Too bad because Isinbayeva is beatable this year.
*Smart: Gay Sat Out Cottbus Relay Practice Read our 200m preview and watch Tyson Gay smoking Usain Bolt 2 years ago.
Jamaican Team News - Talk About Distractions
*Jamaican Press Release On The Not-Guilty Verdict On 5 Positive Drug Tests Some good news for Jamaicans: the Jamaican panel let their sprinters off with no punishment. Good news for everyone else?
*Amazing News: Olympic Champions Fraser and Walker Plus ASAFA POWELL May Be Banned From Berlin For Skipping Camp Uh oh. Asafa Powell has been racing like he would rather be at home, but the women that would be banned are Olympic gold and world medal winners.
*Bolt: "The 100m should be all right but the 200m will be more challenging if I don't get into the shape I want to be." So he ran 19.59 into a headwind in the rain while he was not in shape.
Distance-Related World Championship Profiles
Recommend Read: With Russian Drug Cheats On Sidelines For Worlds, Britain's Lisa Dobriskey Has Chance To Medal "Ah, the dark clouds of the Russian drug cheats coming in from the middle distance."
*Anna Willard Excited To Be Focused On 1,500 At Worlds
*After Falling In Beijing, Spain's Marta Domínguez Enters Worlds As World Leader In Steeple She is a 2-time silver medallist at 5k.
*Ezekiel Kemboi Is Tired Of Silver At Worlds The 2004 Olympic champ has been the runner-up the last 3 times at Worlds. After running a PR of 7:58 in May, his 2009 season has been less than stellar and he may struggle just to medal. He's the one that famously said he wouldn't return to Kenya if he didn't win gold last year.
Wanna Have Diner With Ryan Hall & Deena Kastor Next Sunday? Bid here.
Kara The Favorite?
London Marathon Champ Irina Mikitenko Out Of Worlds Mikitenko was the heavy favorite (assuming Paula doesn't run), but the death of her father prevented her from training properly.
#1 Reason Alan Webb Should Keep Running The Mile
Asbel Kiprop Trying To Get Kenya Its First World Championship 1,500m Gold Medal Hard to believe, but a Kenyan or an Ethiopian has never won a World Championships gold medal at 1,500m.
More Worlds Distance News
Hype-tathlon - Ennis And Dobrynska Set For Exciting Showdown
*Natalya Dobrynska Blogs For IAAF We think her blog is usually pretty good.
*Another Good Jessica Ennis Article From The UK As the Great Britain team keeps losing their stars to injury, the pressure seems to mount on 5'4" heptathlete Jessica Ennis to live up to her World #1 spot.
Newest Endurance-Enhancing Craze Set To Begin: Go Buy Beetroot Juice! Actually, we're going to the health food store right now. Right after Taco Bell.
China May Not Get A Single Medal In Berlin Injuries to former world medalists Liu Xiang and Zhou Chunxiu severely limit China's chances at medaling. Many Chinese youngsters will get their first shot at Worlds.
Drugs Under Rugs
*BBC Sports And Discovery Special On DDR Doping In 1980s We've heard that the average American does 12 minutes of actual work a day, or something like that. So you should have plenty of time to listen to this BBC World special.
*Mike Hurst Reminds Us To Take A Second Look At Jamaican Scandal And History The first helpful analysis we've seen of the drug fiasco down in Jamaica. Sure, it looks like it's no big deal, but so did BALCO at first.
*Random Drug Tests In Brazil Nab At Least 6 For EPO And Other Drugs There are 44 in the camp. We're presuming they didn't test everyone. So 6 positives speaks volumes.
*Marion Jones' Film Producer Feels For The Fallen Star He wrote and directed Boyz in da Hood.
*NBA Gets In The Mix With First High Profile Suspension! We heard guys on the radio saying they never thought NBA players would be taking 'roids.
Kipketer's WR 1:41.11
LRC: The Week That Was This week's version of The Week That Was is officially dedicated to the 800 meters and Maggie Vessey. We look at 800 greats past, present and possibly future as we say goodbye to one legend and introduce another. Along the way, we also give you proof as to why German Fernandez shouldn't contemplate going pro and try to avoid ignoring Lopez Lomong. We also give out free of charge the LetsRun.com Proposal To Save All Sports.
From Wisconsin To Worlds Episode 2 - Watch Solinsky, Teg And Jager Race In Europe
Men's 800m Race From Osaka Worlds
Maggie Vessey 1:57.84!