LRC: Aviva London Day 2 Recap We've got every event and every result recapped for you. Tyson Gay got a win, but injury worries surfaced afterwards. Usain Bolt and Yohan Blake led Jamaica to a ridiculous 37.46 clocking in the 4 x 100m. In the distances, Tirunesh Dibaba returned with a 14:33, while America dominated the 1,500m and mile, as the men went 1-2-3 and Anna Willard took down Rowbury in a fun 1,500m. Read our recaps for our take on the results.
*20.00 Win For Tyson Gay (Injury Fears Confirmed Post-Race)
*Bolt and Jamaicans Run 4th Fastest 4*100 in Britain
*Despite Hamstring Injury Tyson Gay Bullish on Berlin

LRC Day 1Recap: Bolt Kicks Off Aviva 2009 With 9.91 Blowout
*Bolt Wins 100m In A Canter 9.91 blowout into a blowing wind.
*Isinbayeva Ends 6-Year Win Streak In Crystal Palace
*Aviva London Day 1 Results We think our readers crashed the Aviva London site.
Doping News:
2.5 Years Later South African Gert Thys Cleared by CAS For Doping Violation This is the ugly side of anti-doping as although his name has been cleared the last 2.5 years of his career have been ruined.

Victor Conte Suspicious of Jamaican Success
Yoko Shibui Tunes Up for World Champs with Win at San Francisco Marathon She's been training in Flagstaff and her running San Francisco was a huge gift to the race organizers. Shibui said, "I think if I was in top condition, like I will be in a month, I would have run with the lead man today." Former Stanford star, Julia (Stamps) Mallon was 2nd on the women's side.
British News:
Elsewhere: Kenyan and Russian Trials - Kenyans Eager For Bekele Beatdown
Kenyans Want To Crush Ethiopians Coach Julius Kirwa "One of my main targets in Berlin is to get the men's 5,000m and 10,000m gold medals which I believe we can easily win. Bekele and Ethiopians are tough but we can do it." After an uber-successful 2008 olympic games the Kenyans are feeling the pressure to do even better in Berlin. Soon we'll know what the whole team looks like as their trials are this weekend."

Plot to Put Ethiopians In Their Place "I believe this time we will break the dominance of our Ethiopian rival, Bekele. I know his reign is coming to an end soon. I respect Bekele. He has done a great job and we admire him. But one day I will beat him." Kenyan 10,000m guy Mark Kiptoo.

Russian Champs Day 2 - Alminova Skips 800m Final *Excellent Russian Trials Results Page
More From London:
Recommended Read: What Bolt Brings To A Meet

Bolt Talks Prior To His Race On Friday In London:
*Bolt: "I would say I'm faster than Tyson Gay and I'm trying to stay that way." Bolt also reveals that he plays Call of Duty: Modern Warfare under a pseudonym for hours a day.
*Bolt On What He Thought About One Newspaper Saying He Was Scared of Tyson Gay And Avoiding Him "Is that what they're saying? That's definitely not true. I've never been scared of anybody in my life and I've never backed down from any challenge put in front of me."
*Bolt on His Fitness & Preparations For Berlin: "I think I'm probably close, probably 85 percent."
*4:30 Bolt Video Interview With BBC
Not Again! Tyson Gay Rumors Confirmed: He's Injured - But This Time Not Seriously Track and Field News has the scoop from agent Mark Wetmore, who extinguished some of the flames by saying Gay will compete this weekend in London and should be fine.
*LRC Boards: Gay Injured
Doug Logan Writes An Excellent Piece About The Nicole Bush USATF Steeple Saga We've got to hand it to USATF CEO Doug Logan. Either he's really good at seeming like a really good guy, or he actually is a really good guy. Read this blog about cowardly USATF/Eugene officials and administrators, Nicole Bush and a steeple barrier that was 20% too high at nationals and decide for yourself.
Extensive Update On The Rupp-Ritz Pairing In Portland Is it just us, or is this pairing a LRC Message Board dream? The only thing better would be Rupp and Alan Webb training together, with a little Evan Jager on the side.
LRC: Alan Webb's 2009 Season Appears To Be Over Two years to the day after Alan Webb set a new American record in the mile, LetsRun.com has learned from Webb's agent, Ray Flynn, that Webb's 2009 season is likely finished before it really even got going. No European races for Webb in 2009.
Chicago Is Back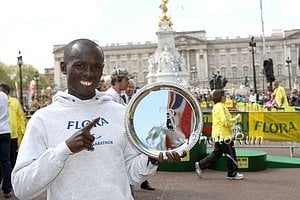 Wanjiru To Run Chicago If any of you thought the Bank of America Chicago Marathon was on the decline with Bank of America owning it and the financial mess we're in, think again. They signed up the World's top marathoner, Sammy Wanjiru, on Tuesday. They already announced Deena Kastor. It is expected Ryan Hall will be running NY in the fall. Duncan Kibet and Haile Gebrselassie will square off in Berlin.
*Message Board Thread
Kenyan Trials/News
Olympic Champ Pamela Jelimo Nipped By Janeth Jepkosgei, Asbel Kiprop Celebrates 80m Before The Finish Again, Olympic 800m Champ Wilfred Bungei Not Named To Squad The marquée matchup was 2008 Olympic Champ Pamela Jelimo versus 2007 World Champ in the women's 800. Jelimo showed flashes of her dominant 2008 form, only to falter down the stretch and be nipped at the line by Jepkosgei. Winning or making Worlds teams is never certain in talent-rich Kenya, especially at the altitude of Naroibi. Many of the stars fell on Saturday, including Jelimo and Olympic 1,500m champ Nancy Lagat, but Olympic 1,500m champ Asbel Kiprop showed he's the cream of the crop, as he had time to celebrate once again 80m from the finish (while a guy is right next to him).
*Video Highlights From 2009 Kenyan Track And Field Trials

Julius Kirwa Not to Coach Kenyan Team at Worlds as He Has to Go to Military Training

Recommended Read: Pamela Jelimo Feature Article in British Newspaper She is very humble, very rich, and living very modestly.
Bix 7
Meb And Molly Huddle Win US Titles The veteran Meb dominated, gapping Fam and the rest by 30 seconds.

Alberto Contador's Manager is Upset Contador and not Armstrong Won the Tour Classless.
LRC's Take On Ryan Hall's NYC Marathon Teleconference LetsRun.com Co-founder Rojo asks America's top marathoner how he recovered from Boston and how his training is going. We try to give you a bit of analysis as Hall continues to prepare to win his second straight marathon in the Big Apple.
Yohan Blake Gets The Bad News: It's You! Teenage sensation Yohan Blake, second in the Aviva 100m to Bolt on Friday, learned later that day that he was one of the 5 Jamaicans to have tested positive for a "minor substance" at the Jamaican champs.

Bolt Disappointed To Hear Of Jamaican Positives "It's sad for the sport because the sport was getting on so well, I was trying to bring it back." - Usain Bolt

"Who wants to think what they want will. We can't stop them from saying but we're willing to be tested every day and every minute of the day because we are just training and we've got nothing to hide. You only worry when you've got something to hide." - Bolt's coach Glen Mills.
Not Good ... 5 Jamaican Sprinters Have Tested Positive Now the word is "it's not a big deal", as the competitors tested positive for something in a supplement they bought at the trials. Uhhh, okay.
*Good Article On Jamaican Positives From UK
*LRC Message Board Thread
LetsRun.com Exclusive From Kenya - Sylvia Kibet: Kenya's Forgotten Lady More on this weekend's Kenyan trials below...
*Kenyan Trials Steeplechase Preview
Russian Alminova Sets World Best 800m Time In Russian Trials 1:57 for Alminova just a few days after many of her former teammates were banned for almost 3 years.
Kaki Is Back! Wins Rainy 1000m In 2:20 - Karlstad, Sweden It's good to see Kaki back from what looked like a bad injury a few weeks back.
Ryan Gregson Berlin-Bound As Australia Tags Him For World 1,500m Team
*Ryan Hall's NYC Announcement Hall is also running the NYC Half in August. Asics must be loving this plan!
*LA Marathon Moves Back To March The LA Marathon was one of the most amazing races we've seen this year as Louisville grad Wesley Korir ran 2:08 and won almost 200,000 dollars.
Getting Ready For This Weekend's Kenyan Trials
*Strange Article On Asbel Kiprop Hoping To Become A Top Miler Someone should tell the journalist that Kiprop is now the Olympic gold medal winner.
*Kenyan Drama Set To Begin: "We'd Rather Take 20 Athletes Who Can Win 20 Medals Than 50 Athletes To Win 1." This meet should be live on the internet. Flotrack, are you going to be in Kenya this weekend?
*800 Meters To Highlight Kenyan Trials As David Rudisha And World Champ Alfred Kirwa To Clash For 1st Time Ever Rudisha missed last year's trials with injury.
*Pamela Jelimo Said An Injury In December Set Her Back Two Months But She's Feeling Good Now We're glad to see she's confident. That being said, we don't believe her when she said the following about her early season disastrous results. It might be the lie of the year: "To many, I was running badly, but to me it was just a normal training exercise. I took the results positively because I was just coming into competitive action." Apparently, she didn't believe herself as in this article, she admits her early season poor runs were "very painful."
Bolt Starting To Understand His Importance - Hints That He Can Save Track And Field Can any one person "save track and field"? Track, maybe. Field? No chance. Bolt sure is doing a good job at filling seats around the world. Word is Crystal Palace is sold out for 2 days for the chance to see Bolt.
*Usain Bolt Holding Out On Signing Diamond League Contract Meet Director Dilemma: say you pay only Bolt and nobody else. The stands will be packed but the other events won't be that great. You'll be slammed in the media. This is why Bolt can't save track and field. Track and field needs like 20 Bolts.
Runner's Tribe Interviews Top Young Distance Runner, NAU's Aussie David McNeill McNeill, runner-up to Rupp at the NCAA 5k, looks to be on his way to becoming a 27-mid, 13-low guy.
Butcher's Blog Discusses Henry Rono, Pamela Jelimo And Comebacks
Top-Flight Italian Cyclist Banned For CERA Science of Sport asks: How could a pro endurance athlete be dumb enough to continue to take CERA?
Kenyan Trials Highlights
Serious News: Jorge And Ed Torres' Mom And Coach Injured In Car Wreck
Bad Car Crash After Jorge's Wedding In CO Leaves Coach Fedyski And Mrs. Torres In Life-Threatening Condition The former coach of the Torres bros. is in really, really bad shape, but it looks like their mom will survive. Ed's wife was also in the car. Post your support on the thread below.
*LetsRun Message Board Thread On Torres Accident
Weekly Must Read From LetsRun.com
LRC The Week That Was This week in our weekly recap we give praise to Jerry Schumacher's boys and US women's 800 runners but have to heap scorn on Canada for totally screwing Nate Brannen (good news: Athletics Canada DOES accept mile conversions - we were wrong) and some on the US men's 800 meter runners. Along the way, we give you a math lesson, remind you that Kenyans are people, too and try to get to the bottom of the Kenyan 10k controversy by actually making calls across the globe. Plus of course we don't forget the incredible action in Paris: Willard's 800m win, Bolt's run in the rain and Bekele over Lagat.
Jerry's Boys Go To The Masses
Pretty Cool 5-Minute Video
Wisconsin To Worlds
Bolt's 9.79 In Paris
Great Resource For Kids
Carol Goodrow's Kids Running Log Your kids run a half mile, fill out the paper log, mail it in and get a free bookmark via Carol and USATF. Plus, there are a couple of good books for kid runners which we reviewed here and here.