Column 1 - The Domestic Column For Today
Not Again! Tyson Gay Rumors Confirmed: He's Injured - But This Time Not Seriously Track and Field News has the scoop from agent Mark Wetmore who extinguished some of the flames by saying Gay will compete this weekend in London and should be fine.
*LRC Boards: Gay Injured
Doug Logan Writes An Excellent Piece About The Nicole Bush USATF Steeple Saga We've got to hand it to USATF CEO Doug Logan. Either he's really good at seeming like a really good guy, or he actually is a really good guy. Read this blog about cowardly USATF/Eugene officials and administrators, Nicole Bush and a steeple barrier that was 20% too high at nationals and decide for yourself.
Ryan Hall Running New York City Marathon We've mentioned this before but it deserves its own headline. Tenacious NYRR CEO and ING NYC Marathon Director Mary Wittenberg couldn't nail down the best marathoner on the planet Sam Wanjiru, but she got a better domestic publicity package in the form of American marathon star Ryan Hall, who will follow his Beantown performance with a race through the 5 Boroughs of the Big Apple in November. Hopefully he'll race 2-Time Champ Marilson Gomes Dos Santos to settle who is the best non-African marathoner in the world (sorry, Viktor Rothlin).
Extensive Update On The Rupp-Ritz Pairing In Portland Is it just us, or is this pairing a LRC Message Board dream? The only thing better would be Rupp and Alan Webb training together, with a little Evan Jager on the side.
LRC: Alan Webb's 2009 Season Appears to Be Over Two years to the day after Alan Webb set a new American record in the mile, LetsRun.com has learned from Webb's agent, Ray Flynn, that Webb's 2009 season is likely finished before it really even got going. No European races for Webb in 2009.
Chicago is Back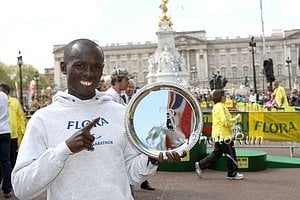 Wanjiru to Run Chicago If any of you thought the Bank of America Chicago Marathon was on the decline with Bank of America owning it and the financial mess we're in, think again. They signed up the World's top marathoner Sammy Wanjiru on Tuesday. they already announced Deena Kastor. It is expected Ryan Hall will be running NY in the fall. Duncan Kibet and Haile Gebrselassie will square off in Berlin.
*Message board thread
Recommended Reads 1) After A Disastrous Start To 2009, Christin Wurth Thomas Is Running Better Than Ever. In April, it took some tough love from her coach Lance Harter to set her straight. Check out what he said to her, "Right around April, my coach threatened to retire me because I was a little heavier than I've been in the past. It's what I needed to hear. He said, 'Would you rather hear it now or wait two months until you're in season and it's too late.' Telling me that I was farther back was a sign that I had to start picking up practices and getting to where I need to be. Everybody kept telling me, 'You've got time. Don't worry about it.' I felt like I had nothing but time but that wasn't the case. Time was starting to run out."
2) 25 Years After The Fall Mary Slaney Reflects On 1984 Olympic Disaster (and her doping suspension) Kudos to Reuters for at least mentioning she was banned for doping.
From "Fat, Unhappy and Fed Up" To One Of The World's 25 Most Fit Men And he's not coached by Lance Harter.
800 US Women In The News
*Maggie Vessey Comes Up Agonizingly Short (2:00.04) in Ghent. *Ghent Results Vessey was fantastic once again but she's now running out of time to get the A qualifier for Berlin. In other action, former Stanford star Russell Brown was fantastic in the men's 1,500 as he ran 3:37 to win over Will Leer in only his 2nd race of the year.*Video of Brown's Race Here
*Phoebe Wright PRs at 800 But Comes Up Short of A Standard As She Runs 2:00.40 Wright may not try again. Good to see that Chanelle Price also PRd by running 2:01.33
*A Brief Chat With Geena Gall The two-time NCAA champ is thrilled to be going to worlds and moving out to Oregon. She's hoping to someday work for Nike.
History Lesson/Did You Know?
*1 Year Ago Usain Bolt Lost His Last Race (in Stockholm at 100m to Powell)
*2 Years + 1 Day Webb Set the AR in Mile
Bolt Talks Prior To His Race On Friday In London:
*Bolt: "I would say I'm faster than Tyson Gay and I'm trying to stay that way," Bolt also reveals that he plays Call of Duty: Modern Warfare under a pseudonym for hours a day.
*Bolt On What He Thought About One Newspaper Saying He Was Scared of Tyson Gay And Avoiding Him "Is that what they're saying? That's definitely not true. I've never been scared of anybody in my life and I've never backed down from any challenge put in front of me."
*Bolt on His Fitness & Preparations For Berlin: "I think I'm probably close, probably 85 percent,"
*4:30 Bolt Video Interview With BBC

Recommended Read: Taller Athletes Are Going To Dominate Speed Events This study from Duke University basically says we'll see more and more tall athletes winning in track and swimming. We think it makes sense. As training methods improve and are spread all over the world, it was just a matter of time before 6'5" 100m "freaks of nature" came to be.
*More On Size Of Athletes From Canada's National Post
*World's Top Athletes Have Become Taller In The Last Century
Men's 100m All Over The Press Thanks To Bolt And Gay
*London 100m Will Feature 7 Runners With Sub-10 PBs That's gotta be a record for a non-World Championships or non-Olympics race.
Recommended Read: What Bolt Brings To A Meet People are willing to pay to see Bolt because he is becoming a one man spectacle unlike any other. Just as we turned on the Paris meet on Friday, Bolt was getting a standing ovation while walking on the track for 100m in his hoodie.
Recommended Read: Tyson Gay and Usain Bolt Talk About Their Rivalry Gay basically says half the battle is convincing himself he can run faster than any man ever has.
London Preview From IAAF It's going to be a sweet meet all around.

Usain Bolt in the 100m and 4x100
*Bolt Getting Set To Ca$h In With Offers Coming In From Every Direction Track's Tiger Woods? Book deals, DJ gigs, appearance fees, and $20 million contract offers... the man is a global superstar in a second-tier sport.
*19-Year-Old Yohan Blake's Agent Very Happy With Progress To 9.93 In 100m Blake seems like an interesting character with pre-race routines and funny outfits.
*We Doubt It: Simeon Williamson Ready For Bolt Whoever wrote that headline should be fired. And then re-hired because that's too harsh.
7 Russian Women Dopers Slammed With Extended Suspension These cheats and their coaches, managers and doctors who still won't admit they were switching urine despite irrefutable DNA evidence - along with dozens of other cheats - will still probably be back in the Golden League before Dwain Chambers. Don't admit to cheating and they'll take you back. Hey, at least it's better than baseball.
*The Court Of Arbitration For Sport's Press Release On Russian Cheats
Bolt Starting To Understand His Importance - Hints That He Can Save Track and Field Can any one person "save track and field"? Track, maybe. Field? No chance. Bolt sure is doing a good job at filling seats around the world. Word is Crystal Palace is sold out for 2 days for the chance to see Bolt.
*Usain Bolt Holding Out On Signing Diamond League Contract Meet Director Dilemma: say you pay only Bolt and nobody else. The stands will be packed but the other events won't be that great. You'll be slammed in the media. This is why Bolt can't save track and field. Track and field needs like 20 Bolts.
Kenyan Drama Set To Begin - Genius Strategy: "We'd Rather Take 20 Athletes Who Can Win 20 Medals Than 50 Athletes To Win 1" The seriousness of that quote is just funny. But we're not sure how cutting the world's top 10k road racer Sammy Kitwara fits in to the plan. Does Athletics Kenya want quality or quality control? This meet should be live on the internet. Flotrack, are you going to be in Kenya this weekend? More Kenya articles below...
Linford Christie's Niece Becomes First Ever Black Miss England In Controversial Decision This gem comes from the British tabloids (which we read for some reason). Rachel Christie is a UK heptathlete and now a competitior for Miss World or Miss Galaxy or whatever. Apparently she won with only 9 votes from the public - ranking her 49th in the public's eye - but the professional judges loved her and voted her through.
IAAF Previews London's Aviva Grand Prix We are only putting this up because it has to be one of the most inadequate previews for a major event that we have ever seen. First of all it only mentions 2 events in a 2-day meet and secondly the grammer is awful. If we care about one thing at LetsRun, it's grammer. Note to sports journalism majors: IAAF online hiring new writers/editors soon.
It's Official: #1 vs. #2 All-Time Is Happening In Berlin: Duncan Kibet To Challenge Haile Gebrsellasie Fans had long been hoping for a Wanjiru vs. Geb showing at Berlin. Well they'll have to settle for the #1- versus #2-fastest of all time as Wanjiru is going to Chicago.
Getting Ready For This Weekend's Kenyan Trials
*800 Meters To Highlight Kenyan Trials as David Rudisha and World Champ Alfred Kirwa To Clash For 1st Time Ever Rudisha missed last year's trials with injury.
*Pamela Jelimo Said An Injury In December Set Her Back Two Months But She's Feeling Good Now We're glad to see she's confident. That being said, we don't believe her when she said the following about her early season disastrous results. It might be the lie of the year, "To many, I was running badly, but to me it was just a normal training exercise. I took the results positively because I was just coming into competitive action." Apparently, she didn't believe herself as in this article, she admits her early season poor runs were 'very painful.'
News Relating To Worlds
It's Official: Willis Out of World Champs He's up to running an hour a day, 5 times a week, preparing for 5th Avenue Mile
*After Failing In Bid To Move Up To 5k/10k, Ethiopia's Yakob Jarso Qualifies For Worlds in 1st Steeple of Year We're not sure why someone who was 4th in the Olympics would try to change events. He runs for Team Honda in Japan.
*Campbell-Brown Responding Well To Treatment, Should Be Ready For Worlds The 100m world champ skipped a meet in Greece after suffering a cramp but seems to be fine. In the meantime, Jamaican Kerron Stewart has distanced herself from the rest and is on a total roll.
LRC's Heusden Distance Recap *Results *LRC Thread Matt Tegenkamp got his A standard in the 5,000m with a smooth 13:07.97 2nd-place finish that boosted Evan Jager onto the USA Worlds 5,000m squad. Teg is officially back in top form with his fastest time since 2007.
*Tegenkamp Talks About Opening in 13:07.97 with some windy conditions (plus video of race)
*American 5,000m Teams Now Set
*Berlin A & B Standards
Article About The Boilermaker And Distance Running Hall Of Fame In Utica The Boilermaker is one of the most fun road races in the country. This article mentions how the US Distance Running Hall of Fame, located in Utica, is situated under a highway overpass in the seedy section of town. "Not exactly Cooperstown" pretty much sums it up. How do you know your sport isn't very popular? When the hall of fame is under I90 in Utica.
Washington's Kendra Schaaf Breaks Two Canadian Junior Meet Records UW's rising senior broke the 1,500m and ,3000m meet records.
Oregon's Jordan McNamara Breaks 4 In Eugene All-Comers Meet This kid is having an unbelievable season.
7 Dopers Suspended By IAAF Reason to celebrate this weekend. Our sport actually punishes cheaters!
Serious News: Jorge and Ed Torres' Mom and Coach Injured In Car Wreck
Bad Car Crash After Jorge's Wedding In CO Leaves Coach Fedyski And Mrs. Torres In Life-Threatening Condition The former coach of the Torres bros. is in really, really bad shape but it looks like their Mom will survive. Ed's wife was also in the car. Post your support on the thread below.
*LetsRun Message Board Thread On Torres Accident
Weekly Must Read From LetsRun.com
LRC The Week That Was This week in our weekly recap we give praise to Jerry Schumacher's boys and US women's 800 runners but have to heap scorn on Canada for totally screwing Nate Brannen (good news Athletics Canada DOES accept mile conversions. We were wrong) and some on the US men's 800 meter runners. Along the way, we give you a math lesson, remind you that Kenyans are people, too and try to get to the bottom of the Kenyan 10k controversy by actually making calls across the globe. Plus of course we don't forget the incredible action in Paris: Willard's 800m win, Bolt's run in the rain and Bekele over Lagat.
Jerry's Boys Go to the Masses
Pretty Cool 5 Minute Video
Wisconsin to Worlds
In Case You Were Gone This Weekend
LRC: Golden League Paris Recap
*Results Paris was a great meet highlighted by Bernard Lagat squaring off with Kenenisa Bekele in the 3,000m, where the Ethiopian showed he's just too strong off a fast pace. Other remarkable performances came from Sanya Richards, Usain Bolt and the surprises of the meet Anna Willard and Dexter Faulk. There's much more to talk about so read our recap, see the photos and watch video of the top races *Official LRC Thread Here*Video Of Willard's Win, Bolt's 9.77
Bolt's 9.79 In Paris
Anna Willard's 800m Win
Tyson Gay 9.77 Over Powell's 9.88
Great Resource For Kids
Carol Goodrow's Kids Running Log Your kids run a half mile, fill out the paper log, mail it in and get a free bookmark via Carol and USATF. Plus, there are a couple of good books for kid runners which we reviewed here and here.