Oslo Golden League *Results
LRC: Exciting Dream Mile Highlights Oslo's Bislett Games Ethiopian Deresse Mekonnen set a national record and Kenyan William Biwott Tanui set a new World junior record in the Dream Mile, upsetting Augustine Choge. On the day, most favorites such as Kenny B and Meseret Defar performed well, aside from Christine Ohuruogu and a shaky Yelena Isinbaeva, who almost lost out on her Golden League jackpot bid. Other headlines included a meet record and world leader for Sanya Richards, another 3:37 for Ryan Gregson, and Asafa Powell missing out on his 50th career sub-10.00 clocking. But the biggest shock of the meet was an apparently serious injury to 800m sensation Abubaker Kaki as he tripped and fell hard.
*Ohuruogu Runs Lackluster 51.19 In Oslo Olympic champ was never even in the race and finished 6th.
*Clyde Hart Pupil Sanya Richards On Fire In Golden League Further proof Clyde Hart is a genius. He's going to help Sanya win a lot of money this year.
*Kerron Stewart Passes 2nd Golden League Test She's 2 for 2 in the jackpot and has run under 11 a few times this year already.
*Canadian Hurdlers Come Up Short In Oslo
On The Boards *Are the young Aussie Runners better than the Young Americans
*Are Ethiopians finally going to start taking mid-distances?
Video: Watch Meet On Demand *Post-Race Interviews
News From Brett Larner And Japan Running News
*Fatigue Cited As Wanjiru Pulls Out Of Sunday's Sapporro Half Marathon Whether this excuse is true or not, we're not surprised that Wanjiru is tired.
*Sub-1 Hour Runner Mogusu Headlines Sunday's Sapporro Half Marathon
*Women's Marathoning Pioneer Nanae Nagata Passes Away At 53 This is a pretty good read.
Bolt Promising Hard Effort And Fast Time In 200m In Lausanne On July 7
Martyn Rooney Injured And Won't Qualify For Berlin British 400m running doesn't look as good after this weeked with Ohuruogu's performance and Rooney missing the UK Trials.
Top Eritrean Marathoner Yared Asmerom Selects Merhawi Keflezighi As His Agent
*Pat Butcher Can't Wait For Berlin's Sprint Clashes To Arrive
*Older "Butcher Blog" On Late-Bloomers Like Haron Keitany And Paul Evans If you haven't read about Paul Evans before, his is a great story.
*Science Of Sport On Oscar Pistorius' Case To Be Included With Able-Bodied Runners
*Heavy Duty Oscar Pistorius Research Analysis Science of Sport, one of our favorite reads, has been researching and posting on the Oscar Pistorius case for a year-and-a-half and we consider them the experts on the subject.
Injury News:
Previous USATF News:
Sprint Rivalries Heat Up As World Stars Soon To Clash
*Gay - Bolt [Powell] Rivalry Now Set For Berlin
*Bolt On Gay: My 100m Record Will Be Very Hard For Him Bolt says watch out for Asafa Powell as he continues to recover from the ankle injury. Powell ran sub-10.00 this weekend into a headwind. Usain also reminds Gay that his 9.75 was run with a serious tailwind.
*Bolt Says He Is Lacking In Overall Fitness But He Will Get Fitter August and the WCs are still several weeks away.
*Michael Rodgers Used To Sell Air Jordans Out Of His Car Trunk To Get By Now Nike sponsors him and he's the USA 100m champion.
*Down Goes Fraser! Well At Least Her 100m Time Shelly-Ann Fraser is sort of the Dawn Harper (who?) of Jamaica. She isn't a big star despite her 100m Olympic victory because the bigger story was The Bolt.

You Don't See This Every Day: 400m Hurdles Trash Talk
*Jamaican Isa Phillips Will Be Major Obstacle To USA 1-2-3 400h Sweep He's now the third-fastest Jamaican ever at the event after a 48.08 this weekend.
*Bershawn Jackson, College Soph Johnny Dutch And Olympic Champ Angelo Taylor Sweep Hurdles, Jackson Predicts Sweep At Worlds
*Hurdler James Carter Throws Out Some Veiled Drug Accusations, Says He May Switch To Decathlon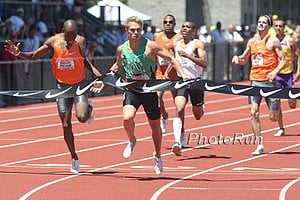 Sunday Men's Distance Action LRC Lomong Gets First, Symmonds Gets Another, Webb A No Show In the men's 800, rivals Nick Symmonds and Khadevis Robinson put on a show down the homestretch with Symmonds coming out on top. In the men's 1,500, Alan Webb pulled out before the race with an injury, and that left favorites Lopez Lomong and Leo Manzano dueling down the homestretch with Lomong coming out on top. Arkansas Razorback Dorian Ulrey closed nearly as fast but started the last lap a second back and finished 3rd. Recap and race videos.

More Men's Distance: *Nick Symmonds Wins Thrilling 800 Over KD Oregonian
*Galen Rupp Selects Michael Johnson To Be His Agent Somehow we don't see Rupp pulling a Wariner and signing with adidas and then dumping his coach.
*Ben Bruce On Men's Steeple: "I Blew It."

200: Shawn Crawford Blows Away Field In Men's 200

High Jump: Tora Harris Wins High Jump, Oregon's Jesse Williams Finishes 4th And Won't Go To Worlds

Shot: Christian Cantwell Wins Shot Put

JR: Mac Fleet Wins 1,500 At Junior Meet, Pulls A Deak At The Finish (Photo)
Spain
Marta Domínguez Runs 9:16.50 World-Leading Steeple, Jana Pittman Returns From Injury IAAF
Sammy Kitwara Dominates Again In Super 27:21 Preliminary Recap From Atlanta Journal Constitution says protest has been filed against 4th-placer Tadese Tola for unsportsmanlike conduct on the course. Full results expected this afternoon.
LRC

Sammy Kitwara - The Best Runner You've Never Heard Of

Educate yourself on the guy tearing up the roads and track in 2009. On Saturday, he's trying to boost his official earnings over $100,000 at Peachtree. Plus he won the Kenyan nationals and beat Gebrselassie.
Sammy Kitwara Having Unbelievable Season Sammy Kitwara has been on a road-racing tear in 2009, clocking course records at the World's Best 10k and Bay to Breakers along with a half marathon victory against Haile G. He also just won the Kenyan 10,000m track championship. Tadese Tola set a course record of his own at the Healthy Kidney 10k and should provide strong competition. Also, check out the huge USA 10k group.
Kitwara Could Win $50,000 If He Wins Kitwara may take home $15k for first, plus at least a half share of the PRRO Circuit championship $35k.
Tola Will Follow With Crazy 8's 8k In Tennessee One week after Peachtree, we'll see Tadese Tola in another relatively big money road race. This article made us think about Kingston TN's "Regional Eye Center" being really smart. This company has their name on the course record $10,000 bonus. The co. is really smart because the course record is also the world 8k record of 22:03 set by P

eter Githuka

in 1996, so they get to advertise with about 0.0005% chance of actually having to pay.
Robles Makes Return In Cuba Going Sub-13.10 In Prelims World's dominant hurdler is back from injury. CAC Champs are being held in Castro-land.
NRR: Landon Donovan Rips LA Galaxy Teammate David Beckham In Book Ironically, David Beckham will now be the only reason anyone will actually spend $20 on a book by Landon Donovan.
Amazing 2008 Photos From Award-Winning Sports Photographer Tom Jenkins Paula Radcliffe, Usain Bolt, plus Christiano Ronaldo and a ridiculous rugby photo.
Also Saturday: Track From Madrid
*Good Story: Dwight Phillips Rewarded With New Deal From Nike Who Dropped Him Not Too Long Ago Last year Phillips missed the Olympic team and wanted to hang 'em up. But he got inspired by his coach and agent, lost 25 pounds and is now rivaling Irving Saladino as the world's best long jumper. And he's got a good contract now, to boot. He won't be in Madrid but Saladino will.
*World's Best Long Jumper Irving Saladino To Headline July 4th Madrid Meet
*Spanish Distance Runners To Highlight Madrid Meet Saturday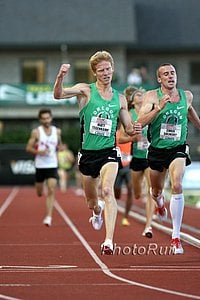 LRC: The Week That Was This week, our weekly recap looks exclusively at the 2009 USA Outdoor Track & Field Championships. We start by saying, "I told you so" as we compare the success of these Trials to an Oregon basketball game. We then tell you where Alan Webb would have finished in the men's 1,500 final, take a look at all the big name pros that had flameouts and give Barack Obama some unsolicited advice. Plus, Rupp's Lexus, Barringer's bling and more. You can compare our Week That Was to the LRC message board UNCENSORED version from Lickety Split.
*Watch The Dream Mile In Britain? Not These Days While the BBC interrupts the evening news for updates on Wimbledon and British tennis darling Andy Murray, the Bislett Games and Dream Mile were going to go un-broadcasted in England thanks to Setanta Sports going under in the UK.
*But Wait! Eurosport Saves The Day: Now dozens will watch the Bislett Games across Britain, as a deal has just been finished that allows Eurosport to pick up the slack and televise Golden League.
Catherine Ndereba To Run Bogota Half On August 3
Promotion: Submit Video Of Your Moves To Win Dance With Usain Bolt ON THE TRACK After His 100m At London's Crystal Palace This is hilarious.
Andrew Wheating Is Heading To Europe For A Mile And Some 800s We think this is a great idea to get him more experience.
Dick Patrick Of USAToday Writes About Alan Webb's Injury, USATF Losing Dan Pfaff To London 2012 Charles Van Commenee and the UK Athletics administration have lured another top coach from North America, Dan Pfaff. Previously, they got 2 top Canadian coaches who worked, for one, with international standout Tyler Christopher.
Bruny Surin And Other Canadians Upset With Apparent Decline In Canadian Athletics
Previously Dan Pfaff Hired To Lead 2012 Performance Centre in London Wejo has met 2 coaching geniuses in his life, Pfaff and JK. Pfaff is most known for coaching former Olympic champ and 100m WR setter Donovan Bailey, but at Texas he coached field event NCAA champs. He can do it all. Of course. another UK paper has to make a big deal of him coaching Marion Jones.
A Look At The World's Best Junior Female Athletes
Wishful Thinking: Winnie Chebet Hopes To Do Better Than Pamela Jelimo Chebet is a 4-time world junior and youth medalist at 800m, but her best is only 2:04. Time will tell in her case. From coach Japhet Kamei: "She could not perform well this year because she spends most of her time in class since she is a candidate. She has not been in intensive training. But I am certain she will rock the world in 800 metres as her high discipline standards will be helpful."
Recommended Read: Interview With Jordan Hasay Joe Battaglia does a long interview with Hasay that answered a ton of our questions. Does Hasay have too much pressure and attention? Yes. Is she incredibly mature and disciplined? Yes. Is she overtrained? We say "No" and think she may actually be able to progress despite the weight of expectations.
Dawn Harper Named USATF Athlete Of The Week Harper, Olympic champ at 100m hurdles, again comes out on top versus Lolo Jones as she wins the US title and the Visa Championship Series 25k.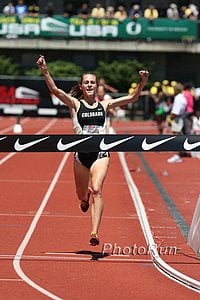 Sunday Women's Distance Action LRC Hazel Clark Gets National Title #5 As Maggie Vessey Leaves It Too Late, Barringer Cruises, Willard Makes 2nd World Champs Team In the women's 800, Hazel Clark went wire-to-wire as Prefontaine surprise winner Maggie Vessey took her Borzakovskiy-like come-from-behind tactics to another level. With 200 meters to go, she was 20 meters behind. She threw down a 28-second last 200 but it was too little too late as she finished 4th. 20-year-old Phoebe Wright picked the perfect time for a nearly 1-second PR to finish 3rd in this tight race. Jenny Barringer took the drama out of the women's steeple as she dominated and Anna Willard was content to just make the World Championships team after she made it in the 1,500 the day before. Collegian Bridget Franek finished third to put a ticket to Berlin on the agenda.